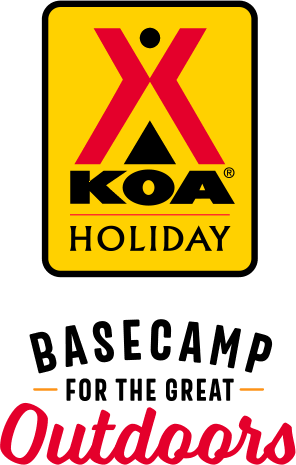 KOA Holiday Campgrounds
Whether you're exploring the local area or hanging out at the campground, KOA Holidays are an ideal place to relax and play. There's plenty to do, with amenities and services to make your stay memorable. Plus, you'll enjoy the outdoor experience with upgraded RV Sites with KOA Patio® and Deluxe Cabins with full baths for camping in comfort. Bring your family, bring your friends, or bring the whole group – there's plenty of ways to stay and explore.
KOA Holidays Feature:
RV Sites with a KOA Patio®
Deluxe Cabins with full baths
Premium Tent Sites
Group meeting facilities
Directions
From I-45 take Exit I45 to 61st Street. Turn right at 61st Street then turn right at Seawall Blvd. We are located 15 miles from the end of the Seawall. Look for large blue "Isla del Sol" water tower. We are located 1 mile on the right. From Hwy. 288 take Exit 288 to 332. Follow 332 until it ends and then turn left onto 257/Bluewater Highway. Follow 257 and cross the Galveston Toll Bridge. Galveston Island KOA Holiday will be 3 miles on the left.
Get Google Directions
Jul 31, 2021
The campground itself is nice, however the cabins are a complete dumb. Highly disappointed in the condition. Very very dirty. Fan was loud and shook like it was going to fall out of the ceiling. The bedroom air conditioner was malfunctioning and loud so we couldn't run it. There was mold in both of them. Water damage everywhere, dirt all over the walls. It definitely wasn't COVID friendly. Dir
Jul 31, 2021
We started our vacation at another park, but we couldnt leave there fast euough. We booked a spot here for the rest of our vacation and were very pleased with everything, freindly, helpful, clean, beautiful wide sites and close to beach. Thank you for saving our vacation, this is our new favorite place.
Jul 30, 2021
Very well kept, everything was new and the staff were very friendly and helpful. Only issue was cell phone signal was very weak and the campground internet was very slow. The pina coladas were delicious and they do not skimp on the rum!!
Jul 30, 2021
We had a wonderful stay! The grounds were clean and very well kept. The staff were polite and helpful. Nice clean pool and showers ���
Jul 30, 2021
Great campground. The lazy river was a lot of fun. Everything was clean and tidy. The beach is very close by. The staff was very friendly. The wristband policy was stressful. My 3yo won't wear a wristband. We got a text nearly every day reminding us of the rules that people were breaking. The dumpsters were overflowing and smelled bad most days.
Jul 30, 2021
We didn't appreciate one of the employees treating the lazy River with chemicals while we are in the water. Their price is too high. We got charged $40 extra so we can have our campers next to each other …..
Jul 29, 2021
Our stay was nice. The campground was clean. I do not like how we pay to stay in the RV then are charged $7.50 each per day. That is ridiculous!
Jul 29, 2021
Was very disappointed in our experience this time.. we have been coming to this rv resort since day 1 . ( before KOA). It was disheartening to be treated rude at front desk( except for Jason ). I understand there are policies but everyone needs to be on the same page.. We spent a lot of money for our stay and still felt like we were getting nickeled and dimed .. Not sure if we will be back ..
Jul 29, 2021
Outstanding. Very Clean and well organized.
Jul 29, 2021
We did not get the spots we requested. The park was practically empty after Saturday and there was no reason we could not have got the accommodations requested. Your pool and lazy river are to small even if your park is only half full. The water was hot like a sauna. The water was cloudy. There are less than adequate amenities. More pools need to be added to accommodate all your quests.
Jul 29, 2021
Loved the pool and the lazy river. The sites need shade. The bathroom decor and condition were very good but they were always dirty.
Jul 28, 2021
Everything was mostly great, but a few things to make things even better. We stayed in the tiny house E. It could use a new coat of interior paint, the AC units were very loud and made it really hard to sleep, the AC filters needed to be cleaned as well. Other than two nights of not great sleep, we had a great time!
Jul 28, 2021
It was great we love it
Jul 28, 2021
Been staying here many years , first time I've ever seen the pool water and lazy river water dirty, disappointing for sure, Hopefully this is temporary, found a lot of small trash around the campsite as well. Park is awesome!!! We will return, just needs a little fine tuning…
Jul 28, 2021
Everything was great about the Galveston Park though expensive with the discount card. KOA's are very expensive everywhere so we do not stay often at KOA's. I made the reservation yet you put the card in my wife's name and I am not on the card though I pay for everything and go everywhere with my wife. You said you cannot add my name to the card? Why not????
Jul 28, 2021
My family and I decided to stop for a few nights in Galveston at this KOA based on a recommendation from a someone we met while traveling. We were not disappointed. The facilities were immaculate. The pads were large and all concrete. We had no issues setting up our 46' toy hauler with a side patio. It was quiet at night and kid friendly during the day. We absolutely recommend staying here.
Jul 28, 2021
This park is absolutely great! The staff was very friendly and helpful. We will definitely stay again when traveling in the area. Thanks for a wonderful stay!!!!
Jul 28, 2021
Camp was nice and clean. The staff were all kind and helpful. Bathrooms could have been a tad cleaner. We had a wonderful trip!
Jul 28, 2021
Great place, clean, and very friendly staff!!
Jul 27, 2021
Arrived on a Thursday and stayed thru Monday. Everything was well maintained and the staff was welcoming. We have found our new annual Summer must stay location!
Jul 27, 2021
Very disappointed in the condition of the pool and lazy river. As well as the charge for visitors.
Jul 27, 2021
Great place to take kids. Nice and quiet get away. They have evening activities for kids to do. Staff was very helpful.
Jul 27, 2021
We wish there had been more trees and bathhouses. The Lazy River was a but if a disappointment, and we would have liked to see more activites for kids.
Jul 27, 2021
Internet did not work, internet support was no help. They kept telling us to go outside it might be our trailer….we can get internet I'm our trailer anywhere else so that's not it. Also stop texting people over things that have nothing to do with them, like "come and move your purple truck.". With nothing to say who's ot from or anything.
Jul 26, 2021
Main concern was the water cleanliness. Did not look clean at all. Restrooms weren't cleaned often enough. Lazy River should have a restroom to allow children to pee. I don't recall seeing any children going across the street during my 10-day stay. I know what that means.
Jul 26, 2021
We love this RV Park. Now that KOA has taken over prices are increased and now you have to pay extra to save your spot ($20). Lucky we made our reservation back in January before KOA took over, we were able to keep our spot for no extra cost. Need to keep to pool and lazy River clean. There 5 days, grass, and dipper stuffing all 5 days. Nice park need bigger pool/Lazy River and keep them clean.
Jul 26, 2021
everything was great had a blast thanks
Jul 26, 2021
The stay was ok. Not enough bathrooms to accommodate the size of park. The visitor restrictions are rediculous. Would have been nice to have been informed about the changes before arrival. We will not be staying in a KOA again.
Jul 26, 2021
First of all I realize the staff is all some what new. But they need training! Each person you talked to gave different information to you each time very confusing! Seemed like prices changed from one person to another. The pool was cloudy, dirty and not being circulated. Lazy river was also dirty especially along the sides. Had employees fussing at front desk. Changes need to be made.
Jul 26, 2021
Very displeased . Mad having to pay an extra $20 after we made our reservations. We did not have that limit of 4 people on our reservations, it was only two but when we told the office that guest would be coming the next day not exceeding our limit of 4, they had to pay $20 each. They tried to charge them $40 each too! Both pool's were dirty, too.
Jul 26, 2021
Very disappointing.
Jul 26, 2021
Friendly, clean, quiet, fun
Jul 26, 2021
Overall I guess it was good. However there were a few issues. 1. Pool was very filthy and cloudy. 2. Internet did not work. 3. Cable was always buffering 4. Other campers were alway walking through our camp site all hours of the day and night. 5. Someone was flying a drown and looking at our camp site after dark at eye level.
Jul 26, 2021
We love this camp ground!! It is always clean and well kept. The pool and the lazy river are so much fun and the location to the beach couldn't be better!! We keep coming back!
Jul 26, 2021
The people were extremely helpful and nice!
Jul 26, 2021
This was by far the dirtiest pool in all of Galveston Rv parks and Hotels. The lazy river was clear so I know the pool could have been too. And the grass was not mowed around the spots, as if someone was parked when they mowed and they never came back once the rv was moved. ANTS all in the tall grass. First time we've had that problem at a KOA too. Other than that it was nice.
Jul 26, 2021
Fabulous!! Only negative was ants right outside our trailer door. I had to keep saying"watch out for the ants". Spot was ultra clean and nice.
Jul 26, 2021
Easy check in - friendly folks from in to out! the lazy river was great fun and we had wonderful neighbors. One suggestion: i'd have LOVED a shuttle to the public beach area as we were in a motorhome with no other transportation and little too far to walk for us Golden Girls!
Jul 26, 2021
Dawn is a ROCKSTAR! I booked thru the website & when i got there Thurs night, it wasn't in the system. This time of year & no reservation, Dawn was alone & a number of people were wanting various things, from checkin to a drink/ice. She worked it out for me to set up on a drive thru Thurs & another site for the weekend. All the while, professional. Wifi still no work. Tower outside & nothing.
Jul 26, 2021
Stay is great as always!!!
Oct 09, 2021
Great place for Families
- Matthew Randall on Google
Oct 05, 2021
This is a clean rv resort with lazy river clubhouse and pool.Basketball court.Tennis court.Horseshoes.And table tennis.Beautiful place to stay.
- RanDina Butler on Google
Sep 16, 2021
Great place to go near the beach easy beach access very friendly people they even offer frozen drinks in the office very fun pool nice place to go for a get away.
- Steve Mordaunt on Google