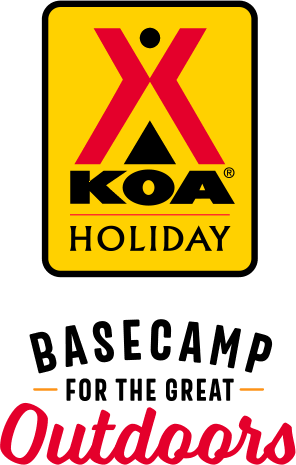 KOA Holiday Campgrounds
Whether you're exploring the local area or hanging out at the campground, KOA Holidays are an ideal place to relax and play. There's plenty to do, with amenities and services to make your stay memorable. Plus, you'll enjoy the outdoor experience with upgraded RV Sites with KOA Patio® and Deluxe Cabins with full baths for camping in comfort. Bring your family, bring your friends, or bring the whole group – there's plenty of ways to stay and explore.
KOA Holidays Feature:
RV Sites with a KOA Patio®
Deluxe Cabins with full baths
Premium Tent Sites
Group meeting facilities
Directions
From I-45 take Exit I45 to 61st Street. Turn right at 61st Street then turn right at Seawall Blvd. We are located 15 miles from the end of the Seawall. Look for large blue "Isla del Sol" water tower. We are located 1 mile on the right. From Hwy. 288 take Exit 288 to 332. Follow 332 until it ends and then turn left onto 257/Bluewater Highway. Follow 257 and cross the Galveston Toll Bridge. Galveston Island KOA Holiday will be 3 miles on the left.
Get Google Directions
Aug 09, 2021
Outstanding staff members…. Love the email updates also
Aug 08, 2021
Going to need a bigger pool! Should have one adults only. Great park very clean. Great personnel. Also need more bathroom/shower facilities. See you again soon.
Aug 08, 2021
Love the park. Staff was great. Sites are large, level, and well maintained. My only gripe is the lousy wifi. Had to use my personal hotspot 95% of the time, just to check my email. Fix that and my rating would definitely be a 5.
Aug 07, 2021
Great, quiet campground with a short walk to the beach. Had to leave a day early due to a family emergency. Looked on my credit card statement and we were credited for that night. Didn't have to ask, they just did it. Excellent customer service and very helpful and friendly staff. We would definitely stay again.
Aug 07, 2021
This is the farthest down the island we have stayed. We usually stay at Jamaica Beach. Accessibility to the beach was not as good. In Jamaica Beach, we can walk our dog across with access just across. It was also farther away from other amenities. We have numerous friends in Sea Isle next door. No one was allowed to visit without a $20 fee per person. It was difficult getting together.
Aug 07, 2021
We had a great stay. Staff was friendly and eager to help resolve issues.
Aug 07, 2021
Pool and especially wifi was inoperable the whole time.... I get the weather for the pool but I came to relax and try get finals finished and could do nothing. Bummer a waste of a stay.
Aug 06, 2021
Overall the cabins and staff were nice. Frustrated w the added parking fee that was not on the website. The mattress in the loft was absolutely terrible. We tossed and turned for three nights and were dragging during the day.
Aug 05, 2021
My family and I had a great time. The staff was very friendly and helpful. The park was clean and had activities for the kids and adults.
Aug 05, 2021
Love how maintained the park is. Love Love the lazy river pool. Staff is super nice and helpful. My favorite park.
Aug 05, 2021
We read some poor reviews, but honestly do not know where the reviewers were talking about. This is a very nice KOA with a very friendly staff (even though we were in our U Wisc decked out RV). Clean level sites, nicely stocked store, brand new putt putt and more. Def recommend this campground.
Aug 04, 2021
We were impressed with the Galveston Island KOA, as we have been with every KOA we have stayed at so far. Everything was very clean and orderly, and the people were friendly and pleasant. Our camp site connections were in fine condition, we had no issues setting up. We will certainly come again. Pool water was a little murky, no UBER or Lyft service, would be nice to have restaurants nearby.
Aug 04, 2021
A wonderful property which was spotless. Has a great family atmosphere. Wading river is a gisnt plus,not to mention a fantastic pool area. Attendants at the office were great and helps us with everything! Extra points frozen drink machines in the srore!!
Aug 04, 2021
Great location, friendly staff. The park is clean and well maintained. The ocean is just a short walk across the road.
Aug 04, 2021
Everything was nice. Friendly staff and clean park. Pool was nice and so was the lazy river. We will be back for sure.
Aug 04, 2021
Amazing place to stay. Friendly staff.
Aug 03, 2021
We had a great weekend with family. We had RV sites 115, 116 and cabin B. I think the pool and lazy river could be treated better so the water would be clear. Restrooms could be cleaned better and more often. All the staff we dealt with were friendly and helpful. I like how this KOA sends out text message alerts for activities in the park and for weather. Wish all KOA's would do it. Will be ba
Aug 03, 2021
I had a great time. The pool is not big enough for the size of park. Pool was disgusting on Saturday.
Aug 03, 2021
Stayed there from Thursday until Monday. Love the big spaces, cleanliness of the park, and the early morning exercise in the lazy river. Really enjoyed the margaritas and pina colada's!!
Aug 03, 2021
First time visiting very clean and big spots we enjoyed it except pools were to warm need to add another pool
Aug 03, 2021
It was great. Staff was very friendly and helpful
Aug 03, 2021
We stayed at this location before it was owned by KOA and we are still equally as impressed. The campground is clean and the staff members are attentive and helpful. I also like that there is a Galveston police officer in the evenings for security.
Aug 03, 2021
For our 1st time...it was great...everyone was helpful...and we liked everything
Aug 03, 2021
Nice, clean, well maintained campground with amenities. We will be returning!
Aug 03, 2021
needs more activities- playground, splash pad, arts/crafts, etc. ( there is a lot of competition out there.) also shade over the water and dog run. maybe a food truck? just suggestions. best of luck .
Aug 03, 2021
Nice facility with pool and lazy river close to the beach. Pool and lazy river get very crowded during peak times, but otherwise very relaxing.
Aug 03, 2021
Amazing location near my favorite beach in Galveston. Quiet and just the right distance away from all of Galveston's amenities. Nice little pool and lazy river, and a small convenience store on site. Frozen Margaritas and Piña Coladas available for purchase. They recently changed the WiFi service and made it basically useless. It used to be a very good service before the change.
Aug 02, 2021
We really enjoyed the KOA and its amenities. We did struggle with bugs and ants in the grass surrounding our campsite. I would suggest treating the grass to help with this problem. Everyone in our group left with multiple bites on their feet and legs after stepping into the grass. Overall, great time!
Aug 02, 2021
The amenities are great. JB - the event coordinator was great. The office personnel were very rude and not helpful at all.
Aug 02, 2021
More than we expected, was great!!
Aug 02, 2021
Very enjoyable as usual , thank you !
Aug 02, 2021
Nice and clean, friendly staff. Large spaces. The WIFI was useless (as others have noted).
Aug 02, 2021
JB who did the activities was great!
Aug 02, 2021
Very well kept and loved the location. The team was very nice as well.
Aug 02, 2021
The new wrist band policy is very annoying, when it gets wet it gets itchy. Can we please have an alternate way to track people ?
Aug 02, 2021
Great park and plenty to do for the kids. Only complaint is that people speed through the park. Would recommend speed bumps throughout the park. Accidents happen with little kids and it would put parents mind to ease if people had to go slower while driving in the park.
Aug 02, 2021
Loved the grounds and staff however I felt like the pool was undersized for the amount of campers. Maybe have a adult few hours for the non kid having adults to enjoy the pool. Thanks
Aug 02, 2021
Nice place. Only complaints are, the WiFi was weak and phones would not connect. And the cable would not work at the two sites I stayed on. I connected to the cable box outside but no channels would come in.
Aug 01, 2021
The stay was very nice and relaxing, the staff was very nice and helpful. The only thing i would say would make it better is to have times at the pool or lazy river for adults only. Sometimes the kids made relaxing at the pool or lazy river tough. I understand it is a family setting however adult times would be a nice addition. I love the fact we received text messages around the rules/security.
Aug 01, 2021
Park is so clean and staff is helpful and friendly.
Aug 01, 2021
Very helpful employees and great physical facility
Aug 01, 2021
The sights were amazing. Having pina coladas & margaritas at the pool also was a plus. Very strict rules are upheld and I appreciate that. WIFI is adequate for TRUE needs not to stream, this is a time to ditch electronics & unplug. Walking distance to the gulf. Also there is no parking charge if you want to drive. We drove a dually on the beach. Upgrades are coming to the park. A KOA since Feb.
Jul 31, 2021
I loved how close to the beach we were. The facility itself was very clean and friendly. The only downside was the lazy river and pool were both very crowded. I know the gulf carts were from an outside company but when we tried to rent a golf cart we were never called back. We even tried to reserve online but the website was not user friendly. Overall my family and I had a wonderful time.
Oct 09, 2021
Great place for Families
- Matthew Randall on Google
Oct 05, 2021
This is a clean rv resort with lazy river clubhouse and pool.Basketball court.Tennis court.Horseshoes.And table tennis.Beautiful place to stay.
- RanDina Butler on Google
Sep 16, 2021
Great place to go near the beach easy beach access very friendly people they even offer frozen drinks in the office very fun pool nice place to go for a get away.
- Steve Mordaunt on Google