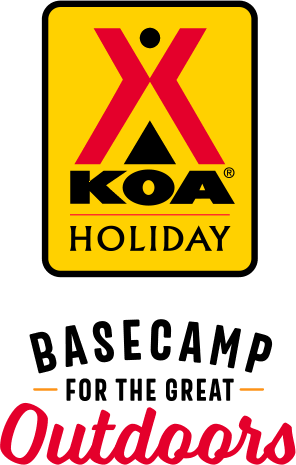 KOA Holiday Campgrounds
Whether you're exploring the local area or hanging out at the campground, KOA Holidays are an ideal place to relax and play. There's plenty to do, with amenities and services to make your stay memorable. Plus, you'll enjoy the outdoor experience with upgraded RV Sites with KOA Patio® and Deluxe Cabins with full baths for camping in comfort. Bring your family, bring your friends, or bring the whole group – there's plenty of ways to stay and explore.
KOA Holidays Feature:
RV Sites with a KOA Patio®
Deluxe Cabins with full baths
Premium Tent Sites
Group meeting facilities
Directions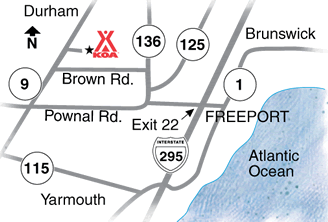 From I-295 North or South: Take Exit 22, (125/136) toward Durham. Bear R onto Durham Rd; go 3 miles. Turn L onto Brown Rd; go 2.6 miles to stop sign. Turn R onto Hallowell Rd (Rt. 9); go 0.4 miles. Entrance on right.
GPS: Use 1430 Hallowell Rd, Durham, ME 04222.
Get Google Directions
Jul 28, 2021
The property is beautiful, wooded, grassy fields, Pavillion, pool, event weekends and pizza delivered to your site. Quiet and close to Freeport and other Coastal towns.
Jul 28, 2021
Well laid out campground tucked away off the beaten path less than 10 minutes from Freeport. Appears to have lots of seasonals, however sites for transient campers are wide and level in the central area of the campground. Nice pool and playground. Water pressure leaves a bit to be desired. Christmas in July parade had wrapped gifts for the kiddos - big hit with our grandchildren. Would come back.
Jul 28, 2021
Great variety of services and entertainment. Friday night brick oven pizza is excellent. The downside for me was the bathrooms; they were clean but poorly designed. The stalls are too small for anyone over 6' tall to sit down or stand up with the door closed and the fixtures are low with very small seats.
Jul 28, 2021
Nice, clean tent spot for us among the RV community. Bathroom is very clean, it doesn't smell like a public toilet at all. Staff are friendly, courteous and very accommodating. Our stay was comfortable and relaxing.
Jul 27, 2021
Hugh sites. Love it. Had spot 12. Under some beautiful trees. Clean restrooms and showers. Nice swimming pool, friendly people. Very nice campground.
Jul 26, 2021
We were not disappointed once again with our stay and very much enjoyed the Glamping Tent for the first time.
Jul 26, 2021
Constants septic/sewer smell during entire stay. Cones marked location of broken line. Camp Laundry had 1 dryer working properly, 1 not working and 1 was not working as it was not drying clothes. Money waster. Bathrooms and laundry was clean. Staff friendly. Needs TLC.
Jul 26, 2021
Every thing was great, just wished we had the cabin that we booked instead of tent camping.
Jul 26, 2021
Very friendly staff and campers. Had our grandchildren for the weekend and they had a great time. We realy enjoyed the activites.
Jul 26, 2021
Everything was great, but it would be nice if the store carried more food than a can of beefaroni - maybe some microwave entrees, its a long way from no where to have nearly zero food.
Jul 25, 2021
Sewer system is in need of repair.. smell is terrible.. when owner was approached about it he stated that he is aware but nothing more..
Jul 24, 2021
Sewer smell was very strong.
Jul 24, 2021
Enjoyed our stay - only down side was that the sewage station had no black water flush hose - overall really nice campsite with good shade and quiet
Jul 24, 2021
We had an amazing time at this campground. We stayed for 5 nights, and can't wait to come back next summer for a longer stay!
Jul 23, 2021
I absolutely loved my stay at Durham KOA. The cabin was very comfortable and clean. My family loved visiting me their from their home in Brunswick, Maine on Sunday. The grill worked great also. The Shower house was so convenient to my cabin which was a big plus! I hope to visit again in the future!
Jul 23, 2021
Cabins, showers and restrooms are super clean, beds are comfortable, staff are nice. I was pleasantly surprised and will stay again.
Jul 23, 2021
This is my third stay at Freeport/Durham. The staff at the desk are all very nice, very knowledgeable and seem to love their jobs. The park is nicely set up, with space and as much privacy as you want, or as much interaction with your neighbors as you like. But, the best is the bath/shower facilities. They are spotless, well maintained and spacious.I will be back again!
Jul 23, 2021
Electric at 30 amp site would only supply 12 amps before EMS would shut down. Could not run AC. People on Loop E knew of issue but office tried to deny the issue. Eventually moved us to a 50 amp site when I confronted them with what long term campers to me.
Jul 21, 2021
We very much enjoyed our stay. The bathrooms were clean and well stocked. The staff was very friendly and accommodating. We are planning a return visit in the fall.
Jul 19, 2021
We brought our family including parents, sister w/ her family & our kids with grandbabies. Everyone thoroughly enjoyed visiting with the horses, playground & riding bikes. The weather wasn't great for the pool but we still managed to make the best of the weekend. We'll be back next year!
Jul 19, 2021
This huge KOA welcomed us like old friends and after 12 hours of driving through heavy traffic made our arrival so much better by offering us home made pizza for dinner. That was a great surprise and relief. Our site was nicely shaded, even, and the hook ups were easy and modern. The bath house needed a bit of a refurbish but it was OK. The folks running the place were amazing and so welcoming.
Jul 19, 2021
It was a hot day and according to the staff the site's power infrastructure was unable to support the power demand, as a result the 30amp service was unable to run a single air conditioner on my class A, i had to run on generator to get air conditioning during the day and sleep sweating.
Jul 19, 2021
Everyone was so nice!
Jul 19, 2021
I wish you would change your toilets to ADA height
Jul 18, 2021
The campground is great and the staff is very courteous and friendly. The only complaint I would have is I camp at this campground because it is close to family. The visitor fees is pretty high for someone to come visit for a couple of hours. $7 for Adults and $5 for children is more than I have paid at any campground and I have stayed at a lot of them.
Jul 17, 2021
Staff was very friendly and helpful. Very clean. Nice bathrooms. Pool is well maintained. Playground above average. Plenty of room for kids to play
Jul 17, 2021
Very quiet. Large open lots. Rest rooms were very clean.
Jul 17, 2021
Our site was in the treeline near the bath house. It was shaded and large. We enjoyed the quiet reaxing setting.
Jul 17, 2021
The check in and check out went smoothly as staff were courteous. First time stay at this campground and we found it to be very clean and quiet. We'll stop by again when up in this area!
Jul 17, 2021
Electric is not adequate, roads are in terrible condition. Sites are muddy. Website promises secluded wooded sites, but there is nothing between sites. Sites are not well developed, just cleared muddy forest or bare grass field.
Jul 16, 2021
Stayed in Deluxe Cabin with full shower. Everything was clean, comfortable, and had good provisions.
Jul 16, 2021
Very friendly owners, great customer service. I loved being able to visit the horses.
Jul 16, 2021
Very nice quiet clean bathrooms. Went to see the horses with our granddaughter witch was excellent very nice stay Toilet paper very thin hard to use!
Jul 14, 2021
All good had A great and relaxing time will be back
Jul 13, 2021
We had a quiet site back in the woods with lots of nice shade. Enjoyed our time.