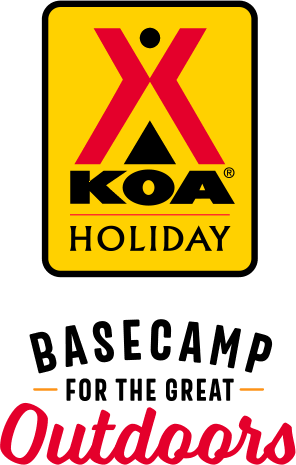 KOA Holiday Campgrounds
Whether you're exploring the local area or hanging out at the campground, KOA Holidays are an ideal place to relax and play. There's plenty to do, with amenities and services to make your stay memorable. Plus, you'll enjoy the outdoor experience with upgraded RV Sites with KOA Patio® and Deluxe Cabins with full baths for camping in comfort. Bring your family, bring your friends, or bring the whole group – there's plenty of ways to stay and explore.
KOA Holidays Feature:
RV Sites with a KOA Patio®
Deluxe Cabins with full baths
Premium Tent Sites
Group meeting facilities
Directions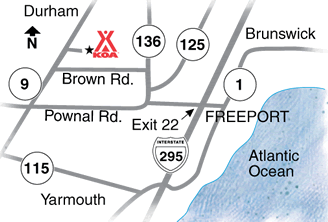 From I-295 North or South: Take Exit 22, (125/136) toward Durham. Bear R onto Durham Rd; go 3 miles. Turn L onto Brown Rd; go 2.6 miles to stop sign. Turn R onto Hallowell Rd (Rt. 9); go 0.4 miles. Entrance on right.
GPS: Use 1430 Hallowell Rd, Durham, ME 04222.
Get Google Directions
Aug 14, 2021
Chris, Mike, Gwen and the whole crew are friendly, fun, and so helpful. Enjoying my stay here very much!
Aug 13, 2021
Love. The. Pizza.
Aug 13, 2021
The campground was clean and the staff was nice. The camp site was the biggest I have ever seen. I love this place
Aug 13, 2021
Stay at this location every year to visit family in the area- Excellent location for us. Other then full hookups, we do not use the facilities.
Aug 13, 2021
we had a great time it was really hot wish the bathrooms have a little better ventilation maybe even air condition but other than that it was great
Aug 13, 2021
This is my third three night stay there. It is clean, friendly and tranquil. I like going there after a hard work day just to sit and watch the sky float by.
Aug 13, 2021
Nice campground! Great overnight stop. Pool was refreshing!
Aug 11, 2021
We have enjoyed coming to the Durham/Freeport KOA for the past 8 years!!! Friendly staff, great theme weekends and clean facilities!
Aug 11, 2021
Good place to stay
Aug 09, 2021
Everything in perfect condition, the grounds, campsite, everything.
Aug 09, 2021
fun time with family. love the dome accomodations
Aug 09, 2021
Absolutely wonderful! The layout of the grounds was perfect to have our families as close as possible. The cabin was clean & efficient. The thin mattress was somewhat uncomfortable for this 78 y.o lady with arthritis!!! But, I understand! I, totally loved the breakfast hut on site, a real plus! Some of the family has already booked for 2022! Look for the Group name "GREENLER'' See you then
Aug 09, 2021
Thicker toilet paper in the bathroom would be much appreciated.
Aug 09, 2021
We were part of a Winnebago group outing. The place was clean and quiet at night. A couple of our members sites were not situated with the group. Which was disappointing. We were in large open buddy sites. Which made it nice for our group to gather and eat together. It was very sunny and hot at times. My only recommendation would be to have more trees for shade. Over all a great weekend.
Aug 09, 2021
Would have been 5 stars but there are several full timers there that have spread way out in there spots and have string lights hung all over and they leave them on all night. One of these camps has a green globe light that sends flashing white lights around the campground that shine and flashed into our bedroom window making it difficult to sleep. Lots of people in each site and extra cars.
Aug 09, 2021
Staff was extremely helpful and accomodating (they went above and beyond to help us out). Cabin was very nice and clean.
Aug 08, 2021
The nature trail is not clearly marked and overgrown. There was no coin machine in the laundry area. The store was out of the supplies we needed, and then closed 1 hour early.
Aug 08, 2021
We enjoyed the cabin. It was well equipped and clean. The dog park was great but the barrel needed emptying the whole time. The bathrooms were clean. People were friendly. It was close to many locations to be able to go out and enjoy.
Aug 07, 2021
We had a great time during our stay at a deluxe cabin. It was a little strange that our shower room wasn't attached to the cabin, but turned out to be fun. In the advertisement of the cabin it did say that there was a cook top in the room, there wasn't. Also it said there was a grill top on the fire pit, there was not. Everyone was very nice and we had a great stay. We will be back. Thank you.
Aug 06, 2021
Great campground! Didn't see staff "on patrol/available" as other KOA properties, but space was well maintained and bathrooms clean. We stayed in a camping cabin and it was really nice they are spaced so far apart.
Aug 06, 2021
We camped for 5 nights with friends. Very nice owner. Would definitely go back again!
Aug 05, 2021
We stayed with the Freeport KOA for about 5 days. Are sure was clean and very nice. The staff was very helpful. We plan on staying here again in the future.
Aug 04, 2021
Love the campground, awesome people,very family oriented we will be going back
Aug 03, 2021
A nice site on A02. We enjoyed Freeport.
Aug 03, 2021
The staff and accommodations at the F/D KOA were great. We got a site there as a last ditch effort to get a site in the area and had NO regrets about it. We will definitely plan to stay there again.
Aug 02, 2021
Staff was very helpful!
Aug 02, 2021
We were there to have more significant time with our family from Florida. The camp ground is very nice! Clean well kept The only complaint we have is your septic hook up s. They are too high. Hard to get black tanks to drain properly.
Aug 01, 2021
My wife and i have stayed at several KOA Campgrounds, some were awarded the Presidential award and they were nice campgrounds but nothing like Durham/Freeport. The staff was went above and beyond to take care of the customer . At all the other KOA Campgrounds I never see the owner, not so at DURHAM/FREEPORT He is highly visible and morning noon and night ,and there to help
Aug 01, 2021
Campground is clean with large sites. Good location with easy access to many beautiful locations.
Aug 01, 2021
Very nice campground, clean, easy drive through sites, quiet.
Aug 01, 2021
Everything was clean, easy check in, friendly staff, fun events for the kids... wish we could have stayed longer!
Jul 31, 2021
Centrally located and very friendly atmosphere. Our grandchildren had a great time too.
Jul 31, 2021
koa is always a great place to stay nice clean campgrounds
Jul 31, 2021
Best Pizza Great Fun Family and Friendly Activities Very Well Cared For Camp Grounds. Very Clean Knowledgeable on surrounding Area and where to Find Your Answer on places visit. Gift Shop plenty of choices to work with, if you forgot pack. Lodging made camping easy and very clean. Thank you
Jul 30, 2021
We were part of an extended family reunion.,WeI appreciated the site delivery for firewood, etc. Even though our many family members were located at different sites, we were able to use the field for family games for the kids, and our large group meetings at one place. We appreciated the flexibility in grouping tables, etc., for eating. We enjoyed all KOA had to offer.
Jul 30, 2021
Very nice and well kept and very quiet