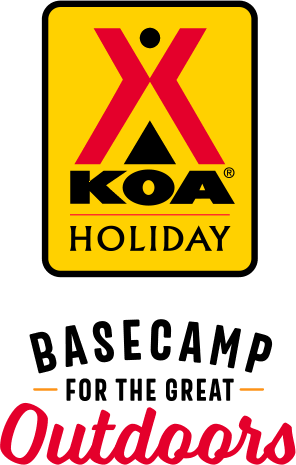 KOA Holiday Campgrounds
Whether you're exploring the local area or hanging out at the campground, KOA Holidays are an ideal place to relax and play. There's plenty to do, with amenities and services to make your stay memorable. Plus, you'll enjoy the outdoor experience with upgraded RV Sites with KOA Patio® and Deluxe Cabins with full baths for camping in comfort. Bring your family, bring your friends, or bring the whole group – there's plenty of ways to stay and explore.
KOA Holidays Feature:
RV Sites with a KOA Patio®
Deluxe Cabins with full baths
Premium Tent Sites
Group meeting facilities
Directions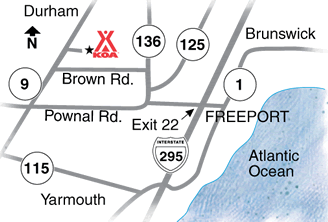 From I-295 North or South: Take Exit 22, (125/136) toward Durham. Bear R onto Durham Rd; go 3 miles. Turn L onto Brown Rd; go 2.6 miles to stop sign. Turn R onto Hallowell Rd (Rt. 9); go 0.4 miles. Entrance on right.
GPS: Use 1430 Hallowell Rd, Durham, ME 04222.
Get Google Directions
Sep 18, 2021
Grounds kept up very good, very helpful staff.
Sep 18, 2021
We had a great pull thru site, great tv reception via the antenna, and good WiFi.
Sep 14, 2021
Always enjoy our visit! Lisa & Lenny
Sep 14, 2021
i understand this is the off season, but not much to do other than walk around. I will try again next summer. Jeff
Sep 14, 2021
Very quiet clean campground. The sites are very spacious and clean. We will definately return.
Sep 14, 2021
Will be back!!
Sep 14, 2021
It's was really great ! The grounds were clean and well maintained. It was a quiet camp ground for its size!
Sep 13, 2021
Another fantastic trip Thank you
Sep 13, 2021
It was raining when got there so it didn't look as appealing but the next day the sun came out weather was better and very impressed with the size of the campsites spacious and very neat.
Sep 13, 2021
Very nice campground with plenty of space between sites. Stayed in C8
Sep 08, 2021
We had an awesome time over Labor Day weekend! So many activities for kids and adults plus a pig roast and live band, can't beat that!
Sep 08, 2021
Best weekend of the summer!!!!
Sep 08, 2021
Nice CG. Well thought out n lots of green space. Great amenities. Will stay here again.
Sep 07, 2021
The staff and owner are great people . They put on the most activities at a campground. Two thumbs up.
Sep 07, 2021
We have a group of campers and you always accommodated all of us. Our kids have a great time with all the activities you provide for them.
Sep 07, 2021
We had such a great time. Our campsite was huge and private. There were lots of activities for the kids and most were included. We will definitely be back!
Sep 07, 2021
Owner was great about getting mine and my friend sites next to one another on a long term stay. Staff is always friendly and helpful.
Sep 07, 2021
The staff was very knowledgeable and friendly.
Sep 05, 2021
We stayed here while we explored the Freeport area. It was a very close drive and made it really affordable and easy. We rented a cabin for two nights. The cabin itself was great although the beds weren't very comfortable. Both my husband and I who aren't overweight felt like we were sleeping on the wood. The showers were free but could use some attention and better/ more frequent cleaning.
Sep 05, 2021
Lovely but brief stay of a few days at this quiet, clean, and spacious campgrounds. Would definitely return! Only 8 or so miles from downtown Freeport and outlet shops.
Sep 04, 2021
All good except entrance gravel/ sand/rock road. It was regraded the day we left.
Sep 02, 2021
Wonderful campground. The staff couldn't be more thoughtful and accommodating, even opening the pool early for our immunocompromised grandson to be the only swimmer for a bit. The staff on the General Store were so kind and patient. Thank you for making the extra effort to make his experience special. Hopefully we'll be able to return next year.
Sep 02, 2021
A little different feel to it than other times we've stayed here due to quite a few seasonal campers but clean, quiet at night, good bathroom and shower facilities
Sep 01, 2021
Great campground, nice open setting. Office staff Vanessa and Elaine (Scottish accent) were so friendly and helpful. The golf cart staff guys were cool too. I will definitely return next season!
Aug 31, 2021
Great stay friendly staff site was big open field but ok for us
Aug 31, 2021
Our stay was good. We were surprised that it was so far off the main road and the road was very bumpy getting into the campground. Staff was very friendly and it was very clean
Aug 31, 2021
It was just one night but everything was fine!
Aug 31, 2021
We his place is awesome for families!
Aug 30, 2021
Great site along the tree line. Very, very hot weather taxed the campground's power supply. Had just one day out of the 17 days staying with inadequate power. Bob was great helping with the power at our site.
Aug 30, 2021
Bathrooms was out of paper towels several times during my week long stay. Everything else was well maintained.
Aug 30, 2021
Needed more activities on site for kids
Aug 30, 2021
Helpful and friendly staff. Clean facilities. Hayrides and children's train rides. Quiet and restful.
Aug 30, 2021
Picnic table at site a10 needs help. Might want to check out site between campers, little things on the ground. Everybody was very nice each time we called
Aug 30, 2021
Big Skye lane and roads in the CG are in need of work. Our site was extremely sloped so our MH front tires were off the ground when we leveled. A CG worked noticed and left us 3 cement blocks to act as a step thus making it safer. We were grateful. The sewer hookup was not at the proper grade on our site. Fenced in dog park needed mowing and there were huge holes dug by dogs in it making it unsafe
Aug 29, 2021
Pool was great. Very clean
Aug 29, 2021
Site E37, low electrical at 106V (unable to run AC in 95 deg heat). "We can't do anything about it." Dump Station had no way to flush tank. We will not be staying here again and am leery of staying at KOA again.