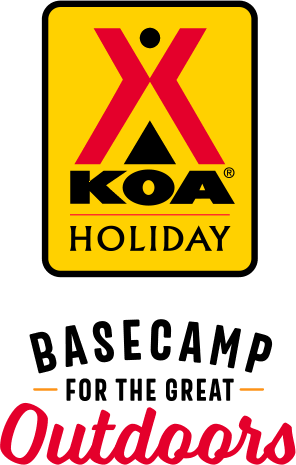 KOA Holiday Campgrounds
Whether you're exploring the local area or hanging out at the campground, KOA Holidays are an ideal place to relax and play. There's plenty to do, with amenities and services to make your stay memorable. Plus, you'll enjoy the outdoor experience with upgraded RV Sites with KOA Patio® and Deluxe Cabins with full baths for camping in comfort. Bring your family, bring your friends, or bring the whole group – there's plenty of ways to stay and explore.
KOA Holidays Feature:
RV Sites with a KOA Patio®
Deluxe Cabins with full baths
Premium Tent Sites
Group meeting facilities
Directions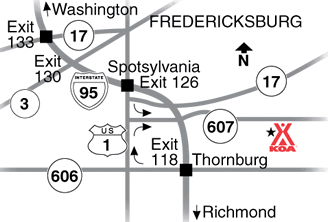 Located midway between two I-95 exits.
If traveling Southbound:  take Exit 126 for Spotsylvania, south 4 miles on US 1, left on VA 607.
Northbound:  Exit 118 for Thornburg, left to US 1, north 4 miles on US 1, right on VA 607. We are located 2.5 miles south on VA 607.
Get Google Directions
Dec 01, 2020
Last minute decision to camp over Thanksgiving and first time visit to this location. Loved it! Staff was very friendly & bath houses were the cleanest I've ever seen. Great weather & good site (FHU 50a pull-through). This location has a fenced dog park, which we visited daily. Not sure how crowded & loud summers will be, but the off-season was very nice. We will definitely be back.
Dec 01, 2020
2nd time here...quiet and comfortable stay
Dec 01, 2020
Beautiful park. Sites were slightly unleveled and due to lots of rain, many puddles. Easy in and easy out. Had a good one night stay.
Nov 30, 2020
Friendly staff, nice and well maintained camp sites, small store with all the necessities, and all the amenities needed with bathrooms/showers/laundry facilities.
Nov 30, 2020
A convenient place to be able to visit my daughter who lives near by and also make use of our RV. Near by stores and restaurants also give it a charm to use this location as a perfect get away.
Nov 30, 2020
We had the most beautiful site. Unfortunately we had to cut it short due to an energency at home but they were very understanding and even refunded our second night's rental! Awesome campsite and now our very favorite!
Nov 30, 2020
Our stay in a cabin without a bathroom was excellent. Bathhouse facilities were clean and well-maintained even though the campground was quite full over the Thanksgiving holiday.
Nov 30, 2020
We only stayed overnight but everything looked awesome and inviting there.
Nov 30, 2020
We rented out 2 spaces for tent camping and all went well ! Bathrooms were always clean and organized as well.
Nov 30, 2020
Staff very pleasant, clean facility
Nov 29, 2020
Cable tv channels and reception are very bad. Thanks
Nov 28, 2020
Very nice as usual, we are repeat campers.
Nov 25, 2020
Been coming since you open backup May 15, 2020. Coming back every two weeks in a cabin. I have always enjoyed my stay. I made a reservation for November 27th Through 29th. I would like to know my cabin number. I have stayed in 51 and 47. Please let me know. Thank you Rick
Nov 25, 2020
One of my most favorite locations to stay. This is a beautiful, mountain-like setting, yet it is located near I-95 and Washington D.C.. All staff members were warm and welcoming.
Nov 24, 2020
Wonderful stay. Great playground. Very clean.
Nov 24, 2020
Friendly staff and nice and quiet. Very clean and well maintained
Nov 24, 2020
Beautiful tree lined area good size sites friendly staff . We will make a point of staying there again.
Nov 23, 2020
Large wooded sites. Very clean and quiet campground. Staff was friendly. Would definitely stay again.
Nov 23, 2020
Always clean and friendly
Nov 22, 2020
Best campground ever. Great staff friendly and helpful. Love KOA
Nov 21, 2020
Great sites, great staff, very clean and wouldn't hesitate from booking another trip in 2021!
Nov 21, 2020
Site was plenty long for our 30ft class A. Sites were wide enough for privacy and parking for toads. Nice looking playground and dog park. Shower rooms and laundry were spotless. Power, water, and cable were just fine. Wifi and phone were pretty weak.
Nov 20, 2020
I only stayed 1 night but it was very easy check in and easy to find.
Nov 19, 2020
Very relaxing and cozy! Not too much activities on site but beautiful views. Only complaint was the reception for the Cable/Internet, if it was cloudy or raining you were not getting any service at all. So if you are a tele-worker this is probably not the ideal place for you for an extended stay. Very close to town/shopping/restaurants and events. Staff was super nice and store was well stocked.
Nov 18, 2020
A very clean park with lots of trees.
Nov 18, 2020
Nice level sites, dog pen great for my 3 Bernese Mountain dogs! Although we stayed only one night, we will stay again and this is on my favorites list! Staff very accommodating even with COVID!
Nov 18, 2020
Great clean Campground. Very friendly.
Nov 17, 2020
I had a patio site which was not more than a regular site as far as I'm concerned. They really need to step up their game on these sites. Internet was a bust. The worst of any RV park I've been to this year. Otherwise the campground was quiet and located well for visiting and touring the surrounding area.
Nov 17, 2020
Great KOA, new picnic tables, clean bathrooms, gravel sites, nice size sites, wooded and very nice staff! Easy access from I-95 and not so close that you hear road noise. We visited several battlefields and wineries.
Nov 17, 2020
What a great place and so close to Civil War history. Would stay again when in the area.
Nov 17, 2020
Lady in the office was extremely unfriendly
Nov 16, 2020
Arrived at 5:45 pm after being told they were open till 8:00, however, the site was easy to find, level, and all connections, were accessible. The road to the campground was narrow and unpleasnt to drive as there is no shoulder, but the quiet and calm of the campground is an asset that is the biggest reason to visit this campground.
Nov 14, 2020
Quiet campground, set in wooded countryside area, only 1.5 miles from IH 95 but NO highway noise! Hosts & work campers were outstanding, very kid friendly campground. Excellent location for bicycle enthusiasts (miles and miles of countryside roads near/through CW battlegrounds; less than a mile to access US Bike 1. Intermittent OTA antenna & campground cable was very bad due recent flooding.
Nov 14, 2020
We were only there for one night passing through, but would definitely come back for an extended stay in the future. The site was very level, restrooms, showers, and laundry were all super clean, Staff was very friendly and courteous.
Nov 11, 2020
We live in Spotsylvania and came to this KOA for our last trip of the season. After this visit, we will do it again every year if possible. This is a wonderful KOA with a very nice staff. The campground is clean and well kept.
Apr 16, 2021
Great place to stop. Easy on/off interstate.
- Jerry Durmis on Google
Apr 17, 2021
Clean bathrooms. Nice facility. Concierge location to everything.
- Michael Holmes on Google