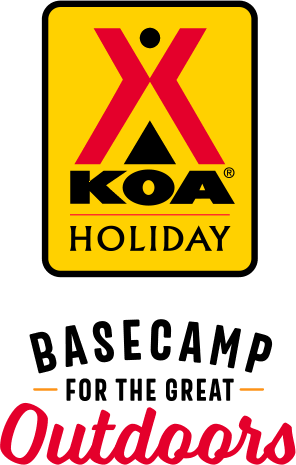 KOA Holiday Campgrounds
Whether you're exploring the local area or hanging out at the campground, KOA Holidays are an ideal place to relax and play. There's plenty to do, with amenities and services to make your stay memorable. Plus, you'll enjoy the outdoor experience with upgraded RV Sites with KOA Patio® and Deluxe Cabins with full baths for camping in comfort. Bring your family, bring your friends, or bring the whole group – there's plenty of ways to stay and explore.
KOA Holidays Feature:
RV Sites with a KOA Patio®
Deluxe Cabins with full baths
Premium Tent Sites
Group meeting facilities
Directions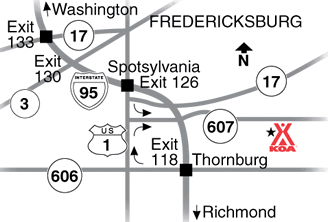 Located midway between two I-95 exits.
If traveling Southbound:  take Exit 126 for Spotsylvania, south 4 miles on US 1, left on VA 607.
Northbound:  Exit 118 for Thornburg, left to US 1, north 4 miles on US 1, right on VA 607. We are located 2.5 miles south on VA 607.
Get Google Directions
Jan 17, 2021
Quiet and clean place to stay. The whole family had a nice and relaxing time. The staff was so friendly. We will definitely be back. Can't wait to try out the pool in the summer!
Jan 12, 2021
Great facility, family friendly
Jan 08, 2021
The Camp host and hostess were very helpful and friendly. They assisted us with local attractions and transportation information as well. Nice clean facilities. Wonderful trip!
Jan 08, 2021
Stayed for 3 nights. Nice clean park. Friendly staff. Great rates. My only issue is the wifi internet, which was throttled to only 356 mbps & only available during daytime. Seems like wifi was turned off after office closed at 5 p.m. as we did not have any internet connection at all the whole 3 nights we were there.
Jan 08, 2021
The campground is located in a great area. There is plenty of room to maneuver getting to the site. The sites are very spacious as well.
Jan 08, 2021
Always enjoyable.
Jan 07, 2021
Our site was a muddy mess. The wifi was virtually nonexistent. Every cable channel was too fuzzy to watch. My husband informed the lady at the office and she said are you sure it isn't your camper? She said she would send someone to look at it. No one ever came. We were told we needed to not have our water hooked up after dusk because it was going to get cold. A disgrace for $58.00.
Jan 07, 2021
I paid for a site with electricity. It didn't work. I asked the lady about nearest Ride and Drive. She wouldn't tell me. Very cold and unfriendly person. Site is almost 9 miles off I-95. Warning given they are not responsible for your safety or anything that might happen to you or your property. :(
Jan 06, 2021
We always stay here when traveling South to Southern states or North to back home. Campground is always very clean, well maintained and very friendly.
Jan 02, 2021
I was great there nice there
Dec 29, 2020
Friendl, clean,helpful
Dec 29, 2020
Easy access, well maintained and friendly staff.
Dec 27, 2020
The cabin was very clean and comfortable, it was exactly what I needed!
Dec 27, 2020
Beautiful spot, very well taken care of!
Dec 27, 2020
It is a pretty campground. We only had one issue that day we were leaving water froze. We were disconnected so nothing in our RV froze.
Dec 26, 2020
maintenance very helpful in helping us park our trailer. They responded quickly to the stuck dump gap due to weather issue - within 2 minutes someone was there to fix. That is what we call service.
Dec 25, 2020
Great place for a last minute overnight stay.
Dec 21, 2020
Really nice campground and cabin. We enjoyed the deck and firepit very much. A very friendly and cute cat came to visit. I didn't know that this amenity was provided with the cabin!
Dec 19, 2020
Nice campground although a little boggy on our site. It would be nice if the dog park was more centrally located. Thee staff was very friendly and more than willing to help with any concerns.
Dec 15, 2020
This was our first time staying at a KOA , everything was great and the cabin was very clean. My only concern was that I wore a face mask out of respect, but not all the employees wore masks. Other than that it was great!
Dec 14, 2020
Our truck broke down on a friday afternoon on our way to Williamsburg VA.It took a week to repair and the people at the KOA took care of us on such short notice They were great. Thank you. Paul Zibell.
Dec 14, 2020
I come in late and leave early. The reason I stop there is because I have relatives living near by. Otherwise, I would go a bit farther to find a less expensive campground.
Dec 11, 2020
Friendly staff
Dec 11, 2020
The campground is very nice and the staff we had contact with very friendly and very knowledgeable. We had a premium site back in right by the lake with a very nice patio. Howevere yard was covered with wet leaves and mud underneath them. Having 2 pets walk through the yard created quite a mess for us. We were unable to use our satellite so cable is offered but the picture quality was fuzzy.
Dec 08, 2020
Just an overnight. No complaints, nice staff.
Dec 07, 2020
We only stayed overnight but office was very accommodating in getting us a spot where we did not have to unhook the truck from the trailer.
Dec 05, 2020
The women who checked us in was wonderful, I was so happy to talk to someone of has done Dollywood for Christmas, which is our next KOA campground.
Dec 05, 2020
This was my second visit. Love this campground! Great location. The staff do a superlative job!!
Dec 03, 2020
Very clean. Quiet. Beautiful scenery. Well manicured around every site. Had Fire pits at every site, a few sites included patio furniture. Has an inground pool, tarp covered bc of fall/winter season. People in office polite and very professional. We would definitely stay here again. Just gorgeous. Thank you for making our stay very pleasant and enjoyable
Dec 02, 2020
Great Stay. Did have some loud campers for the weekend across from our space 48. Maybe consider limiting group size for tents. We will be back! Gary
Dec 02, 2020
Very nice facility. Pretty and well kept.
Dec 01, 2020
We are full time RV-ers and this is one of our favorite campgrounds, the location is great, close to the interstate but not so close as to be noisy. The setting is lovely and the people who work here are great.
Dec 01, 2020
Staff is always friendly, campground always clean.. we stay here a few time a year to visit family
Dec 01, 2020
So quiet and peaceful. Just a wonderful location. Clean facilities too. Will definitely be back.
Dec 01, 2020
Convenient. Nicely maintained.
Apr 16, 2021
Great place to stop. Easy on/off interstate.
- Jerry Durmis on Google
Apr 17, 2021
Clean bathrooms. Nice facility. Concierge location to everything.
- Michael Holmes on Google