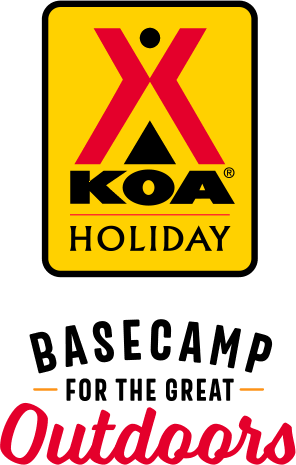 KOA Holiday Campgrounds
Whether you're exploring the local area or hanging out at the campground, KOA Holidays are an ideal place to relax and play. There's plenty to do, with amenities and services to make your stay memorable. Plus, you'll enjoy the outdoor experience with upgraded RV Sites with KOA Patio® and Deluxe Cabins with full baths for camping in comfort. Bring your family, bring your friends, or bring the whole group – there's plenty of ways to stay and explore.
KOA Holidays Feature:
RV Sites with a KOA Patio®
Deluxe Cabins with full baths
Premium Tent Sites
Group meeting facilities
Directions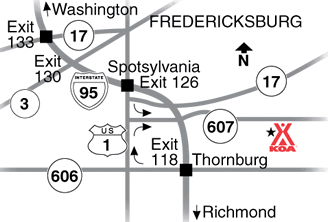 Located midway between two I-95 exits.
If traveling Southbound:  take Exit 126 for Spotsylvania, south 4 miles on US 1, left on VA 607.
Northbound:  Exit 118 for Thornburg, left to US 1, north 4 miles on US 1, right on VA 607. We are located 2.5 miles south on VA 607.
Get Google Directions
Mar 25, 2021
It was a beautiful KOA and our spot for our Airstream was perfect. The amenities were very nice, everything was always emaculantly clean at the site. I believe property management at this location is doing an excellent job in every aspect.
Mar 25, 2021
One night only but just what we wanted.
Mar 25, 2021
Friendly, Clean, Quiet. Very enjoyable. Thank you!
Mar 24, 2021
Campground clean and quiet. Friendly staff. Only complaint, was not correctly directed to my site. Was no possible way to get into my site with directions given. Have a 30ft fifth wheel,had to get turned around and approach the site from the opposite direction advised by turning into a roadway before the site instead of past the site.
Mar 24, 2021
Nice and quiet thanks so much for having us God bless you all stay safe
Mar 22, 2021
Paid just a little more to have the deluxe patio and fire pit. Well worth it! Extremely courteous and competent staff. Good location to see Fredericksburg and surroundings.
Mar 22, 2021
Great staff Very accommodating
Mar 22, 2021
Everything was nice our only concern was the road getting there... no shoulder & very narrow. We wanted to stay a week but there was no discount. This is the first place we stayed where there was not a weekly rate.
Mar 22, 2021
Super friendly staff, well maintain and very convenient location. Highly recommend!
Mar 22, 2021
so nice and polite. awesome KOA. i would go back anytime
Mar 22, 2021
On the way home from a longer trip, we stayed overnight. Beautiful, well maintained campground. The staff is very friendly. We look forward to returning for a longer stay.
Mar 22, 2021
Excellent layover Should reword to say Conveniently located off exit 118 because we Took 110 it is not an RV road. Nice park. Awesome sites. We will be back
Mar 20, 2021
Just a quick stopover
Mar 19, 2021
This was our first-time experience and all your employees were very helpful! Mark and Cindy were there throughout our whole stay and gave us a lot of suggestions! We will be back!
Mar 19, 2021
Campground was easy to find, quiet, friendly and clean. I stayed in a deluxe cabin, again, as this was my second visit to this KOA. I prefer staying here during my travels over any hotel. I had a great night sleep, coffee and coffee maker was supplied in the room. The cabin was clean, heated and cozy. I will be back!
Mar 19, 2021
Loved waking up to the sound of bird & a view of a peaceful pond. Clean bathrooms & nice staff!
Mar 18, 2021
Excellent facilities - clean and laid out well. Cell service was above average and Wifi was surprisingly fast at well over 15mb/s. Very pleasant staff. Overall an A+ from us.
Mar 18, 2021
This was our first stay at a KOA and we enjoyed it! Very clean, quite, and peaceful.
Mar 18, 2021
The campground was ok as campgrounds go but our site was no remotely level. There were several sites nearby that appeared to be in better shape than ours. Its to be expected that a site would need regrading so why would the office assign that site until it was improved.
Mar 17, 2021
The campground is very clean and well maintained. My campsite was easily accessible. Overall a very nice place to stay if you are in the area.
Mar 16, 2021
As site is close to freeway, lotsa highway noise.
Mar 16, 2021
it was outstanding. It was clean and they were attentive. All the facilities were clean and everyone who works there were readily available. The other camper guest were great. Overall a fantastic experience and the pond view was awesome.
Mar 15, 2021
Easy check-in/check out-process. Stayed in 92, which was across from the fishing pond. Patio site was very nice with a brick patio, firepit, bench, cantilever umbrella and table/chairs. Didn't use laundry or restrooms. Had an issue that the manager, Stephany, resolved for us. Would stay here again.
Mar 15, 2021
Great place. Loved our pond view deluxe patio site. Would def go back.
Mar 15, 2021
Our family had a excellent time at Fredericksburg/Washington DC S KOA. My daughter lost her cellphone; the staff and other families at the camp was very helpful in searching for her iPhone but no luck. If your staying at this KOA, and a purple iPhone 11 in a clear case, please turn it into the office. A Reward/Finder fee will be provided, thanks and join your stay.
Mar 15, 2021
Welcoming pretty and clean ...all amenties in our cabin
Mar 15, 2021
Only stayed one day/evening but the grounds were neat, and well kept. I look forward to staying again for a longer period of time.
Mar 15, 2021
WiFi is pretty terrible to not existent and with no phone signal even through our Coach booster. We could not conduct client calls or work for our businesses.
Mar 14, 2021
We are local people. We visit KOA/F'burg to re-familiarize with our camper in the spring. This visit was unusually below average. Many large puddles were in the area of the our campsite, which the KOA receptionist blamed on "recent rains" (there hadn't been any rains to speak of). In the middle of the night, I could see water flowing from puddle to puddle, a sign of a likely water line break.
Mar 14, 2021
Great RV pull through Very helpful staff Clean laundry Quiet environment
Mar 13, 2021
Nice campground! Really nice people. A great stop over when heading to Florida or back north
Mar 13, 2021
•muddy mess need gravel •broken washers and dryers with no signs •broken change machine •asked about weekly rates told were none •by far the worst cable and internet of any rv park • GM I believe Michelle was her name is short and curt and needs to be sent for some customer service etiquette badly. •train employees on how to extend a location without moving, new arrivals don't know
Mar 13, 2021
Long winding road to campsite. Wasn't quite sure we were on the right road. Need a bit more signage. Other than that we were quite impressed with the campground. We just stayed one night as we were traveling through. Easy to get in and out. Looks like a fun place to stay with family!
Mar 12, 2021
It is a very nice simple and clean campground
Mar 12, 2021
Such a pretty setting- nice to walk around the park and see the beauty of nature. We have stayed here before and will stay again!
Mar 11, 2021
It was very pleasant. We were able to take a walk which was a treat after being on the road all day.
Mar 09, 2021
Paid for a site with electric water and sewer. No water and the sewer drain was plugged. Could not hook up black water tank to drain. Have stayed before and was great, but this trip was poor.
Mar 08, 2021
Excellent stay and the staff are amazing!
Apr 16, 2021
Great place to stop. Easy on/off interstate.
- Jerry Durmis on Google
Apr 17, 2021
Clean bathrooms. Nice facility. Concierge location to everything.
- Michael Holmes on Google