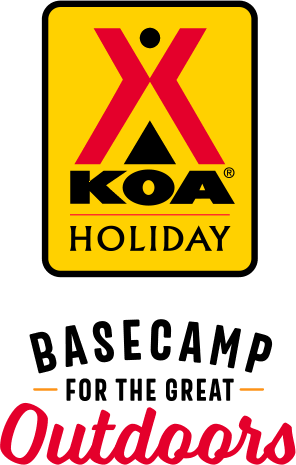 KOA Holiday Campgrounds
Whether you're exploring the local area or hanging out at the campground, KOA Holidays are an ideal place to relax and play. There's plenty to do, with amenities and services to make your stay memorable. Plus, you'll enjoy the outdoor experience with upgraded RV Sites with KOA Patio® and Deluxe Cabins with full baths for camping in comfort. Bring your family, bring your friends, or bring the whole group – there's plenty of ways to stay and explore.
KOA Holidays Feature:
RV Sites with a KOA Patio®
Deluxe Cabins with full baths
Premium Tent Sites
Group meeting facilities
Directions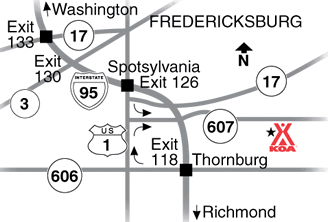 Located midway between two I-95 exits.
If traveling Southbound:  take Exit 126 for Spotsylvania, south 4 miles on US 1, left on VA 607.
Northbound:  Exit 118 for Thornburg, left to US 1, north 4 miles on US 1, right on VA 607. We are located 2.5 miles south on VA 607.
Get Google Directions
Apr 06, 2021
Very relaxing, pleasant staff and great site's
Apr 06, 2021
First time staying at your KOA-we were with friends who have stayed with you several times before. We felt the facilities were first rate and the Staff were super. Nice place for the season opening "shakedown" trip. We'll stay with you again. Thanks !
Apr 06, 2021
Just passing through for one night, but 2nd time there. Great place!
Apr 06, 2021
We Had a great time we all enjoyed the Easter activities.over all great and clean. Very nice staff .we will be back
Apr 06, 2021
I give it 3 stars for this visit because there is clearly a drainage issue in the middle of the campground which is sadly where we've stayed both times we've been. Our site was a swamp and we literally could not step off the gravel without walking in water. And the wifi is a joke. I couldn't even stream music on my phone let alone watch a movie on the computer.
Apr 06, 2021
We had a short overnight stay on our way south. We found your KOA clean and friendly all around an enjoyable stay.
Apr 06, 2021
We love this KOA. They staff are friendly and the place is clean. My son loves the pond, he found a tad pole, turtles and caught a few fish. My daughter loved the playground and the crafts with Easter bunny. We will be returning in October!
Apr 06, 2021
It was a short, but perfect at the same time. As first time campers and in these times of so much uncertainty, we had a blessed and beautiful stay, highly enjoyed by the kids! Thank you for helping us build these awesome memories! We will be back!!
Apr 06, 2021
This was our second time staying at Fredericksburg. On our trip south we stopped for the night and endured the low frequency pounding base from one of the cabins music. Our second overnight, on our trip back north, Our site was partially flooded and surrounded by barking dogs. Needless to say, we'll look elsewhere for a good nights sleep next trip south.
Apr 05, 2021
We loved your campground! It was just the kind of campground my husband and I were looking for! It was clean and very peaceful and we will definitely be going back! The people were very kind and helpful in the office as well! See you soon!
Apr 05, 2021
Campground was so clean and the owners and employees are super friendly. Can't wait to come back.
Apr 05, 2021
Professional staff and clean campground.
Apr 05, 2021
We love this KOA! Staff is so friendly and the place is so clean.
Apr 05, 2021
Campground was nice. There was some standing water. Our rv site was nice. The cabin needs a little maintenance and caulking. Staff were helpful. Bathrooms very clean.
Apr 04, 2021
We could have done without the torrential rains �� (our brand-new RV sprang a leak). Otherwise, the campground is very clean and the staff is friendly and accomodating. Wish the camp store was open a little later than 5 pm. All in all, a nice place to stay �
Apr 04, 2021
We love the campground and the site was very big , but had trouble with the cell service. That's great if you want to keep your kids off there phones and have quality family time �
Apr 03, 2021
Great sites, spacious for large RVs. Quiet, good location.
Apr 03, 2021
Stay started off great. Decent weather, friendly staff. On day 2 of 3, noticed that we had bigoted neighbors who avoided speaking with me and only my wife, who is white. Messed up, bit not the camp's fault. Went to the store and the general manager, was pretty gruff as well (180 degrees out from the previous staff member). Finally, we had the only camp site not graded properly and were flooded.
Apr 02, 2021
Great staff. Clean facilities
Apr 02, 2021
Grounds were okay. Gravel site was good. Was mostly overnighted on their way north. Cable tv was nothing but snow. Maintenance guy said lines were bad. I had to leave wife at the campsite while I worked so she was disappointed that the cable didn't work.
Apr 02, 2021
The representative in the office went beyond her duties and found me a part I needed. She was very cooperative and helpful!
Apr 02, 2021
Enjoyed our stay but the road leading to the KOA is flakey and not the best for larger rigs
Apr 01, 2021
Facilities were clean and the grounds were well kept. Convenient location to many activities.
Apr 01, 2021
We loved this campground. Stayed two days. The staff were exceptional, especially Jackie. The restrooms were very nice and clean. Our campsite was well maintained. We stayed at KOA campgrounds exclusively during our 15 day trip of over 3500 miles and this was one of our favorites. The store was great and we bought a LOT of things there.
Apr 01, 2021
As with all my visits to the Fredericksburg KOA, all aspects of my visit were excellent. The staff was warm and welcoming, the grounds were perfectly maintained, and the cabin was very clean and comfortable. Though this KOA is very convenient from I-95, there is no road noise and the feel is more of a mountainside campground. My preference when traveling this route is to try to stay at this KOA.
Mar 31, 2021
For my first RV experience and it being during the pandemic, I will be continuing the RV lifestyle because of this stay! Quite possibly the best site by the pond made lasting memories. Only suggestion is coordinating with cell tower providers to install repeaters in the area. Between Verizon and Tmobile we had little to no service. This is from a 1st timer so my $0.02
Mar 31, 2021
Spots are not even close to level and it rained causing a lot of standing water at most campsites. Personnel were very friendly and check in was fast.
Mar 31, 2021
Nice, clean campground.
Mar 31, 2021
Staff friendly and helpful. Sites need some work, ours was a little pond after a night of rain. Packing up and having to wash mud off everything was no fun. Couldn't walk to car without wading in the mud. They were actively adding gravel at other sites but never made it to ours. The grass is almost nonexistent as well. Cellular service is almost non existent.
Mar 31, 2021
Very nice and clean camp sight, Front desk very helpful.
Mar 31, 2021
We enjoyed our cabin and fire pit. The store clerk was very friendly and helpful!
Mar 31, 2021
The campgrounds were beautiful and maintained well. The bathrooms were clean and I would absolutely visit this location again.
Mar 31, 2021
Excellent customer service and support! Well maintained and excellent location and park
Mar 29, 2021
This is a beautifully kept and very clean campground. We were very happy with our overnight stay.
Mar 28, 2021
Nice quiet country setting. Very clean. Could use a little work on making sites a little more level. Overall a very nice place.
Mar 28, 2021
Very accommodating to our needs for a brief stop over on short notice. Clean, clean, clean! Quiet and safe! We will be back to stay longer!
Mar 27, 2021
We stayed at the KOA while our house was being worked on. It was very quiet, the campground was well maintained, and the staff was very friendly. We will definitely stay again.
Mar 26, 2021
Beautiful campground and spaciousness sites. My only complaint would be the unlevel sites. We could not get level in the site. Others we looked at were worse.
Mar 26, 2021
Ive stayed a couple times here, and this visit was a great visit. Our cabin was clean and we enjoyed our Keurig. We were actually able to have Doordash deliver one day at our site. We love that the parkbis pet friendly even for our super big boy! They were doing alot around the campground to spruce up getting ready for the busy season! They really had cleaned up the Camp K9 since the last time.
Apr 16, 2021
Great place to stop. Easy on/off interstate.
- Jerry Durmis on Google
Apr 17, 2021
Clean bathrooms. Nice facility. Concierge location to everything.
- Michael Holmes on Google