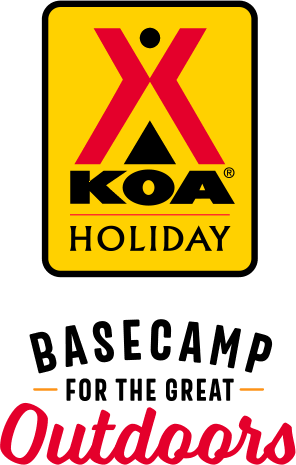 KOA Holiday Campgrounds
Whether you're exploring the local area or hanging out at the campground, KOA Holidays are an ideal place to relax and play. There's plenty to do, with amenities and services to make your stay memorable. Plus, you'll enjoy the outdoor experience with upgraded RV Sites with KOA Patio® and Deluxe Cabins with full baths for camping in comfort. Bring your family, bring your friends, or bring the whole group – there's plenty of ways to stay and explore.
KOA Holidays Feature:
RV Sites with a KOA Patio®
Deluxe Cabins with full baths
Premium Tent Sites
Group meeting facilities
Directions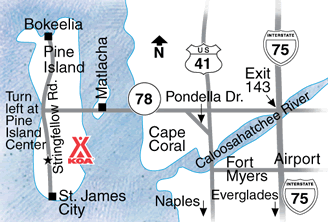 I-75 or Route 41 turn west Route 78. Turn left at Stringfellow Road.
Get Google Directions
Apr 26, 2021
Outstanding experience! Bob met us at the check in booth and escorted us to our site. He got us into the site, made sure we knew the locations for our hookups and reviewed the park rules. Excellent service from the staff. Would highly recommend the Ft Myers/Pine Island KOA.
Apr 26, 2021
Clean cottage friendly and professional staff. Both Elaine and George are courteous and professional I felt as though they were family �. Can't wait to go back.
Apr 24, 2021
The Campground is very well kept. We stayed in the cabins, super clean and very comfortable. The shower house is cleaned on a regular basis and in good working order the Pool and furniture are clean and in perfect order.
Apr 23, 2021
The Pine Island KOA is beautiful. From the well maintained gardens and grounds, the amazing pool and modern clean restrooms this should be your next adventure. My family and I loved it and will be back!
Apr 21, 2021
Me see ems were terrible
Apr 21, 2021
It would have been amazing besides being put on a broken pad with a hole in it. It would have been ok if I was a last minute renter with a full campground, but when you have over half the sites open the whole time I'm there with half of those sites having new pads. Plus having a not so friendly manger who instead of smiling and waving shakes his head. I'd rather stay elsewhere.
Apr 20, 2021
Excelente lugar muy limpio y tranquilo
Apr 20, 2021
Cottage was newer and nice. Campground had limited things to do and the pool closing at 8 PM is too early. The store also closes at 4 PM and had very limited options. I found it crazy that the cottage has a fire ring but couldn't purchase wood. Overall it did the job, but felt more like a snowbird residence than a place to camp and relax.
Apr 20, 2021
The bathroom near the office should be open all night and the pool should be open until 9
Apr 19, 2021
Very quiet. Nice pool.
Apr 18, 2021
We love this place. Going back every year for a few months.
Apr 18, 2021
Nice ! Steak too done, swapped for another meat
Apr 16, 2021
Very clean, nice big lots, super relaxing stay
Apr 14, 2021
Nice campground. Bathrooms, showers and laundry were exceptionally clean. Great campground for families with a good pool, playground, basketball and tennis courts. The tennis and basketball courts were near entrance and quite a distance from campsites. Overall, we enjoyed our stay.
Apr 13, 2021
Very quiet and enjoyable. Will go back there again!
Apr 12, 2021
my husband loves this place. Although you have to drive to things the place is clean and quiet. Just wish they would replace the latch on the dog park gate. It does not lock properly and dogs have gotten out.
Apr 12, 2021
Very Clean, Loved the stay!
Apr 12, 2021
Nice spot on the lake. Easy checkin. Bathrooms were clean.
Apr 11, 2021
Great access to our roomy site. Love the concrete pads. Well maintained. Friendly staff. Would definitely consider staying again.
Apr 11, 2021
Thank you, great time!
Apr 09, 2021
WONDERFUL!!! Staff was great! Everything there was clean! Great people!!
Apr 08, 2021
Pine Island is a beautiful place, very quiet and not much to do (no beach on the island) but very relaxing. For the KOA, many of the concrete pads were very heaving cracked and concerning - as was ours. For the price, the sites need to be better, IMO. However, the cable TV was fantastic. Very clear and digital.
Apr 08, 2021
Wonderful, clean, lots to do, and very friendly. Also, was quite easy to get to and from places on the mainland, but allowed a quiet retreat. Absolutely lovely.
Apr 08, 2021
We enjoyed this beautiful cabin we stayed in.
Apr 07, 2021
The COVID-19 restrictions were reasonable and for the most part did not inter fear with our stay. RV park is clean well kept. All in all we enjoyed ourselves at Pine Island KOA
Apr 07, 2021
I'm trying to think of something that was unsatisfactory or could be improved.....but there's nothing !!! My cottage was clean, well maintained and the staff made check in and check out simple. Thank you for everything.
Apr 06, 2021
Always a pleasure to stay there!
Apr 06, 2021
Love this KOA! It's great!
Apr 06, 2021
Excellent time at Pine Island KOA would rate a five but some of the roads especially the exit road needs to be redone Bob,Vickie and there entire staff do a great job they deserve a 5 Star rating!!
Apr 06, 2021
Great helpful staff. Nice amenities. Just wish the store and bath house had longer hours
Apr 05, 2021
This is a great place to go RV ing. We will be back, can't wait to get back to having dinners and ice cream socials with the other campers.
Apr 05, 2021
We stayed for 5 days, sites are nice but close to each other. Plenty of things to do in the area, so we traveled around during our stay. Pool and playground were nicely kept. Due to Covid still being an issue the store was restricted but the staff was friendly and helpful.
Apr 05, 2021
It was cold and windy and not fun to be outside. Not your fault of course. The cement pad at the site we stayed at was old and cracked and had a depression in it. There were other sites that were new and unused and we do not understand why we had the older uneven site. It would have been nice to have one of the newer sites.
Apr 05, 2021
Laid back atmosphere, clean. Very friendly hosts! Sites were a little close together.
Apr 05, 2021
Beautiful location. We love the island feel.
Apr 04, 2021
We really enjoyed our stay. We have been staying here for couple months in the winter for about 8 years. The park is clean and well kept. People are very friendly. The WiFi has some major problems and really isn't able to handle the demand of such a big park. The TV cable is old and inconsistent. The staff are very friendly and helpful. We always look forward to our stay!!
Apr 04, 2021
The internet is terrible and the daily rate is high for for a location not near anything but other than that it's a good place.
Apr 04, 2021
Made many new friends while staying there. Hope to see you next year. Clay Simmons