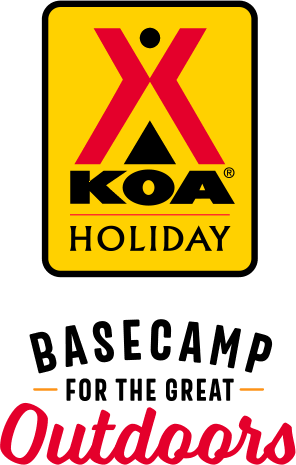 KOA Holiday Campgrounds
Whether you're exploring the local area or hanging out at the campground, KOA Holidays are an ideal place to relax and play. There's plenty to do, with amenities and services to make your stay memorable. Plus, you'll enjoy the outdoor experience with upgraded RV Sites with KOA Patio® and Deluxe Cabins with full baths for camping in comfort. Bring your family, bring your friends, or bring the whole group – there's plenty of ways to stay and explore.
KOA Holidays Feature:
RV Sites with a KOA Patio®
Deluxe Cabins with full baths
Premium Tent Sites
Group meeting facilities
Directions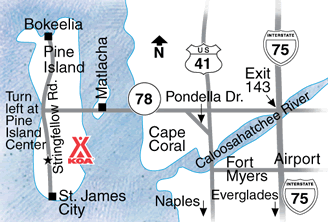 I-75 or Route 41 turn west Route 78. Turn left at Stringfellow Road.
Get Google Directions
May 28, 2021
It was really a nice KOA. Very Clean but very far away from everything. Had a good stay but wished it was closer to shopping and beachs.
May 27, 2021
Got in some good Gulf coast fishing, a little blackjack in Immokalee, and some quality time with good friends grilling out and chowing down!
May 27, 2021
Wonderful stay perfect place I'll give it a 10 would love to return some day
May 26, 2021
We booked a two night stay as a shakedown trip for our newly coupled motorhome and toad. Were meet at the gate by George who gave us a comprehensive check-in package and personally escorted us to our site. A few minutes later he came back by to make sure we were happy. Park was clean and nicely maintained. Will stay here again if in the area.
May 25, 2021
The site was not very deep and were close to one another. Utilities were not functioning properly. Staff was very nice;
May 25, 2021
Loved the grounds!!
May 24, 2021
We felt that our stay at KOA was very memorable. the overall cleanliness of the site and bathrooms made us feel very comfortable. Also the staff was very friendly and helpful. Our week here was definitely well spent and we recommend this campsite to anyone who likes RV / trailer trips.
May 24, 2021
Staff is friendly and helpful. Facilities are very clean and the grounds are kept up every day! Beautiful and peaceful place to relax �
May 20, 2021
Looks good from road and on internet. Bathrooms were clean and accommodating. Otherwise, kind of an expensive dump. Our site was a small cracked concrete slab, old picnic table, and weeds. The property lacked shade trees. The place was 2/3 empty, but every weekend, new folks were placed on each side of us. The manager doesn't like what he is doing as evident by his attitude.
May 18, 2021
Outstanding service and guests relations!
May 17, 2021
Older campground but very clean and friendly people. We had a great time.
May 17, 2021
This was my first camping experience and it turned out to be a very good one. I am pleasantly surprised with whole experience. We booked a cottage and it was very clean and everything was perfect. No complaints at all.
May 16, 2021
Great park with nice people, but we should have looked at it on a map. Way too far from Ft Meyers, beaches, etc.
May 14, 2021
We were there for a week and loved it. The staff was very nice and helpful. It will be better when the activities resume.
May 13, 2021
Wasn't the "DELUXE" that we are accustomed to. Very expensive in comparison. Stayed two days past original reservation, and was never offered extra towels, tissue paper...
May 12, 2021
Very clean,wide spots. Friendly reception.
May 10, 2021
Friendly staff, nice campground. Would like to see the grounds and parking pads in better condition.
May 10, 2021
Very nice quiet peaceful and very professional and courteous staff!
May 09, 2021
Excellent camp ground
May 07, 2021
We stayed from a Sunday thru Thursday and had a blast camping there. Note from a wonderful woman at the KOA, use coconut oil for the no-see-ums. They can't get thru the oil.
May 06, 2021
Can you say false advertising? We thought we would splurge and get a nice site with a water view. No water in site when we got our site right across the entrance by the office for $120 a night! Arr..When I questioned this I was told there is only one site like the picture (Site 303 to be exact) and I should have looked at the info saying exact site may vary. What a joke!
May 06, 2021
Site was clean and everything worked (electric, water, cable, sewer). Bathrooms and Showers were VERY CLEAN and WELL MAINTAINED (10 of 10). Not much shade but good dog park and pool. Overall definitely worth the stay.
May 05, 2021
We had such a memorable stay! The staff treats us like family! Clean restrooms and pool area. Can't wait to go back!
May 05, 2021
Very quiet, clean and relaxing; loved it here and someday hope to return.
May 04, 2021
We were put way in the back in a fairly empty park, well away from the pool, bathroom and other facilities. No explanation of why
May 03, 2021
We have been staying at this KOA for the past 8 years. We love it!!!
May 03, 2021
Pricey for the low season, very few campers outside the annual residents. Clean facilities, wifi ok, some older concrete pads are very cracked. A bit isolated, but there are several hikes nearby (you might need to drive there). Nice bike path next to main road all the way to St James, but you won't be able to bike on the trails nearby as those are for pedestrian only.
May 03, 2021
Accommodations in the two bedroom cottage were perfect. Staff and facilities were perfect. The four of us in our party were thoroughly pleased and will definitely recommend this location to everyone. Great weekend getaway! Many delicious dining places and fun activities in the area! Excellent adventure!
May 03, 2021
Another amazing stay! These folks are very focused on customer service to make sure you are having an awesome camping time!
May 03, 2021
Smooth check in, nice site, clean, nice amenities, quiet.
May 02, 2021
Awesome place
May 02, 2021
Could have used a few more Shade Trees and general upkeep but otherwise good.
May 01, 2021
Over priced!
Apr 29, 2021
It's a beautiful campground however I feel the description was a little misleading! It says we are close to everything. You are....if you are a bird! It was 15 miles just to get off the island. I did give it 4 stars because my mother loves the handicapped shower and bathroom. Also. We had one of the best sunsets on our trip down at the end of the island from the pier. And I was disappointed ar
Apr 29, 2021
Nice park, clean pool area and restroom. Management was super. When we arrive we had issues with our hydraulic system. Couldn't get slide outs or leveling pads down. Called Brandon with Ft Myer RV repair, which was highly recommended by Manager. Within 2 hours Brandon arrived and found the trip breaker. All was well and learned something new from Brandon.
Apr 29, 2021
Stayed at site 303, could not have loved it more, right on the water, nice landscaping, provided table and chairs including swing,fire pit and grill. Pool was immaculate as we're the grounds.
Apr 29, 2021
Very helpful, very easy! Thank You!
Apr 29, 2021
The staff was wonderful we wound up staying longer and the staff accommodated our request without hesitation. Great people working here
Apr 28, 2021
I felt very safe here and it was clean and quiet. It is definitely a long way from anything.
Apr 27, 2021
We enjoyed our stay in the campground, we loved the pool area and was our first visit to Pine Island,
Apr 26, 2021
Great location. Clean big sites. Largest RV park I have ever seen. Has a few ponds. Perfect referral for Brandon the Mobil Rv Repair. He saved our day to fix our second air conditioner. Thank you Vicky for the recommendation. Clean laundry rooms and restaurants and big office with store.