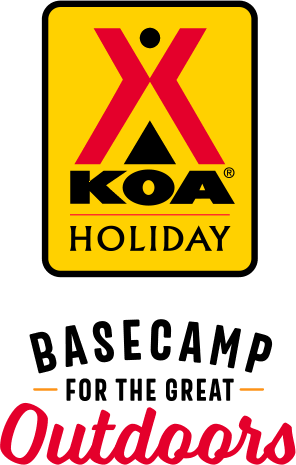 KOA Holiday Campgrounds
Whether you're exploring the local area or hanging out at the campground, KOA Holidays are an ideal place to relax and play. There's plenty to do, with amenities and services to make your stay memorable. Plus, you'll enjoy the outdoor experience with upgraded RV Sites with KOA Patio® and Deluxe Cabins with full baths for camping in comfort. Bring your family, bring your friends, or bring the whole group – there's plenty of ways to stay and explore.
KOA Holidays Feature:
RV Sites with a KOA Patio®
Deluxe Cabins with full baths
Premium Tent Sites
Group meeting facilities
Directions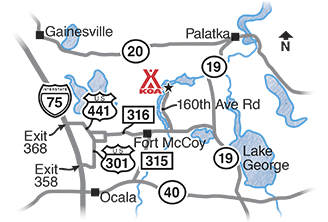 Driving south: I-75 to Exit 368 (CR 318), turn left (East) to Hwy 441 (2nd red light) turn right . Turn left on Old 301 (200A), turn left on CR 316, follow signs and go through Fort McCoy and Eureka on CR 316. Cross over tall bridge to first road on left (160th Ave Rd), go about 11 miles to Lake Oklawaha KOA, on left.
Driving north: I-75 to Exit 358, turn right (SR 326) to Hwy 441/301. Turn left, go to second light turn right onto SR 329. To Hwy 200A (old 301)  turn left (North) to CR 316. right on CR 316, go through Fort McCoy and Eureka. Cross over tall bridge to the first road on left (160th Ave Rd). Go about 11 miles to Lake Okalwaha KOA, on the left.
IF COMING FROM 95 NORTH PLEASE CALL FOR DIRECTION OR STAY ON HWY 19 SOUTH TO SALT SPRINGS. DO NOT TURN RIGHT (onto Rodman Dam Road) AFTER THE TALL CROSS CITY FLORIDA BARGE CANNAL BRIDGE!  YOU WILL TURN ONTO COUNTY ROAD 316 IN SALT SPRINGS. If you turn onto Rodman Dam Road that road will turn into a dirt road.
Get Google Directions
Sep 13, 2020
great place to stay, great host's..
Aug 23, 2020
Bought some land in Ft. McCoy, so need a place to stay while getting it ready to build. found this place, nice laid back, no one bothers you, nice girl at front desk, very helpful, with a nice ringneck parrot, clean restrooms, looks like a nice pool, ppl seem to enjoy it, clean campground not a bunch of trash laying around. just a short drive to boat launch.
Jul 22, 2020
We rented the fifth wheel that was on property for the week. Loved that they could accommodate at last minute and everyone was super nice and helpful. We did have a lot of issues with the free WiFi that was advertised. We unfortunately cutout stay short as the ants in the fifth wheel were out of control. We were offered spray but they got into our beds and food.
Jul 13, 2020
Wonderful staff and security personnel. Clean facilities and large pool.
Jul 06, 2020
Excellent everything!! The grounds are beautiful the pool feels great, the trails are literally across the street, the other campers were friendly, the staff were amazing, etc.. I could go on and on.. We will be back, for many years to come.. Oh and there were a few springs not too far, Alexander Springs was our favorite (bring blow-up rafts and snorkel gear).. -Greg Henry Sr. 6/26/20-6/28/20
Jul 02, 2020
Need more tent sites in the shade behind or beside the club house. The view is beautiful!
Jun 02, 2020
Awesome place! Great views and nearby attractions. Very clean and well kept. Office staff was amazing as well! Very helpful.
Jun 01, 2020
Spacious, quiet, very relaxing, clean facilities...just what I needed after a long trip on the road.
May 26, 2020
Memorial Day weekend family reunion. Over 20 of us, we had a fantastic time as always. We do this yearly here. Thank you!
May 26, 2020
Believe it's a work in progress. Internet wasn't that good, was a mix up on lots reserved, ran out of ice but overall it was a pleasant stay and will reserve again in the future.
May 26, 2020
Loved it. Just wish had kayaks and more ice
May 19, 2020
This campground is a hidden gem. We had such a fantastic time. The staff was very friendly and accommodating. The pool was clean. The restrooms were clean and so were the showers. Not much water pressure but it was nice to be able to take hot showers. We stayed in a tent and we didn't have any issues. The ATV trail into the forest was great. We loved this place and will definitely be back!!
May 18, 2020
Loud music til midnight, bathrooms a bit dirty. Fire ban which I know is uncontrollable but others had fires going. We left early so didn't bring up at checkout
May 08, 2020
called ahead of time on 2 different days and made 3 different phone calls to the campgrounds and each time got told by the person on the phone that all atv trails are open. upon arrival i was told they are closed and have been since April 1st i called the place on may 1st and made my trip based off of what i was told by the front desk. not nice to lie just to get another customer.
May 04, 2020
It was great I just wish they had a better hot water system for the showers. It took along time to get hot water and what you got was lukewarm at best, other then that awsome stay would love to do it again!
Apr 28, 2020
The showers needed a bit better cleaning. People have dumped trash over the hill and the park has not cleaned it up.
Apr 28, 2020
Very friendly staff. Clean showers and restrooms. Nice place to get away from the central Florida gridlock.
Apr 10, 2020
They offered a discount over the phone and when I checked in they said they gave it to me when they did not. Also when I asked for help he said he would send someone right away and they came in a hour.
Mar 30, 2020
Friendly staff, beautiful park, well kept, & great access to Ocala trails!
Mar 23, 2020
The lady running the place was very rude,came flying out of her shack yelling at multiple people who weren't in the right spot due to lack of Information and signage. Bought a camp site and asked where it was located and she just started yelling about what size it was and how we have to figure out how to make it work. They also told us to pay 10 to ride ocala to which we found to be closed anyway.
Mar 22, 2020
We have a great time for 4 days. Kids loved the fishing and the pool. Can't wait till our next visit.
Mar 17, 2020
The property is well maintained but not many shaded spots for tent campers. Also, strange lady that had been there for three weeks wandering the campsites.
Mar 17, 2020
I loved me tent site. I had the last one and had perfect privacy. Definitely will be visiting again
Mar 15, 2020
Staff were all very helpful.
Mar 06, 2020
No hot water for 2 days and I was overcharged.
Feb 27, 2020
We were pleasantly surprised by the friendly staff and clean facilities! The club house was very convenient for us!
Feb 25, 2020
Very clean and peaceful despite being packed to the hills. A toilet got stopped up and was fixed promptly. There is an opportunity to add additional playground areas, which I t hi ink would be a good idea. Esp for the littles. Why sad that there was only one bathroom facility and that we picked a spot so far away. We were tent camping.
Feb 24, 2020
Be back soon, great place.
Feb 20, 2020
The dark haired woman in the office (not the manager) was in the phone arguing with someone and told them to F off but not just an F. My kids along with 4 others were in There buying candy. She then told a 7 year old that he was stealing chips while he was trying to figure out his money. She was very nasty to my friends father. A lot more but I'm only allowed 400 characters.
Feb 19, 2020
-Bathrooms clean most of the time, roads good 1. at the gate,did not explain about table's availability 2.we paid for a site that later another person also paid for 2.did not inform about electricity converters, when I called they never mention about 1 tent per site and it is not mention on the website 3.Fire pits dirty, with pampers and not enough for every site.
Feb 13, 2020
Staff was friendly. Camp ground was clean. There's no firewood on site. You can call John and he will deliver wood but he didn't come till 5 so we had no wood for a fire to cook lunch. There should be firewood available at the office or that should be stated when reservation is made. I would have brought some if I had known. Wood was also too wet to burn. Traded with neighbor for dry wood.
Jan 19, 2020
It was great
Dec 03, 2019
The bathroom had no paper towels or soap during our whole stay. We told staff and never replenished.
Dec 02, 2019
we had a mixed group of motorhome and tent camper, so we had to go to the 30amp site. By the time we arrived at 3pm on Wednesday, we had to take a site a long distance from the restrooms and showerhouse. There should be facilities closer to the tent site. Also, on Friday security did not see that campers were quiet after 10am. They partied LOUDLY until 2am. Disappointed in our stay over Thanksgivi
Dec 02, 2019
It was great. We stayed for five days and it was the most relaxing five days we have had in awhile.
Nov 25, 2019
We always have a wonderful time when we stay here ! Staff was wonderful even stopped by our tent site to ask if we needed anything . We will be back soon�
Nov 19, 2019
Except for the bear in my camp and the electrical outlet being for an RV and not a tent camp, it was nice. The electrical outlet compatibility was a huge issue. Had to borrow adapter from a neighbor
Nov 13, 2019
Had an awesome time as everyone was very helpful.
Oct 28, 2019
Great place! Clean and the facilities were newish. Our outlet at spot 363 was worn out and wouldn't handle a plug. The atv tours company never did return our phone call, but I know that doesn't necessarily apply to the camp site.
Oct 16, 2019
Our stay was amazing, our first camping trip there. Don't forget the mosquito spray
Aug 22, 2021
Just stayed over night seemed to be great for outdoor fun.
- Michael Rademacher on Google
Jun 01, 2021
Great little campground for families. The staff is always super friendly & helpful. Be advised, It's about an hour to the nearest store so make sure you plan ahead & bring everything you need. There is a small store in the office w/a few essentials, a laundromat, bath house, and they sell ice. There's places to fish and hiking trails, you can also bring ATVs to ride the trails with, but you can't ride them in the park after dark (not even to the bathhouse). There's a small thrift store w/some cool old stuff & a tiny civic center where you can have a cold beer & watch sports, just down the Rd, but the hours arent always steady so don't plan your trip around it. We've seen bear and deer everytime we've went so if you like nature this is the place for you. Overall, this is one of our favorite campgrounds.
- Rose Haynes on Google
Mar 05, 2021
They added a beach, and put new light around the volleyball court! The playground is still the best hangout spot tho 😊
- Bryan random on Google