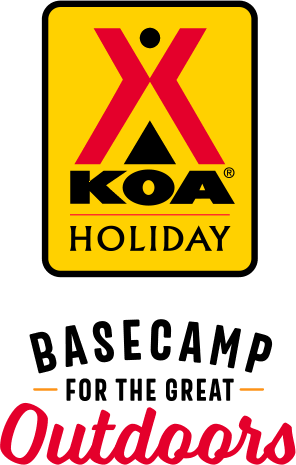 KOA Holiday Campgrounds
Whether you're exploring the local area or hanging out at the campground, KOA Holidays are an ideal place to relax and play. There's plenty to do, with amenities and services to make your stay memorable. Plus, you'll enjoy the outdoor experience with upgraded RV Sites with KOA Patio® and Deluxe Cabins with full baths for camping in comfort. Bring your family, bring your friends, or bring the whole group – there's plenty of ways to stay and explore.
KOA Holidays Feature:
RV Sites with a KOA Patio®
Deluxe Cabins with full baths
Premium Tent Sites
Group meeting facilities
Directions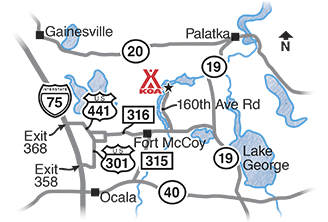 Driving south: I-75 to Exit 368 (CR 318), turn left (East) to Hwy 441 (2nd red light) turn right . Turn left on Old 301 (200A), turn left on CR 316, follow signs and go through Fort McCoy and Eureka on CR 316. Cross over tall bridge to first road on left (160th Ave Rd), go about 11 miles to Lake Oklawaha KOA, on left.
Driving north: I-75 to Exit 358, turn right (SR 326) to Hwy 441/301. Turn left, go to second light turn right onto SR 329. To Hwy 200A (old 301)  turn left (North) to CR 316. right on CR 316, go through Fort McCoy and Eureka. Cross over tall bridge to the first road on left (160th Ave Rd). Go about 11 miles to Lake Okalwaha KOA, on the left.
IF COMING FROM 95 NORTH PLEASE CALL FOR DIRECTION OR STAY ON HWY 19 SOUTH TO SALT SPRINGS. DO NOT TURN RIGHT (onto Rodman Dam Road) AFTER THE TALL CROSS CITY FLORIDA BARGE CANNAL BRIDGE!  YOU WILL TURN ONTO COUNTY ROAD 316 IN SALT SPRINGS. If you turn onto Rodman Dam Road that road will turn into a dirt road.
Get Google Directions
Sep 08, 2021
We arrived and the sight was over grown and the place was disgusting. I was shocked this was a KOA- we didn't stay and advised the gentleman that we were going elsewhere just charge the first night. They charged for all 3 days although I advised them that we were leaving and never sat up. I truly believe the place is a scam artist.
Jul 27, 2021
This is the first time I was able to pick my own spot which is great because I want to be isolated with my three dogs.
Jul 19, 2021
Amazing staff clean bathhouses
Jul 13, 2021
awesome place bro loved it
Jul 12, 2021
Great KOA staff. Nice pool. Beautiful view. The bathrooms are clean. The walking nature trail was not accessible with overgrown foliage and path not maintained. In the tent area, the grass was overgrown as well. The fire pit area was dirty from the last campers and the fire pit itself was rusted through to the bottom with a big hole. Overall, nice stay. Maybe I'd stay in a cabin next time.
Jun 22, 2021
Went for birthday wkend. No pool available for Bday due to chemical dump for cleaning. No 2-person ATVs available and no accomodation made. Some of the washers and dryers don't work & one set has no option for coin return to get your money back (heavy rain, soaked all ).There is also no chg mach. Grass was shin-high and itchy (tent camping). Most trails were blocked by fallen trees. Some birthday!
Jun 01, 2021
Staff was terrific and the family and I enjoyed our stay
May 20, 2021
Pick a site, any site. Office closed at 4pm.
May 12, 2021
We had a pleasant time with my family it was the first time doing camping ���� and we got to have good weekend the trails for my atv was great we definitely going back but we doing it with a bigger group �������
May 06, 2021
Large campground with plenty of sites and space between sites. Bathroom/showers/laundry always clean and in working order. Plenty of amenities. Friendly staff. I'd definitely camp again
May 06, 2021
Such amazing staff! Great quiet stay. Close to the springs and affordable :)
May 05, 2021
I enjoyed the area and weather. Nearby fishing was quite good. I wishe there was a latrine in the tent camping area. The 2 latrines were to far away for me to walk to. I'm disabled snd walking more than 100 yards is difficult 300 yards plus is out of the question, especially several times a day. The staff was very nice
May 05, 2021
YIKES i dont often rate places poorly unless they deserve it but...they do. The people at the counter were rude and uninformed, and we paid for full amenities campsite (picnic table, fire ring, electric and water, even though at most KOAS picnic table and fire are included) and they told us to "look around for a fire ring and move it" to NOT WANT A picnic table, and to pay $20 extra for electr
May 05, 2021
I loved the place people are very friendly, super clean place, will definetly come back more often. Lots of cool things to do!
May 05, 2021
Very nice quiet campgrounds. Hard to get to the lake to fish. The office staff was very nice but never did send put picnic table so that sucked. The site was a nice size but has a major ant problem.
Mar 24, 2021
Our stay was not enjoyable at all. The grounds are not well kept like many other KOA's my family has been to. There were also multiple pieces of trash and a ton of ant piles in tent camping areas. The septic was clogged for my in laws RV as well. The description for our campsite said that it was lake view... so I paid extra - NOT lake view, definitely will not be staying at this KOA again.
Mar 24, 2021
Best camp ground I ever stayed restroom, showers very clean perfect service
Mar 24, 2021
Very nice location, well kept!
Mar 23, 2021
Not much to do in the area other than ATVing and guided ATV tours were only available on the weekends. Hear this may change but double check to ensure you can actually go. Would have been nice if hiking trails were available (two short ones are there but nothing for the serious day hike).
Mar 18, 2021
Too many problems to list.Go to Starke koa if you can,better in my opinion. Dirty, almost no tables at sites, bathroom unkept. It was noisy with music and kids running around day and into the late hrs' of night. Lots of loud a.t.v's driving around.Stayed 3 days the family that works and lives there on the corner kids broke the water supply across from me and ran . I got to smell sewage all night.
Mar 16, 2021
This place has a new owner. After reading the bad reviews, I got worried we would have a bad time. It was awesome! They are currently doing many upgrades. For the people complaining about people riding side by sides and being loud all night, we found this to be false. The campground doesn't allow riding after dark. Many people go there to ride and we ride all day! Resulting in quiet nights. 5 star
Mar 16, 2021
Needs more fire rings and picnic tables at every site. Decorative lights on sites need shut off after quite hours.
Mar 16, 2021
This KOA had the friendliest host and staff along with the guests. But I was very dissatisfied w/ women's restroom, it had a strong urine odor, shower floors were filthy with mud, sand and dirt everywhere, shower had huge piles of hair. The toilets were clean. I realize this is camping but you would expect once a day for showers and floors to be cleaned and they were not. The pool was also dir
Feb 16, 2021
the maintenance man was very respectful and nice. The guy at the gate was nice... and Kathy in the office was nice. 1st experience here and greatly appriciate how clean and well kept it was. Worth the 3 hour drive... I will sign up to be a member and recommend to all my friends and family... this will be our new place to go to camp and ride. Thank you for a memorable experience.
Jan 03, 2021
The bathrooms were disgusting and always out toilet paper. Kids were riding atv's without helmets. They were also out of firewood for two days. My campsite didn't come with a fire pit or a picnic table.
Dec 02, 2020
Main bathrooms needed work and some of the showers were dirty but you guys were at capacity so I understand why. Stay was good and everything that was needed was supplied. would come back.
Dec 02, 2020
First and last time I will stay at a KOA. For starred first thing when I went to set up camp I stepped in the people's next to us dog crap. Then there was a lot of noise all night and couldn't sleep. There someone doing laps all night on a golf cart singing on a megaphone. It was so bad we packed up the next morning and while doing so our neighbors dog crapped behind my vehicle.
Dec 02, 2020
No toilet paper in bathrooms and some toilets out of order on Thanksgiving day weekend. Trailing bikes to the trails was an inconvenience. Overall the campground is nice just needed some maintenance attention.
Nov 27, 2020
Stayed at many KOA locations throughout my life and recommend KOAs to everybody talking about camping. My family knows if we are going camping it will be at a KOA only. This location does not deserve the privilege of the KOA name. Unorganized, dirty, and incompetent staffing. Corporate should take a hard look at this location and get it on track. Doesnt represent the brand the way that it should.
Nov 24, 2020
Started out pleasantly and then a large group of people showed up that were obnoxiously loud and rude with their language and music showed up and the three night stay was horrible. These people showed no respect for other campers or security officer that tried to quiet them down telling the officer they could make as much noise as they wanted to until 11:00 pm he gave up and it didn't stop!
Nov 23, 2020
Very disappointed to see that employees in the office were not wearing masks. If you are trying to social distance you will not be able to safely check in at this KOA. The site was fine, it was clean, however the tent sites are in full sun with no shade.
Nov 22, 2020
Beautiful overlook of the lake. However, the bathroom was not kept clean. We stayed for 5 days and the shower stalls and sinks were never cleaned during that time.
Nov 18, 2020
I was not aware that the tenet sites were first come first serve. It was inconvenient considering all the tent sites with shade were occupied which shade is necessary in Florida. The bathrooms were too far from any of the sites.The staff was awesome and friendly.
Nov 17, 2020
Amazing every time fort McCoy koa is the best hands down
Nov 17, 2020
My stay at the Fort McCoy Fairway. The only complaints I have is the bathrooms need to stay a little cleaner and the shower stalls need a little cleaning.
Nov 09, 2020
Place is really dirty. WIFI is terrible. Meeting room very dirty. Just an ok place.
Nov 05, 2020
I had a good time, met a lot of new friends. Bathrooms and Showers clean and Staff friendly.
Oct 30, 2020
It was nice to get away. We didn't realize a 30 amp adapter was needed to plug our items in at a tent site, so that was a an issue, but otherwise it was okay.
Oct 05, 2020
All the reviews are true that it is a beautiful area, that the restrooms are awful and that this KOA is geared towards ATV owners. We made the best of it and had a great time.
Oct 05, 2020
Very nice part of Florida. The campground is primarily an RV park, making it less "natural" than we expected (it looks like a gigantic field). The owners need to communicating the entrance procedures better - we came on Sat afternoon & stopped at a guard station - no one there. After trying to understand how to claim a spot & pay the fees, which simply drove in & found an office!
Sep 17, 2020
Horrible experience. Booked a site no tables or enough fire pits to go around. Showers and restrooms we're very dirty. We left because what we booked and purchased was not received. We still have not received a refund.
Sep 14, 2020
We were there on Labor Day weekend and it was a blast. Nice set up and nice facilities. Very pleasant experience for our FIRST Camping Trip as a Family.
Sep 13, 2020
Quick stay in a tent spot. Always love visiting this KOA!!!!
Oct 13, 2021
Beautiful, small town.
- Sandii Wieczorekk on Google
Sep 25, 2021
I don't want to describe this paradise
- Larry Giglio on Google
Sep 19, 2021
Great
- matt meyers on Google