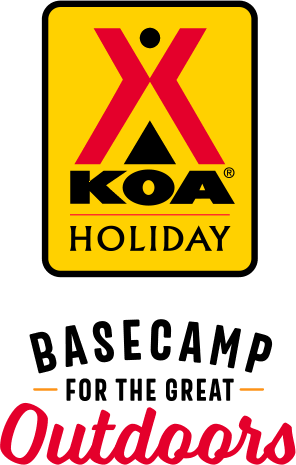 KOA Holiday Campgrounds
Whether you're exploring the local area or hanging out at the campground, KOA Holidays are an ideal place to relax and play. There's plenty to do, with amenities and services to make your stay memorable. Plus, you'll enjoy the outdoor experience with upgraded RV Sites with KOA Patio® and Deluxe Cabins with full baths for camping in comfort. Bring your family, bring your friends, or bring the whole group – there's plenty of ways to stay and explore.
KOA Holidays Feature:
RV Sites with a KOA Patio®
Deluxe Cabins with full baths
Premium Tent Sites
Group meeting facilities
Directions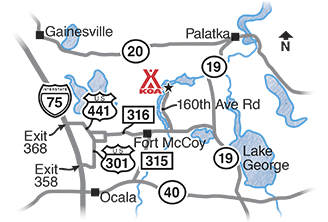 Driving south: I-75 to Exit 368 (CR 318), turn left (East) to Hwy 441 (2nd red light) turn right . Turn left on Old 301 (200A), turn left on CR 316, follow signs and go through Fort McCoy and Eureka on CR 316. Cross over tall bridge to first road on left (160th Ave Rd), go about 11 miles to Lake Oklawaha KOA, on left.
Driving north: I-75 to Exit 358, turn right (SR 326) to Hwy 441/301. Turn left, go to second light turn right onto SR 329. To Hwy 200A (old 301)  turn left (North) to CR 316. right on CR 316, go through Fort McCoy and Eureka. Cross over tall bridge to the first road on left (160th Ave Rd). Go about 11 miles to Lake Okalwaha KOA, on the left.
IF COMING FROM 95 NORTH PLEASE CALL FOR DIRECTION OR STAY ON HWY 19 SOUTH TO SALT SPRINGS. DO NOT TURN RIGHT (onto Rodman Dam Road) AFTER THE TALL CROSS CITY FLORIDA BARGE CANNAL BRIDGE!  YOU WILL TURN ONTO COUNTY ROAD 316 IN SALT SPRINGS. If you turn onto Rodman Dam Road that road will turn into a dirt road.
Get Google Directions
Sep 22, 2021
The people were varry friendly and nice! The cabin we stayed in was dirty, smelly, and outdated. The ATV adventure was amazing and the guide s were fantastic ! Some of the camper's living thare seemed on the verge of homelessness .
Aug 03, 2021
Checked in girl told us our site was 57 we drove around looking for 15 minutes, come to find out site was 102. Next morning stove didn't work went to report at office they said they would send someone in about 30 min. no one came our entire stay. The air conditioner froze up every night. Wasn't told the trail to water was straight down hill. Grass at site not mowed. Will not stay again.
Jul 27, 2021
We had a nice relaxing time. We would go riding the trails then come back and swim in the pool.
Jul 08, 2021
We rented a cabin and upon arrival realized it was infested with fleas. Although staff acknowledged the issue there was no solution, had to cancel last night of stay and bunk with fellow camper. I do love the park in general and have stayed in the past, but this past trip really was upsetting. Our family is covered in flea bites.
Jun 28, 2021
The people were very friendly and helpful. Unfortunately the pool was very cloudy, so it wasn't clear to see the bottom of the pool. The Atv's were a little on the high side to rent. To far for my grandma to walk to the lake to go fishing, so we had to leave the KOA just to fish. The cabin we had was great. That is a 10. Their cabins were singlewide trailers.
Jun 22, 2021
Cabin #32 very clean. The atv trails were great and there are sooo many. The campground was quiet after dark which was nice. All the people were respectful of each other and friendly. The pool was great. Front desk and security guard were very nice. We do wish the office stayed open past 4pm. We booked our next trip when we checked out...lol
Jun 13, 2021
I loved the campground! The cabin we stayed at was very cute. Unfortunately we stayed in a pet friendly, with our pet, and it was full of fleas. I think they need to rip the carpet out and replace the furniture with something that works better. I would definitely go back, but be better prepared for fighting fleas. I understand it is not the campgrounds fault, but it really bothered my dog.
Jun 12, 2021
Had a problem with the RV but the campground made it right and moved us over to a cabin for the rest of our stay. The natural trails could have been more clear. Had a great time and a great stay will come back and stay again.
Jun 02, 2021
The Staff was Awesome and the Deluxe Cabins were Great.
Jun 02, 2021
We had a great time every one was great
Jun 01, 2021
We love visiting this campground. Was a little disappointed this time with the cabin switching around. We had reservations from months ago and our cabin was given to someone else for 2 nights while the air was messed up in the RV that my mom was staying in and she is 90 years old trying to get her in and out of the RV was a task. Never was called to be asked to be switched.
May 24, 2021
I acknowledge the park is going through some changes for the better. We chose this park due to its location to the forest trails, which was great! If we do return in the future we would stay only if we could rent a park model cabin. The RV was not great, AC issues, gross shower curtain, gross shower drain, plastic on mattress, WiFi was nonexistent and kitchen lacking basic supplies.
May 21, 2021
Cabin was great, but did not provide any amenities. No soap, no towels, no paper towels, basically a bare cabin. But I had experienced this before at other KOAs, so I came prepared. Staff was extremely friendly and helpful, given that I arrived early evening. Overall, a good experience.
May 05, 2021
i stay several times at KOA fort maccoy Ocala fl,everything was good until last time April 2021,they rent trailer call Imagine because they told mi cabin has problems, and trailer wasn't good to, no AC working, no gas to cook, and i have to live next day because suppose someone check ac, but nobody show up,
Mar 24, 2021
Front desk gentalmen was amazing, my cabin didn't have a fire pit And he personality went and found one and brought it after work, so my daughter's and I could do smores �
Mar 16, 2021
We stayed in one of the trailers. We enjoyed it . The bathroom and kitchen area were clean beds were clean the carpet could use some cleaning
Mar 16, 2021
Cabin was disgusting. Carpet stains all over, roof leaking, carpet/ wall floor water stains, Smelled
Sep 18, 2021
We love this campground, the staff is great, the pool is clean and fun. We enjoy staying here.
- Angela Edwards on Google
Aug 22, 2021
Just stayed over night seemed to be great for outdoor fun.
- Michael Rademacher on Google
Jun 01, 2021
Great little campground for families. The staff is always super friendly & helpful. Be advised, It's about an hour to the nearest store so make sure you plan ahead & bring everything you need. There is a small store in the office w/a few essentials, a laundromat, bath house, and they sell ice. There's places to fish and hiking trails, you can also bring ATVs to ride the trails with, but you can't ride them in the park after dark (not even to the bathhouse). There's a small thrift store w/some cool old stuff & a tiny civic center where you can have a cold beer & watch sports, just down the Rd, but the hours arent always steady so don't plan your trip around it. We've seen bear and deer everytime we've went so if you like nature this is the place for you. Overall, this is one of our favorite campgrounds.
- Rose Haynes on Google