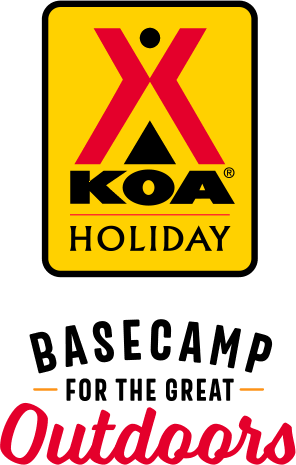 KOA Holiday Campgrounds
Whether you're exploring the local area or hanging out at the campground, KOA Holidays are an ideal place to relax and play. There's plenty to do, with amenities and services to make your stay memorable. Plus, you'll enjoy the outdoor experience with upgraded RV Sites with KOA Patio® and Deluxe Cabins with full baths for camping in comfort. Bring your family, bring your friends, or bring the whole group – there's plenty of ways to stay and explore.
KOA Holidays Feature:
RV Sites with a KOA Patio®
Deluxe Cabins with full baths
Premium Tent Sites
Group meeting facilities
Directions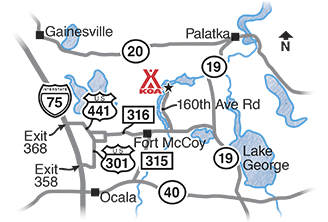 Driving south: I-75 to Exit 368 (CR 318), turn left (East) to Hwy 441 (2nd red light) turn right . Turn left on Old 301 (200A), turn left on CR 316, follow signs and go through Fort McCoy and Eureka on CR 316. Cross over tall bridge to first road on left (160th Ave Rd), go about 11 miles to Lake Oklawaha KOA, on left.
Driving north: I-75 to Exit 358, turn right (SR 326) to Hwy 441/301. Turn left, go to second light turn right onto SR 329. To Hwy 200A (old 301)  turn left (North) to CR 316. right on CR 316, go through Fort McCoy and Eureka. Cross over tall bridge to the first road on left (160th Ave Rd). Go about 11 miles to Lake Okalwaha KOA, on the left.
IF COMING FROM 95 NORTH PLEASE CALL FOR DIRECTION OR STAY ON HWY 19 SOUTH TO SALT SPRINGS. DO NOT TURN RIGHT (onto Rodman Dam Road) AFTER THE TALL CROSS CITY FLORIDA BARGE CANNAL BRIDGE!  YOU WILL TURN ONTO COUNTY ROAD 316 IN SALT SPRINGS. If you turn onto Rodman Dam Road that road will turn into a dirt road.
Get Google Directions
Feb 17, 2021
Not enough picnic tables, kitchen deplorable, fell coming out of club house because of broken pole light.
Feb 17, 2021
All good but the septic drain was not working, (moved). In the past pulled up to park were the electric didn't work, (moved). We camp here to ride 4 wheelers. Dave that trailers us back and forth is awesome, he is friendly, willing to answer any questions, cares about the customers, is there to do his job well. Thanks Dave for trailering our group back and forth always with a smile!
Feb 16, 2021
The office staff was very rude and condescending to some of our group. The owner was present but never talked to any of the guests. The clubhouse and bathrooms were disgusting with ants and filth. Many sites didn't have working electrical boxes or sewer hookup visible. The office should let people know what sites are not available - some people came in at night & drove around a lot!
Feb 16, 2021
Other then wishing we would've brought our jeep and toys we had a blast! We will definitely be back with all our toys next time! Until then!
Feb 16, 2021
We have a mini Good Sam's Rally, Florida Eagles chapter. we have loved going here with our group here for many many years. WE & OUR GROUP WILL NOT BE BACK! rv's park where ever they chose - normally our group could be together and we were scattered through out the park. fires on campsites just in grass no fire pit, no cleanup, broken glass . the electrical box's unsafe Clubhouse oven no ra
Feb 16, 2021
Tried 6 different sites, electric concerns, no water, and no Sewage. States hull hook ups not true will not go back
Feb 16, 2021
We celebrated my Grandpa's 90th Birthday. We had a blast. Thank You
Feb 16, 2021
Had a very nice stay. It is a peaceful location. Everyone was friendly. The only thing I would like to see is better wifi. This applies to nearly every RV location though.
Feb 16, 2021
Was very enjoyable.Nice quite stay for two weeks.Lots of beautiful places to see,but have to drive some to see. We took UTV . And had a great time on the trails. was there Jan21 through Feb.5th. Weather was great.
Feb 16, 2021
Not what I expect for a KOA CG. ATV feeder tail from the campground is closed so now need to drive to trailhead. Will stay elsewhere next time.
Feb 16, 2021
We expected something different I guess. The ants were awful. So many ants. WiFi was non-existent. This campground is really just a big field of sand with full hookup, if you can find a good site with the sewer pipe not broken completely off. Needs a lot of work. The camp sites are not laid out at all. Nothing is marked. I doubt we would stay again. People were nice though at the camp office.
Feb 16, 2021
We and many of our friends stay here every Presidents Day weekend...some of us have turned it into a week stay...love having the access to Ocala National Forest motorcycle trails.
Feb 16, 2021
Nice campground. My only issue relates to the sites. There are no guides to indicate exactly where your site is and exactly where I should be parking. Also, many of the sites are not level. A little grading work would correct both of these minor issues.
Feb 16, 2021
Sewage hook ups are mostly all uncovered and you can smell the sewage. The site next to us had a sewage backup and the raw sewage flowed out onto the ground (site # D15). Other than that we liked the location and campground.
Feb 16, 2021
the maintenance man was very respectful and nice. The guy at the gate was nice... and Kathy in the office was nice. 1st experience here and greatly appriciate how clean and well kept it was. Worth the 3 hour drive... I will sign up to be a member and recommend to all my friends and family... this will be our new place to go to camp and ride. Thank you for a memorable experience.
Feb 16, 2021
No guidance to site. roads closed to get into park children running rampant on four wheelers
Feb 13, 2021
You will be receiving a detailed letter as there are enough "characters" to tell you about our stay. Basically, we were overcharged and the bathrooms were absolutely filthy. The office was notified 2 days in a row before anything was done. Our truck camper did not have a bathroom or shower so we had to use the facilities. Shouldn't the facilities be kept clean, especially during COVID??
Feb 04, 2021
There is no lake access???? Not well marked.
Feb 04, 2021
Stayed one night at this campground. It was nice. This was our first trip here and we didn't know what to expect. We stayed next to the lake but wasn't able to get down to it due to the brush. Seems like a nice place and we plan on going back to explore some more.
Feb 03, 2021
Everyone was very nice! At times it got a bit noisy for us but mostly is was a pleasant experience. We would stay there again if it works out in our travels.
Feb 02, 2021
Me and 18 of my friends were scheduled to stay at the Koa 6 of the couples going we're staying in 2 of the park models 3 days before our stay the 2 park models were canceled and they were told that there not renting the park models out anymore but for extended stay only so this left the couples scrambling to find a place in such short notice so will not stay at this Koa again really sucked
Feb 02, 2021
A campground map / directions at the entrance for late arrivals would be helpful.
Feb 02, 2021
Everyone was very friendly and helpfull. We checked in after dark and the man who checked us in was very accommodating. The pads were not obvious and it took some time to find one. No cable, no septic and very few activities.
Feb 02, 2021
Nice campground.
Feb 01, 2021
We booked online when we checked in we found out we booked wrong and the office staff couldn't fix the problem and ended up having to overpay for the weekend.
Feb 01, 2021
Nice staff but they don't assign spots, you drive around and pick one, A lot of the 30 amp sites are not smooth,flat area for rv but a slanted trough where you set under your awning We did find a flat place to set up but it took many trips around the campground
Feb 01, 2021
The sites are confusing as to the way they are laid out but once your parked it's a nice place to get away. The park is quiet and we like to ride our atv's in the forest but they really need to stop using the trailer to take us 1/4 mile to the trail head. If that doesn't change soon, we might have to find another stay place because it's time wasted.
Feb 01, 2021
When considering booking a stay at this location you must be aware that the only reason to go there is if you own an ATV or two. It is in the absolute middle of nowhere, and the lake that surrounds it is not easy to access as intimated on their website. It would be good to take the family, they can enjoy a great pool, otherwise it is all ATVs all the time, just so you know.
Feb 01, 2021
It is pretty and clean but it's a free for all. No directional guidance, no pads, sites are poorly marked, missing fire rings and picnic tables. I took me over an hour to find a site with a table, water, sewer on correct side with a smidge of shade and still ended up with a western exposure for my patio, no fire pit . It is a "family" 4 wheel riding park but not unruly drunks like a mud hole
Jan 22, 2021
We stayed 5 days in the Jay Flight provided by the koa and my wife and son and I enjoyed our stay very much! This is a great KOA and we can't wait to come back!
Jan 21, 2021
The sites were not easily identifiable...the power was not with the sewer and a lot of the sewer hookups were not identified other than holes in the ground.
Jan 21, 2021
The hosts were polite and helpful.
Jan 21, 2021
Nice & friendly staff, big sites, clean facilities. Could use a few more trees - but that was in our area of the campground. Some areas had lots of shade. Overall, great. Hopefully you can work out the ATV trail situation soon because trailering the ATV's wasn't optimal.
Jan 21, 2021
Nice place to camp. We had fun.
Jan 21, 2021
We camped with a 5-year-old and a 9-year-old and both stayed entertained! Wish the pool was heated but the playground and trails kept them busy. The only complaint is the site we ended up with was very dirty from previous campers. Old firepit and trash crushed and left at the campsite. The current firepit was small and broken. We will return! Hoping the trial from the KOA to the trailhead opens!
Jan 19, 2021
Site is poorly managed and maintained. Camp sites are not assigned. Many sewers, electricity outlets and water faucets not functional. Children wandering unsupervised around the campsites. ATV's careening between campsites from sunrise to well after sunset. Pets, unsupervised, off leash or caged outside unoccupied campers. Office staff dismissive when contacted about concerns.
Jan 12, 2021
We had a fabulous time. Love your campground. We were terribly uncomfortable with the walk from the clubhouse on the walkway to our camper. VERY DARK and the bushes out over the walkway made an uneasy path. The drop off from the walkway in the dark took down 2 of our members. We are okay, but would love it if you could trim the bushes and perhaps provide some kind of light out there. Thanks.
Jan 12, 2021
The side walk at the club house is over grown with shrubs which haven't been trimmed for a year. No lighting in that area which caused people to run into each other. Very dangerous
Jan 12, 2021
there were dogs in the club house and many unattended kids asking for food at dinner fri and sat night. security did not see any
Jan 12, 2021
not enough characters to tell the story. ending, I could have left without paying, but I could not do that. No one followed up when they were supposed to.
Jan 07, 2021
Helpful and friendly staff. Very much enjoyed our stay there.
Jan 07, 2021
This was our 4th or 5th stay since February 2020 and already plan to be there again in February. We like having the water and power for our camper and being so close to the Ocala National Forest to ride our side by sides...
Jan 07, 2021
The speed limit within the park by the atv's needs to be enforced! Also, the bathrooms need some maintenance but overall we really enjoyed our stay �
Jul 05, 2021
This is a nice enough place. Wish there was more hiking nearby and less ants.
- Felicia Marshall on Google
Jun 27, 2021
Very nice spot for camping with the kids, Olympic size swimming pool... 3'-7'... Nice restroom and shower facilities, plenty of outdoor activities...4 wheeling and SxS trails leading into the Northern part of the Ocala Forrest.. Lots of sunny spots, or shaded, if you prefer... Definitely going back soon...
- Scott Ferrell on Google
Jun 19, 2021
Very nice place for camping. close to the ATV trails. nice swimming pool
- Chuck Mitchell on Google