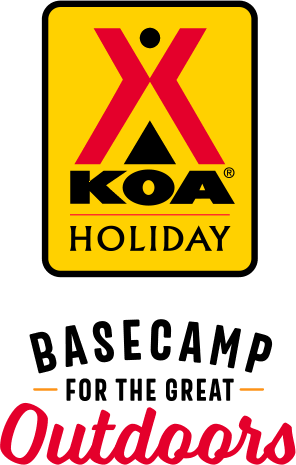 KOA Holiday Campgrounds
Whether you're exploring the local area or hanging out at the campground, KOA Holidays are an ideal place to relax and play. There's plenty to do, with amenities and services to make your stay memorable. Plus, you'll enjoy the outdoor experience with upgraded RV Sites with KOA Patio® and Deluxe Cabins with full baths for camping in comfort. Bring your family, bring your friends, or bring the whole group – there's plenty of ways to stay and explore.
KOA Holidays Feature:
RV Sites with a KOA Patio®
Deluxe Cabins with full baths
Premium Tent Sites
Group meeting facilities
Directions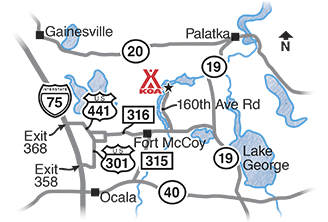 Driving south: I-75 to Exit 368 (CR 318), turn left (East) to Hwy 441 (2nd red light) turn right . Turn left on Old 301 (200A), turn left on CR 316, follow signs and go through Fort McCoy and Eureka on CR 316. Cross over tall bridge to first road on left (160th Ave Rd), go about 11 miles to Lake Oklawaha KOA, on left.
Driving north: I-75 to Exit 358, turn right (SR 326) to Hwy 441/301. Turn left, go to second light turn right onto SR 329. To Hwy 200A (old 301)  turn left (North) to CR 316. right on CR 316, go through Fort McCoy and Eureka. Cross over tall bridge to the first road on left (160th Ave Rd). Go about 11 miles to Lake Okalwaha KOA, on the left.
IF COMING FROM 95 NORTH PLEASE CALL FOR DIRECTION OR STAY ON HWY 19 SOUTH TO SALT SPRINGS. DO NOT TURN RIGHT (onto Rodman Dam Road) AFTER THE TALL CROSS CITY FLORIDA BARGE CANNAL BRIDGE!  YOU WILL TURN ONTO COUNTY ROAD 316 IN SALT SPRINGS. If you turn onto Rodman Dam Road that road will turn into a dirt road.
Get Google Directions
Mar 24, 2021
We absolutely enjoyed every second of the 4 days spent here during spring break. During the times of Covid, I couldn't have chose a safer, more relaxed and simply gorgeous place to spend a few days. KOA staff was awesome, helpful and very informative of the area. As a local, I learned new things and trust me , I asked a lot of questions. This staff had the answers! Thanks Ocklawaha KOA Crew!
Mar 24, 2021
Best camp ground I ever stayed restroom, showers very clean perfect service
Mar 24, 2021
Restrooms were never cleaned.No toilet paper.Brought to there attention twice.Ants everywhere.Very unprofessional staff.Not very helpful.Power box was duck tape to post.Dogs barked most of night ect ect
Mar 24, 2021
Very nice location, well kept!
Mar 24, 2021
Upon arrival, there was no assistance out in the campground as to where to park. The hookups are scattered. Some do not have sewer. The power and water hookups are scattered. As I was dumping my waste tank, the sewer backed up. I had a 3' high poop fountain for a few minutes. No one in the office cared there was sewage scattered all over the grass. Very poor WIFI and very weak cell service.
Mar 24, 2021
This is the most unorganized campground I have ever stayed in. Sites are not clearly marked. The sites do not match up properly with sewer and power. Some sites may not even have a sewer or vice versa. Some you hook up to only to find the power doesn't work. When we left our friends went to flush the black water and the sewer backed up. The office didn't seem too interested. Will not be back.
Mar 24, 2021
Front desk gentalmen was amazing, my cabin didn't have a fire pit And he personality went and found one and brought it after work, so my daughter's and I could do smores �
Mar 23, 2021
Not much to do in the area other than ATVing and guided ATV tours were only available on the weekends. Hear this may change but double check to ensure you can actually go. Would have been nice if hiking trails were available (two short ones are there but nothing for the serious day hike).
Mar 20, 2021
Sites are always available. Super friendly staff. Fun atmosphere.
Mar 18, 2021
Should have told us on phone that no way to get to forest to ride side by side til fri ,sat and sun when we called. Owner not so nice, workers on the other hand were super friendly and helpful. Was nice that they trailered you to trail on weekends. Would probably do it again only do a weekend stay not a week.
Mar 18, 2021
Too many problems to list.Go to Starke koa if you can,better in my opinion. Dirty, almost no tables at sites, bathroom unkept. It was noisy with music and kids running around day and into the late hrs' of night. Lots of loud a.t.v's driving around.Stayed 3 days the family that works and lives there on the corner kids broke the water supply across from me and ran . I got to smell sewage all night.
Mar 17, 2021
They ride 4 wheelers and stuff at all hours of the day and night. The store is never open
Mar 17, 2021
Aalway a pleasureable visit in the check in, roomy campground with lots of sites. The pool and club house are huge and very nice. Our only complaint is there are no picnic tables to speak off makes it hard for tent campers to be able to cook and have a meal thats not on the ground and for RVs to eat outside. So please put some picnic tables on the sites. Otherwise Love Lake Ocklawaha KOA
Mar 17, 2021
Need to improve the actual camp sites. Also it would have been nice to know you can no longer ride from your site directly to Ocala National Forest
Mar 16, 2021
I enjoyed my time there,access is kinda bad
Mar 16, 2021
Great place I would recommend it to anyone that is going to ride the Ocala National forest.
Mar 16, 2021
Called 1 month in advance to the stay, and reserved a spot at a set rate. Fast forward to the day of arrival. Got to the campground after a LONG drive from NC to Florida to find that they don't take reservations. They had also reconfigured all the site numbers, and they had increased the rates with no advanced notice to us at all. Would not stay at this one again.
Mar 16, 2021
Never could get WiFi to work. No tv. Very off the grid remote. Nice large grassy spaces but lots of residents/long term stays. Our neighbor would power wash his four quads almost daily using a portable generator right next to our slide out. Loud! Talked for hours outside our bedroom at night. Hour drive to nearest Walmart. We left two days early for quiet. Staff was friendly though.
Mar 16, 2021
We had a great time. The only complaint we have is that the campground is pretty remote and the store had very little to offer. Other than that we loved the campground and the staff was fabulous.
Mar 16, 2021
We wouldn't stay here again. Hodge podge of camp sites. Hard to figure out where they even are. No one to take you to your site, told to "just pick one". Kids riding 4 wheeler in and out between campers at high speed.Very dangerous and seems no one that works there is ever around. You have to wait for a trailer to take you across the road to ride your ATV on trail and not mentioned on website
Mar 16, 2021
Should offer Rally rate. We may not come back. Too expensive for the middle of nowhere. Improvements are great. Office staff very friendly.
Mar 16, 2021
Every one is racist as heck apparently and the office pretty much just blew off any problems we had with being harassed I don't recommend staying here the maintenance guy I believe named Tom is awesome but this place has some major issues and we will be contacting our lawyers
Mar 16, 2021
Respect and cleaning are a thing of the past here...we have been coming for 6 years and are sad this will probably be our last stay. Restrooms are filthy, workers kids have taken over club house...their disrespect is horrible. Pool is dirty...guess the hose doesn't reach the gate and patio to wash off bird poop. Spend money on poles, lights and trees but not on washers and dryers , total shame
Mar 16, 2021
Unfortunately we were not to thrilled with our stay. We came for strictly UTV riding and the new rule (that we were not mad aware of before hand) was very inconvenient. We expected to just hop on the trails when we wanted, but with the trailor situation that was not the case.
Mar 16, 2021
Nice place have stayed 4 or 5 different times just miss private access to trails
Mar 16, 2021
Nothing about it was enjoyable. From the minute we checked in we were plagued by ATVs running around, one guy was working on his truck and revving it up, and then screeching around the park. We were shown a rough area to pick our site. It was almost impossible to a site with working electrical and sewer hook up that was level. We could not recommend this park in its current shape
Mar 16, 2021
We stayed in one of the trailers. We enjoyed it . The bathroom and kitchen area were clean beds were clean the carpet could use some cleaning
Mar 16, 2021
The ground is not level therefore it is hard to find a place to park that is somewhat level. Location is great. People are great
Mar 16, 2021
Everyone is extremely friendly and personable. The distance away from the city is perfect. Super quiet, and plenty to do between the pool, nature trails and off road trails. Pet friendly, and the natural springs are not far away. Will definitely be coming back but for a longer stay.
Mar 16, 2021
Too many young kids speeding around on atv's unsupervised by parents. My camper and truck cost a lot of money to be damaged by these kids!
Mar 16, 2021
My family and I love coming to this koa we will be back,we love the pool,I wish the little store had more off variety thow
Mar 16, 2021
We've stayed in the past and were excited to go back. However we were very disappointed. Many sites are impossible to get to, not level or delineated and the full hookups are a disaster. We asked for help in finding a site but the help was useless. Six washers but only 3 work and 4 dryers but only 2 work. Grass was not trimmed and shrubs are growing over the walkways and benches. Disappointing KOA
Mar 16, 2021
Staff was SUPER LOVEDDDDDDD THE CAMPGROUND
Mar 16, 2021
Not every site has sewage pipe. Utility posts were really dangerous, they had the receptacles hanging in the box with exposed wiring.
Mar 16, 2021
Bathrooms could have been a little cleaner,as well as the showers. The internet was not all that great either.
Mar 16, 2021
This place has a new owner. After reading the bad reviews, I got worried we would have a bad time. It was awesome! They are currently doing many upgrades. For the people complaining about people riding side by sides and being loud all night, we found this to be false. The campground doesn't allow riding after dark. Many people go there to ride and we ride all day! Resulting in quiet nights. 5 star
Mar 16, 2021
Needs more fire rings and picnic tables at every site. Decorative lights on sites need shut off after quite hours.
Mar 16, 2021
Cabin was disgusting. Carpet stains all over, roof leaking, carpet/ wall floor water stains, Smelled
Mar 16, 2021
This KOA had the friendliest host and staff along with the guests. But I was very dissatisfied w/ women's restroom, it had a strong urine odor, shower floors were filthy with mud, sand and dirt everywhere, shower had huge piles of hair. The toilets were clean. I realize this is camping but you would expect once a day for showers and floors to be cleaned and they were not. The pool was also dir
Mar 16, 2021
This KOA is huge and out of control. Like the wild, Wild West in Florida. There are not assigned spaces. Group camping near us with 5 different families on two sites with 5 dogs running off leash for 2 days. Beautiful setting of park ruined by unruly campers. Don't try to phone—no one answers. Worse KOA experience ever.
Jul 05, 2021
This is a nice enough place. Wish there was more hiking nearby and less ants.
- Felicia Marshall on Google
Jun 27, 2021
Very nice spot for camping with the kids, Olympic size swimming pool... 3'-7'... Nice restroom and shower facilities, plenty of outdoor activities...4 wheeling and SxS trails leading into the Northern part of the Ocala Forrest.. Lots of sunny spots, or shaded, if you prefer... Definitely going back soon...
- Scott Ferrell on Google
Jun 19, 2021
Very nice place for camping. close to the ATV trails. nice swimming pool
- Chuck Mitchell on Google