Flagstaff KOA Reviews
Check the Current Status of Recreation and Amenities Openings During COVID-19
Directions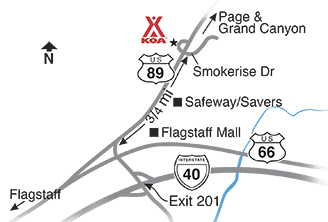 NE of downtown on 89N. From I-40 exit 201, 1/2 mile on US 89 to Page. Turn left at light at Smokerise Drive.
GPS: N35.234192, W111.575673
Fax (928) 527-8356.
Get Google Directions
Jun 22, 2020
KOA's are typically the place we choose but we won't be back to the Flagstaff one. The young lady at the check in was extremely efficient and pleasant. However, the sites were full of weeds and not at all pleasant. Most of the activity areas were closed for whatever reason. We were just disappointed in our stay.
Jun 22, 2020
The bathrooms weren't as clean as I remember and both our sites were pretty uneven. However, the amenities (playground, kids bike rentals, hiking trails) and the very friendly staff made up for it. This is our second time at this KOA and we will return!
Jun 22, 2020
Convenient location with very friendly staff. However, general hookups need attention. Electrical pedestals had missing covers, Cable connection box was broken and laying on the ground. While sites will never be perfectly level, our site, as well as many sites around us were so unlevel that many leveling blocks were necessary (both front to back and side to side). Sites are tightly packed.
Jun 22, 2020
Its beautiful very nice we like it we will return
Jun 22, 2020
Always clean and staff are friendly and helpful. Would recommend having more bikes for rent.
Jun 22, 2020
Good area. Campsites needed a little TLC. Too many people - at maximum capacity - considering COVID would have liked to have seen a little less. Friendly staff in office.
Jun 22, 2020
The reviews are correct, for some it's a great campground and for others it's not. Seems like a local spot for a weekend crowd but for us who travel for a month at a time there isn't much to do at the resort. The playground is really nice but no pool. There is hiking right from the resort which is nice. Overall nothing fancy, the williams KOA has quite a bit more activities for kids.
Jun 22, 2020
Short but great
Jun 22, 2020
We stayed for only one night. The place is not well maintained or manicured. Our full hookup site had an open sewer dump with no cap. The cable box lid was broken and lying next to the electric box. The area is nicely wooded and boarders the National Forest, but the site was not worth the $75.00 overnight stay.
Jun 21, 2020
Quiet KOA. Good location. However, not very well kept and quite dusty.
Jun 21, 2020
Enjoyed our recent 2 night stay at the Flagstaff KOA Very friendly staff Nice camp store Walking distance to Mt Elden trailhead was a nice plus! Lots of kids but still very quiet at night RV sights are on dirt so bring a rug. Despite Very High Fire danger lots of cigarette butts on the ground
Jun 21, 2020
We arrived after hours. The only issue is that someone had set up camp in our location and we took a spot that hopefully wasn't someone elses.
Jun 20, 2020
RV sites are uneven and small with lots of weeds and foxtails everywhere. Overgrown trees and bushed need trimming. Site are definitely BIG RIG UN-friendly. Turns are tight and you must unhook your toad before trying to get to your site, but they failed to tell us beforehand. Overpriced!!
Jun 20, 2020
Excellent management and maintenance staff. Very friendly and the sites were spotless.
Jun 20, 2020
Campsites were good sized and the staff were so friendly. Store was cute and well stocked. Playground was super shady and fun for the kids. My only complaint is the barking dogs. People would leave their dogs in the dog park & all they'd do is bark.
Jun 19, 2020
Needs lots of maintenance.
Jun 19, 2020
Very dusty. Needs Gravel. Dirt was brought in next to us and placed on the pad. We were dusted out.
Jun 19, 2020
Nice office staff. Campground looked great from the road, not as great inside the gate. Spaces small and close together. No barbeques to use at campsite. No pad, just dirt everywhere. Giant streetlight inside camp shines into your rig all night. Overpriced for a place to stay overnight. Lots of tents.
Jun 19, 2020
The spot I had was on a slant, I had no chocks, for some reason when I reserved the space, I thought it had sewer hookups.
Jun 18, 2020
Staff is great but the grounds are a little rough. I was in the back 180's area. Lots of knee high weeds and a little dusty. I had to pick the foxtail's out of the kids socks. Spaces in this area are uneven so bring plenty of levelers.
Jun 18, 2020
It's a great location, nice trees but you are pretty crammed in here -- though that is true for any of the RV campgrounds in Flagstaff.
Jun 18, 2020
Things were not open, COVID, not your fault. Windy, not your fault Dust from the wind, maybe your fault You had tree trimmers there, they didn't block off the area before topping a tree, lots if kids in the area. Bathrooms and showers kept clean and stocked the whole time! Thanks for having us.
Jun 18, 2020
We enjoyed our stay. Unfortunately due to Covid-19 some of the amenities were not available. I would have liked some of the shrubbery trimmed higher and back as we are concerned about snakes. We are not certain if we brought one back with us, but when we got home I saw a small gopher snake in our entry way in our house.
Jun 18, 2020
I would have placed a 5 with the exception of the tree service-cutting loud noise and trying to rest midday.
Jun 18, 2020
The space was not easy to back into and it was WAY TO CLOSE to the TeePee room next to us. The people would walk through our space to get to the shower and since the space was so small it meant walking right by our door. We are friendly people however appreciate our own space. (distance) Luckily, it was only for one night.
Jun 17, 2020
Very narrow poorly maintained roads. Our site #82 was VERY unlev..barely had enough blocks. Friendly helpful staff.
Jun 17, 2020
Your staff is wonderful! When we needed to stay longer due to fires in Tucson, your staff made it possible in a very full campground!
Jun 17, 2020
My husband had shoulder surgery at the Flagstaff Hospital. I stayed here for 3 nights, his stay at was going to be extended the girls in the office couldn't have been nicer about possibly extending our stay. Also on Monday morning when I was trying to put the RV back together by myself (electric, water) one of the wonderful male employees came over to help me. THANK YOU ALL
Jun 17, 2020
Spots need to be leveled off again there were 2 huge holes in our spot my husband, boys and I kept tripping in. Bathrooms are always nice and clean here which is appreciated. It's very odd here that the water hookups make you run your hose across your campsite. Our spot had absolutely no trees, which is odd because most of the spots here do. It's expensive for what you're paying for.
Jun 17, 2020
Had to move too many times. There were empty spaces available that were not filled during our stay. Put us in the most expensive site even though no one was in the less expensive sites. I did NOT need cable hook up.
Jun 17, 2020
Great location with wonderful amenities.
Jun 17, 2020
This place is a gem! It backs right up to a national forest area with great hiking and stunning views of the surrounding area. There are some very very old junipers that are worth finding in the hiking trails! Everyone needs to stop over here!
Jun 16, 2020
We are frequent campers at this park, as they do such a good job of maintaining. We stayed in space #22, and love the improvements you've made over the last year. The new stonework, privacy fence, Weber Spirit gas grill, etc. is fantastic - love to see investment back in the park!
Jun 16, 2020
Most of your staff were very nice and helpful. We were very disappointed that one of your staff in particular was not willing to help us. We were traveling with friends and ask to be together, and she didn't even try, even though the spot right next to us was available
Jun 16, 2020
The camp ground was kept very clean
Jun 16, 2020
The sites are nice but to dusty with all the dirt everywhere. I wish they had paved pull thrus.
Jun 16, 2020
Very peaceful and quite camp ground. People were nice, facility was clean and beautiful, only downfall was dirt spots.
Jun 16, 2020
love the trees. Sorry there weren't more activities available but we were just happy that you were open.
Jun 16, 2020
Poorly maintained sites, marginally sized and tightly packed. Not impressed. Good location to hiking trails but next time I would look elsewhere
Jun 16, 2020
Flagstaff KOA is very nice and the staff is pretty friendly. But, if we may, you may want to check out what they do at Ouray KOA. The staff goes way beyond any campground expectation we have ever had. They have a text number. They send out BBQ, live music, breakfast and office open and closing announcements. You can also text them for ice and fire wood. They also take you to your space.
Jul 03, 2020
Wish we could have stayed longer. The area and campground were great. Showers were user friendly with separate changing area. Bring leveling blocks as many spaces weren't level.
- Glen B on Google
Jul 08, 2020
Was a very Nice stay
- Ricky Harmon on Google
Jun 27, 2020
We stayed here for 5 nights and enjoyed our stay. The staff were friendly and made sure we got a spot we could fit in. The spots are a bit tight but we had no issues with our neighbors. The 50 amp electrical was shot on and the cable TV had over 100 channels and also worked great. A couple of the washers and dryers were not working but there were still a few free open to use. The patio spots are really nice and roomy so if they are available, that is the shot to get. We did the fat man's trail loop that you can access right from the back of the campground and it was a really nice hike. If we are in the area, I would stay here again.
- Chris Cory on Google

Flagstaff KOA
Open All Year
5803 North US Highway 89
Flagstaff, AZ 86004
Check-In/Check-Out Times
RV Sites, Tent Sites
Check-in: 12:00 pm, Check-out: 11:00 am
Accommodations
Check-in: 2:00 pm, Check-out: 11:00 am
Get Google Directions

© 2020 Kampgrounds of America, Inc.