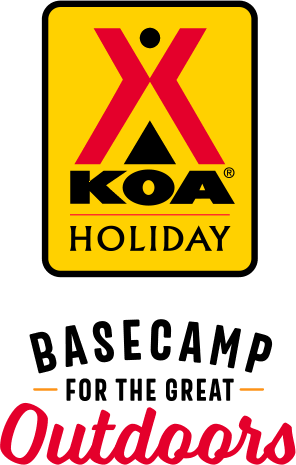 KOA Holiday Campgrounds
Whether you're exploring the local area or hanging out at the campground, KOA Holidays are an ideal place to relax and play. There's plenty to do, with amenities and services to make your stay memorable. Plus, you'll enjoy the outdoor experience with upgraded RV Sites with KOA Patio® and Deluxe Cabins with full baths for camping in comfort. Bring your family, bring your friends, or bring the whole group – there's plenty of ways to stay and explore.
KOA Holidays Feature:
RV Sites with a KOA Patio®
Deluxe Cabins with full baths
Premium Tent Sites
Group meeting facilities
Directions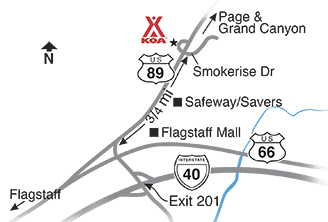 NE of downtown on 89N. From I-40 exit 201, 1/2 mile on US 89 to Page. Turn left at light at Smokerise Drive.
GPS: N35.234192, W111.575673
Fax (928) 527-8356.
Get Google Directions
Sep 20, 2021
Had a nice weekend with friends. The cabin we stayed in was so nice and cozy. Definitely got our steps in going to restroom � . Already booked for next year �
Sep 20, 2021
Top notch, met every need and beyond!
Sep 19, 2021
when we got to the KOA it was a last minute thing. The staff were very friendly and helpful. I wanted something different so we stayed in the teepee. A once in a lifetime thing for sure. This was very dusty and what looked like a mold of some kind on the inside walls of the teepee. I understand it open on the top but still needs to be wiped down before you would allow people to stay in it.
Sep 16, 2021
This is our MOST favorite KOA in AZ.!!!:) We love everything about it from the clean and very accommodating Tent Cabins, (complete with TV, fridge and microwave), to the friendly staff and well kept up grounds to the Breakfast Truck to the gorgeous trees and ambiance...my husband and I LOVE it and will be back again soon!! Keep up the good work and Thanks so much!!:) ~Larry & Annamarie
Sep 16, 2021
It is kept up well.
Sep 15, 2021
Cabin very cozy however should fix the stovetop
Sep 13, 2021
The staff did everything they could to make this a very good experience- all very helpful, polite, pleasant. Excellent customer service!
Sep 07, 2021
We stayed 3 nights in a deluxe cabin and loved it! The cabin was clean, has comfortable beds, and plenty of dishes and cookware. Loved the brick patio with fire pit and 8 adirondack chairs. My grandson enjoyed the jumping pillow and barrel train rides. Grounds were well-kept and staff was pleasant. Would definitely stay there again.
Sep 07, 2021
I love what KOA offers, the cabin was clean however, there were several cobwebs on the walls and pictures. Maybe clean those every other week during the critter months. Otherwise the stay was great. This was our second time using the KOA in Flagstaff. We will be back.
Sep 05, 2021
beautiful place. Very unhappy with the tee pee it had mold! didn't notice until morning. we got in it was raining and the canvas was wet. we saw the mold in morning. we were in the verde.
Sep 03, 2021
Loved it! We even stayed dry and warm in our tee pee during a rain storm. So grateful for the camp kitchen having coffee ready in the morning.
Aug 30, 2021
We stayed in one of the Teepee sites. First time and it was great. Super clean.
Aug 29, 2021
I stayed at a cabin. It was good as usual! It would be better if the swing faced the other way. The breakfast I had wasn't the best but I guess I shouldn't expect more out of a food truck situation. Other than that, I mostly stayed here because I could hike right from the cabin and it was close to the other trails I wanted to hike. I would stay here again.
Aug 26, 2021
Was a very nice KOA.Staff was friendly.Place was clean.
Aug 22, 2021
It was a great experience to sleep in a teepee. We felt like native Americans. The openings at the base provided good ventilation and cooling!
Aug 19, 2021
We stayed in the Deluxe cabin and it exceeded our expectations. The kitchen has everything you need and it's a very comfortable cabin. We enjoyed the firepit and the bbq grill. Being able to bring our dog was the number one deciding factor in staying here or going elsewhere, so we were happy to be able to bring her.
Aug 17, 2021
clean grounds, clean bathrooms, hardworking and available staff
Aug 16, 2021
Good stay. The cabin we stayed in was very clean! Great amenities at the property too: fire pit, jumping pillow for the kids, porch swing at the cabin, etc.
Aug 16, 2021
We stayed in the deluxe cabin. The dishwasher and stove were not working properly and the refrigerator was dirty when we checked in. The cost of the cabin was very expensive in relation to the condition of the cabin. The activity center was closed and my children missed playing there.
Aug 11, 2021
It was great!
Aug 09, 2021
This is our spot almost every summer, however this stay we didn't do the RV stay and stayed in the Delux cabin. We love this KOA and this is the first time we had issues #1 when we opened the hide a bed it was full of dirt and there were no linens . Issue #2 rented bikes and the wheel feel off I got hurt nobody really cared or asked if I was OK. Other than that great place to stay.
Aug 03, 2021
Great amenities for kids! My 8 year old daughter had so much fun and asked me when we were coming back. The breakfast trailer was also very convenient.
Aug 02, 2021
Our favorite KOA! If you're looking for a family friendly campsite, with excellent amenities, exceptional customer service, and close to nature (it has its own trail head!) then this KOA is the one for you.
Aug 02, 2021
Loved the campsite. Showers and bathrooms were clean. Office staff very friendly. Great place for kids. Kids loved the train rides. Nice to have a Cafe on-site. Great location. Recommend highly
Aug 01, 2021
Overall great. It did not have a coffee pot like others, but the mattresses in the cabin were better than others. Very clean bathrooms and cabin. There were alot of fun things for kids.
Jul 27, 2021
Cabin did not have patio space, nor fire ring. Would not recommend staying in a cabin. Huge camper at site across the road had all the outdoor comforts they also have inside the huge camper. Did not make sense to us. Camping spots too close together.
Jul 27, 2021
STAYED IN TEPEE WAS COOL .
Jul 25, 2021
We stayed in one of the teepees. It was not weatherproof and due to my own knowledge of teepees I know the flap was placed incorrectly on the inside. The canvas leaked on the sides and the pole hole let in an absolute flood of water. The entire top bunk was soaked and water ran on us all night. Our items were soaked. When we told staff the next day nothing was done to help.
Jul 22, 2021
This was my first time at a KOA. The staff and facilities were stellar. Thank you and all the employees that work to make the KOA so welcoming and comfortable. :)
Jul 12, 2021
We enjoyed almost everything about the facility and our cabin, however the AC unit that was in our cabin was not working correctly which was really frustrating each evening when we wanted to spend any time indoors and it was too hot (also sleeping in the heat was not our expectation when we reserved the cabin). Other than that unfortunate problem, the cabin and campground were very nice.
Jul 09, 2021
Cabin felt very dirty. Park was very cramped with limited bathrooms.
Jul 09, 2021
Great stay! Fun things for the kids to do, dog run for the pup, and hiking trails immediately behind our cabin. Can't wait to come back!
Jul 09, 2021
Stayed in a cabin, beautiful views. Lots are a bit close together. Lots of kids activities - park, bounce pad thing, bikes for rent, fun gift shop. Location was close to amenities, which can be good or bad depending on what you're wanting. I liked that it butt up to a hiking trail. Very cool. The cabinets should really have AC in the summer …it was pretty brutal at 98.
Jul 07, 2021
Cabin and facilities were nice, including breakfast truck. I had an electric vehicle, and limited charging operations were available. Would be great if that could be better accommodated.
Jul 06, 2021
Dish wash area a bit beat up and dusty… great breakfast at lamp kitchen!
Jun 28, 2021
We stayed in a teepee onsite and it was such a cool experience! We would definitely do that again. The staff upfront were very friendly and helpful!
Jun 24, 2021
I stayed in one of the rustic cabins and had a great stay. The staff is very friendly. The trash cans were emptied several times a day so they were never overflowing. Restrooms and showers are very clean. In general, the campground could use a little TLC, but I would stay here again.
Jun 22, 2021
Great stay, very clean. We really enjoyed the breakfast kamp kafe. The staff was really helpful with information about visiting the Grand Canyon.
Sep 19, 2021
Great place for camping. We stayed three nights here and really enjoyed the location & amenities. The camp breakfast that is available to purchase was very good and reasonable.
- mark klink on Google
Sep 19, 2021
All I can say is good people clean facilities
- Samuel Eberle on Google
Sep 13, 2021
Nice location very nice and amenities offered are excellent.
- Mike Wong on Google