Directions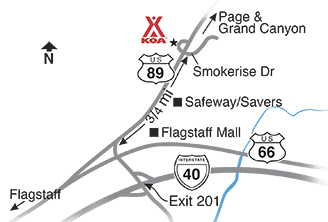 NE of downtown on 89N. From I-40 exit 201, 1/2 mile on US 89 to Page. Turn left at light at Smokerise Drive.
GPS: N35.234192, W111.575673
Fax (928) 527-8356.
Get Google Directions
Oct 17, 2020
The road was too loud. Having the spot closest to the highway for a week meant no one slept well at all. There were always clogged toilets. Last trip, staff looked for ways to be accommodating. This trip, it felt like they actively looked for ways to say no. The ground under the swings also needs to be filled in. We won't be coming back to this KOA even though we loved it the first time.
Oct 17, 2020
Great staff and facilities, good location off the highway
Oct 17, 2020
It was very enjoyable the staff was very friendly and helpful the grounds were clean The only issue was the site we were in was extremely unlevel we had to go purchase more leveling blocks It took 10" of blocks under the left front of the coach. I noticed other campers were have the same problem
Oct 17, 2020
The stay was good. When I reserved online it didn't say anything about all the stuff that was closed.
Oct 17, 2020
Showers were not clean & we used them right after the time they "supposedly" cleaned them.
Oct 17, 2020
The only issue I have is that most of the washing machines didn't work. I wish there were recycle bins throughout the park. I had to go all the way to the front to a recycle bin. Otherwise this was a wonderful place.
Oct 17, 2020
Nice place but a bit crowded and the spots are very tight. Staff super friendly.
Oct 17, 2020
Nice area and facilities but just a little bit tight campsites! Very polite personnel and once it was quiet time it was QUIET. Great family amenities!
Oct 17, 2020
We didn't realize how old, tight and small the sites were. We were used to the KOA at Williams. The hook-ups were in a difficult place and the KOA staff who escorted us to the site didn't seem to know how to help. We managed for the one night. Probably will not stay here again. We had a pick-up camper and towed a boat.
Oct 16, 2020
A very enjoyable stay. In fact, we tried to extend it by one day but no sites were available for our trailer size. The gal in the office tried every which way to try to accommodate us but it just didn't work out. We can't thank her enough for trying. She went above and beyond. We will definitely be back.
Oct 16, 2020
Friendly staff. Tight fit for big rigs.
Oct 16, 2020
Changed campsites, no problem, one of the helpers helped me back in to new site, very sire, very nice people who work there.
Oct 16, 2020
as always, we had a great time. our only issues where the sink in the cabin bathroom didn't really drain well and the stove top didn't really work well.
Oct 16, 2020
The park is located in a nice area. The campground is not as neat as I have seen other KOA's.
Oct 16, 2020
Love to come back after crude over
Oct 16, 2020
We pulled in late but our name and spot were clearly marked and it was easy to find. The trees were beautiful and it was a clean establishment.
Oct 16, 2020
The only down side was a mix up at check in. The lady at the desk was very polit . She circled the site but gave no number. The circle was between two sites. After all was sorted out. The site # is not on the map. And was off by 2 sites. It's beautiful here clean and loved the area.
Oct 16, 2020
Super friendly staff. Super clean bathrooms which was very important. Loved the dog park. Appreciated the multiple trash cans in the park and how often they were dumped. We will definitely be back.
Oct 15, 2020
Surprisingly quiet, considering the place was full. Our camp spot was clean and plenty big enough for our camper and truck. There was more room between sites than we got at our last KOA.
Oct 15, 2020
We had a good time and enjoyed the weather and beautiful surroundings. We would like to come again. We were disappointed that the bounce pad was not available and there were so few bikes for rent. Also, our cabin wasn't very clean. I only mention these things because otherwise I would have rated 5 stars.
Oct 15, 2020
Site was not level side to side (required 4 blocks to level). Site was narrow (I have slides on both sides and my dinette slide was within 4 inches of neighbors picnic table). Electrical connections at end of site limiting set up location.
Oct 14, 2020
Older park and sites can be tight for a pull through. Although we did make with a 40' rig, some were getting creative with how they drove around the sites. Check in staff were great, but park staff driving around would not wave at you unlike other KOA's.
Oct 14, 2020
We loved the Kamp KOA Kafe. The people at the entrance store are awesome. We loved the grounds. Thanks.
Oct 14, 2020
We had a wonderful stay. The staff in the front office were fantastic and friendly. Our kids loved the playground. The area is beautiful and well kept. There were constantly employees working around the property raking and cleaning up the campsites that were vacant. It was obvious they care a lot about the facility.
Oct 14, 2020
Wish we would have gotten a premium site. Our site was a little to small and unlevel.
Oct 14, 2020
Setting in the trees is very nice. However, our site #166 was all loose dirt, uneven, and tight. It was just an overnighter for us, otherwise we would have asked for a better site. There are some decent sites in the park, ours just was not on of them.
Oct 14, 2020
awesome great weekend out with the family and the breakfast was great and priced correctly for me thank you.
Oct 14, 2020
Last minute decision, but a good one, close to everything , shopping, downtown Flagstaff and many tourist attraction close by, well maintained park.
Oct 14, 2020
My pleasant stay at the Flagstaff KOA started with the very friendly check in staff and more importantly the helpful park staff for showing me the necessary space RV connections. The park, when trying to sleep was very quiet, had beautiful trees and numerous trash cans. This park is a must stay when camping in Flagstaff.
Oct 14, 2020
Everything was just wonderful and clean
Oct 14, 2020
We stayed in site 152 Nice spot in the corner of the campground. Had a bit of an issue as the site had a pretty good slope to it. Made the hose hookup a bit of an issue to drop our tanks. Other than that a nice place. Thanks
Oct 14, 2020
I thought KOAs were beautiful and well kept. This was not beautiful and well kept.
Oct 13, 2020
The stay was nice always like staying there staff is always friendly. Sites need to be leveled a little better. With fire ban in effect there should be a staff member patrolling at night to catch the ones having a campfire with wood and charcoal grills. Also should have propane fire pits available to rent when there are fire restrictions or someone would like to enjoy a campfire.
Oct 13, 2020
Always happy to stay when in town, we were just passing thru this time.
Oct 13, 2020
Pleasant office staff, but overall one of the worst RV park values of our experience. Our $67 pull through site #188 had severe uphill and side-to-side slopes requiring us to park angled and offset to level... the picnic table had to be moved. Folks in #187 also had difficulty leveling. These sites and many others like it need grading and leveling.
Oct 13, 2020
Paid a lot of money for our KOA patio spot. It was very dirty and couldn't enjoy patio because there was good and ants all over the place. Pine needles weren't brushed up. After paying what i did, i was really disappointed.
Oct 13, 2020
I stayed for 4 nights. Was happy to be on an end. Having a smaller Bathroom on the West end of campground would be super. Loved the Kamp Kitchen, those ladies do a wonderful job cooking. Front desk @ check in was direct and informative. Thanks,
Oct 13, 2020
Very nice. It was good to get back to the pine tree smell and fall in the air. Safe environment!! Thank you.
Oct 13, 2020
Great and accommodating! LOVE the simple late night check in, VERY useful for road trips!
Oct 13, 2020
The staff was amazing in helping us get set up and making us feel welcomed!!!!!
Oct 12, 2020
We have a 40 ft motor coach. The spots easier to park a larger RV were occupied by small trailers. We had to navigate around overgrown trees that need trimming! The park is very dusty and trash blown everywhere. There are two nicer RV parks nearby and we will be visiting those instead of this KOA.
Oct 12, 2020
I've stayed at this KOA numerous times mostly because it's convenient. The price seems high compared to what you get but maybe that's just the area. Sites are small and be prepared to spend some time trying to level your rig. Staff is always friendly and helpful. Just could use some site improvements for the cost.
Jan 18, 2021
This is a beautiful park! Well kept with great public restrooms with hot showers!
- Renee Monaco on Google
Jan 15, 2021
This is by far one of the best KOAs I've stayed at. We have stayed at a ton of RV parks also and this out ranks them. All the staff is friendly and nice. They have 2 dog parks and really nice trails to walk or walk your dogs. The kids loved playing on the playground. Due to covid some stuff was closed but that was ok. They have lots of cute little cabins and the restrooms were cleaning. Having trash cans at each camp site was so convenient, and the views are pretty good.
- David Hernandez on Google
Jan 06, 2021
Beautiful park nice people
- Cathy K on Google