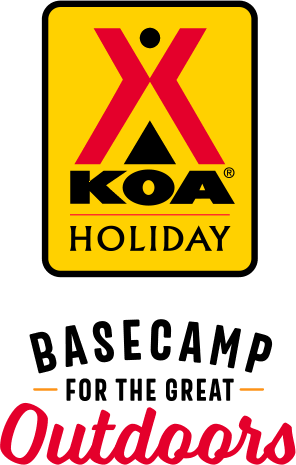 KOA Holiday Campgrounds
Whether you're exploring the local area or hanging out at the campground, KOA Holidays are an ideal place to relax and play. There's plenty to do, with amenities and services to make your stay memorable. Plus, you'll enjoy the outdoor experience with upgraded RV Sites with KOA Patio® and Deluxe Cabins with full baths for camping in comfort. Bring your family, bring your friends, or bring the whole group – there's plenty of ways to stay and explore.
KOA Holidays Feature:
RV Sites with a KOA Patio®
Deluxe Cabins with full baths
Premium Tent Sites
Group meeting facilities
Directions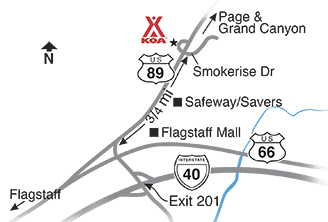 NE of downtown on 89N. From I-40 exit 201, 1/2 mile on US 89 to Page. Turn left at light at Smokerise Drive.
GPS: N35.234192, W111.575673
Fax (928) 527-8356.
Get Google Directions
Oct 23, 2020
Chinock was dirty, all the counter tops and horizontal surfaces had had dust all over. Bedsheets had hairs on them and the floor had crumbs! What was nice was the back patio, The only thing needed to back patio should be a wall between the cabins for privacy and covid separation. We stay at KOAs in California and their campgrounds are in immaculate condition, we automatically assumed the Flagsta
Oct 23, 2020
Beautiful area- downside sewage pipe was backed up in space 170, needed to be cleaned out of debris, leaves, and whatnot. and the only other thing Is tight cramped spacing - you were literally on top of the next group and maneuvering difficult.
Oct 23, 2020
Just two nights but it was absolutely perfect. We had a beautiful slot with plenty of room. Thank you for a stress free stay. Rick
Oct 23, 2020
Very nice staff. I needed a late checkout due to a dental emergency and they were very accommodating. I wish they had a pool. And the dog areas, although MUCH appreciated, really need some gravel because my dogs got filthy. Beautiful spot and I would definitely return.
Oct 23, 2020
Definitely need to update the facility. Signage not very visible. Did not get an escort to spot. Water hookups too far away. Staff was nice & showers were great.
Oct 22, 2020
Really nice place and very clean. Staff are great and on top of things. The only complaint is that we were in a $60 a night patio site with the propane refill station in it. Very loud and busy place. It would be quite easy to move the tank closer to the entrance. It would make it easier to refill also.
Oct 22, 2020
We checked in online in advance but there was no difference from not checking in online, as we still had to wait inline in the office with those who did not checkin online. We were near other campers with loud motorcycles that were very disturbing, started before 8 AM. Loud vehicles should have to park at the entrance of the park so as not to disturb others.
Oct 22, 2020
convenient location, lots of trees. pleasant stay here.
Oct 22, 2020
This campground has a nice location with friendly and accommodating staff, but is too crowded and over used. For example our site appeared to be 1 site that had been subdivided into 2. It was a W/E site but I had to share electric with another site, and never did find water hookup. In the middle of our last night the power went out.
Oct 22, 2020
Not only did I have a pleasant overnight stay, I had forgotten to bring a hammer to drive my new tent stakes into the ground. Gratefully, KOA provided me one. Very happy with the site and staff.
Oct 22, 2020
Very friendly and helpful staff. We liked the campground and location. We plan to stay there again .
Oct 22, 2020
The grounds were beautiful, tall pines and great weather. However, there was zero attempt to make the sites level. One RV's front wheels were 6 inches off the ground. My site was so small that I could not deploy my awning. I was also led to believe that I would have full hookups. There was no sewer hookup! Very disappointed!
Oct 22, 2020
Always clean. Good central location to downtown, hiking trails. Only complaint is that it is such a popular place, it is hard to get a spot on short notice. Book well in advance.
Oct 21, 2020
Overpriced. Nothing fancy, and grounds need better upkeep. True it's desert, but weeds and debris on our site.
Oct 21, 2020
Overnight rest stop before heading to the North Rim of Grand Canyon.
Oct 21, 2020
Staff were friendly, bathrooms clean, good basics in the store. Wish there were more cabins available
Oct 21, 2020
Great stay. We had a beautiful patio site and loved the propane fire pit!
Oct 21, 2020
Very clean and comfortable as always
Oct 21, 2020
Nice campground with clean facilities! Thanks!
Oct 21, 2020
The roads and spaces are too small, it's hard to move around. The person next to us had to park with there door in a bush in order to hook to the water on the wrong side of the space.
Oct 21, 2020
Awesome check-in process, very friendly staff--nice grounds, but site not level and the turns are a little tight for a Class A motorhome. Still, we enjoyed our brief stay and would stay here again.
Oct 21, 2020
Small pull through. Could not get coach level
Oct 20, 2020
Very dark skies, pretty camping area (though crowded). Deluxe cabin was mostly clean, but under the beds was super gross, sink was clogged, dishwasher leaked water everywhere. Staff was very friendly.
Oct 20, 2020
The restroom facilities were not well kept. The front desk person was friendly but their camp porter was rude.
Oct 20, 2020
Beautiful campground. Great access to hiking trails. Bathrooms are older, but clean and well maintained.
Oct 20, 2020
Our camp site had very fine dirt, while a lot of other sites had crushed rock in them.
Oct 20, 2020
Great place to stay. There were plenty of friendly staff and grounds were well kept.
Oct 20, 2020
Very clean restrooms and a roomy campsite.
Oct 20, 2020
Lovely site some what spendy but was very nice . We will be back and stay longer
Oct 20, 2020
My space was really tight. Very uneven. My leveling jacks could not even it out. I had to wait for the space in front of me to leave before I could pull out
Oct 19, 2020
This is one of our go-to KOAs, for overnights on the way to/from Grand Canyon and other destinations. It is a very busy KOA, with many arrivals and departures any time of the day. Knowing all that, I don't expect it to be an experience in solitude, and our recent stays were fine. (Self-contained, so can't comment on the current state of the showers and restrooms.)
Oct 19, 2020
We were put in site 72 very bad site, needs grading to make it more level. We requested a different site. At first we were told that it was not possible because people were going to arrive that were staying more than one night!!! The staff did agree to move us, but we felt that they originally purposely put us in a less desirable spot because it was a one night stay .
Oct 19, 2020
The site did not resemble what your website shows. We were so close to the next spot, we could hear them talking inside their trailer. There was no sewer hookup which was apparently our fault. The site was a dust bowl. The water hose had to run right through our site - not safe. When I called the office, the gal hung up on me. Won't be back.
Oct 19, 2020
We always like to stay here when we travel on the 40. It was only an overnighter this time but we really like this KOA. We were even able to sneak in a quick hike before we left in the a.m.
Oct 19, 2020
My wife and I come to Flagstaff every Fall to view the colors, hike and explore the area. We usually stay at a hotel but this year decided to use our travel trailer. We were glad we did. This campground is wonderful, hiking right from the campground. It is in a forested area but close to conveniences. It is well maintained and the restrooms are exceptionally clean. Highly recommend!
Oct 19, 2020
Staff was very attentive. However, cable tv and WiFi did not work at all. Many other people had same issues. I recommend KOA upgrade systems to keep up with higher occupancy of today. Feel like I paid for services I never received.
Oct 19, 2020
It was ok, we were told we would have full hook ups and when we set up there was no cable like the other sites. That made a difference to us but not deal maker. Lots of pine needles in our site and piles of debris in work trailer next us. Overall staff very friendly, one was not so friendly.
Oct 19, 2020
It was great! As usual. Greatful for the awesome play ground!
Oct 19, 2020
Amazing stay! super friendly staff that helped checking me in, great camp sites, nice central location, really close to good hikes. Would stay here again!
Oct 19, 2020
When we ariived, the campground internet, phones, and website were all down. The staff remained calm, was very enthusiastic, and got us into our site promptly. The bathrooms and showers were VERY tidy, and the campground was very clean. Thank you!
Oct 19, 2020
We had a great experience. We only stayed one night but employees were nice and everything was very clean.
Oct 18, 2020
Clean and well maintained.
Oct 18, 2020
The spot was very unlevel. We were put next to a family that was tent camping and they were very noisy. Not just that, their language was very offensive. Then someone shut our water off while my wife was in the shower. It's a good thing we were only passing thru and staying one night.
Jan 18, 2021
This is a beautiful park! Well kept with great public restrooms with hot showers!
- Renee Monaco on Google
Jan 15, 2021
This is by far one of the best KOAs I've stayed at. We have stayed at a ton of RV parks also and this out ranks them. All the staff is friendly and nice. They have 2 dog parks and really nice trails to walk or walk your dogs. The kids loved playing on the playground. Due to covid some stuff was closed but that was ok. They have lots of cute little cabins and the restrooms were cleaning. Having trash cans at each camp site was so convenient, and the views are pretty good.
- David Hernandez on Google
Jan 06, 2021
Beautiful park nice people
- Cathy K on Google