Directions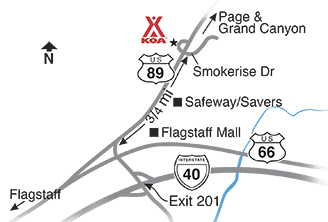 NE of downtown on 89N. From I-40 exit 201, 1/2 mile on US 89 to Page. Turn left at light at Smokerise Drive.
GPS: N35.234192, W111.575673
Fax (928) 527-8356.
Get Google Directions
Oct 26, 2020
Two issues. We rented the deluxe cabin that sleeps up to 8. The dishwasher was out of service and there was no hot water out of the kitchen faucet. I think the faucet needs replaced. Cold water comes out when its on hot or cold position.
Oct 26, 2020
The park is really big, but the roads are very narrow. It was difficult getting our 5th wheel around the park and into its space, but the space was a good sized one, once you got around all the trees and large rocks. The dog park is fenced and very large, it is quite dusty though since there is no grass there. The park was pretty full on the night we stayed, but it was quiet after dark.
Oct 26, 2020
Excellent KOA except our electrical box looked as if someone had previously ran over it. We got it work but it was a little scary. Rv site 164. KOA Staff were all awesome and it's a really pretty place.
Oct 26, 2020
All staff was very helpful and friendly. The campsite was clean including the bathroom facilities which is a huge plus for tent campers. Road noise was present but not terrible. I would definitely recommend the location.
Oct 26, 2020
Absolutely amazing!!! I had not stayed at a KOA in 20 years back when I was a Scoutmaster for the BSA. I was so impressed I took a directory will no longer stay at the notell motels KOA cleaner, friendlier, and safer. Thanks to Team Flagstaff!!!
Oct 26, 2020
quiet campground, odd that the site we were on had the h20 on the right side of my pull in. Sites are kind of close together. We stayed 3 nights and no issues.
Oct 26, 2020
We left a day early. We reserved an electric only tent site so that we would be with other tents. Instead we were placed in between two rvs on an extremely tiny site that had electric and water. The pad was only 10x10 so our tent didn't even fit. Plus it backed to a concrete wall where a mobile home Park is located. The rv next to us had their led lights shining on us the entire night. Horrible!
Oct 26, 2020
Great site! Required masks. Outdoor sink for washing dishes was great. Campsite was large and felt safe.
Oct 26, 2020
Staff at counter very helpful and accommodating! Been coming to this KOA for many, many years for a reason!
Oct 26, 2020
The hosts were very kind. They were very welcoming and I felt comfortable during my stay. Thank you.
Oct 25, 2020
We were greeted by very nice office staff during our stay at Flagstaff. We had several packages delivered to this campground that the staff handled for us.
Oct 25, 2020
Great stay. It is in the heart of Flagstaff. Easy access to all northern Arizona. There was a storm coming in, and we had to leave a day early to avoid it. They gave us a refund even though they didn't have to. This was our third time staying here. We always enjoy our time here. Always clean showers and bathrooms. I would recommend anyone to stay here.
Oct 25, 2020
We had the site by the dog park. Dogs not an issue but noise from road at night was. Next time I would chose a different site further from the road. Facilities were great and so was the staff. Lots of masks and social distancing. Many well behaved dogs. I felt safe and secure and relaxed.
Oct 25, 2020
Staff were super helpful. Bathrooms were clean. Close to gas stations and a grocery store. I've stayed here before and I'll stay here again.
Oct 25, 2020
When we arrived our reserved site was occupied. The office did not know who was in my site but directed me to another site that was nearly impossible to get into.
Oct 25, 2020
Beautiful relaxing campgrounds. Easy to navigate and, very professional staff.
Oct 25, 2020
Fantastic KOA! Great spots, clean, and within walking distance to the market and restaurants.
Oct 25, 2020
We liked your place and location. Having the water on the right side at our site threw us off, and seemed goofy.
Oct 25, 2020
Very friendly and helpful!
Oct 24, 2020
The site was above expectations and the staff was very accommodating. It was a very pleasant stay and we will definitely be back.
Oct 24, 2020
Staff were nice and engaging. Knowledgeable about their campsite but I was surprised that they were not very knowledgeable about the Grand Canyon National Park seeing as they are stationed relatively close to it. Kids park had both standard park like structures and a more imaginative play (balancing beams and logs) area where the kids could be more creative. Stayed for 3 days.
Oct 24, 2020
Friendly, helpful, and central location.
Oct 24, 2020
Great friendly staff. Clean facilities and excellent hiking trails right out the backboor.
Oct 23, 2020
Sites are VERY narrow. Could not even put chairs outside the camper to sit outside. Not worth the cost. Would not return.
Oct 23, 2020
Well taken care of property. Drive thru site was not level.
Oct 23, 2020
Chinock was dirty, all the counter tops and horizontal surfaces had had dust all over. Bedsheets had hairs on them and the floor had crumbs! What was nice was the back patio, The only thing needed to back patio should be a wall between the cabins for privacy and covid separation. We stay at KOAs in California and their campgrounds are in immaculate condition, we automatically assumed the Flagsta
Oct 23, 2020
Beautiful area- downside sewage pipe was backed up in space 170, needed to be cleaned out of debris, leaves, and whatnot. and the only other thing Is tight cramped spacing - you were literally on top of the next group and maneuvering difficult.
Oct 23, 2020
Just two nights but it was absolutely perfect. We had a beautiful slot with plenty of room. Thank you for a stress free stay. Rick
Oct 23, 2020
Very nice staff. I needed a late checkout due to a dental emergency and they were very accommodating. I wish they had a pool. And the dog areas, although MUCH appreciated, really need some gravel because my dogs got filthy. Beautiful spot and I would definitely return.
Oct 23, 2020
Definitely need to update the facility. Signage not very visible. Did not get an escort to spot. Water hookups too far away. Staff was nice & showers were great.
Oct 22, 2020
Really nice place and very clean. Staff are great and on top of things. The only complaint is that we were in a $60 a night patio site with the propane refill station in it. Very loud and busy place. It would be quite easy to move the tank closer to the entrance. It would make it easier to refill also.
Oct 22, 2020
We checked in online in advance but there was no difference from not checking in online, as we still had to wait inline in the office with those who did not checkin online. We were near other campers with loud motorcycles that were very disturbing, started before 8 AM. Loud vehicles should have to park at the entrance of the park so as not to disturb others.
Oct 22, 2020
convenient location, lots of trees. pleasant stay here.
Oct 22, 2020
This campground has a nice location with friendly and accommodating staff, but is too crowded and over used. For example our site appeared to be 1 site that had been subdivided into 2. It was a W/E site but I had to share electric with another site, and never did find water hookup. In the middle of our last night the power went out.
Oct 22, 2020
Not only did I have a pleasant overnight stay, I had forgotten to bring a hammer to drive my new tent stakes into the ground. Gratefully, KOA provided me one. Very happy with the site and staff.
Oct 22, 2020
Very friendly and helpful staff. We liked the campground and location. We plan to stay there again .
Oct 22, 2020
The grounds were beautiful, tall pines and great weather. However, there was zero attempt to make the sites level. One RV's front wheels were 6 inches off the ground. My site was so small that I could not deploy my awning. I was also led to believe that I would have full hookups. There was no sewer hookup! Very disappointed!
Oct 22, 2020
Always clean. Good central location to downtown, hiking trails. Only complaint is that it is such a popular place, it is hard to get a spot on short notice. Book well in advance.
Oct 21, 2020
Overpriced. Nothing fancy, and grounds need better upkeep. True it's desert, but weeds and debris on our site.
Oct 21, 2020
Overnight rest stop before heading to the North Rim of Grand Canyon.
Jan 06, 2021
Beautiful park nice people
- Cathy K on Google
Jan 02, 2021
Great "woody" location. Staff is always friendly and helpful. I seem to camp there frequently because of its distance from LA.
- Stephen Lindsey 2112 on Google
Dec 29, 2020
Super nice KOA. Love the amenities, nice store and backdrop of a mountain is awsome.
- Marc Peterson on Google