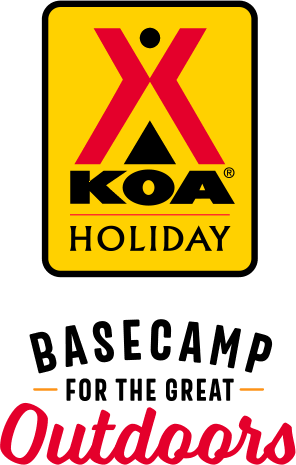 KOA Holiday Campgrounds
Whether you're exploring the local area or hanging out at the campground, KOA Holidays are an ideal place to relax and play. There's plenty to do, with amenities and services to make your stay memorable. Plus, you'll enjoy the outdoor experience with upgraded RV Sites with KOA Patio® and Deluxe Cabins with full baths for camping in comfort. Bring your family, bring your friends, or bring the whole group – there's plenty of ways to stay and explore.
KOA Holidays Feature:
RV Sites with a KOA Patio®
Deluxe Cabins with full baths
Premium Tent Sites
Group meeting facilities
Directions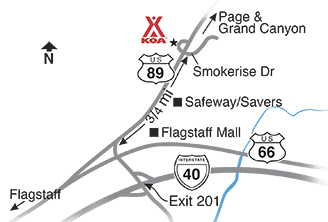 NE of downtown on 89N. From I-40 exit 201, 1/2 mile on US 89 to Page. Turn left at light at Smokerise Drive.
GPS: N35.234192, W111.575673
Fax (928) 527-8356.
Get Google Directions
Aug 29, 2021
Great place! I like it.
Aug 29, 2021
Marginal restrooms otherwise good settling with lots of trees.
Aug 29, 2021
Sites were uneven. We had to move 3 times to find a level one and had to pay e tra for the site and then we couldnt sit outside becsuse our neighbors dump smelled and was right next to our table
Aug 28, 2021
In a private park charging $50+ a night, I would like to assume the sites were level. No such luck here. On a positive note, staff in the office were friendly and helpful in other ways.
Aug 28, 2021
Great campground with plenty of trees and nice large sites. The breakfast truck was very unique and the food was fantastic.
Aug 28, 2021
Friendly & accomidating staff! Sites work well. Overall condition of the grounds is fair. Hookups worked well.
Aug 28, 2021
We were overnighters, it was a great stay. We hope to be back soon.
Aug 28, 2021
Compared to many of the other KOA campsite we have stayed at, this one is average. The site needed rock or gravel like some of the other sites. The site was cramped and in need of clean up.
Aug 28, 2021
Great time. Grandkids enjoyed every activity. Just wished they had a poor. Enjoyed the breakfast
Aug 28, 2021
Great overnight stop. Plentiful laundry facilities, clean site tucked under many shady trees. The front desk staff are excellent. Young people with great customer service.
Aug 27, 2021
Great Campsites. We stayed two days and should have planned a longer stay. Weather was great and there are a lot of things to see and do in the Flagstaff area.
Aug 27, 2021
We had a very good stay, staff are friendly and helpful. Our daughter is attending NAU and is convenient. I would stay again, as we did last year and access is easy.
Aug 27, 2021
Was not able to make it to the campground and could not get a hold of anyone to cancel. Had to leave a voice message. And never got a response back
Aug 26, 2021
Put me so far away
Aug 26, 2021
Was a very nice KOA.Staff was friendly.Place was clean.
Aug 26, 2021
Great place. No more worn out Circle Pines in Williams. This will be our frequent cooling zone.
Aug 26, 2021
Beautiful campground. We hope to visit again
Aug 26, 2021
We stayed one night and it was absolutely wonderful....
Aug 25, 2021
Very friendly and helpful staff. Lots of working on improvements every day. Monsoon storms had caused issues with erosion due to runoff but staff was diligently fixing
Aug 25, 2021
Weather was wonderful. RV sites well equipped. Wish they would level sites as the all tend to tilt west. Also, this trip, my site had no trees or shade. Thank goodness there was also very little wind so awnings could be extended most of the day.
Aug 25, 2021
The only problem was an RV that rolled in half way through our second week that had dogs that barked all the time, even early in the morning.
Aug 25, 2021
Perfect location for trail/hiking access. Campground is neat and well maintained. Sites are spacious and nicely treed.
Aug 25, 2021
Staff is friendly and fast… surroundings are gorgeous….just off the historic 66 stretch of Flagstaff and not far from the Grand Canyon.
Aug 25, 2021
everything excellent
Aug 25, 2021
Wonderful stay. Your clerk was very pleasant and helpful
Aug 24, 2021
For as old as this KOA is, the spaces are not well maintained. Very uneven. Also, dogs behind us allowed to bark at anyone or anything that goes by. The people were just sitting there ignoring the dogs as though this is what they do. We stayed here 29 years ago and were glad to get a spot but not sure we will be back.
Aug 24, 2021
It was perfect
Aug 24, 2021
This KOA is very clean, has nice walking/hiking trails and is close enough to town should one need anything. We stayed there twice in one week, it was a great stopping point going to and coming back from Colorado.
Aug 24, 2021
Clean, well kept campground.
Aug 23, 2021
This is my favorite place to stay when we come to Flagstaff! It was gorgeous this trip with all the beautiful flowers! The staff was busy getting things cleaned up after the rain. Highly recommend!
Aug 23, 2021
Great place to stay while exploring areas of Flagstaff. Friendly staff. Crowded but pretty clean and quiet. Only issue we have is that while we were waiting for the dump (over a half an hour for one person in front of us) a staff person came up to our car and asked us if we were guests the night before. He didn't ask the people behind us or the people taking forever in front of us. This felt off-
Aug 23, 2021
Great place to tent camp! Very well maintained campground and the staff in the office were so friendly and informative of the area.
Aug 23, 2021
The WiFi was horrendous and the grade of the sites was terrible. We have stayed at this location quite a few times and were very disappointed with this visit.
Aug 23, 2021
I loved my stay here. The campground is clean and well taken care of. The showers were hot with good water pressure and the Kamp Kitchen was such a great perk. The food was great and it was such a nice way to meet happy morning people.
Aug 23, 2021
We had a nice stay but we have been coming to this KOA for 12 years and the kids activity center has always been open. It appears to be permanently closed now. We missed the build your own ice cream sundae, flashlight treasure hunt, t'shirt coloring, movie night, lawn bowling, pool table, foosball table and all the other activities this KOA used to have.
Aug 23, 2021
Unfortunately the big rains made quite a mess in the campground. We were only there for one night and I'm certain it is normally a very nice place to stay. The staff was out doing their very best to clean things up, but another rain was moving in. I like the hiking trails that are available close to the park. The spots are a little pricey for what they are.
Sep 19, 2021
Great place for camping. We stayed three nights here and really enjoyed the location & amenities. The camp breakfast that is available to purchase was very good and reasonable.
- mark klink on Google
Sep 19, 2021
All I can say is good people clean facilities
- Samuel Eberle on Google
Sep 13, 2021
Nice location very nice and amenities offered are excellent.
- Mike Wong on Google