Directions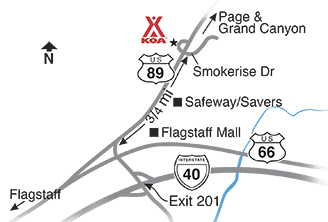 NE of downtown on 89N. From I-40 exit 201, 1/2 mile on US 89 to Page. Turn left at light at Smokerise Drive.
GPS: N35.234192, W111.575673
Fax (928) 527-8356.
Get Google Directions
Nov 04, 2020
We have enjoyed this park a couple of times now. It's well-kept and in a great location for our favorite activities, including the Cinders OHV park and access to mountain roads and hiking trails.
Nov 04, 2020
We only stayed for a few hours but it was quiet, bathrooms were clean and the staff was awesome!
Nov 04, 2020
Friendly owners
Nov 03, 2020
Only stayed one night as we were traveling east - KOA location was convenient - staff was friendly and our back in site offered a good amount of privacy
Nov 03, 2020
The staff was so nice, we needed to go home a day early and they were super helpful.
Nov 03, 2020
We stayed only one night. Enjoyed the campground. One drawback of our site is that it was not even close to being level. Our automatic leveling system could not level the RV. Staff was friendly and helpful.
Nov 03, 2020
Everything with our stay went smoothly and the staff was great. I would say that the sites were very close together and not well arranged. Our neighbor's car was parked less than 2 feet from where our tent was. The biggest problem was that there were two big pieces of metal (maybe some sort of electrical equipment?) that stuck up in the middle of our site, which was a big safety issue at night.
Nov 03, 2020
Everything was fine except when we went to hook up our utilities there was three large piles of dog poop right by the electrical box. We notified the office and it was cleaned up
Nov 03, 2020
It was great, clean, staff was friendly and knowledgeable. Only thing is the sewage was clogged. We had to go to another spot and dump and then go to our spot.
Nov 02, 2020
Everything was great. Only complaint is our brick patio was covered in pine needles and we had to sweep them up into a big pile.
Nov 02, 2020
Hosts were great, the site is quite pretty and woodsy, Covid-19 protection from staff is great but the other campers are not very compliant with the Covid-19 rules....quite disappointed and not feeling very safe there. Minimal use of masks at public restrooms.
Nov 02, 2020
Every thing was great quite and clean
Nov 01, 2020
It was wonderful! :)
Nov 01, 2020
I arrived just before the office closed at 8, but they were all ready for me and super helpful. This is just a great campground with wonderful facilities. Can't wait to come back.
Oct 31, 2020
Roads are narrow and in disrepair. Pretty tight and difficult for bigger 5th wheel trailers to maneuver throughout the campground. I would not recommend for campers over 30 feet. Water pressure from hookup was low. I had to put some water in the onboard tank and use our onboard pump to have good pressure for showering. Cover for electrical box was broken.
Oct 31, 2020
Staff were so friendly and helpful. Good facilities and although just of Hwy 89 there was very little traffic noise.
Oct 31, 2020
Too crowded for Covid times. Only used the bathroom in the middle of the night. Nice surroundings. Very clean considering how many people were in the campground.
Oct 31, 2020
We like the location however the site was very Unlevel which made for a challenging stay. Also at check in the staff was a bit cold and although there were 3 people there two were busy talking. It seemed they Couldn't be bothered to even say hello while the one remaining was on the phone. Also not a big fan of the dirt pit area or the gravel used at the sites all of which track in really badly
Oct 30, 2020
Beautiful spot. Well maintained. Great staff
Oct 30, 2020
Great location. Friendly staff. Reasonable rates
Oct 30, 2020
Very friendly and attentive staff. Great location and very scenic campground. Would definitely stay there again.
Oct 30, 2020
overpriced, but it's okay.
Oct 29, 2020
Camp ground and site was A OK.. Cold windy weather was the kicker. Our pipes froze, hoses froze, valves froze, and windows iced up on the inside. Our trailer is not set up to handle that type of weather. But we still had fun and enjoyed our stay with all the challenges. Thank you. Roy & Debbie Peterson
Oct 29, 2020
Leaning tree in site 80 has been hit many times by the upper part of the RV on entry to site.
Oct 29, 2020
Very peaceful, everything needed right there. Beautiful scenery!
Oct 29, 2020
Nice property, Good customer service, but rundown facilities. Our campsite didn't have water, half the washer/dryers were out of order.
Oct 28, 2020
This is a wonderful KOA with trees all around so you feel like you're in a forest. We had the deluxe patio and it was so nice for our whole group to meet and have a meal together. VERY NICE sites. Only wish we had had more time at this KOA. We will definitely return when we can enjoy it longer. They had a little breakfast grill on the weekend. Definitely recommend!
Oct 28, 2020
The staff was great, knowledgeable and helpful! The area was nice and clean.
Oct 28, 2020
Thank you very much
Oct 28, 2020
Very happy with my stay! It was much colder than anticipated so the cabin wasn't as warm as I'd hoped but that's what happens when it's 9° outside. I'll be back!
Oct 28, 2020
Beautiful mountain atmosphere with awesome hiking only 1/2 a mile away. Clean, friendly and not too close to next camper. Plenty of room to walk dogs around grounds.
Oct 27, 2020
We love it. Good location, quiet and friendly staff.
Oct 27, 2020
Friendly Staff, less than impressive camp sites and bathrooms need a facelift.
Oct 27, 2020
Clean bathrooms. Decent campground. Sites were a little close together, but it was all good.
Oct 27, 2020
We had a great stay and the staff was super helpful and friendly! We will definitely be back soon!
Oct 27, 2020
Great place. We tent camped. All accommodations were perfect. Mindy was a true blessing and made our stay the best. We'll be back!�
Oct 27, 2020
Teepee was very comfortable, heater was a very nice touch as we got some snow the last night of our stay. Would definitely stay in them again!
Oct 27, 2020
Appreciated you being able to change my resveration on short notice.
Oct 27, 2020
Poor WiFi. Only stayed one night when traveling through flagstaff. Staff at registration were friendly and efficient.
Jan 06, 2021
Beautiful park nice people
- Cathy K on Google
Jan 02, 2021
Great "woody" location. Staff is always friendly and helpful. I seem to camp there frequently because of its distance from LA.
- Stephen Lindsey 2112 on Google
Dec 29, 2020
Super nice KOA. Love the amenities, nice store and backdrop of a mountain is awsome.
- Marc Peterson on Google