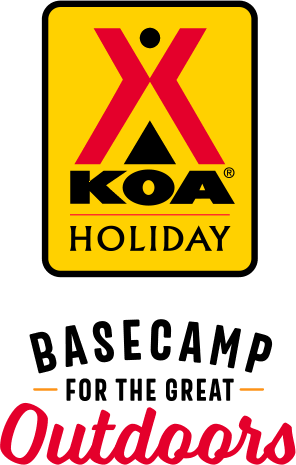 KOA Holiday Campgrounds
Whether you're exploring the local area or hanging out at the campground, KOA Holidays are an ideal place to relax and play. There's plenty to do, with amenities and services to make your stay memorable. Plus, you'll enjoy the outdoor experience with upgraded RV Sites with KOA Patio® and Deluxe Cabins with full baths for camping in comfort. Bring your family, bring your friends, or bring the whole group – there's plenty of ways to stay and explore.
KOA Holidays Feature:
RV Sites with a KOA Patio®
Deluxe Cabins with full baths
Premium Tent Sites
Group meeting facilities
Directions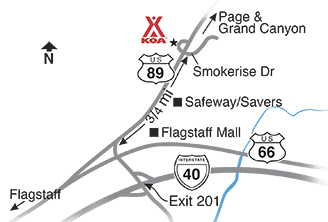 NE of downtown on 89N. From I-40 exit 201, 1/2 mile on US 89 to Page. Turn left at light at Smokerise Drive.
GPS: N35.234192, W111.575673
Fax (928) 527-8356.
Get Google Directions
Apr 12, 2021
We loved our stay at the Flagstaff KOA. The staff was helpful and the sites were well separated and shaded. We didn't expect such great accommodations and found time to explore Walnut Canyon.
Apr 12, 2021
Very friendly staff with clean facilities. This site is about an hour drive to the south rim of Grand Canyon, which had some amazing views. Also, Sedona is a short drive south with beautiful views and a rainbow trout farm that the kids really liked. We would definitely be back.
Apr 12, 2021
I reserved tent site with electric but staff sent us to stayed at the site no.76 that has no pole to plug in. We stayed the whole night without electric!!!!!!! We didn't move to another site because office already closed when we get there. Next morning they sent staff to spot me where the pole is but all poles are for another sites !!!!!!!!!
Apr 12, 2021
We loved the stay & atmosphere, the only problem we had was masks wasn't enforced on those walking around, & keep distance from each other.
Apr 12, 2021
Only 1 night. Just fine.
Apr 12, 2021
My family and I had a great time the staff and the other guests were very friendly. Fantastic atmosphere.
Apr 11, 2021
The park is nice and maintained. I wish the spaces were a little wider and the rows a little farther apart. I had difficulty getting my fifth wheel out of the spot with the trees at the front. Also the stop light to enter the park sucks. It needs a dedicated left turn green light. Not the park's fault at all but maybe they should petition the city.
Apr 11, 2021
Great location to see a lot of things. Beautiful drive to the GC. Kids loved the park, and the staff were always great! Will definitely come back!
Apr 11, 2021
Check in was courteous, fast & easy. Campground was big and offered the usual hookups but campsites are in need of updating.
Apr 11, 2021
We loved our site, the dog park and the playground! It's also so convenient to hiking and exploring Flagstaff! The staff were very kind, too! We made use of the laundry room but were disappointed to see only 9 of the 19 units were working. That made doing laundry a little challenging. Also, the bathroom hand dryers were not working and only sometimes were there rolls of paper towels available.
Apr 11, 2021
great stay the bounce pillow was broken kinda a let down because we a told out 9 year old they had one but other than that good stay nice playground area
Apr 11, 2021
Great park & great staff!
Apr 11, 2021
Everything was wonderful! Staff was super helpful, bathrooms clean, and sites were nice.
Apr 10, 2021
it has been a couple of years since I last stayed here and the improvements have been spectacular! Staff were gracious, welcoming, and friendly, and solved a minor issue immediately and correctly. I will definitely be staying here again
Apr 10, 2021
We stayed 2 days to see Sedona and Grand Canyon, the park was in a great location but a little on the dirty side. Bathrooms and showers need some serious attention, staff was friendly but not knowledgeable about the area. I would not stay again
Apr 10, 2021
Ok for overnight. A tight fit for our large 5th wheel but doable.
Apr 10, 2021
Fun campground with great hiking trails. Well run
Apr 10, 2021
The staff were very good, the spot was the last one available however the lot was totally unlevel I couldn't get my trailer to level on it the parking yeah well the whole area was dirt and the 30 amp service that someone installed was totally unsafe the only thing you could say about it was it worked there were no screws holding it in.
Apr 09, 2021
Great location, attentive staff, good size campsites. We'll be back!
Apr 09, 2021
Check in was great! lead to site and helped position RV. Showers and Laundry were good. Good camping neighbors all around us.
Apr 09, 2021
Nice site, quiet neighbors, good service from the staff. Good in-town location.
Apr 09, 2021
Don't understand how this could receive anything less than 5 stars. We've stayed at flat concrete KOA's & I'd take these uneven lots all day long for the experience. Beautiful setting, trails & people out enjoying life. Staff readily available to help out. Take extra leveling blocks, get set and stay for days. It's called camping. Pretty sites require some extra work. Quit complaining. L
Apr 09, 2021
Arrived after dark, thankfully they were still open and escorted me to my site. Everyone there very nice, the campgrounds were clean and tidy, a little tight on the roads but we are big, 40 plus tow.
Apr 09, 2021
Love the park but sites and roads as well as dump station could use a face lift
Apr 09, 2021
Site wasn't level, but we just bought our trailer so we weren't prepared. Bathrooms and showers were close. Nice spots with trees and tables. We would definitely stay here again.
Apr 09, 2021
Beautiful setting. Utterly quiet and peaceful. Good shower and bathroom. Very clean.
Apr 09, 2021
The campground is nice but I was put into a space that actually didn't have hookups and I had to use the next space's. I had a escort hook me up and he left before making sure the water worked, and it didn't.
Apr 08, 2021
Very nice. We wiil be back
Apr 08, 2021
Our site was level and had plenty of trees. Kids enjoyed riding scooters around the campground. The only downfall is the showers are for shorter people and only 4 washers were working. Other than that we enjoyed the location and all the amenities.
Apr 08, 2021
Great location. Great staff. Great sites.
Apr 08, 2021
We had a wonderful stay and found all facilities to be clean and functional! We will definitely be back!
Apr 08, 2021
The staff were amazing. Very friendly and helpful. The main issue I had was that we had noisy neighbors who were outside well past the curfew talking loudly. It wasn't until a fellow camper barked at them at 11:00 that they stopped. It would be nice if someone on property could patrol the campsite to halt this type of behavior instead of leaving it up to the campers. Overall, I would stay again!
Apr 08, 2021
Facility too large for the number of bathroom facilities. Had to share utilities (power and water). Grand Canyon entrances-East and North closed. No advisory notices. Should have been posted.
Apr 08, 2021
The camping spots were great. My complaint is that since so many campers were there the bathroom facilities became dirty quickly.
Apr 08, 2021
It was a tiny site added after the map was created. The water valve was broken, and required pliers and a hammer to use. The sewer dump was where the people in the adjacent site were sitting, and would have been an insult to use. The electricity worked. We boon docked for the night and left early. Other sites looked okay, but ours sucked.
Apr 07, 2021
We traveled with another couple. We would have liked to be closer to each other, but we weren't too far. I like the way you have your trash cans out at different sites. I liked your dog area. The national forest service land on the other side of the fence was nice, but I didn't see a great way to access it. The people were very friendly!
Apr 07, 2021
Loved the proximity to great hiking. Our site was nice but fairly unlevel. We are renting an RV so don't have leveling provisions. The playground was really fun for the kids.
Apr 06, 2021
Beautiful, clean campground with very friendly staff.
Apr 06, 2021
Cable tv was exceptionally good. Our site was level with plenty of room. Hookups were good. Restrooms were clean but probably not enough if the campground was full. Would recommend getting a premium site.
Apr 06, 2021
Great location
May 06, 2021
Awesome place
- Derrick Paddock on Google
May 04, 2021
We loved this campground!! Loved the walking trails behind the campground. I mean, the squirrels that stole our snacks off the picnic table were a bit much. I really wish they would have put them up at night. JK!! They were cute! But don't leave your food out.
- Donna Evans on Google
May 07, 2021
Not the best KOA but the girl at registration was super nice. First, the tent sites are small and there aren't much vegetation/privacy; 2nd, it's too close to 89a, so it's noisy; 3rd, our tent could not stand up straight due to the heavy wind-an indication that the place doesn't have enough trees.
- Jason ZH on Google