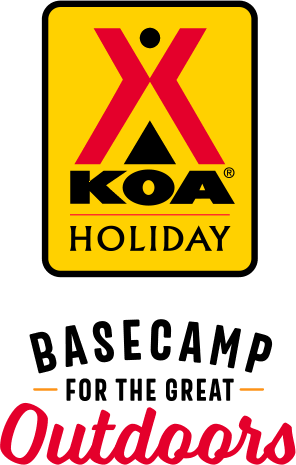 KOA Holiday Campgrounds
Whether you're exploring the local area or hanging out at the campground, KOA Holidays are an ideal place to relax and play. There's plenty to do, with amenities and services to make your stay memorable. Plus, you'll enjoy the outdoor experience with upgraded RV Sites with KOA Patio® and Deluxe Cabins with full baths for camping in comfort. Bring your family, bring your friends, or bring the whole group – there's plenty of ways to stay and explore.
KOA Holidays Feature:
RV Sites with a KOA Patio®
Deluxe Cabins with full baths
Premium Tent Sites
Group meeting facilities
Directions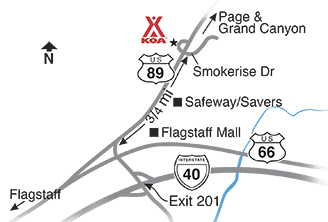 NE of downtown on 89N. From I-40 exit 201, 1/2 mile on US 89 to Page. Turn left at light at Smokerise Drive.
GPS: N35.234192, W111.575673
Fax (928) 527-8356.
Get Google Directions
Sep 01, 2021
The laundry facilities were clean but nearly half the machines were out of order and the change machine was out of order.
Aug 31, 2021
We loved everything about the stay EXCEPT for our site. Very tight with a pitiful "tree" and a small side yard with no level place for chairs or a fire grate. Sitting outside the door of the RV I was literally 8 feet away from the bumper of my neighbors pickup truck. I would include pictures if I could. You do have some beautiful sites though that we would have enjoyed staying at.
Aug 31, 2021
Great location, gorgeous property!
Aug 31, 2021
Really liked the KOA Cafe! Breakfast was as good if not better than Denny's! However, KOAs have gotten pretty pricey these days.
Aug 31, 2021
I was on my way to Wickenburg so I just stayed the night. Very clean facilities and office staff was very professional.
Aug 30, 2021
The front desk staff was rude, the spots were too tight, the roads to our site were very torn up. We got separated from our friends. I would never recommend or stay here again.
Aug 30, 2021
Check in was quick and the reception very friendly .. as was the entire stay .. great staff at Flagstaff. Camp caters to a number of ways to enjoy a relaxing stay .. tents, teepees and everything up to Class A RV's all are welcome at this obviously preferred location. Enjoyed the stay and will be back.
Aug 30, 2021
Love staying at Flagstaff KOA. Staff is fantastic, breakfast served daily from the cute breakfast trailer is to die for.
Aug 30, 2021
Beautiful place. Sites are nice size but many are very unlevel. Much traffic noise from nearby H89.
Aug 30, 2021
We stayed in one of the Teepee sites. First time and it was great. Super clean.
Aug 30, 2021
We love the Flagstaff KOA. We will be back on Sunday!
Aug 30, 2021
Great location. Sites are beautiful. The facilities were very clean. Breakfast is offered 7 days a week. All staff was friendly. I highly recommend.
Aug 30, 2021
The jumping pillow was unexpectedly fun! The two young ladies who checked us in were exceptionally nice as well.
Aug 30, 2021
Reservation #9129368 Staff can't read, or understand, a Reservation made online. Left a Google Review. Read that.
Aug 29, 2021
I found the Flagstaff KOA to be convenient, clean restrooms, and very friendly staff. I do wish the site we camped on had a tent pad though.
Aug 29, 2021
I stayed at a cabin. It was good as usual! It would be better if the swing faced the other way. The breakfast I had wasn't the best but I guess I shouldn't expect more out of a food truck situation. Other than that, I mostly stayed here because I could hike right from the cabin and it was close to the other trails I wanted to hike. I would stay here again.
Aug 29, 2021
Nice, clean campground. Really like that you can pick up the Mt Elden trailhead from the campground.
Aug 29, 2021
Great place! I like it.
Aug 29, 2021
Marginal restrooms otherwise good settling with lots of trees.
Aug 29, 2021
Sites were uneven. We had to move 3 times to find a level one and had to pay e tra for the site and then we couldnt sit outside becsuse our neighbors dump smelled and was right next to our table
Aug 28, 2021
In a private park charging $50+ a night, I would like to assume the sites were level. No such luck here. On a positive note, staff in the office were friendly and helpful in other ways.
Aug 28, 2021
Great campground with plenty of trees and nice large sites. The breakfast truck was very unique and the food was fantastic.
Aug 28, 2021
Friendly & accomidating staff! Sites work well. Overall condition of the grounds is fair. Hookups worked well.
Aug 28, 2021
We were overnighters, it was a great stay. We hope to be back soon.
Aug 28, 2021
Compared to many of the other KOA campsite we have stayed at, this one is average. The site needed rock or gravel like some of the other sites. The site was cramped and in need of clean up.
Aug 28, 2021
Great time. Grandkids enjoyed every activity. Just wished they had a poor. Enjoyed the breakfast
Aug 28, 2021
Great overnight stop. Plentiful laundry facilities, clean site tucked under many shady trees. The front desk staff are excellent. Young people with great customer service.
Aug 27, 2021
Great Campsites. We stayed two days and should have planned a longer stay. Weather was great and there are a lot of things to see and do in the Flagstaff area.
Aug 27, 2021
We had a very good stay, staff are friendly and helpful. Our daughter is attending NAU and is convenient. I would stay again, as we did last year and access is easy.
Aug 27, 2021
Was not able to make it to the campground and could not get a hold of anyone to cancel. Had to leave a voice message. And never got a response back
Aug 26, 2021
Put me so far away
Aug 26, 2021
Was a very nice KOA.Staff was friendly.Place was clean.
Aug 26, 2021
Great place. No more worn out Circle Pines in Williams. This will be our frequent cooling zone.
Aug 26, 2021
Beautiful campground. We hope to visit again
Sep 19, 2021
Great place for camping. We stayed three nights here and really enjoyed the location & amenities. The camp breakfast that is available to purchase was very good and reasonable.
- mark klink on Google
Sep 19, 2021
All I can say is good people clean facilities
- Samuel Eberle on Google
Sep 13, 2021
Nice location very nice and amenities offered are excellent.
- Mike Wong on Google