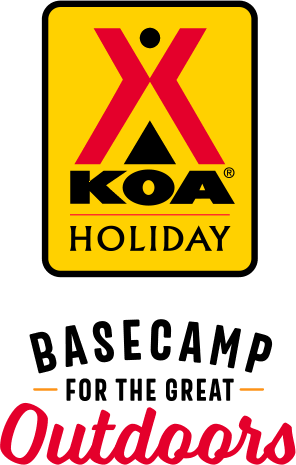 KOA Holiday Campgrounds
Whether you're exploring the local area or hanging out at the campground, KOA Holidays are an ideal place to relax and play. There's plenty to do, with amenities and services to make your stay memorable. Plus, you'll enjoy the outdoor experience with upgraded RV Sites with KOA Patio® and Deluxe Cabins with full baths for camping in comfort. Bring your family, bring your friends, or bring the whole group – there's plenty of ways to stay and explore.
KOA Holidays Feature:
RV Sites with a KOA Patio®
Deluxe Cabins with full baths
Premium Tent Sites
Group meeting facilities
Directions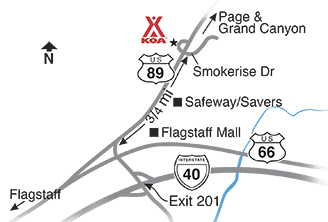 NE of downtown on 89N. From I-40 exit 201, 1/2 mile on US 89 to Page. Turn left at light at Smokerise Drive.
GPS: N35.234192, W111.575673
Fax (928) 527-8356.
Get Google Directions
Sep 07, 2021
They need to enforce quiet hours of some kind. Two group were playing music and extremely loud well past 1230am! Incredibly disrespectful, especially with the close quarters. We loved the trip, but the close proximity etiquette was poor.
Sep 06, 2021
Campground is not very well kept. Weeds have over taken the place. Sewer connection was the worst I've ever seen.
Sep 06, 2021
Rating is based upon small sites close together. The sites do not handle large rigs and are unlevel to the point that we could not lower our stabilizer jacks or level our rig. There was another rig act across from us that could not level their rig either. Should not promote Flagstaff as large rig friendly.
Sep 06, 2021
Nice shady site. Utilities worked well. Liked having so many cable channels. Staff was always visible and helpful.
Sep 06, 2021
This is one of my favorite Campsites. The staff are all very polite and I love the breakfast spot.
Sep 06, 2021
We had a great time. Thank you
Sep 06, 2021
Great campground, lots of kids activities, staff was very friendly. Facilities very clean. Definitely will stay again.
Sep 06, 2021
Campground is well maintained, staff is friendly and helpful, great time there!
Sep 05, 2021
Had my reservation canceled. Their fault. To small for my RV. Parked me in mud. Rude at front desk. Never go back. KOA should jerk name from. Hard to find. One sign up in trees. Passed by twice before we found park. Old and crappy. Will never never go back. AND ARE LOOKING TO COMPLETELY SKIP KOAs. There are many, wonderful RV campgrounds much better than KOA franchises and not OLD.
Sep 05, 2021
Our stay was fine. I found the roads between sites not as open as I like, but otherwise, everything went very well.
Sep 05, 2021
Will be back
Sep 05, 2021
beautiful place. Very unhappy with the tee pee it had mold! didn't notice until morning. we got in it was raining and the canvas was wet. we saw the mold in morning. we were in the verde.
Sep 05, 2021
Tight spaces and small. Breakfast was good. Parking was not very level. Needs improvement.
Sep 05, 2021
First time at a KOA. Hook ups were easy, and the staff incredibly friendly and helpful. We have little kids and they were able to help get a site close to the restrooms for mid-night potty breaks. The facilities were clean as was the park overall. Our kids loved the trampoline pillow and barrel train rides. We hope to try the KOA Kitchen when we return. Thank you for a nice stay for our family.
Sep 05, 2021
Very EZ map Route 89 and easy to get on Route 40
Sep 04, 2021
we really enjoyed our stay and will be back next summer
Sep 04, 2021
Not big rig friendly. Roads are very very narrow with big rocks clos to the road
Sep 04, 2021
The campsite was very clean and inviting. The staff was very helpful and friendly. We have stayed here several times and will continue to visit.
Sep 04, 2021
It was raining most of the time. I am in class B so no problem getting into site once I figured out which one was mine. Site was nice, liked the breakfast cafe since it was raining didn't feel like cooking outside.
Sep 04, 2021
Nice person checked us in.
Sep 04, 2021
Bathrooms were very clean. Staff was friendly. Nice little tent pads with soft mulch.
Sep 04, 2021
Nicest KOA I've seen so far in my travels. The manager was very kind to reimburse me for my sleeping bag that burned in the dryer. Great customer service!
Sep 03, 2021
The only thing that we wish had been a little bit different is that the spots would have been just a little bit wider
Sep 03, 2021
Unusual circumstances: Neighbor campers were really loud. Kids running around screaming. Another camper tried to combat their noise with really loud music. Fortunately we liked their music. Not KOA 's fault and why do people come to a campground to be loud and obnoxious?
Sep 03, 2021
Stayed one night in our 27 foot travel trailer. Loved the setting with lots of trees. Our site was easy in, easy out. We used this stay to stage for an extended stay at the Grand Canyon. This meant doing laundry and grocery shopping. The onsite laundry was convenient and clean. Multiple options for groceries. Would love to return and take advantage of nearby hiking and more time in Old Flagstaff.
Sep 03, 2021
The staff was great and made us feel welcome. Some of the trees and bushes around the property could be trimmed back a bit better to give larger rigs just a little bit more room and clearance to maneuver through the park. Also, releveling and compacting the pull thru sites might be in order after all the recent rains. We had one corner of our leveling jacks sinking into the ground even with pads.
Sep 03, 2021
All was great EXCEPT for very spotty WIFI connection on our site #50. i hope this situtaion gets rectified soon. Also, Staffperson Darian (sp.?) in the office is a genuine assest to this KOA - most helpful, courteous, and unfailingly pleasant.
Sep 03, 2021
Loved it! We even stayed dry and warm in our tee pee during a rain storm. So grateful for the camp kitchen having coffee ready in the morning.
Sep 03, 2021
Repair leaking campsite water faucets. Replace wooden ramps into bathrooms.
Sep 03, 2021
The only problems were the WiFi is weak and not secure. They never change the password so I bet the mobile home park you back up to uses it, too. My breakfast burrito seem uncooked. I couldn't even eat it. Pancakes looked good.
Sep 03, 2021
The campground was in a beautiful area close to town. The staff was friendly. It's also nice they don't charge for showers.
Sep 02, 2021
Unfortunately we didn't have the best experience. Me and my friend booked our spots together over 6 months ago but when we checked in they said we are not together and didn't even try to accommodate. Not very friendly. The location of the park was fine and the bonus was the trails behind the campground. The sites were very close together and not very level.
Sep 02, 2021
Great place to stay
Sep 02, 2021
This was our very 1st time in a KOA. We just purchased a trailer and have started this new adventure. Thank you for making our 1st experience a great one. We will definitely be back and plan on staying at many more KOA's on our camping vacations across the many States we plan on visiting. What a wonderful experience it was to start at KOA Flagstaff. Thank You
Sep 02, 2021
Very crowded. Not enough space between camp spots.
Sep 02, 2021
Beautiful campground with convenient services and friendly staff.
Sep 02, 2021
We wish we could have stayed longer - best KOA we have ever stayed!
Sep 02, 2021
Overall, the campground had beautiful trees and the mountain to look at. Many nice activities available. Bathrooms needed some maintenance...the handicap ramp was rotten and barely functioning. Due to recent heavy rain, there was a giant puddle outside the bath house. Showers and bathroom stalls were pretty cramped.
Sep 02, 2021
Stayed 1 night. Lots of shade, however the sites are small and narrow, the roads are tight but manageable if you take time. They could trim some branches along the roads.... Management was very friendly and helpful.
Sep 01, 2021
We enjoyed our stay, we stayed in space 105 and felt a little less private than we like. The breakfasts were very good.
Sep 01, 2021
The campground was beautiful. Kids areas were nice. Dog runs. Etc. what wasn't great was the site itself. Most of which were very uneven and significantly difficult to level. Even with 10 inches of block under my front wheels I was still off. Otherwise nice!
Sep 01, 2021
clean, fun, and friendly!
Sep 01, 2021
Staff was accommodating and very personable. All were willing to assist when needed. Very convenient location as well. Close to everything one would need as well as close to the freeway for easy access. Looking forward to the next stay!
Sep 19, 2021
Great place for camping. We stayed three nights here and really enjoyed the location & amenities. The camp breakfast that is available to purchase was very good and reasonable.
- mark klink on Google
Sep 19, 2021
All I can say is good people clean facilities
- Samuel Eberle on Google
Sep 13, 2021
Nice location very nice and amenities offered are excellent.
- Mike Wong on Google