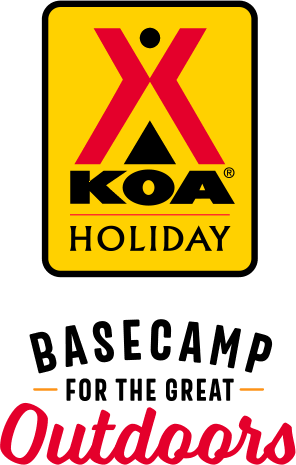 KOA Holiday Campgrounds
Whether you're exploring the local area or hanging out at the campground, KOA Holidays are an ideal place to relax and play. There's plenty to do, with amenities and services to make your stay memorable. Plus, you'll enjoy the outdoor experience with upgraded RV Sites with KOA Patio® and Deluxe Cabins with full baths for camping in comfort. Bring your family, bring your friends, or bring the whole group – there's plenty of ways to stay and explore.
KOA Holidays Feature:
RV Sites with a KOA Patio®
Deluxe Cabins with full baths
Premium Tent Sites
Group meeting facilities
Directions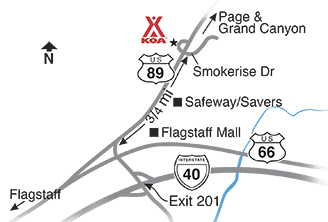 NE of downtown on 89N. From I-40 exit 201, 1/2 mile on US 89 to Page. Turn left at light at Smokerise Drive.
GPS: N35.234192, W111.575673
Fax (928) 527-8356.
Get Google Directions
Apr 18, 2021
We stayed at a teepee site, and it was okay. It was nice to have furniture but it also made it crowded. The lamp is not sufficient for lightening, old and doesn't go with the site theme. The heater in the teepee was very small and we were still left cold.
Apr 18, 2021
Fast friendly customer service easy checking in and out. Very clean facility � Thank you for the lovely stay our pups loved the special space provided � Camp sites are very neat and well taken care of. We look forward to staying again as our adventures continue and highly recommend this KOA !!
Apr 18, 2021
This team could not have been nicer. Very informative, anticipated your needs, and were exceptionally helpful. I needed propane, and they went out of their way to make sure my needs were met.
Apr 18, 2021
Great place. Very large campground. Office person very nice and professional.
Apr 18, 2021
Quite, clean campground. Our only feedback is to ensure your lights are working on the sign. We passed by without any knowledge, a bit of a bummer after a long drive.
Apr 17, 2021
Clean facilities, helpful staff, comfy teepee beds, nice location. We enjoyed our stay.
Apr 17, 2021
Always clean and friendly people.
Apr 17, 2021
Nettled in the tall pines,well maintained, excellent store for gifts and souvenirs, would definitely go back.
Apr 17, 2021
Arrived just at sunset, was escort to our site and helped to park. The next day I called about a propane fill they sent someone out escorted us to the fill area, filled us and then said they'd charge it to our card no need to go into the store! They sent us an email receipt within 10 minutes of the transaction!! Very very helpful!! A+++ service!!
Apr 16, 2021
Very clean, quiet and pet friendly. Our second time staying there and we loved it. Will definitely come back!!
Apr 15, 2021
Lots to do in the area. But we had very poor water pressure which we reported twice. They came and looked but did nothing. We were site 171 and site 170 was leaking which created mud for us and the water pressure problem. Also site very tight (narrow) for a model A with slides.
Apr 15, 2021
Very clean. A courteous team to take care of your individual needs. Thank you.
Apr 15, 2021
Very much enjoyed our visit. Beautiful wooded seating with lots to do. Close to do a day trip to the Grand Canyon.
Apr 15, 2021
Great campground and people! We will come back again! Best KOA!
Apr 15, 2021
I used to love this campground. You would arrive, be greeted by a friendly crew and then a cart would be used to park you in the correct spot. My visit this time was a little disappointing. Still had some very friendly ladies at the front desk that checked me in, but they just gave me directions to my spot, which was so unlevel from front to back that I could not level my r pod. Had to change.
Apr 15, 2021
3 night stay. Great location. Great site and amenities. Most expensive place we stayed but I guess you get what you pay for.
Apr 15, 2021
friendly! a beautiful very pleasant campground!
Apr 15, 2021
Deluxe Cabin experience. From the photos it looks awesome. The stay is a different experience. $200 p/n for the worst beds I've ever slept on. Stove/dishwasher didnt work. facilities were all CLOSED! Even though when I stayed at the KOA in Williams (30mins down the road) at the height of the pandemic were all open. They charged me $25 for using 2 towels/2 face washers. I love KOA not this one
Apr 15, 2021
As usual, the KOA bathrooms and showers were excellent (clean & warm) with plenty of hot water. The showers and bathrooms are the main reason we choose KOA. The Flagstaff KOA specifically has a beautiful location with trees galore, nice walks, spacious play areas for kids and pets.
Apr 15, 2021
Excellent location clean restrooms and campground
Apr 15, 2021
We are first time RVers and are learning our lessons. We move from a non KOA park after one night and just let them keep our second nights fees. A friend mentioned KOA so we said let's try it. What a difference. KOA is in a league of its own. Great people, superb quality of sites and easy to make reservations. We are now in our second KOA by Bryce Canyon. Another great experience.
Apr 15, 2021
Very friendly staff
Apr 14, 2021
Fast check in, easy access to everything.
Apr 14, 2021
Very old park. Lack of routine maintenance. Young untrained staff, trying to be helpful, but really no enthusiasm for good customer service. Bad place, won't return ever. Especially with 3 other KOA campgrounds on I40 heading west Jay Schmitt, retired Southwest Airlines. Go SWA.
Apr 13, 2021
Probably one of the best KOAs we have stayed at!
Apr 13, 2021
Stayed one night in April. Found the campground to be a bit crowded, with small RV sites which could use some leveling and cleanup. I would recommend a thorough pickup of micro trash, i.e. cigarette butts and bits of plastic, etc. Restrooms and showers were clean and well stocked, office and grounds staff were courteous and friendly. Located in a tall pine forest at higher elevations a plus!
Apr 13, 2021
Streets are skinny, trees and shrubs need to be trimmed so as not to scratch trailers entering and leaving spots. Campground has a lot of potential but needs work.
Apr 13, 2021
Same statement I make about nearly all KOAs, or just campgrounds in general. The WiFi is unusable. We travel from East to West and back a couple times a year and I would estimate that I have been able to watch a movie over campground WiFi no more than twice. Even when we are situated just feet from the office building. If you want to advertise WiFi as a feature, it needs to be a LOT better.
Apr 13, 2021
Friendly. Clean. Everything needed for a great stay.
Apr 13, 2021
Shower heads a very low...recommend on next remodel they are raised. Otherwise great park
Apr 12, 2021
Paved sites and a pool would make it a 10.
Apr 12, 2021
We had a patio site, and although pricey really appreciated the space and amenities. Loved being able to grill without taking our our grill and sit around the campfire on a glider. Real table and chairs such a nice touch. Will come back! Coming in from the desert being under the pines was refreshing.
Apr 12, 2021
The deluxe cabin provided comfortable accommodations; however, several surfaces needed dusting. The wifi in the cabin was weak, but we had no trouble downloading shows when we connected to the wifi in the campground store/check-in area.
Apr 12, 2021
Always amazing service from everyone. Bathrooms super clean - so nice! Thank you for an amazing weekend in the woods.
Apr 12, 2021
Was a nice camp ground. Sites are kinda close though. My only real complaint is about laundry services. 3out of 9 washers work and 4 out of 10 dryers!! I'd say some repairs are in order. Our dogs really enjoyed dog park! Park was clean.
Apr 12, 2021
Great staff!! Going above and beyond when needed. Thanks!
Apr 12, 2021
Really friendly staff, amenities are good, well maintained property. Keep up the great work ! God Bless �
Apr 12, 2021
Weather was perfect, sites were well maintained. Office staff was friendly and very helpful.
May 06, 2021
Awesome place
- Derrick Paddock on Google
May 04, 2021
We loved this campground!! Loved the walking trails behind the campground. I mean, the squirrels that stole our snacks off the picnic table were a bit much. I really wish they would have put them up at night. JK!! They were cute! But don't leave your food out.
- Donna Evans on Google
May 07, 2021
Not the best KOA but the girl at registration was super nice. First, the tent sites are small and there aren't much vegetation/privacy; 2nd, it's too close to 89a, so it's noisy; 3rd, our tent could not stand up straight due to the heavy wind-an indication that the place doesn't have enough trees.
- Jason ZH on Google