Flagstaff KOA Reviews
Check the Current Status of Recreation and Amenities Openings During COVID-19
Directions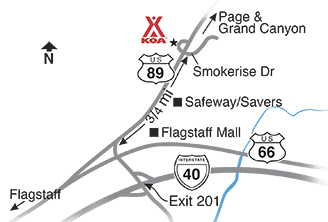 NE of downtown on 89N. From I-40 exit 201, 1/2 mile on US 89 to Page. Turn left at light at Smokerise Drive.
GPS: N35.234192, W111.575673
Fax (928) 527-8356.
Get Google Directions
Oct 22, 2020
Very friendly and helpful staff. We liked the campground and location. We plan to stay there again .
Oct 22, 2020
The grounds were beautiful, tall pines and great weather. However, there was zero attempt to make the sites level. One RV's front wheels were 6 inches off the ground. My site was so small that I could not deploy my awning. I was also led to believe that I would have full hookups. There was no sewer hookup! Very disappointed!
Oct 22, 2020
Always clean. Good central location to downtown, hiking trails. Only complaint is that it is such a popular place, it is hard to get a spot on short notice. Book well in advance.
Oct 21, 2020
Overpriced. Nothing fancy, and grounds need better upkeep. True it's desert, but weeds and debris on our site.
Oct 21, 2020
Overnight rest stop before heading to the North Rim of Grand Canyon.
Oct 21, 2020
Staff were friendly, bathrooms clean, good basics in the store. Wish there were more cabins available
Oct 21, 2020
Great stay. We had a beautiful patio site and loved the propane fire pit!
Oct 21, 2020
Very clean and comfortable as always
Oct 21, 2020
Nice campground with clean facilities! Thanks!
Oct 21, 2020
The roads and spaces are too small, it's hard to move around. The person next to us had to park with there door in a bush in order to hook to the water on the wrong side of the space.
Oct 21, 2020
Awesome check-in process, very friendly staff--nice grounds, but site not level and the turns are a little tight for a Class A motorhome. Still, we enjoyed our brief stay and would stay here again.
Oct 21, 2020
Small pull through. Could not get coach level
Oct 20, 2020
Very dark skies, pretty camping area (though crowded). Deluxe cabin was mostly clean, but under the beds was super gross, sink was clogged, dishwasher leaked water everywhere. Staff was very friendly.
Oct 20, 2020
The restroom facilities were not well kept. The front desk person was friendly but their camp porter was rude.
Oct 20, 2020
Beautiful campground. Great access to hiking trails. Bathrooms are older, but clean and well maintained.
Oct 20, 2020
Our camp site had very fine dirt, while a lot of other sites had crushed rock in them.
Oct 20, 2020
Great place to stay. There were plenty of friendly staff and grounds were well kept.
Oct 20, 2020
Very clean restrooms and a roomy campsite.
Oct 20, 2020
Lovely site some what spendy but was very nice . We will be back and stay longer
Oct 20, 2020
My space was really tight. Very uneven. My leveling jacks could not even it out. I had to wait for the space in front of me to leave before I could pull out
Oct 19, 2020
This is one of our go-to KOAs, for overnights on the way to/from Grand Canyon and other destinations. It is a very busy KOA, with many arrivals and departures any time of the day. Knowing all that, I don't expect it to be an experience in solitude, and our recent stays were fine. (Self-contained, so can't comment on the current state of the showers and restrooms.)
Oct 19, 2020
We were put in site 72 very bad site, needs grading to make it more level. We requested a different site. At first we were told that it was not possible because people were going to arrive that were staying more than one night!!! The staff did agree to move us, but we felt that they originally purposely put us in a less desirable spot because it was a one night stay .
Oct 19, 2020
The site did not resemble what your website shows. We were so close to the next spot, we could hear them talking inside their trailer. There was no sewer hookup which was apparently our fault. The site was a dust bowl. The water hose had to run right through our site - not safe. When I called the office, the gal hung up on me. Won't be back.
Oct 19, 2020
We always like to stay here when we travel on the 40. It was only an overnighter this time but we really like this KOA. We were even able to sneak in a quick hike before we left in the a.m.
Oct 19, 2020
My wife and I come to Flagstaff every Fall to view the colors, hike and explore the area. We usually stay at a hotel but this year decided to use our travel trailer. We were glad we did. This campground is wonderful, hiking right from the campground. It is in a forested area but close to conveniences. It is well maintained and the restrooms are exceptionally clean. Highly recommend!
Oct 19, 2020
Staff was very attentive. However, cable tv and WiFi did not work at all. Many other people had same issues. I recommend KOA upgrade systems to keep up with higher occupancy of today. Feel like I paid for services I never received.
Oct 19, 2020
It was ok, we were told we would have full hook ups and when we set up there was no cable like the other sites. That made a difference to us but not deal maker. Lots of pine needles in our site and piles of debris in work trailer next us. Overall staff very friendly, one was not so friendly.
Oct 19, 2020
It was great! As usual. Greatful for the awesome play ground!
Oct 19, 2020
Amazing stay! super friendly staff that helped checking me in, great camp sites, nice central location, really close to good hikes. Would stay here again!
Oct 19, 2020
When we ariived, the campground internet, phones, and website were all down. The staff remained calm, was very enthusiastic, and got us into our site promptly. The bathrooms and showers were VERY tidy, and the campground was very clean. Thank you!
Oct 19, 2020
We had a great experience. We only stayed one night but employees were nice and everything was very clean.
Oct 18, 2020
Clean and well maintained.
Oct 18, 2020
The spot was very unlevel. We were put next to a family that was tent camping and they were very noisy. Not just that, their language was very offensive. Then someone shut our water off while my wife was in the shower. It's a good thing we were only passing thru and staying one night.
Oct 18, 2020
I gave the highest ratings because everyone works hard. However it doesn't reflect my experience. Spot #60 was awful!! It is a back in spot and our view was the back end of our neighbor's RV, bicycles, laundry and their total outdoor living area. These campsites are too close together & need to be redesigned to add privacy and/or fencing. AWFUL EXPERIENCE- WAY OVERPRICED FOR THIS SPOT-DISAPPOI
Oct 18, 2020
The bathrooms were not as clean as they could have been.
Oct 18, 2020
Loved this campground!
Oct 18, 2020
Nice campground. It was lovely to be in the mountains with a wooded site and stars at night. Our pull thru was spacious but the hookups are far apart, so keep that in mind. Internet worked decently. Front desk staff was very pleasant & helpful.
Oct 18, 2020
We enjoyed our one night! Hope to be back soon!
Oct 17, 2020
Flagstaff KOA is a good place to stop on the way to and from in the Grand Canyon. However, often the laundry has several out of order machines. Plus, machines sit idle with clothes. if you ask for help, they will not allow those few machines to be emptied when people do not come back for their laundry. I was in there for two hours and no one came for several machines with bedding.
Oct 17, 2020
The campground, bathroom and showers were very clean and well maintained. The staff was friendly and helpful.
Oct 17, 2020
Beautiful setting, gorgeous trees, lots to see and do. Very friendly staff and great little store!
Nov 21, 2020
Great place to take the family
- Steve Kean on Google
Nov 18, 2020
Clean, friendly, and great forest access
- christopher rogers on Google
Nov 18, 2020
Very nice staff. Pretty narrow roads. Our spot, 173, was pretty level and nice.
- Matt Roelfs on Google

Flagstaff KOA
Open All Year
5803 North US Highway 89
Flagstaff, AZ 86004
Check-In/Check-Out Times
RV Sites, Tent Sites
Check-in: 12:00 pm, Check-out: 11:00 am
Accommodations
Check-in: 2:00 pm, Check-out: 11:00 am
Get Google Directions

© 2020 Kampgrounds of America, Inc.