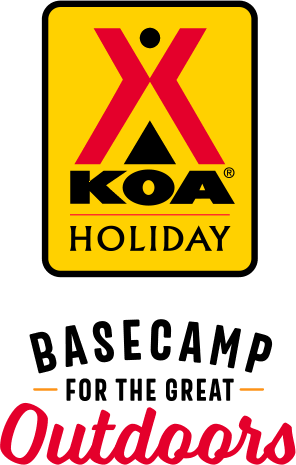 KOA Holiday Campgrounds
Whether you're exploring the local area or hanging out at the campground, KOA Holidays are an ideal place to relax and play. There's plenty to do, with amenities and services to make your stay memorable. Plus, you'll enjoy the outdoor experience with upgraded RV Sites with KOA Patio® and Deluxe Cabins with full baths for camping in comfort. Bring your family, bring your friends, or bring the whole group – there's plenty of ways to stay and explore.
KOA Holidays Feature:
RV Sites with a KOA Patio®
Deluxe Cabins with full baths
Premium Tent Sites
Group meeting facilities
Directions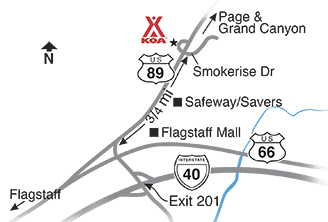 NE of downtown on 89N. From I-40 exit 201, 1/2 mile on US 89 to Page. Turn left at light at Smokerise Drive.
GPS: N35.234192, W111.575673
Fax (928) 527-8356.
Get Google Directions
Sep 12, 2021
Our Stay was very pleasant.
Sep 12, 2021
Nice place, well run, lots of stuff for the kids to do.
Sep 12, 2021
This is a very nice KOA. Easy to find and lots to do in the area. It had a small breakfast restaurant.
Sep 12, 2021
Love this park. Clean and well kept. Has nice hiking trails right from park and breakfast is wonderful. Highly recommend if you are staying in Flagstaff
Sep 12, 2021
Very accommodating, staff was friendly and helpful. Like the cleanliness of the whole park. Thank you
Sep 11, 2021
Great camp ground very friendly staff
Sep 11, 2021
The staff was friendly, the KOA itself was very un kept. Too many weeds all over the place and frankly the spaces between RVs was a lot closer than we liked
Sep 11, 2021
The sites where not level. Needs work.
Sep 11, 2021
Not our favorite KOA on our cross-country RV trip. Sites are very close and not level. Grass is overgrown and water hook ups leak. Could not sit on our picnic table, site was so small it had to sit at an angle. Need to upgrade sites. Breakfast was good. Heard that the Williams KOA is better, will try next time.
Sep 11, 2021
Wonderful. I sneak away to Flagstaff during the week to escape the heat of Phoenix. They managed to arrange my stay in space 134 which is the shadiest tent sight. I relaxed, read two novels and enjoyed the quiet and cool. Thank you. Lee Meyer
Sep 11, 2021
The staff are very friendly, helpful and proifessional. The grounds are well maintained. Grat views from almost all camp sites. changed our plans just to be able to stay at this camp grounds on trip home. Highly recommend this KOA camp grounds.
Sep 11, 2021
Nice location for easy access to hikes and other activities in town.
Sep 10, 2021
Clean well kept facility. Really like the breakfast trailer and the ladies that work there. Their version of a sausage and egg and cheese sandwich puts the Golden Arches to shame. And the coffee is excellent as well. When there was a big rain event the soil and grave washed all over the roads, etc. The next day is was an "all hand on deck" response. I appreciate how hard the staff worked to fi
Sep 10, 2021
Great Forest setting and nice walking trails. Plenty for kids to do as well.
Sep 10, 2021
Appreciated the breakfast
Sep 10, 2021
Just stayed one night in our trailer at the end of a 23 day trip. Everything about the campsite was good. Pleasantly surprised by the breakfast at the KOA Pine Tree Cafe on the premises. They served a great breakfast under the pines for a very fair price. We really appreciated that they had separate pet friendly dinning area as well. We will be back.
Sep 09, 2021
Nice stay, friendly staff. Spots are small with some backing up to residential homes. Otherwise, a nice place.
Sep 09, 2021
Our 2 day stay found this park grounds extremely neglected, check in host was unkept and very abrupt. This park has the potential of being a lovely place to stay among the beautiful ponderosa pines but has been let go to the extent your stay is not enjoyable. For a Holiday KOA I would not consider it for a destination stay. We are KOA work campers and I'm sad to say this park is below KOA standa
Sep 09, 2021
We were so happy to be right next to dog park! Will always plan to stay w/ you!
Sep 09, 2021
Great place to stay. Great hiking right of the campground
Sep 09, 2021
Always a wonderful time! Clean restrooms! Amazing staff.
Sep 09, 2021
Very well kept - fruendly
Sep 09, 2021
Nice site, clean with friendly staff and surrounded by pine trees and the milky way at night. The sites are nicely spaced out and not crammed together.
Sep 09, 2021
The park is nice but the site designs are tough for larger rvs. We watched several people hit large rocks, picnic tables, trees and etc trying to get into lots that may have been long enough but the angle was not what the map showed. Also, the 2 ladies that work in the office in the morning are rude and just seem to be miserable there. They also don't seem to know how their own systems work.
Sep 09, 2021
Lots to close together
Sep 08, 2021
Very friendly and professional staff. Nice shaded sites, a few of them need to be leveled and packed down better.
Sep 08, 2021
it was 2 days of great rest
Sep 08, 2021
Love this campground.
Sep 08, 2021
Employees were very friendly and helpful! It's awesome that you are open 24 hours, we were driving to CA and needed a place to hook up at 10 pm.
Sep 07, 2021
Had a great stay, busted a window on my RV and the staff was able to assist and follow up after. Breakfast was fantastic, I will not plan to make my own in the future. Hiking always great. Some of the dog owners need to chill out and maybe should not use the dog parks if their dogs cannot have others in the park.
Sep 07, 2021
Very nice camping experience, will probably be back for sure next year. Love the breakfast trailer, great food, very convenient. Standard campsites a little close to each other, will try for a premium site next time
Sep 07, 2021
We stayed 3 nights in a deluxe cabin and loved it! The cabin was clean, has comfortable beds, and plenty of dishes and cookware. Loved the brick patio with fire pit and 8 adirondack chairs. My grandson enjoyed the jumping pillow and barrel train rides. Grounds were well-kept and staff was pleasant. Would definitely stay there again.
Sep 07, 2021
Our home away from home!
Sep 07, 2021
I love what KOA offers, the cabin was clean however, there were several cobwebs on the walls and pictures. Maybe clean those every other week during the critter months. Otherwise the stay was great. This was our second time using the KOA in Flagstaff. We will be back.
Sep 07, 2021
Courteous staff, lots of areas for kids and dogs to play and clean, working restrooms.
Sep 07, 2021
It was very relaxing for just my wife and I. If we would have brought our kids they wouldn't have enjoyed themselves like we did. Camping anywhere is still better than doing nothing at home. Thank you
Sep 07, 2021
We had a very narrow site. So narrow we could not sit next to our c class and had to sit behind it. Smoke from camp fires was ridiculous. Hard to breath outside and I've been in Beijing and Kathmandu so I know lousy air quality. Extremely loud and chaotic with all the kids and the golf car train wizzing past our site every 5 min. On the plus side the gals in the breakfast trailer were great.
Sep 07, 2021
Heavy rains caused washouts that they promptly repaired. Great breakfasts at the Kamp Kitchen.
Sep 19, 2021
Great place for camping. We stayed three nights here and really enjoyed the location & amenities. The camp breakfast that is available to purchase was very good and reasonable.
- mark klink on Google
Sep 19, 2021
All I can say is good people clean facilities
- Samuel Eberle on Google
Sep 13, 2021
Nice location very nice and amenities offered are excellent.
- Mike Wong on Google