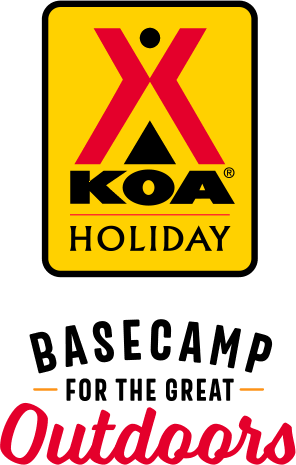 KOA Holiday Campgrounds
Whether you're exploring the local area or hanging out at the campground, KOA Holidays are an ideal place to relax and play. There's plenty to do, with amenities and services to make your stay memorable. Plus, you'll enjoy the outdoor experience with upgraded RV Sites with KOA Patio® and Deluxe Cabins with full baths for camping in comfort. Bring your family, bring your friends, or bring the whole group – there's plenty of ways to stay and explore.
KOA Holidays Feature:
RV Sites with a KOA Patio®
Deluxe Cabins with full baths
Premium Tent Sites
Group meeting facilities
Directions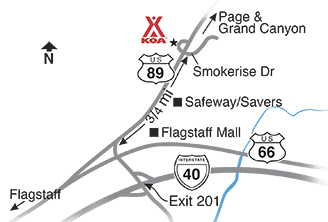 NE of downtown on 89N. From I-40 exit 201, 1/2 mile on US 89 to Page. Turn left at light at Smokerise Drive.
GPS: N35.234192, W111.575673
Fax (928) 527-8356.
Get Google Directions
Apr 24, 2021
Facilites were great and so was the staff
Apr 24, 2021
The staff was very attentive and available to help. The restrooms were clean.Nice park in the pine trees.
Apr 24, 2021
Kinda spendy in comparison to other parks.
Apr 23, 2021
Overall we had a great experience but did get off to a rough start. Our space was not level and had a soft spot where our jack was setting on the ground. It created such a low spot that the trailer wanted to bind and canter when I was trying to set it up. Had I not had the safety chains on my trailer may have twisted to a position which would not have been recoverable with my truck.
Apr 23, 2021
Nice relaxing evening in Flagstaff after a very windy day of driving. Good location if heading north
Apr 23, 2021
Sites are too close together. About half of the washers and dryers were out of service. Thankfully, just a short wait. Otherwise, nice campground in a beautiful location.
Apr 22, 2021
Not good WiFi, sites where to small to enjoy your outside space, I wish the office staff would have explained sites so we could had made better choice,
Apr 22, 2021
Very busy and noisy. Too many packed into a small area by a busy highway. The laundry room was a joke with only 2 washers working and you get totally ripped off by the dryers and having to stand there and feed it quarters every 6 minutes. Took me 2 hours to do 2 loads of laundry.
Apr 22, 2021
Kim and Kris are awesome workers at this KOA
Apr 22, 2021
Was pretty location but the rv sites are not level, not even close. Also the water and electric hook ups are on opposite sides. Which makes no sense. The jumping pillow was closed, which was a huge disappointment for kids.
Apr 22, 2021
We paid $75 for what was advertised as a deluxe patio site, it was the most unlevel site we have ever had. Plus the patio was falling apart on two of the sides, very dangerous as if you weren't watching where you walked you could fall off. The electric box and cable box cover panels were broken and laying on the ground. This KOA is in dire need of maintenance and we were very disappointed.
Apr 21, 2021
Many washers and dryers were in disrepair! Customers pay a lot to stay there. There has to be enough money to fix them or buy newer updated ones. Also roads were narrow and crumbling along the edges.
Apr 21, 2021
Just a one night stop over but laundry was important. I was disappointed that about half of the washers and dryers were out of order. Also the change machine. Not sure why and it would have been helpful to have heard that when I arrived. I did ask about the laundry. No problem checking in and it was efficient and helpful.
Apr 21, 2021
Stayed 2 nights during our visit to the Grand Canyon.
Apr 21, 2021
The site was unlevel. We had to use 3 boards to level up. The patio had someone's old dog food on it and I had to pick it up by hand. I can see that this park could be worth the price if all the amenities were open but it wasn't worth it without them.
Apr 21, 2021
Beautiful and clean campground. Wish we could of stayed longer to enjoy it!! Can't wait to go back!!
Apr 20, 2021
The young man that filled out propane tanks was extremely friendly and helpful. I give him 5 out of 5.
Apr 20, 2021
Every very clean. Friendly helpful staff!
Apr 20, 2021
Probably the best KOA I've ever stayed at (quiet large sites, easy parking, and it backs up to miles of trails...
Apr 20, 2021
The location, right behind a residential area, was lacking peace, quiet and the beauty that your region offers. The fact that was within a couple hours of the GCNP was its' most positive aspect. Showers need updating, but that seems to be a common theme with a lot of campgrounds. Site 16 was just a place to park. The staff, save one girl, was friendly. She should find another line of work.
Apr 20, 2021
We were to stay for 2 days, wed and thur and leaving friday. When we were at the grand canyon, we hit an elk and did extensive damage to my truck. We came in a day early. When we checked in, the lady in charge said we had to leave on friday as scheduled. My truck was in a shop and I asked if it wasn't repaired in time could we extend our stay. She said no, I had to be out on friday. Very stressful
Apr 20, 2021
Very nice campgrounds, really felt like I was away from the city
Apr 20, 2021
Everything was amazing. Super clean and everyone was so friendly. We will be back!
Apr 19, 2021
Nice area, clean bathrooms, and lots of hiking trails to explore with family and dog pets. Due to COVID, I felt the park was a little crowded. It was cold, but the heater kept us warm.
Apr 19, 2021
We stayed 3 nights and had 2 dogs with us. The dog park was great and really helpful in keeping the dogs exercised. We loved all the trees in the park. Staff was very friendly and helpful.
Apr 19, 2021
Great place. Facilities super clean and friendly, attentive staff. Easy access to downtown but in nice stand of pine trees. Access to concrete bike path too.
Apr 19, 2021
It was the first campsite we had ever stayed at, it was quiet, clean, and very nice. We loved that the hiking trails were less than 5 minutes away, so we could literally start hiking at anytime. Aside from the things that were closed due to Covid this place was fantastic.
Apr 19, 2021
Initially customer service was nonexistent. Despite phone call 90 minutes before arrival, with prepaid booking no instructions to campsite or help from KOA Flagstaff phone numbers. Manager returned call next day at checkout time to apologize and offer to comp. stay.
Apr 19, 2021
It was great. Love the amenities
Apr 19, 2021
Great service. Clean bathroom.
Apr 19, 2021
Great staff with excellent customer service attitude....clean bathrooms, nice laundry facilities and easy to get around inside the park
May 06, 2021
Awesome place
- Derrick Paddock on Google
May 04, 2021
We loved this campground!! Loved the walking trails behind the campground. I mean, the squirrels that stole our snacks off the picnic table were a bit much. I really wish they would have put them up at night. JK!! They were cute! But don't leave your food out.
- Donna Evans on Google
May 07, 2021
Not the best KOA but the girl at registration was super nice. First, the tent sites are small and there aren't much vegetation/privacy; 2nd, it's too close to 89a, so it's noisy; 3rd, our tent could not stand up straight due to the heavy wind-an indication that the place doesn't have enough trees.
- Jason ZH on Google