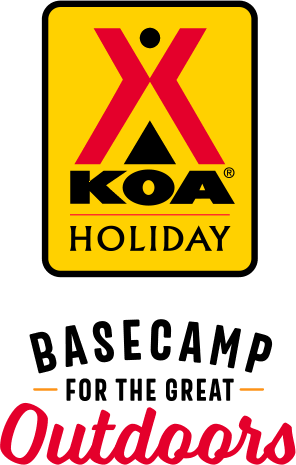 KOA Holiday Campgrounds
Whether you're exploring the local area or hanging out at the campground, KOA Holidays are an ideal place to relax and play. There's plenty to do, with amenities and services to make your stay memorable. Plus, you'll enjoy the outdoor experience with upgraded RV Sites with KOA Patio® and Deluxe Cabins with full baths for camping in comfort. Bring your family, bring your friends, or bring the whole group – there's plenty of ways to stay and explore.
KOA Holidays Feature:
RV Sites with a KOA Patio®
Deluxe Cabins with full baths
Premium Tent Sites
Group meeting facilities
Directions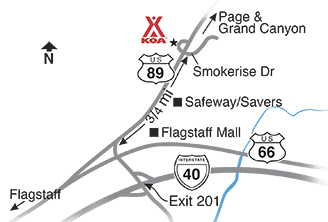 NE of downtown on 89N. From I-40 exit 201, 1/2 mile on US 89 to Page. Turn left at light at Smokerise Drive.
GPS: N35.234192, W111.575673
Fax (928) 527-8356.
Get Google Directions
May 04, 2021
Restrooms and showers were very clean and nice. Tent space were very very small. My tent did not fit on the platform. Luckily one of the people I went with had two platforms so we could set up cooking area.
May 04, 2021
The KOA itself was nice but unfortunately we had to go stay in a hotel both nights due to a wind storm.
May 04, 2021
Beautiful facility. We had a great experience.
May 04, 2021
Absolutely everyone working at Flagstaff KOA gets five stars! From checking in to assistance providing some blocks to help level our trailer, to staff keeping sites and roads clean, to the excellent preparation of breakfasts at the camp kitchen! Flagstaff KOA is a great RV destination!
May 04, 2021
Great facilities, extremely clean and tidy, well run.
May 04, 2021
Employees were very helpful and friendly, we will definately visit again if we are in the area. The little camp kitchen food spot was excellent!
May 04, 2021
The best thing are the nearby hiking trails in the forest. Also, the spaces are fairly roomy. The worst thing is the noise. I got the worst night's sleep of our trip due to endless, all night, highway noise: big rig exhaust brakes, loud motorcycles, and pickups with noisy exhaust and egomaniacal drivers. If not for the racket, it would be a nice place.
May 04, 2021
Great location, great customer service!!
May 04, 2021
Wish the front end of the shower stall had just a bit more room. Glad there's a breakfast option on site.
May 04, 2021
8 out of 10 washing machines were broken
May 04, 2021
Great location, clean campground, and yummy breakfast at the cafe.
May 04, 2021
Extremely tight roads with overhanging trees and large rocks makes for a challenge to navigate. In addition the sites are not level. The whole park needs a substantial upgrade.
May 03, 2021
Very enjoyable stay. Only issue that we have is that the spaces are too close together. Our table was on very unleveled ground and we were really unable to use or even have our chairs out. For a place to stop, rest and then leave it is a great place. I myself will not be returning to this KOA
May 03, 2021
Clean and kid friendly
May 03, 2021
I love this beautiful park! It backs up to nature trails that are lovely to walk and Walnut Canyon is just 15 minutes away. We were able to go off-roading on the primitive roads right near the canyon parking lot entrance. Beautiful area!
May 03, 2021
The staff were very friendly! The campground was clean and it was so fun to have a bon fire. Our family bonded and the kids loved it!
May 03, 2021
It was only an overnight stay, but the staff was friendly and showed us to our site. Clean facilities and lovely campground. We hope to return for another stay to escape some of the heat in Tucson.
May 03, 2021
My family and I enjoyed our stay. Our cabin was clean inviting and restful. Only 1 thing I would ask, how possible would it be to put ramps everywhere there are steps, the cabins and store. There are 3 handicap family members, 1 cane user, 1 walker user and 1 who suffers with arthritis in the knees....ramps would give us more freedom to enjoy the beautiful fire side patio.
May 03, 2021
Our stay would've been a good stay except that it turned out to be very cold. We woke up to snow and colder than the day before. Hope to stay again sometime when the weather isn't quite so miserable.
May 03, 2021
Lovely KOA! Big trees and hiking trails too. Even tho everyone is camped close together it was really quiet and restful. Great little breakfast place, fantastic eggs hash browns and toast. Thank you!!!!
May 02, 2021
Loved the camp kitchen
May 02, 2021
The girls are the front desk were rude. The laundry room was filthy and half the washers and dryers didn't work. Not a very nice campground. The only nice thing about it is that there are hiking trails there otherwise not a good place!
May 02, 2021
When connecting our surge protector to 30 amp it was giving us readings not to use it, luckily we had a 50 amp converter so we were able to use the 50 amp. There were only 3 out of 8 washing machines that worked, and 4 out of 12 dryers that worked, the dryers took a looong time to dry clothes which cost extra money. Otherwise it was a beautiful park.
May 02, 2021
We had to have work done on our 40' Super C, This park has a nice area for kids to play. Nice dog parks, but it's dirt. Really the only complaint was how small the sites were. We had plenty of room on our "pull thru" to park and pull the toad in. Side to side they were so close. Then when we left, we had to back out of the site. No room to pull forward and turn. People were having fun in t
May 02, 2021
We had a great time! My kids loved it. I rate it at 4/5 only because the bouncy thing, horse shoes and family center were closed (with the Friday night movie) and you guys need to change your website to reflect that or fix those things. It's not honest to falsely advertise for things you can't use. Other than that, we really enjoyed our time!
May 01, 2021
The 'patio' site we had was unsightly with the LP gas filling right next to it. We should have asked to move. Next time we'll just get a pull through site. The interior roads need repaving. Otherwise, it's the best spot in the area for our big rig, close to amenities and permits all ages.
May 01, 2021
Very nice campgrounds and the staff was amassing! I rated as a 4 star because the bathrooms could have used a good cleaning or possibly a remodel.
May 01, 2021
Site was not very level, cable TV was digital only which we were not aware of so we were unable to watch TV. Maybe have converter boxes available to rent.
May 01, 2021
We love your "Kampgrounds" and especially like al the trees through the property. The dog parks are wonderful, as is the kid's playground. You rock!
May 01, 2021
The surrounding are beautiful but the WiFi was terrible! Also, the majority of the washer and dryers were out order. Come on KOA, fix your machines!
Apr 30, 2021
Nice park. Fun seeing the snowfall one day. Nice size K9 parks. Friendly staff. Little tight for a 38 foot Class A pulling out.
Apr 30, 2021
Great place, feels like you're in the forest and everything you need is just five minutes away.
Apr 30, 2021
Beautiful setting, and well maintained campsites. We had a wonderful time.
Apr 30, 2021
Very clean campground. Friendly and quick staff. Well stocked store. Bathrooms and showers were very clean. Super quiet campground except the wind �
Apr 30, 2021
Nice tree filled park with access to trail hike.
Apr 29, 2021
I had to slide toilet paper on the bathroom floor out of my way so I didn't walk out with it stuck to the bottom of my shoe. Showers were cramped and needed cleaning. Around half of the washer/dryers were out of order. Our campsite (20A?)was cramped&dusty with a junkyard resident on one side and a 5th wheel slide out about 3 feet from our picnic table.Windblown trash. Out of characters to fin
Apr 29, 2021
It was perfect +
May 06, 2021
Awesome place
- Derrick Paddock on Google
May 04, 2021
We loved this campground!! Loved the walking trails behind the campground. I mean, the squirrels that stole our snacks off the picnic table were a bit much. I really wish they would have put them up at night. JK!! They were cute! But don't leave your food out.
- Donna Evans on Google
May 07, 2021
Not the best KOA but the girl at registration was super nice. First, the tent sites are small and there aren't much vegetation/privacy; 2nd, it's too close to 89a, so it's noisy; 3rd, our tent could not stand up straight due to the heavy wind-an indication that the place doesn't have enough trees.
- Jason ZH on Google