Flagstaff KOA Reviews
Check the Current Status of Recreation and Amenities Openings During COVID-19
Directions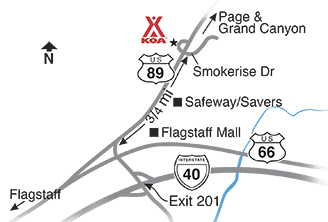 NE of downtown on 89N. From I-40 exit 201, 1/2 mile on US 89 to Page. Turn left at light at Smokerise Drive.
GPS: N35.234192, W111.575673
Fax (928) 527-8356.
Get Google Directions
Nov 21, 2020
Beautiful campground. Our site had privacy fences on both sides as well as two sitting areas. Especially liked the Weber grill at the site.
Nov 20, 2020
Everything, except for the shower stalls, was great. Beautiful surroundings and friendly staff, snd loved having trash cans at each site. The shower stalls really, especially during this pandemic, need a small shelf for shampoo, etc. My husband put his brand new shampoo bottle on the soap dish rather on the floor of the shower to stay cleaner. It fell and the plastic shattered. Goodbye $7.
Nov 19, 2020
An older facility but very well maintained. Great cable selections, all hookups worked as expected and the staff were very friendly and accommodating. Loved the trees on site. Would definitely return.
Nov 19, 2020
The staff were very kind and helpful. They went above and beyond to help with LP gas filling and to make sure our stay was pleasant. Thank you!
Nov 18, 2020
Access roads to the sites are a bit narrow and showing their age but the campground itself is great.
Nov 18, 2020
It was a quick stay for one night, but the campground was clean and staff was friendly
Nov 18, 2020
Beautiful property! We loved our site and the scenery. Friendly staff and always saw someone driving around checking on things/sites, emptying garbage etc. Firewood delivered minutes after we called the office. Only negative was the grill at our patio site was not clean from previous people, melted cheese all over grates and tongs dirty too :( We look forward to a return visit for a longer stay!
Nov 18, 2020
Close to hiking, lots of wildlife, decent showers and good WiFi
Nov 17, 2020
I liked the trails into the forest.
Nov 17, 2020
We stayed one night; easy to navigate (to/from/through). The site had a little incline to it and we did not have leveling ability on our RV, but right at the site were several concrete tiles that we were able to use and it worked perfectly.
Nov 15, 2020
No change in laundry room for doing laundry after we got set up.
Nov 15, 2020
Great setting, super nice staff, all amenities you'd want or need, good jumping off point for day trips to Sedona and the Grand Canyon, access to hiking trails adjacent to campground. We had a great stay!
Nov 15, 2020
We enjoyed the nicely wooded campground with its sparkling clean restrooms and well designed showers
Nov 13, 2020
Our spot was too tight, difficult to get into, overgrown (limbs scraped our rig) and very unlevel. Sta$ was courteous.
Nov 12, 2020
From check in to check out, the staff was friendly and helpful. Our site was beautifully kept and the park was a pleasure to enjoy, even though there was a snow storm!
Nov 11, 2020
The staff were incredible! Accommodating, friendly, efficient and walked us to our site in a blizzard. The only thing that I would recommend is more grocery (food) options in the store. We will definitely be back!
Nov 10, 2020
Everything was fantastic! The facilities are kept really clean and the maintenance staff is very friendly and helpful. My family can't wait to come back
Nov 10, 2020
I would have given it a 5 star but the cost was 5 star price and the services were all closed so there should have been no reason to pay $50 a night, Expensive
Nov 09, 2020
Friendly staff and very well kept grounds
Nov 09, 2020
We had a blast at this campground. It was kept very clean and the staff was accommodating. We understand that due to COVID there wasn't any food service open. Perhaps invest in a catering company that can deliver COVID safe food and the campers have to prepay for meals. When it's cold weather, it's quite inconvenient to go out to get food. Also, I hurt my foot on the front door of lobby.
Nov 09, 2020
good facility, nice staff. Proximity to housing with barking dogs an uncontrollable issue for some sites.
Nov 08, 2020
Very friendly staff, clean park, good sized sites.
Nov 08, 2020
Very relaxing and quiet
Nov 08, 2020
Excellent place to stay! The playground was a huge hit with the family and the staff was awesome!
Nov 08, 2020
I was quite surprised how park-like the setting felt, given its proximity to the city. The hiking trails adjoining the Coconino Nat'l Forest were a blessing for my road-weary pooch, as was the largest Kamp K9 we've yet seen after visiting KOAs in more than 15 states. Very close to my favorite KOA experience yet. Certainly top-5.
Nov 07, 2020
This location was well located for visits to the Grand Canyon, Painted Desert, Crater, Petrified Forest, Sadona etc. Would rate higher if the wifi was more reliable.
Nov 07, 2020
Love the hiking trails adjacent to the campground!
Nov 07, 2020
Communication was great! The cabin we reserved was not available so they called us in advance and upgraded us to an available deluxe cabin. Everything was clean and comfortable. Only issue we had was not being used to the elevation.
Nov 07, 2020
Everything was very good including being loaned some WD40 by the staff. The only complaint we have is that the space we were assigned had a barking dog in the house behind us (not in koa) so our suggestion would be to avoid putting people there as much as you can. Thank you for an enjoyable stay over all! Take care!
Nov 07, 2020
The staffs were very helpful and friendly. When we checked in in the dark, one staff guided us to our site, we felt so relieved. We were pleased to get the best tent site. But our electricity and water got shut down by mistake the second night. We asked them and got discount for that. Our overall experience was good and we will come back next time.
Nov 07, 2020
Nice campground and sites... we were only there for a night but it was quiet, trees and bushes to separate areas from each other.
Nov 07, 2020
Fire pit and propane were a nice touch. Enjoyed our short stay
Nov 21, 2020
Great place to take the family
- Steve Kean on Google
Nov 18, 2020
Clean, friendly, and great forest access
- christopher rogers on Google
Nov 18, 2020
Very nice staff. Pretty narrow roads. Our spot, 173, was pretty level and nice.
- Matt Roelfs on Google

Flagstaff KOA
Open All Year
5803 North US Highway 89
Flagstaff, AZ 86004
Check-In/Check-Out Times
RV Sites, Tent Sites
Check-in: 12:00 pm, Check-out: 11:00 am
Accommodations
Check-in: 2:00 pm, Check-out: 11:00 am
Get Google Directions

© 2020 Kampgrounds of America, Inc.