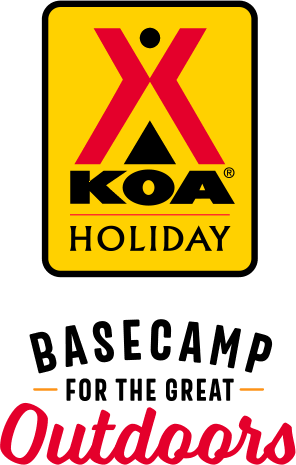 KOA Holiday Campgrounds
Whether you're exploring the local area or hanging out at the campground, KOA Holidays are an ideal place to relax and play. There's plenty to do, with amenities and services to make your stay memorable. Plus, you'll enjoy the outdoor experience with upgraded RV Sites with KOA Patio® and Deluxe Cabins with full baths for camping in comfort. Bring your family, bring your friends, or bring the whole group – there's plenty of ways to stay and explore.
KOA Holidays Feature:
RV Sites with a KOA Patio®
Deluxe Cabins with full baths
Premium Tent Sites
Group meeting facilities
Directions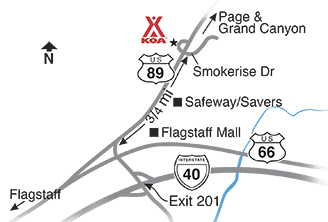 NE of downtown on 89N. From I-40 exit 201, 1/2 mile on US 89 to Page. Turn left at light at Smokerise Drive.
GPS: N35.234192, W111.575673
Fax (928) 527-8356.
Get Google Directions
Sep 21, 2021
Everyone was very nice and we recommend the Pine Tree restaurant for bfast. The only problem was the sites were uneven, narrow and the roads were in need of repair.
Sep 21, 2021
Love this KOA and Site 145. Great improvement on the patio rebuild. Great improvement on the Cable TV. Great improvement on the new Utility Hookup Pole. Only suggestion would be to power clean an re-grout the showers and bathrooms.
Sep 21, 2021
We had a very pleasant stay! All the staff were kind, helpful and engaging.
Sep 21, 2021
This is the second time I've stayed at this KOA 4th of July & this weekend). Both times I've been very happy with the facilities and especially the staff. Friendly, warm, and easy to talk too. Cafe food is very good ( my favorite? The #7 sandwich!)Highly recommend this KOA and will continue to come here when I want to get out of town!
Sep 21, 2021
We very much enjoyed our stay. Your staff was super friendly and your location was convenient for exploring the Flagstaff area.
Sep 21, 2021
Very nice place to stay.
Sep 21, 2021
It was great. The playground was wonderful! And the sites are well equipped.
Sep 21, 2021
Very friendly.
Sep 20, 2021
Had a nice weekend with friends. The cabin we stayed in was so nice and cozy. Definitely got our steps in going to restroom � . Already booked for next year �
Sep 20, 2021
Everything was perfect. We had a great stay! Thank you!
Sep 20, 2021
Top notch, met every need and beyond!
Sep 20, 2021
WiFi doesn't work. Extremely weak signal. Love the cafe for breakfast and convenience of the well stocked store. Everything was very clean and well kept.
Sep 20, 2021
Please warn campers that there are thefts happening. We had all of our firewood stolen from a closed plastic bin while we were at the picking in the pines music festival. Luckily we had not left anything of value at the site while we were gone.
Sep 20, 2021
All of the employees we dealt with were professional and pleasant to work with
Sep 20, 2021
We were placed next to the permanent camper in space 187. It was a site for sore eyes. Very dirty and the occupant had two large dogs that barked at everyone.
Sep 20, 2021
Just one night stay on motorcycle road trip. Was well kept and a relaxing setting.
Sep 20, 2021
Great cozy campground at foot of Mt Elden. Park staff were exceptionally friendly and welcoming.
Sep 20, 2021
Awesome location, our dogs appreciated the dog parks. clean facilities and friendly staff
Sep 20, 2021
Peaceful, clean, friendly staff, awesome showers with warm water in every shower. Many years staying here and God-willing we will be back. Thank you.
Sep 19, 2021
Site not level!!??…at $95/night??? Could not get electric connected…tight, tight spaces! See ya!
Sep 19, 2021
This was a good site. We left vert early so didnt get to explore much. Bathrooms were ok. Good walking area. Good laundry
Sep 19, 2021
The campground itself was just fine. Exceptionally clean. But the noise from the street was terrible! Also heard a lot of low flying airplanes and helicopters.
Sep 19, 2021
Very narrow roads and tight corners for big rigs. Had to disconnect for pull thru. Needs updating for size of campers and RVs that are on the road today.
Sep 19, 2021
when we got to the KOA it was a last minute thing. The staff were very friendly and helpful. I wanted something different so we stayed in the teepee. A once in a lifetime thing for sure. This was very dusty and what looked like a mold of some kind on the inside walls of the teepee. I understand it open on the top but still needs to be wiped down before you would allow people to stay in it.
Sep 18, 2021
Your staff was very friendly and helpful. We like te new check in process. We know the location is older but it is in good shape except the sites could be leveled better. Was barley able to get our rig level. Our only real complaint was the difficulty using the Wifi. It worked well occasionally but dropped out often and sometimes was not working at all. We expect better these days. I is essent
Sep 18, 2021
Great location. Nice clean campground. Loved the breakfast burrito
Sep 18, 2021
Great staff as always
Sep 18, 2021
Great staff. Sites not level no sewer on many sites. Highway noise
Sep 18, 2021
This was a fabulous stay. Clean everything!! Very friendly, courteous, informative staff. Lots of activity for the children. Most definitely will stay at the Flagstaff KOA again. I'm looking forward to my next visit.
Sep 18, 2021
Only there overnight but pleasant. Loved the wildflowers and cute fall decorations. Site level and plenty of room. Quiet too.
Sep 18, 2021
very nice, great place for dogs-can easily access National Forest
Sep 18, 2021
This place is a dump. No care or maintenance at all. Got a premium site and could only use electric as water hookup was leaking so bad it was causing a stream. The sewer was open with no cap and sewage on the ground. The grass was half way to my knees. When I told them the issues they didn't care. They had my $70 and that was all they cared about.
Sep 18, 2021
Campground packs in quite a few campers but we'll organized and noise from people died down by 10. We were able to hear road noise and trains throughout the night but may be a function of more travel in the summer. Facilities were clean and grounds well kept. They appear to go out of their way to have some fun things for young children.
Sep 17, 2021
It was a busy weekend. They were full. Seemed as though they tried to fit too many trailers in this koa. Very tight and little space inbetween units
Sep 16, 2021
Staff was very nice. Campground was well kept. The only problem we had was the sites are too narrow and the road area could be a little wider too. We couldn't put out our awning and couldn't use the picnic table because it sat on a slight hill. Perhaps other sites are wider than ours was. We have a 40' fifth wheel and had to disconnect.
Sep 16, 2021
This is our MOST favorite KOA in AZ.!!!:) We love everything about it from the clean and very accommodating Tent Cabins, (complete with TV, fridge and microwave), to the friendly staff and well kept up grounds to the Breakfast Truck to the gorgeous trees and ambiance...my husband and I LOVE it and will be back again soon!! Keep up the good work and Thanks so much!!:) ~Larry & Annamarie
Sep 19, 2021
Great place for camping. We stayed three nights here and really enjoyed the location & amenities. The camp breakfast that is available to purchase was very good and reasonable.
- mark klink on Google
Sep 19, 2021
All I can say is good people clean facilities
- Samuel Eberle on Google
Sep 13, 2021
Nice location very nice and amenities offered are excellent.
- Mike Wong on Google