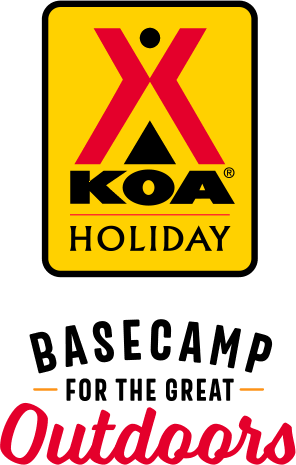 KOA Holiday Campgrounds
Whether you're exploring the local area or hanging out at the campground, KOA Holidays are an ideal place to relax and play. There's plenty to do, with amenities and services to make your stay memorable. Plus, you'll enjoy the outdoor experience with upgraded RV Sites with KOA Patio® and Deluxe Cabins with full baths for camping in comfort. Bring your family, bring your friends, or bring the whole group – there's plenty of ways to stay and explore.
KOA Holidays Feature:
RV Sites with a KOA Patio®
Deluxe Cabins with full baths
Premium Tent Sites
Group meeting facilities
Directions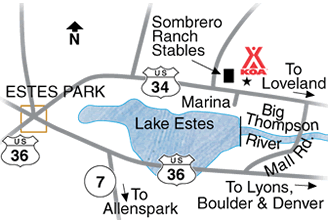 1.5 miles east of downtown Estes Park on the north side of Highway 34 across from the east end of Lake Estes.
GPS: N40.3796. W105.4887
2051 Big Thompson Ave, Estes Park. CO 80517
Get Google Directions
Jul 26, 2021
Great staff and friendly environment. My grandsons and I enjoyed our stay.
Jul 26, 2021
Great location, clean restrooms, family friendly!
Jul 26, 2021
Never answered phone. Called dozens of times with no answer. Was ignored by the front desk staff. The sites are ugly and packed close together. Also, smells like horse manure all the time. Awful road noise in the tent area. It's obvious that there is no drive to improve. As a frequent KOA customer, and a lifelong KOA employee, I will say that this KOA is one of the worst I've ever stayed in pe
Jul 26, 2021
Awesome koa. Very close to many activities and restaurants. Will definitely be going back.
Jul 26, 2021
We loved our deluxe cabin! It was very clean and quiet. The propane fire pit and grill included was an awesome bonus. We'll definitely be staying again in the future!
Jul 25, 2021
Clean and maintained cabin and great location.
Jul 25, 2021
The Estes Park KOA was the best and cleanest campground I have ever stayed in. The employees are all incredibly friendly and willing to help in any way they can. Yet, it was the bathrooms that made me love this place. I realize that bathrooms shouldn't set one place apart from another, but it did. Your campground bathrooms were so clean, and I really appreciated it. Thank you for your hospitality!
Jul 25, 2021
The employees were incredibly pleasant and helpful. The restrooms were very clean, and fun activities were planned. However, we were placed in a campsite next to a major road, and the traffic noise was horrendous, even until the next morning. We slept maybe one-two hours at most and were forced to leave KOA and move elsewhere for the remainder of our stay.
Jul 25, 2021
We had a tent spot, T-25, which was large enough for us to pitch 2 - 8'x 8' tents. The pea gravel bed made it easy too set up and stake down the tents without any humps or other sources of discomfort that you usually discover at about 1 AM. The amenities in the park were great and our grand daughter really enjoyed the "bubble" train ride.
Jul 25, 2021
We love the Estes koa! We stay sever times a year and always have a great time. The bathrooms by the tents were a little dirty this time. That would be my only complaint.
Jul 25, 2021
Wonderful,the staff made me feel like I was at home.
Jul 25, 2021
Henry and Lynnette made us feel welcomed and took care of us beautifully. Had a wonderful stay. The bathrooms were also clean and well maintained.
Jul 24, 2021
Great place!
Jul 24, 2021
REALLY NICE KOA, ATTENTIVE PERSONNEL. ONLY A LITTLE SMELLY
Jul 24, 2021
The bathrooms and the non stop traffic driving by were a huge disappointment my cabin itself was amazing and it was clean the staff was polite but not real helpful that is about it the view was OK at best the all inclusive bathrooms count of 3 I think is what ruined it for me the most
Jul 23, 2021
Staff was amazing and always checking to see if we needed anything. Only down fall was very tight quarters and low water pressure. We had issues with enough water pressure to get the shower to work. I thought it was an issue on my end until our neighbor said they just filled up and used there camper pump.
Jul 23, 2021
Excellent location the staff was helpful and kind campsites were clean
Jul 23, 2021
This was my 2nd stay here and my son and granddaughters 1st stay..We had a wonderful stay they loved the campground as much as i did..we will definitely stay again..This campground is clean, has nice bathrooms and showers, nice staff, and plenty to do for the entire family..
Jul 22, 2021
This was our second stay at this KOA. It was nice to see the improvements since our original stay in 2016. Glad to visit the Town of Estes Park and walk down by the river.
Jul 22, 2021
Good location, friendly and helpful staff and lovely scenery with easy access to parks and trails. Reliable and easy hookups. We didn't enjoy how much we were packed into a site- not big rig friendly and stressful entry and exit (though I give tons of extra credit to the staff member who helped us park!!). Due to the heat and close proximity of campsites, sewer smells also weren't pleasant.
Jul 22, 2021
Great location, friendly staff, very clean facilities.
Jul 22, 2021
Nice staff. Great location !)
Jul 22, 2021
Clean and beautiful setting. Great stay! Loved hairdryers in the bathrooms and private showers. Great pancakes!
Jul 22, 2021
Wonderful cabins, well maintained campground, easy access to all facilities, and quick access to RMNP made this a perfect stop on our journey.
Jul 22, 2021
The tent sites are terrible...no tree cover...right on top of each other. Backed right up to the road so car noise all day and night. Right next to a horse stable...loaded with flies. Water was advertised but non in the site. The firewood was price gouged!
Jul 22, 2021
Had issue with my tent site when I arrived. I was able able to speak with the owner and they were happy to make an accommodation to resolve the issue. Very friendly.
Jul 22, 2021
Awesome just wish we had a little more romm
Jul 21, 2021
Our only issue was an extremely loud bathroom exhaust fan!
Jul 21, 2021
This campground was well maintained and the staff was extremely friendly. Their location is very convenient to Rocky Mountain National Park. We have used them in the past and we will use them in the future. The Burrells from Bogart Georgia ����������
Jul 21, 2021
Parking lot pretty crowded, sites too close, hard to get around in. Surprise charges that were not in estimate, and a little pricey to begin with. Showers were good and staff friendly.
Jul 21, 2021
Henry backed us in. I've never had anyone at any other KOA help me so completely. We also enjoyed the breakfast.
Jul 21, 2021
Best campground in Estes Park by far. Owner and staff are super nice people.
Jul 20, 2021
The tent camping area has a serious fly issue. Very tightly packed into the campgrounds
Jul 20, 2021
This is the best KOA we have been to so far. All the staff were friendly, especially Henry who went out of his way to get my son some ice cream he wasn't allergic to, so as he could participate in the ice cream social. The escape artist and the karaoke were a lot of fun too. We will definitely be back!
Jul 20, 2021
Very nice campground and staff. The pancake breakfast was delicious and very filling. I will definitely be back during my next stay in Colorado.
Jul 20, 2021
Tight spaces. Very friendly staff.
Jul 19, 2021
The campgrounds were just too tight. Feels like you were camping right on top of each other and hard to find any parking if you came in late. The sites are small where you couldn't even open your awning completely. I did like the welcome board where they wrote down your name on the day of your arrival. Locations to Estes Park shopping and dining is a plus but the campground itself is too tight.
Jul 19, 2021
A wonderful destination! Clean, great amenities and owners have hearts of gold.
Jul 19, 2021
Bumper to bumper with neighbors. No room to set up anything. My campsite was 3 foot off the gravel road. Would like a credit or refund. Family and I ONLY slept there. Had to park away from my camper. Wasnt what my online reservation spot looked like either.
Jul 19, 2021
We did an 11 day road trip and this was our favorite campground. So clean, beautiful view, and great staff. We recommend KOA's to all of our friends now. Great experience!
Jul 19, 2021
The staff was so wonderful & they had so many fun activities for the people staying here! We would 100% recommend to everyone!
Jul 19, 2021
Great staff, great amenities
Oct 17, 2021
Clean, close to town, owner very nice . Only negative was spaces too close together would stay again
- sally Pippin on Google
Oct 14, 2021
My service dog Valor and I stayed here not one, but 3 nights. It was supposed to be just the first night, but all the boondocking sites were full From the time you walk through the office door you are greeted with a smile from a staff that wants nothing except the best for you on your trip The staff can tell you where to eat and where not too. They are very friendly every time they drive by seeing if anyone needs help The bathrooms are clean from the toilet to the showers and I never had to wait to use one Finally, this is one of the best parks I have stayed in and that is mainly because of the staff first and accommodations second. So do not hesitate staying here and this is only 10 minutes from the entrance f Rocky Mountian National Park Greg
- Greg Witzleb on Google
Oct 14, 2021
Amazing staff, they helped us with our RV problem out of the kindness of their hearts that had a problem. Beautiful location, lots of amenities, highly recommend!
- J Drake on Google