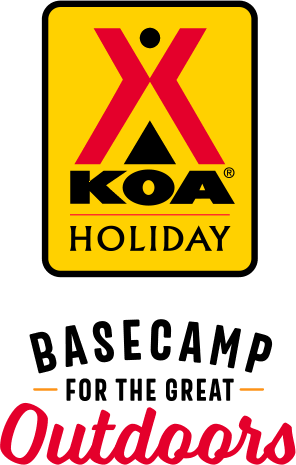 KOA Holiday Campgrounds
Whether you're exploring the local area or hanging out at the campground, KOA Holidays are an ideal place to relax and play. There's plenty to do, with amenities and services to make your stay memorable. Plus, you'll enjoy the outdoor experience with upgraded RV Sites with KOA Patio® and Deluxe Cabins with full baths for camping in comfort. Bring your family, bring your friends, or bring the whole group – there's plenty of ways to stay and explore.
KOA Holidays Feature:
RV Sites with a KOA Patio®
Deluxe Cabins with full baths
Premium Tent Sites
Group meeting facilities
Directions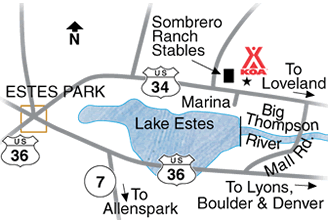 1.5 miles east of downtown Estes Park on the north side of Highway 34 across from the east end of Lake Estes.
GPS: N40.3796. W105.4887
2051 Big Thompson Ave, Estes Park. CO 80517
Get Google Directions
Aug 30, 2021
More expensive than when I stayed five years ago. I was disappointed to smell the horse stalls next door when spending $60 for tent camping - but I concede this is out of their control. Bathrooms were excellent and convenient. Parking was spacious for my F-150.
Aug 30, 2021
Spots were incredibly small. Hard to maneuver in the campground. Some staff was rude. Others were nice. But rude staff definitely was the no go for me. Showers were very clean.
Aug 30, 2021
We stayed on the tent sites. The sites are a little closer together then I would have thought they would be. But overall the place was great. The office was very friendly and helpful. The bathrooms are fantastic. Very clean.
Aug 30, 2021
Love this KOA! Been visiting Estes for years and have stayed in their camping and deluxe cabins. We love to spend time on the lake and love how close this is to the marina and the fun park across the street. The views are amazing and the hosts friendly and welcoming!
Aug 30, 2021
Way to close to a vet busy road. The noise through the night was rough. You should put up a sound barrier to help decrease this.
Aug 29, 2021
It amazing me and quite place.
Aug 29, 2021
Wonderful stay, Restroom showers was very clean..
Aug 28, 2021
The campground was convenient to the town, across from the walking trail around the lake and had a town shuttle which was free to go to town and other businesses in the area. The staff was friendly and helpful especially Ally and Henri! when we had questions and needs. It is clean. The sites are close together but the area was clean . Thank you for a great stay!
Aug 28, 2021
This is a very busy place. Noise from the highway disturbed sleep in tents, as did early departures at 4:30 AM from nearby campsites. Bathrooms were too busy all the time, as tent spaces shared with cabins, and only 3 bathrooms were available to avoid a lengthy walk to the bathrooms located on either side of the office. Sites were large and the gift shop had a wide selection of essentials.
Aug 28, 2021
Very clean and we'll manicured. Special thanks to Sparky (park maintenance) for helping with my car tires.
Aug 28, 2021
It was nice and clean and they very nice and helpful.
Aug 27, 2021
Great people!!
Aug 27, 2021
Absolutely beautiful scenery and people that work here. Clean and affordable sites. At the end of our 10 day trip around the southwest, this RV park was the best. Can't say enough good things about our stay. Thanks again!
Aug 27, 2021
The deluxe cabin was awesome. It was comfortable and had everything we needed. Also can't say enough about the staff. They worked with us on our reservation and got us out of a tough spot. Thank You!
Aug 27, 2021
Unique campground.. very small spaces but run extremely well. Very nice staff infact they are awesome. Extremely clean. Great area and great stay. Love that the welcome you by name, serve breakfast daily, and have a well stocked store with reasonable prices.
Aug 27, 2021
Overall OK, but very tight sites. Even for our C-class 22-24 ft Motorhome. Restrooms and showers clean. Wifi decent. Fairly expensive though.
Aug 25, 2021
We were there for three nights. We appreciated our deluxe cabin and would highly recommend Estes Park KOA. It was very nice and lots of amenities.
Aug 25, 2021
It was good. It felt like rv camping living in "tight quarters". But it meet most of my needs. A dump station at my site would have been more helpful. We could walk to dinner, which felt great to stretch my legs.
Aug 25, 2021
Nice campground, friendly people - we stay here every time we are in Estes Park.
Aug 24, 2021
Our tent site was about 15 feet from the highway. Very noisy
Aug 24, 2021
Clean and close to town. Sites are a little tight, but in this area, that is to be expected.
Aug 24, 2021
The Koa facility was amazing. Clean, organized, helpful, etc. The main complaint was our cabin location. Next time we will request one far away from the road. We were in Cabin 20 - the road noise was unbearably loud. I would have turned the cabins around 180 degrees, so the picnic tables and fire pits were facing inside Koa. We will definitely stay at Koa's again. A fantastic camping option!!
Aug 24, 2021
A perfect KOA for the family, especially a first experience camping! The owner is fantastic and they have kids in mind from beginning to end. The tent sites are a little close to the highway, but I can't fault them. It's probably the best layout given the property location, which is very conveniently located just outside downtown.
Aug 24, 2021
Hermoso lugar, muy divertido y l El staff son maravillosos
Aug 24, 2021
Very please everything was clean and organice! Great service and customer service! Yes
Aug 24, 2021
Very clean and comfortable place. Staff were very nice.
Aug 23, 2021
The park is very tight - size-wise. Full hook ups are very close to other picnic tables. It is very convenient to downtown. There is a shuttle that comes by 2x an hour. And the owners and staff are great. Very engaging, very helpful. Fun things for kids and social spots for adults.
Aug 23, 2021
The grounds were extremely well kept and the views of the surrounding area and proximity to the park - yikes. My wife and I had site 41 and I think it was the best one in the park. I could see people's frustration with being cramped together and the middle row is sort of cramped but it seemed the sites with terraces had plenty of space. I absolutely would come back.
Aug 23, 2021
Such a great place! 7 min drive to downtown Estes Park. Soooo kid friendly and clean. Highly highly highly recommend!
Aug 23, 2021
Campground was clean and quite, I would def stay here again
Aug 23, 2021
Great place like all KOA Campgrounds clean and well-kept up the only thing that I can complain about the KOA in Estes Park is if you have an extra car they don't allow it
Aug 22, 2021
The restrooms were very clean, liked the additional individual showers with toilet and sink. Really close quarters so you felt on top of each other, however there are nice trees. It is a great location within Estes Park. Could cross the street to walk around the lake.
Aug 22, 2021
Fantastic! From the help I received on the phone when registering to the easy, friendly check in upon arrival, the sparkling clean cabins and bathrooms, comfortable beds and fabulous view if the mountains, and the convenient location, every aspect of our stay here was top notch. We thoroughly enjoyed our stay here and absolutely would stay again! Thank you!
Aug 22, 2021
Best KOA that we stayed in this year. The people are very friendly and helpful.
Aug 22, 2021
It was an amazing experience. The grounds were perfectly kept and the bathrooms were spotless. The staff was great and very nice. I can't wait to come back..!!
Aug 21, 2021
The camp sites are rite on the main road to Estes and is loud. I wish that was mentioned on the site description that the noise level can be loud at times. Also, there was an issue with another site who was up drinking and loud at 12:22am. The staff went to talk to them but the next day kept harrowing us and went around telling the rest of the sites we turned them in. Not my best KOA experience.
Aug 21, 2021
Excellent cabin. Clean campground
Aug 21, 2021
This was my most favorite stay yet!! Thank you ���
Aug 21, 2021
Easy access to the park, I wish the RV sites were a little wider
Aug 20, 2021
We loved the location and the people were incredibly friendly and helpful. The park was clean and well kept. Our only disappointment was the shower. It was clean but the controls and head were not very good.
Aug 19, 2021
This was my second visit to the Estes Park Koa. I stayed in one of the basic cabins. The cabins did not have a mini fridge and microwave that is otherwise typical of the cabins. The management and the staff is extremely friendly and courteous. The cleaning staff does a splendid job in keeping the bathrooms clean. There are both family and dorm shower facilities in the area. I would visit again.
Oct 17, 2021
Clean, close to town, owner very nice . Only negative was spaces too close together would stay again
- sally Pippin on Google
Oct 14, 2021
My service dog Valor and I stayed here not one, but 3 nights. It was supposed to be just the first night, but all the boondocking sites were full From the time you walk through the office door you are greeted with a smile from a staff that wants nothing except the best for you on your trip The staff can tell you where to eat and where not too. They are very friendly every time they drive by seeing if anyone needs help The bathrooms are clean from the toilet to the showers and I never had to wait to use one Finally, this is one of the best parks I have stayed in and that is mainly because of the staff first and accommodations second. So do not hesitate staying here and this is only 10 minutes from the entrance f Rocky Mountian National Park Greg
- Greg Witzleb on Google
Oct 14, 2021
Amazing staff, they helped us with our RV problem out of the kindness of their hearts that had a problem. Beautiful location, lots of amenities, highly recommend!
- J Drake on Google