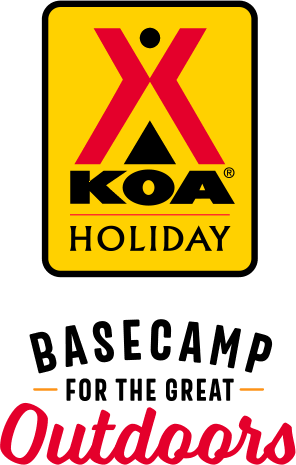 KOA Holiday Campgrounds
Whether you're exploring the local area or hanging out at the campground, KOA Holidays are an ideal place to relax and play. There's plenty to do, with amenities and services to make your stay memorable. Plus, you'll enjoy the outdoor experience with upgraded RV Sites with KOA Patio® and Deluxe Cabins with full baths for camping in comfort. Bring your family, bring your friends, or bring the whole group – there's plenty of ways to stay and explore.
KOA Holidays Feature:
RV Sites with a KOA Patio®
Deluxe Cabins with full baths
Premium Tent Sites
Group meeting facilities
Directions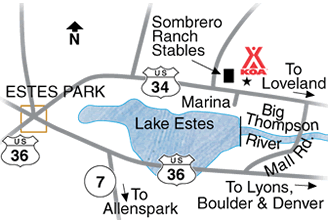 1.5 miles east of downtown Estes Park on the north side of Highway 34 across from the east end of Lake Estes.
GPS: N40.3796. W105.4887
2051 Big Thompson Ave, Estes Park. CO 80517
Get Google Directions
Sep 09, 2021
Friendly, clean, place to stay on vacation. We enjoyed the hot tub and the deluxe Kamping cabins. They were just like a tiny house! We will definitely stay here again!
Sep 09, 2021
Facilities and campground were great. Road was noisy at times.
Sep 08, 2021
It was a very nice stay no problems everything was great and all the staff was very pleasant. I had a nice spot with a beautiful mountain view thank you. Hope to be back next year! �
Sep 08, 2021
We really enjoyed our stay at the Estes Park KOA, and was thankful for the late check-in option as we didn't arrived until close to midnight. The only thing I would change about our stay would be the cost. For a one bedroom deluxe cabin with a couch that folds down for a second bed, it seemed steep. And, getting two children on that fold down couch wasn't possible given its size.
Sep 08, 2021
Great views, clean cabin & restrooms, friendly people and fabulous pancakes!!
Sep 08, 2021
Excellent customer service. Henry and Steve helped solve our problem and got us back out on the road. Staff was very helpful. Facilities very clean and location to trolly great.
Sep 07, 2021
It is convenient to all of the activities in Estes Park, as well as RMNP. We are able to be in our trailer while our kids can stay in a cabin and that makes everyone happy!
Sep 07, 2021
Great pancake breakfast and location!
Sep 07, 2021
Our three day stay was great. This facility is definitely 5 stars from KOA standards, Bathrooms were clean, sitting area in the tent site, owners were amazing and friendly. Overall, we loved it! We will be back
Sep 07, 2021
Very clean, love that they have things for campers to enjoy like ice cream social and kids train!
Sep 07, 2021
This was our first time camping this far away from home and our first time in a KOA. To say that my family and I had an excellent time would be an understatement. Huge thank you to Greg, his family, and his staff for an extremely memorable Labor Day weekend with my family. Myself, my wife, and our 3 kids had one of the best experiences ever and look forward to going back next year.
Sep 07, 2021
Fantastic campground and very friendly staff.
Sep 06, 2021
Friendly helpful staff, clean restrooms. Yes, I give this campground a big thumbs up.
Sep 06, 2021
Very accomadating and friendly
Sep 05, 2021
Campsites were too close for my liking. Everything else regarding our stay was wonderful.
Sep 05, 2021
Campers kind of close, but they make up for it with friendliness and add ons!
Sep 04, 2021
We had a great 4 night stay while we visited Rocky Mountain NP. The campground was quiet, well maintained and clean. The office/gift shop/RV supply store was well stocked!
Sep 04, 2021
Bathrooms were exceptional. Hosts were great. Odor from nearby horses was not pleasant. Highway noise was bad. Campsites really close together.
Sep 04, 2021
I love my KOAs! Usually I leave with a 4 or 5 star review, easily. I've never dealt with more unfriendly staff, especially considering that this location doesn't have a pool and is so crowded... right up against a loud road.
Sep 04, 2021
It was nice but the sites are way too small. We were fighting for parking space
Sep 04, 2021
Hands-down the one of the best lamp grounds out there! The restrooms and showers were immaculate! The staff was friendly and always making sure we had everything we needed! They are family focused and it shows! And the elk walking though was a bonus! Would assuredly stay here again!
Sep 04, 2021
Very accommodating. We forget to bring pancake syrup this trip. The staff was kind enough to loan us theirs. My fiance had a bug bite. Again the staff to the rescue. They provided tape and a bandage. Very friendly, too.
Sep 03, 2021
Friendly staff and clean facilities. Location was great as well. Thanks for a great stay!!!
Sep 03, 2021
PROs: they accommadated us and our 20 ft Roadtrek on 48 hour notice; reception staff were friendly and night staff went above and beyond when internet did not work CON: internet never did work; our site was a squeezed into a pie shaped wedge with 1 cabin and 3 sites on top of each other ( neighbors in a tent's conversation was adible as though they were talking to us);
Sep 02, 2021
Clean quite best KOA that l've been around
Sep 01, 2021
The woman on Monday evening (when checking in) and a different woman on Tuesday morning (when checking out) were both very kind, helpful, and friendly! The entry reservations needed at Rocky Mountain National Park were also explained. On Tuesday morning, the young woman kindly gave us an extension until noon for our check out, after arriving at 11 a.m. from our quick hike from Emerald Lake!)
Aug 31, 2021
Sites are far too narrow to accommodate units with slide outs. Our first night there was travel trailer next to us with a slide out and we only had about 3' clearance the last two nights our neighbor didn't have a slide out and was better. The outdoor terrace is very crammed also. The "pull through" sites aren't really pull through because they are also very close and the outdoor area is the road.
Aug 31, 2021
Everything was very clean and the check in/out process could not have been easier. The staff was exteremely helpful with all questions that I had.
Aug 31, 2021
My cabin was cute and clean. The campgrounds were really nice and the staff was great. I really enjoyed my stay!
Aug 30, 2021
We had a wonderful stay the camp was clean and quiet. Staff was very friendly and helpful.
Aug 30, 2021
The deluxe cabin I stayed in was squeaky clean, well kept, with a comfortable bed and great amenities. The staff was super helpful and kind, and the pancake breakfast was delicious. Keep up the good work Estes park KOA.
Aug 30, 2021
Very Good overall. The water pressure in the North showers was pretty meager.
Aug 30, 2021
Staff was very accommodating. Sparky was so nice and very helpful. We were comfortable and appreciated the location for visiting the town and lake. It was very nice to have the free shuttle stop right at the driveway. The facilities were very clean and well maintained.
Aug 30, 2021
It was very nice. The deluxe cabin was perfect, had everything we needed and it was spotless. We met friends who were camping in their RV and it was nice to be able to bring our dogs with us. Loved the dog friendly areas. The KOA staff were visible and friendly. I have no complaints.
Aug 30, 2021
More expensive than when I stayed five years ago. I was disappointed to smell the horse stalls next door when spending $60 for tent camping - but I concede this is out of their control. Bathrooms were excellent and convenient. Parking was spacious for my F-150.
Aug 30, 2021
Spots were incredibly small. Hard to maneuver in the campground. Some staff was rude. Others were nice. But rude staff definitely was the no go for me. Showers were very clean.
Aug 30, 2021
We stayed on the tent sites. The sites are a little closer together then I would have thought they would be. But overall the place was great. The office was very friendly and helpful. The bathrooms are fantastic. Very clean.
Aug 30, 2021
Love this KOA! Been visiting Estes for years and have stayed in their camping and deluxe cabins. We love to spend time on the lake and love how close this is to the marina and the fun park across the street. The views are amazing and the hosts friendly and welcoming!
Oct 07, 2021
Quiet campsite with friendly staff! Everyone was friendly and it was an enjoyable experience
- Camilo Castillo on Google
Oct 06, 2021
Very clean. Friendly staff. Had the best view from our site.
- Becky Domecillo on Google
Oct 01, 2021
Awesome people. Great prices considering the location. Veterans discount. I will definitely come back.
- Ray Lang on Google