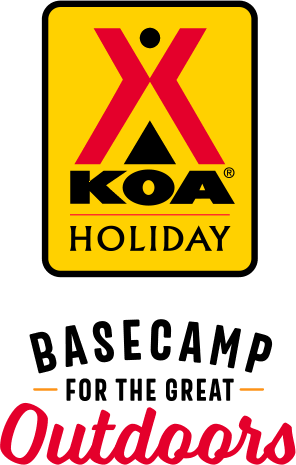 KOA Holiday Campgrounds
Whether you're exploring the local area or hanging out at the campground, KOA Holidays are an ideal place to relax and play. There's plenty to do, with amenities and services to make your stay memorable. Plus, you'll enjoy the outdoor experience with upgraded RV Sites with KOA Patio® and Deluxe Cabins with full baths for camping in comfort. Bring your family, bring your friends, or bring the whole group – there's plenty of ways to stay and explore.
KOA Holidays Feature:
RV Sites with a KOA Patio®
Deluxe Cabins with full baths
Premium Tent Sites
Group meeting facilities
Directions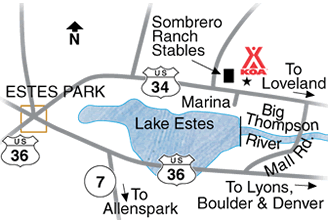 1.5 miles east of downtown Estes Park on the north side of Highway 34 across from the east end of Lake Estes.
GPS: N40.3796. W105.4887
2051 Big Thompson Ave, Estes Park. CO 80517
Get Google Directions
Sep 20, 2021
very helpful and friendly staff. Very clean, we hope to go again!
Sep 20, 2021
Great location, friendly staff!
Sep 19, 2021
Last year we booked the Member Appreciation weekend which staff told us was Sept 17-18. When we checked in, we were told it was the previous weekend. We were treated as if we were lying to get the discount and staff took no responsibility for the mistake. We will not be returning to this location.
Sep 19, 2021
This is a very nice place. There was a barking dog all night long that no one seemed to address. He barked from the moment we arrived at 6pm until 1030pm straight. Then many times throughout the night. Such a bummer. But this place is amazingly clean. Awesome showers. Great front desk.
Sep 19, 2021
We loved our stay with you...everyone friendly & helpful. Great location we could walk to everything we wanted to see...
Sep 19, 2021
We had an amazing time at the KOA at Estes Colorado. Its clean and friendly. They treat you like family. Great location as well. We will definitely be back!
Sep 19, 2021
Limited in space due to the natural mountain terrain ... offering screech owls, elk, and weekend breakfast as recompense——and such lovely people in the office! Thought I'd seen the best when I saw an office golf-cart-driver take a guy back to his site after buying wood. Then Henry asked me to email them so they'd know I got home safely, and my heart was warmed to the max!
Sep 19, 2021
stayed in a cabin next to the highway. it did not matter. great stay.
Sep 18, 2021
I was so impressed with the friendly service from the folks here. Only drawback was the size of the sites... So small and not big enough where I could park my truck next to my 21'camper. But location was great, right across from Estes lake and close to town. Very clean.
Sep 18, 2021
Decided to "run away from home" for a few days and fortunately found KOA! It was just me and my dog and it was a great little getaway. We stayed in a camping cabin which was really neat. My favorite part was the time spent on the porch swing and in the cabin itself. I loved that Lake Estes was just a skip across the road and wow, so beautiful! The staff was exceptionally kind and helpful. Thank yo
Sep 17, 2021
We had the nicest site in the park but it's very small and crowded.
Sep 17, 2021
We tent camped for two nights here in August. It is a clean campsite with well-stocked store and friendly staff. The bathroom facilities were spacious and clean. It's a great base for exploring Rocky Mountain National Park and the surrounding area. Our tent site was next to a road but it wasn't too busy or noisy at night.
Sep 17, 2021
The park was in a convenient and quiet location close to the activities we were interested in
Sep 16, 2021
Great host. Enjoyed our stay.
Sep 16, 2021
Absolutely amazing staff!! Very friendly and accommodating!! If they didn't know an answer to something, they would find out for you!! Definitely made us want to stay there again!!
Sep 15, 2021
Campsites are way too close together. As our camp neighbor said "we are a packed in here like sardines"
Sep 14, 2021
Estes Park is one of our favorite places to visit with mountains surrounding the town, beautiful Lake Estes and all the little shops. The Estes Park KOA is also lovely and the staff and owners are so welcoming and friendly. We come every year!
Sep 14, 2021
Great place to Kamp. Very friendly and helpful folks. Just stay here, you won't regret it
Sep 14, 2021
Lovely time. Clean, quiet, friendly. We will definitely stay here again.
Sep 14, 2021
Our site was terrible for our 25 ft. RV. We were parallel parked next to a retaining wall with only a 3 foot gravel patio on the drivers side. The table was at the back of our RV and next to the bumper of the campers behind us. We could not put out our awning as traffic on the road would hit it. The campground and staff are nice. Many of the RV sites are MUCH too small without any outside area.
Sep 14, 2021
Very nice spots, great views, very helpful staff
Sep 14, 2021
I've been staying at different KOAs across the country and this location was hands down my favorite! Beautiful area, well kept, outstanding bathrooms and incredibly friendly site workers.
Sep 13, 2021
Employees were very friendly, water pressure excellent, WiFi worked good. However, we won't be back. The rv spots were way too small. So small we couldn't even put out our awning and the only place to use as a patio area was behind the camper. Pull through sites made it impossible to get a camper in and out without bothering them to move their camper and truck. No parking at site for truck
Sep 13, 2021
Wonderful newly upgraded tent campground. Spacious well functioning bathrooms near by. Older well maintained campground with beautiful trees and greenery. Highly recommend..
Sep 13, 2021
I like campgrounds with trees that allow you to feel like your camping and not in a parking lot of RV's and Estes Park KOA was perfect for that. The sites are definitely not for big RV's and parking is tight but it's a nice campground. I wish I had a site fire pit but the staff was super friendly and wore kilts for ScotFest which was pretty fun!
Sep 13, 2021
We had a great time camping here two days. Staff very friendly and accommodating. We will return
Sep 12, 2021
Our site was wonderful (13), a patio plus a deck with gas fire pit. The staff were extremely friendly. Bathrooms were very clean. 4 personal toilet shower rooms were great. They had a common area with grills, very nice. My only complaint was most sites are very tight and many require you to park off site.
Sep 12, 2021
Great stay and great location to the park. Sites were a little tight. Loved the availability of the grille snd pavilion. Owners were very hospitable and helpful.
Sep 12, 2021
Friendly staff and very clean facility. Unfortunately, this was both the smallest and most expensive KOA campsite I've had. Sites are extremely small and the price does not seem commensurate. The dog park is also rough and a bit overgrown, but it gets the job done. Luckily I had an end site and quite neighbor, so the tight quarters were tolerable.
Sep 12, 2021
Great staff. Very clean facilities.
Sep 12, 2021
Amazing views !
Sep 11, 2021
I liked the staffs help getting to our campsite, as well as their very clean bathrooms, shuttle into town, breakfast, advice on events. restaurants. Enjoyed the games , basketball, corn hole, swings, train ride, ice cream socials! This is a very quiet and close to RMNP. Campsites close together was my only complaint. Odor from campers on both sides smoking made it hard to enjoy our spot.
Sep 11, 2021
We enjoy staying at this park, however, it is very tight. The only issue we had this year was they put us in a 30amp site - gratefully we had another site booked for our son for a portion of the stay and it was 50amp so we traded and it all worked out. The staff is very pleasant and helpful and fairly accommodating when they can - and the pancakes were GREAT!
Sep 11, 2021
VERY tight campground, I won't be recommending it to anyone who has a larger camper then us because it was right even with our little 25ft no slide outs trailer. The staff was very friendly and the park was very well kept, all in all great stay!
Sep 11, 2021
Everybody on the property was very helpful and friendly. Looking for to coming back next year for an extended period of time. thanks!
Sep 10, 2021
If you are looking for a cabin there are plenty here. Beware some cabins are right on the main road. The RV sites are very very small. No place to sit outside. My neighbors septic was right behind my RV. No pool small sites, not up to the standard of a KOA Holiday.
Sep 10, 2021
tent camping was great! Could use more bathrooms, but the staff is just wonderful and location is the best!
Oct 07, 2021
Quiet campsite with friendly staff! Everyone was friendly and it was an enjoyable experience
- Camilo Castillo on Google
Oct 06, 2021
Very clean. Friendly staff. Had the best view from our site.
- Becky Domecillo on Google
Oct 01, 2021
Awesome people. Great prices considering the location. Veterans discount. I will definitely come back.
- Ray Lang on Google