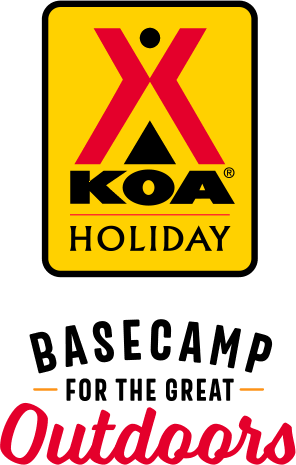 KOA Holiday Campgrounds
Whether you're exploring the local area or hanging out at the campground, KOA Holidays are an ideal place to relax and play. There's plenty to do, with amenities and services to make your stay memorable. Plus, you'll enjoy the outdoor experience with upgraded RV Sites with KOA Patio® and Deluxe Cabins with full baths for camping in comfort. Bring your family, bring your friends, or bring the whole group – there's plenty of ways to stay and explore.
KOA Holidays Feature:
RV Sites with a KOA Patio®
Deluxe Cabins with full baths
Premium Tent Sites
Group meeting facilities
Directions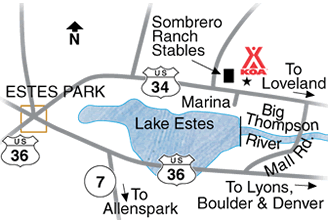 1.5 miles east of downtown Estes Park on the north side of Highway 34 across from the east end of Lake Estes.
GPS: N40.3796. W105.4887
2051 Big Thompson Ave, Estes Park. CO 80517
Get Google Directions
Sep 29, 2021
a lot of the campsites are cramped too close to each other...otherwise, everything was great
Sep 29, 2021
Great campground the entire staff were all extremely professional and courteous
Sep 28, 2021
Very enjoyable. Would return on the near future.
Sep 28, 2021
Location is perfect! We are already booked for 2022
Sep 28, 2021
My original assigned spot was extremely close to 2 others. The customer to the right of me had a camp fire going. I couldn't pull in because it was too close to the fire. Plus you only have 1 dump station for all of the customers. I had to wait.
Sep 28, 2021
Very nice campground and helpful hosts
Sep 28, 2021
I loved staying at Estes Park KOA. The hosts were so kind and accommodating. I loved the area, elk were present every day giving the feeling of nature and wilderness is right there. Everyone is so respectful of the wildlife. The cabins are the best! Our host turned on our heater since I had called to let them know we were running late. So considerate and gracious! Looking forward to staying again.
Sep 28, 2021
The KOA Staff were very friendly and cabin was cozy. Everything worked out well.
Sep 28, 2021
Friendly staff. Very clean. Close to National park. Worked great for us.
Sep 28, 2021
We had a wonderful time here. Everybody on staff was helpful, our site had a wonderful view of the surrounding mountains, the pancake breast was delicious and our discussions with the owner made us want o come back. Greg appears to really care about his guests and goers the extra step in making this a terrific campground.
Sep 27, 2021
Our stay at this KOA was outstanding and we will return!
Sep 27, 2021
The KOA is very nice and the people are all very respectful & helpful. The only reason why I didn't give it five stars was the sites were way too close (I did read that in your reviews) and the water pressure was not very good. I would recommend this KOA to others but of course they have to keep in mind the size of their rig and how close they are to their neighbors. We had good neighbors.
Sep 27, 2021
This park has the most attentive and helpful staff of ANY park we have visited.
Sep 27, 2021
Clean campground and friendly staff.
Sep 27, 2021
It was great! The people working at the camp ground were very helpful and super friendly. We will be back!
Sep 26, 2021
The cabin was clean and neat. With a full kitchen, living area, bedroom and bath, we had everything we needed. We had a wonderful time visiting Estes Park and Rocky Mountain National Park for 11 days. Enjoyed the cabin and the friendly staff.
Sep 26, 2021
Love this campground. Everyone very nice. Have stayed there many time's over a 14 year span. Highly recommend!
Sep 26, 2021
Great cabin on the top of the hill with a view. Clean restrooms Friendly folks that own it Fake grass carpets were genius idea to keep dirt out of cabin.
Sep 26, 2021
Do you REALLY want to know. To begin with we only had 20 TOTAL feet to fit our small, A frame popup camper in. They charge was $88 and some change. Yes $88 I was APPALLED!!!!!!! Other than that the bathroom was clean. I'm glad we had only reserved 1 night.
Sep 25, 2021
Three night stay while exploring the area and Rocky Mountain National Park. Everything was clean and staff was helpful and friendly. Only two drawbacks were tight spaces with not much room and bad a cable connection. Overall this KOA can't be beat for its location and proximity to RMNP.
Sep 25, 2021
This park is beautiful, nice places to sit around a fire, a great group gathering spot with grills, lots of swings to enjoy the views. All of the people who work here are super friendly and go out of their way to help in any way they can. A terrific place to settle in for awhile!
Sep 25, 2021
Excellent staff. Friendly and helpful. Most helpful. Loved this KOA and it had everything we needed in all good locations. GREAT location just outside of town to stay for every adventure you would like to do in the area!!!! We will be back.
Sep 25, 2021
Very helpful friendly folks. Level sites, clean restrooms. Only a few minutes away from RMNP.
Sep 25, 2021
Everything was great as far as staff, amenities and facilities. The road noise was alot from our tent site
Sep 25, 2021
I had never stayed in a KOA cabin and was beyond pleased when I arrived. My cabin was clean and well maintained. It had all the amenities I needed for the 3 days I was there. I also loved the convenience of the fenced K9 Kamp for my pups. I've already booked my stay for next year. Keep doing what your doing, it works!!!
Sep 24, 2021
We love Estes Park KOA. we stay there every fall. A Couple camping in a trailer left KOA with their dogs outside and they barked all day for several days. They aren't supposed to do that. We told a worker and he told us they were friends of his and he would talk to them. Barking continued but the next day when they left their site, the dogs were inside. Staff - please monitor barking dogs
Sep 24, 2021
nice parks especially the bathrooms...
Sep 24, 2021
We truly enjoyed our stay. All of the staff were so helpful, courteous and friendly, and the facilities were very clean and well maintained. We will stay here again on our next adventure!
Sep 24, 2021
We like KOA's consistency, where ever you go in the US. However, Estes Park takes it one step further. These guys know how to do it right! Highly recommend staying there, even if you don't have an RV or trailer.
Sep 23, 2021
Beautiful place and nice staff. My issues are that the sites are so close to each other. My slide amd slide from neighboring trailer were like 4 inches from each other so could hear everything they were doing. Also luckily when I was leaving the guy on end moved his vehicle so I could make turn with my 33' 5th wheel to exit. I would pay a few dollars more to have more space in between sites.
Sep 23, 2021
This park exudes good vibes. The staff are so helpful and friendly. It's a place you have relax and just enjoy the beauty of Estes Park. The bathrooms are very nice, the location is so convenient and the stars at night are amazing. We enjoyed our stay so much and will be back.
Sep 23, 2021
It was very peaceful and my boys loved it the heater didn't really work but we still enjoyed it gonna have to come back and everyone who worked at the KOA camp was very nice and kept up with the cleaning
Sep 23, 2021
Beautiful park, great sites and staff was more than helpful and friendly!! Steve and his wife are the best.
Sep 23, 2021
Best KOA in America. Clean, amazing amenities, accessible bathrooms, showers, water. The camper cabins are lovely and comfortable, and that little heater does wonders during very cold days. The wifi is excellent. Such a comfortable stay with beautiful views of the Rockies!
Sep 22, 2021
1, low water pressure with several open sites. Biggest issue - bad power at the pedestal. I was told it was my $200 surge protector indicating a ground fault but only when my neighbors camper was plugged in. I had it tested at two different places and it was 100%. That camper neighbor sent me a pic of his plug after they left there 2 days after us, his ground connections were melted at both ends.
Sep 22, 2021
Smaller rv's only ours is 26 ft. A beautiful hillside of terraced sites. An excellent beautiful location.
Sep 22, 2021
Nice park with friendly staff!
Sep 21, 2021
We love this KOA! one of the best!
Sep 21, 2021
They recognized my name and gave me the same wonderful site on the flip side of my trip.
Sep 21, 2021
Terrific team of people here! We've stayed in one of the camping cabins twice now in the past month - so close to downtown Estes, + across the street from the lake and the views are incredible. We tried their pancake breakfast and they were made to order, with fresh blueberries! Greg, the owner, is the person who cooked for us and he was so great to talk to. Thanks to Henry, Jesse, and Leah too!
Sep 20, 2021
Great camp site. The KOA employees are fantastic. This is a super friendly place to stay.
Oct 17, 2021
Clean, close to town, owner very nice . Only negative was spaces too close together would stay again
- sally Pippin on Google
Oct 14, 2021
My service dog Valor and I stayed here not one, but 3 nights. It was supposed to be just the first night, but all the boondocking sites were full From the time you walk through the office door you are greeted with a smile from a staff that wants nothing except the best for you on your trip The staff can tell you where to eat and where not too. They are very friendly every time they drive by seeing if anyone needs help The bathrooms are clean from the toilet to the showers and I never had to wait to use one Finally, this is one of the best parks I have stayed in and that is mainly because of the staff first and accommodations second. So do not hesitate staying here and this is only 10 minutes from the entrance f Rocky Mountian National Park Greg
- Greg Witzleb on Google
Oct 14, 2021
Amazing staff, they helped us with our RV problem out of the kindness of their hearts that had a problem. Beautiful location, lots of amenities, highly recommend!
- J Drake on Google