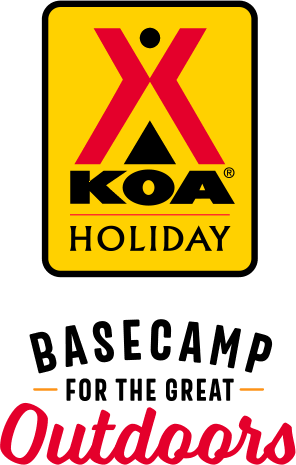 KOA Holiday Campgrounds
Whether you're exploring the local area or hanging out at the campground, KOA Holidays are an ideal place to relax and play. There's plenty to do, with amenities and services to make your stay memorable. Plus, you'll enjoy the outdoor experience with upgraded RV Sites with KOA Patio® and Deluxe Cabins with full baths for camping in comfort. Bring your family, bring your friends, or bring the whole group – there's plenty of ways to stay and explore.
KOA Holidays Feature:
RV Sites with a KOA Patio®
Deluxe Cabins with full baths
Premium Tent Sites
Group meeting facilities
Directions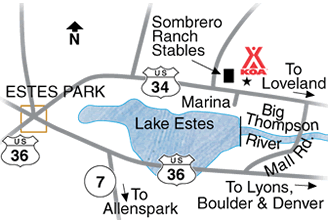 1.5 miles east of downtown Estes Park on the north side of Highway 34 across from the east end of Lake Estes.
GPS: N40.3796. W105.4887
2051 Big Thompson Ave, Estes Park. CO 80517
Get Google Directions
Sep 26, 2019
Stayed two nights in our trailer. The staff is nice and helpful. The campsites are very close together and this campground is full almost every night.
Sep 25, 2019
Fantastic place to stay. Clean, friendly staff, close to RMNP. Would definitely stay again.
Sep 25, 2019
The staff was polite, helpful and friendly. The facilities were well taken care of. Enjoyed pancake breakfast and worship service. A lot of RVs were packed into a small area, but it managed to work. Wish the dog park was a little larger, however great walking trail nearby!
Sep 25, 2019
Employees at the campground are very nice. Enjoyed the pancake breakfast and church service. Grounds are well kept, and my cabin was super nice.
Sep 25, 2019
It was a fun KOA! Lots of activities within the campground. Lots of activities outside of the campground. The staff was very helpful in every way possible. My only reservation is the highway noise. Very loud. Other than the noise, a very enjoyable experience.
Sep 25, 2019
Best KOA experience to date. Stayed at many but the layout, staff and location are second to none. Great experience and if you travel with your canine companion this IS the spot. We'll be back for sure. Thanks for a great stay.
Sep 25, 2019
Over all good experience very nice campground the guy that helped park my trailer very nice person did a great job. Pretty tight campground not much Room around your camper.
Sep 25, 2019
We had a wonderful time in RMNP and having Koa so accessible and clean and quiet made it a great visit. Congratulations to the management of KOA Estes Park, you do a great job!
Sep 24, 2019
Lovely site in a beautiful location. Clean and well maintained. Very pleasant staff who were willing to help. Will definitely go back
Sep 24, 2019
Park was very small, spaces too close together for fire rings. Sewer connection not threaded, cable unreliable. Was close to town, so that was a plus.
Sep 24, 2019
I've heard about sitting on top of each other when you're camping because spaces are very tight, but this park puts a new meaning to that. Our spot number 17 which I don't recommend anybody ever getting was right on the side of the road when you come in I would call it a shoulder but they called it spot 17. Vehicles will come close to our doorstep when they were coming into the entry of the
Sep 24, 2019
This is the second straight year we have stayed here. We love the deluxe cabin (DC 1) because of the beautiful view as well as the comfort of the cabin. We are not really the camping type couple but this fits our needs perfectly. God willing we will be back next year.
Sep 24, 2019
We have stayed at the KOA in Estes park in the past and always had a wonderful experience so that's why we chose it for our most recent stay. The staff is always happy and friendly!
Sep 24, 2019
You did not respond to my email which said you used my address in error and you continue to send me emails which I do not want.
Sep 24, 2019
It is a wonderful campground with a lovely view and clean bathroom facilities. The one downer with our last stay was that our neighbors were up drinking and whooping it up till after 1:00 am. I do not know what the quiet hours are. Otherwise it was a great stay!
Sep 23, 2019
I've stayed in many KOA camp grounds and this is by far the one with the best staff. Greg went out of his way to make sure we were happy during our stay and even makes the weekend pancake breakfast by himself. The facilities were clean and accessible and the staff was friendly and kind. Shout out to Greg the owner he is a sweet guy!
Sep 23, 2019
It was really nice clean and the staff is friendly
Sep 23, 2019
Our site was like parking on the side of a dirt road. No room for our truck, couldn't put our awning out or room for our chairs, etc . The worst camp site I ever had.
Sep 22, 2019
We will be back. Everyone was so polite and helpful. Our cabin was more then top notch.
Sep 22, 2019
Great hosts! Clean campground. Near Rocky Mountain National Park.
Sep 22, 2019
Wonderful ! Very clean and friendly! Will stay here again .
Sep 22, 2019
Great stay. Lovely area. Nice people and guests
Sep 22, 2019
Efficiently run with helpful staff always on hand. Excellent service and we plan to return next year.
Sep 22, 2019
We had a great stay. It is a lovely location with a view of Long's Peak.
Sep 22, 2019
Absolutely LOVED cabin and KOA in general!! We enjoyed a wine tasting during our stay! �ϋ�
Sep 21, 2019
We stayed here for a few days in a Deluxe Cabin, and thoroughly enjoyed it. The cabin had everything we needed... linens, kitchen gear, etc. It was clean and tidy upon arrival, with convenient parking. We appreciated how "pet friendly" this KOA is. Staff was friendly and helpful. Clean laundry room. We would definitely recommend staying in a Deluxe Cabin at Estes Park KOA when visiting the are
Sep 21, 2019
Sites are crammed tight . Dirty restrooms . Old and needs renovation . Staff was friendly
Sep 20, 2019
Beautiful area. Very nice KOA. People there are friendly, helpful. As guests, we were treated very nicely. Highly recommend!!
Sep 20, 2019
The campground owners were so very nice and personable, they made you feel right at home. The bathrooms were very clean and so was the laundry, and the store. The free ice cream social on Saturday evening was great! Only problem, which I think the owners are trying to address, is that the campsites are so small and you are right on top of your neighbor.
Sep 20, 2019
My family and I have been staying at the KOA in Estes since 1997. It is a wonderful facility with great views! There have been lots of upgrades and improvements recently and they are very nice! We will continue to choose the KOA for our stay in Estes.
Sep 20, 2019
This was our first time to stay in a KOA cabin. We were very impressed and pleased with the cabin itself as well as the KOA staff at Estes Park. They were very friendly and helpful! We are going to look into staying in KOA cabins on our future trips!
Sep 19, 2019
While we liked this park, I must give a warning to those with larger rigs. If you don't get a Deluxe Patio site (12-14 on their map), you will likely not be happy with the way your rig fits. The park is well maintained, staff friendly, and proximity to Rocky Mountain national Park are all pluses. Just make sure if you are over 36' you get the right site.
Sep 19, 2019
When we pulled into the campground we were a bit worried about the size of the spaces and the crowding. That said, Greg, did a fabulous job of guiding us into our site and explaining where to park the TV. Once we were situated (with friends in the adjacent space) we settled in and had a truly wonderful time. This is a campground we will return to.
Sep 19, 2019
The staff was nice. Our issue was they had us park our 30ft pull behind camper in a tight spot. We had to park our truck in a parking spot at a lower level because there was not room for it. The location is also close to busy highway. The view is pretty, but when checking out other camp sites, non KOA, in Estes they were not so close to heavy traffic, had more space to park & the view was better.
Sep 19, 2019
All was fine except cabin assignment. We are in our eighties and had to maneuver very steep inclines to reach either bathroom/shower facilities. Surely older people who had reservations two to three weeks in advance could have been placed in a cabin closer to facilities.
Sep 19, 2019
Wonderfully cordial and helpful staff who have thoughtfully addressed every aspect of a campers visit! Exceptionally neat as well.
Sep 18, 2019
Super staff ! Great location to Estes Park and RMNP.
Sep 18, 2019
We love this KOA. Wonderful staff, and location. The deluxe cabin was perfect.
Sep 18, 2019
Love this Koa. Clean ,convenient and very friendly.
Sep 18, 2019
Great place to stay. Friendly staff. Clean cabin. We will be back!
Sep 18, 2019
We had such a nice time - perfect setting in beautiful quiet space with amazing view - the staff at Koa all very friendly and helpful. Loved the little shop & playground!
Sep 18, 2019
Greg is a great owner and his daughter is very nice had a very nice time and will return soon
Sep 18, 2019
Clean, comfortable, easy to get in and out, close to town, very friendly staff! Our one night couldn't have been better.
Sep 17, 2019
Wonderful hosts and staff!
Nov 20, 2020
Great cabins and location. Packers flag out front 👍
- Leo Cross on Google
Oct 15, 2020
Clean, comfortable, Deluxe Cabin. Fully equipped cabin. Well-stocked store. Quiet campground even though it was fully occupied. The staff and owners went out of their way to help us in a difficult situation. Without our asking, the owner loaned us his car to drive to Denver to pick up a replacement tire for our car. We will definitely stay here again.
- Jacquelyn McDonough on Google
Oct 12, 2020
Great views, clean facilities, attentive staff. We will be back.
- John Tedesco on Google