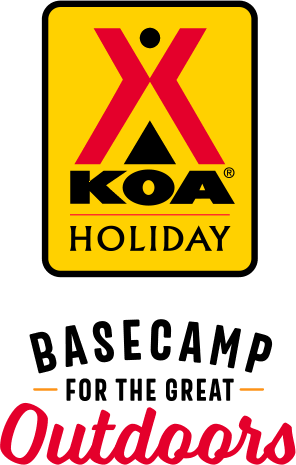 KOA Holiday Campgrounds
Whether you're exploring the local area or hanging out at the campground, KOA Holidays are an ideal place to relax and play. There's plenty to do, with amenities and services to make your stay memorable. Plus, you'll enjoy the outdoor experience with upgraded RV Sites with KOA Patio® and Deluxe Cabins with full baths for camping in comfort. Bring your family, bring your friends, or bring the whole group – there's plenty of ways to stay and explore.
KOA Holidays Feature:
RV Sites with a KOA Patio®
Deluxe Cabins with full baths
Premium Tent Sites
Group meeting facilities
Directions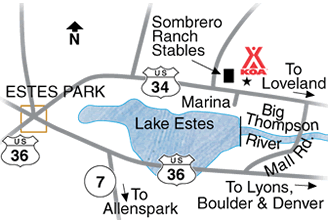 1.5 miles east of downtown Estes Park on the north side of Highway 34 across from the east end of Lake Estes.
GPS: N40.3796. W105.4887
2051 Big Thompson Ave, Estes Park. CO 80517
Get Google Directions
Oct 06, 2019
Very friendly staff. Small sites, but beautiful views. Very convenient to sights in and around Estes Park snd Rocky Mountain National Park.
Oct 06, 2019
Beautiful location. Excellent amenities. Friendly staff. Highly recommended.
Oct 06, 2019
We really appreciated our upgrade site it really made us feel SPECIAL, we have wanted to come to Estes Park for 35 yrs and U had a very Special part in our AWESOME STAY!! Enjoyed fellowshiping with your Daughter too!! Sincere Del and Diana Estes
Oct 06, 2019
It is so hard to park there. Backing in with huge bus types across from you makes parking hard. We only have a 28 ft 5th wheel but our truck is long. Took way to long to park it and guy helping was no help. They only had one night free so we had to move the next morning. Did not enjoy our stay.
Oct 03, 2019
The hospitality was great! The campground and other amenities were awesome! Looking forward to our next stay at Estes Park, CO KOA!!
Oct 03, 2019
It was noisy next to the road. Facilities were very clean and staff was great and knowledgeable about the area.
Oct 03, 2019
We loved the facilities--were tent camping so really enjoyed the lounge facilities where we could hang out and play cards, etc. The restrooms and showers were clean and warm. A dishwashing station was provided. We love that this is a faith-based campground and church services were offered. The staff was friendly, considerate--loved them all. Thanks for a wonderful stay.
Oct 03, 2019
Host were great. Very nice friendly park with great showers and rest rooms.
Oct 02, 2019
Our site was not acceptable. It was adjacent to the driveway with big rigs and a tight turn. There is also not adequate parking for tow vehicles.
Oct 02, 2019
Riley couldn't have been nicer & the weekend pancakes were great but there's just no getting around the fact this park is NOT suited for the bigger rigs of today & it's really high priced for what you get. Unless you are willing to reconfigure and give up a lot of tiny sites to make fewer larger ones, we would look for a different place to stay next time.
Oct 02, 2019
The owner & staff were wonderful and very welcoming. The owner, Greg, worked hard to repair our cable connection. Campground was clean and inviting.
Oct 02, 2019
Great place to stay in Estes Park while enjoying RMNP.
Oct 01, 2019
The spaces are tight and I was approached by a man camping in the overflow parking spaces out front one night. But overall it was a good stay.
Oct 01, 2019
I enjoyed the view. Enjoyed the walking trail around Lake Estes across the highway from the KOA. Enjoyed roasting marshmallows, the ice cream social, and the chapel service. Was fun to watch children riding the train with bubbles drifting around the campground, and hearing the laughter. Nice showers/bathrooms. Good location.
Oct 01, 2019
I stay at Estes Park KOA at least a few times a month in the summer, everyone is amazing. I just love going.
Oct 01, 2019
Camp site was clean and had great amenities. Can't wait to come back!
Oct 01, 2019
Great wifi!!!!
Sep 30, 2019
THIS AREA IS TOO SMALL I HAD TO PARK PARRELL WITH A 21 FT TOY HOLLER. YOU MADE PEOPLE MOVE AFTER BEING THER FOR 2 DAYS AND TO PICK UP AND MOVE IS NOT GOOD CUSTOMER SERVICE. SOMEONE HAD TO MOVE INTO OUR SITE AND THEY JUST WATCHED US PACK ARE STUFF LIKE WE WERE GOING TO MOVE FASTER. IT WAS NOT GOOD CUSTOMER SERVICE.
Sep 30, 2019
Always great. Thank you we always look forward to staying with you. VERY CLEAN AND NICE QUALITY REALLY SHOWS.
Sep 30, 2019
Absolutely perfect.....can not say enough about your campground. Everyone was friendly and took care of all our needs. If I could, I'd stay there forever! Thanks for everything.
Sep 30, 2019
Van and small RV spaces are too close together
Sep 30, 2019
Friendly staff and the pancake breakfast on Saturday was good.
Sep 30, 2019
Great campground and awesome staff! Keep up the good work
Sep 30, 2019
Our cabin was clean and the camp breakfast was great! The only down side to this location is the road noise. Makes it feel a little less like camping. We had a great stay and will stay here again!
Sep 29, 2019
Our deluxe cabin was very clean and maintained. I was slightly disappointed that the scenic view that we reserved was not scenic at all. The cabins are very close to each other but, overall it was a great stay in a wonderful location.
Sep 29, 2019
As always, Estes Park Koa did not disappoint! We will be back next year!
Sep 29, 2019
As usual.... it was a great experience. Thank you
Sep 29, 2019
We really enjoyed this campground. The bathrooms were clean. It is very close to the highway but during the night it didn't seem bad.
Sep 28, 2019
Very nice, clean park with excellent staff. Our only complaint was that the site was so small. No room for a campfire. Not enough space to park at our trailer. Restrooms and laundry were nice and clean. The campground is very well maintained.
Sep 28, 2019
I enjoyed my cabin up top. great views. thank you. your staff is soo helpful. all is so clean and well cared for...
Sep 28, 2019
Fantastic place to stay! Friendly staff, clean, reasonable rates, owners are top-notch and also Packer fans! We will definitely stay here again and recommend to our friends. PS. We will bring Wisconsin Cheese curds next time�. Thank you for a great stay!
Sep 28, 2019
Very friendly, and the showers were very clean with lots of warm water...
Sep 28, 2019
Great place to stay, beautiful view of the mountains
Sep 27, 2019
Deluxe cabin was great. Very comfortable. Only wish I wasn't so busy visiting the park that I could have enjoyed the cabin more. Very nice people.
Sep 27, 2019
Great overnight stay! The balcony was terrific!
Sep 27, 2019
Pet fee is way overcharged. $27.65
Sep 26, 2019
Wonderful views, friendly staff, well-maintained grounds.
Sep 26, 2019
We arrived a day early and the friendly staff was able to adjust our stay on short notice. Cabin was right off the Main Street so not much privacy and a fair amount of street noise. Plenty of bathrooms thought the family style restrooms were not very clean.
Nov 20, 2020
Great cabins and location. Packers flag out front 👍
- Leo Cross on Google
Oct 15, 2020
Clean, comfortable, Deluxe Cabin. Fully equipped cabin. Well-stocked store. Quiet campground even though it was fully occupied. The staff and owners went out of their way to help us in a difficult situation. Without our asking, the owner loaned us his car to drive to Denver to pick up a replacement tire for our car. We will definitely stay here again.
- Jacquelyn McDonough on Google
Oct 25, 2018
(Translated by Google) Fine (Original) Отлично
- Natali Ya on Google