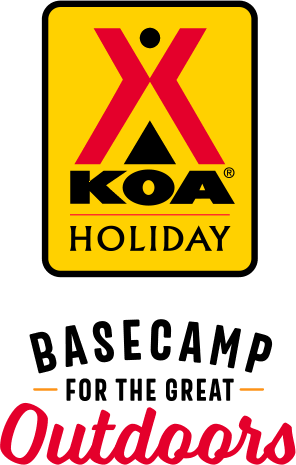 KOA Holiday Campgrounds
Whether you're exploring the local area or hanging out at the campground, KOA Holidays are an ideal place to relax and play. There's plenty to do, with amenities and services to make your stay memorable. Plus, you'll enjoy the outdoor experience with upgraded RV Sites with KOA Patio® and Deluxe Cabins with full baths for camping in comfort. Bring your family, bring your friends, or bring the whole group – there's plenty of ways to stay and explore.
KOA Holidays Feature:
RV Sites with a KOA Patio®
Deluxe Cabins with full baths
Premium Tent Sites
Group meeting facilities
Directions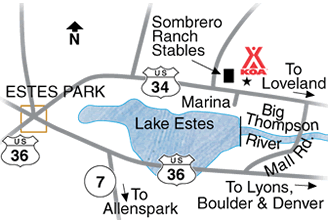 1.5 miles east of downtown Estes Park on the north side of Highway 34 across from the east end of Lake Estes.
GPS: N40.3796. W105.4887
2051 Big Thompson Ave, Estes Park. CO 80517
Get Google Directions
Oct 19, 2021
Nice place,clean well maintained,owners are very very nice only negative is the camp sites are really close. Will stay again
Oct 19, 2021
Very welcoming staff! Best site escort ever!
Oct 18, 2021
Everything was great, I only wish there had been a kitchen and a mini fridge in the cabin or something.
Oct 18, 2021
Very much enjoyed our stay. Loved all the balls and fun things available at the play area. After hours check in was seamless. Heaters in the cabin were more than adequate! We didn't realize the dish washing sinks would have no water so if I had one suggestion, it might be to make that clear upon booking. We also really appreciated the grills that were available for our use. Thanks again!
Oct 17, 2021
We loved our stay at the Estes Park KOA. The hostess was very friendly and even accommodated our request to switch to the cabin of our choice! The bathrooms were always clean, and our cabin was perfectly located. Beds were comfortable, and the grounds were quiet in the evening. We've already recommended it to others. Thank you for a great stay!
Oct 15, 2021
The owner/host was 100% fabulous and helpful and delightful. We love the campground and will definitely return and recommend to others.
Oct 14, 2021
Very nice folks here and a well-run campground.
Oct 13, 2021
Wonderful KOA! Very clean and nice site sizes. Staff is so helpful and friendly. Location is perfect for exploring. Wish we had time to stay longer!
Oct 12, 2021
Cabin was very clean. Friendly staff to where you feel like you're home walking in the door. Location is peaceful and close to everything.
Oct 12, 2021
Great place to stay. Great views, really good people. We will probably be back in the future.
Oct 12, 2021
Our time is always awesome! Love the cabins and the park as a whole. Every year is better and better! See ya next year!
Oct 12, 2021
We love this KOA! The cabins are always really clean, and I appreciate the playground for my kids.
Oct 11, 2021
Clean bathrooms! Fun playground!
Oct 10, 2021
I felt very safe staying there. Bathrooms were clean and it was nice to have the option of a private bathroom if needed.
Oct 10, 2021
Campsites are too close to even put out your awnings and I are very crowded. Large RVs have difficulty in getting parked. Also no grass. However the gentlemen who worked there were very friendly, accommodating, hospitable and helpful. Ladies not so much.
Oct 10, 2021
Very nice showers. Quiet and clean.
Oct 09, 2021
The campground is compact but nicely arranged. The owners and staff were very helpful and kind. I would definitely stay there again.
Oct 08, 2021
This was our second stay at this location. It was our first stay in a cabin. I wrote directly to this location to let them know about our cabin and how it didn't seem like it had been cleaned properly. They did respond to let me know that due to some circumstances and being human, sometimes things get missed, but that most of their reviews are positive. We would stay here again. Location is good.
Oct 07, 2021
The site we had was too crowded no cable, had to park my jeep down by the road. Even though others parked by their campers??? The owner was a nice fellow it seemed. If the sites were larger and had cable with the full hookups I would think the price was justifiable
Oct 06, 2021
As usual, it was wonderful! Facilities were clean, staff was wonderful, location is excellent! Thank you.
Oct 06, 2021
Our stay was awesome!!! We were very pleased and the staff was excellent!!!
Oct 06, 2021
Get little cabin for our over night stay after visiting Rocky Mountain National Park. The heater keep us nice and warm over night. Loved the outside set up by the campfire. Super cute and functional. Everyone was so nice and helpful. We will return for sure.
Oct 06, 2021
Very friendly staff!
Oct 06, 2021
Wonderful place to stay. Clean and well maintained. Very friendly and helpful staff. We will definitely be back.
Oct 05, 2021
We absolutely love it! Everyone is so friendly and helpful! Can't wait to go back!
Oct 05, 2021
Arrived late but easily found our documents and parking space. Nice place but tight and crowded. A few miles outside of town so not walkable but not too far a drive. Also the RMNP entrance is also not too far.
Oct 05, 2021
Very clean amenities, nice quiet neighbors, and very nice and helpful staff.
Oct 04, 2021
The staff there are GREAT!!!! They all care about you and your family!!
Oct 04, 2021
Excellent stay Very quiet Close to everything Staff were very friendly!
Oct 04, 2021
Clean!!!! Well laid out and pretty. Owner was very friendly made us feel welcomed and his daughter checked us in was very friendly and very professional. We WILL be back.
Oct 03, 2021
Staff was awesome! Henry and Sparky were extremely helpful and truly an asset to your business. I'll be back!!!
Oct 03, 2021
The staff is very friendly and accommodating. The cabins and restrooms are clean. The views are beautiful! We even got to see elk while there!
Oct 02, 2021
Given the very compact nature of this campground, we were surprised by how much we enjoyed our stay. A staff member led us to our site and then carefully helped us back our trailer in. Later, another staff member took time to anser general questions about our rv and rving in general. The honey truck option was available for gray/black water. Outstanding!
Oct 01, 2021
Great people running this place and very clean cabins and everything you need while staying.
Oct 01, 2021
We had a very comfortable cabin that was very clean and cozy.
Oct 01, 2021
This was our second time to stay in a Deluxe Cabin at the Estes Park KOA. The staff is wonderful... very helpful and friendly! The cabins have everything you need for your stay. The location is perfect! They are just far enough out of town to have a "country" feel, but close enough for the local conveniences- gas, groceries, food, etc... We will go back again soon!
Oct 01, 2021
Love the stays at Koa,
Oct 01, 2021
This rating reflects our particular site. The staff is five star! We had the site with the deck nearest to the office. While quiet enough, and the views from the deck were superb, the smells were not. It is directly above the dump station and the propane tank. All day, whenever someone dumped or had their tank filled, we got strong whiffs of both odors, on the deck, and in our RV. The staff was
Oct 01, 2021
Staff was friendly and the Deluxe cabin had everything we needed for our stay and then some. We have stayed here multiple times in both the cabins and our RV and never have had any issues.
Sep 30, 2021
I felt catfished when we showed up by this franchise. It was not camping, but tailgaiting in a gravel parking lot with hook ups. In fact, a parking spot in a Walmart lot may give you more room. It was beyond rediculous for over $70/night no matter where it was! What was likely once one camp site was two. Many sites had another site's black water hook up/ dump next to their picnic tables too! ICK!
Sep 30, 2021
Very clean and quiet campground. The Elk were a plus. And thank you to the camp staff on the golf cart for letting us know about the RMNP entrance before 9:00am !!
Oct 17, 2021
Clean, close to town, owner very nice . Only negative was spaces too close together would stay again
- sally Pippin on Google
Oct 14, 2021
My service dog Valor and I stayed here not one, but 3 nights. It was supposed to be just the first night, but all the boondocking sites were full From the time you walk through the office door you are greeted with a smile from a staff that wants nothing except the best for you on your trip The staff can tell you where to eat and where not too. They are very friendly every time they drive by seeing if anyone needs help The bathrooms are clean from the toilet to the showers and I never had to wait to use one Finally, this is one of the best parks I have stayed in and that is mainly because of the staff first and accommodations second. So do not hesitate staying here and this is only 10 minutes from the entrance f Rocky Mountian National Park Greg
- Greg Witzleb on Google
Oct 14, 2021
Amazing staff, they helped us with our RV problem out of the kindness of their hearts that had a problem. Beautiful location, lots of amenities, highly recommend!
- J Drake on Google