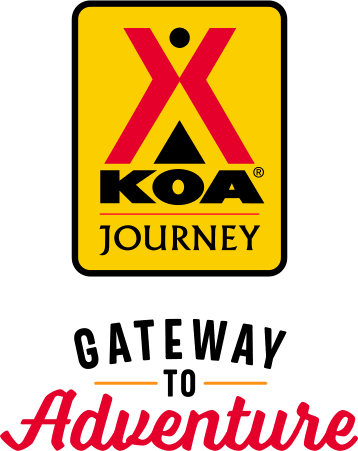 KOA Journey Campgrounds
KOA Journey campgrounds are the perfect oases after a day on the road. Whether it's along the way or a quick getaway, they've got you covered. Located near the highways and byways of North America with long Pull-thru RV Sites, they deliver convenience to the traveling camper. Pull in, ease back and take a load off.
KOA Journeys Feature:
Pull-through RV Sites with 50-amp service
Premium Tent Sites
Well lit after hours check-in service
Directions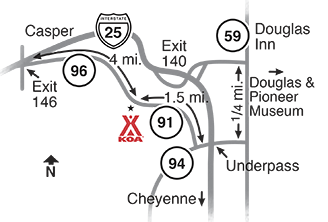 I-25 Exit 140: Turn right at light, in a 1/2 mile turn right on Esterbrook Rd and go under I-25. Then take first right on Hwy 91, and go 1.5 miles on left. Or from Hwy 59: Go 1/4 mile south of the Shell station, stay in right-hand lane, turn right, then first right on Hwy 91. Or from west on I-25: Take Exit 146 and Hwy 96 for 3 miles, at Jct 91 go straight 1 mile, KOA on right.
Get Google Directions
Aug 23, 2020
Our site was hill so leveling was an issue. Gravel lot with little shade. After hours check in was easy with the way they mark your spot. Restrooms were very clean. Playground has nice equipment. Kids liked the miniature golf course. Wifi was awful and we were VERY close to the office. Nice store with all the things you need.
Aug 23, 2020
Nicest people around in a great facility.
Aug 22, 2020
Best park we have ever stayed in. Landscape is beautiful. Love the spacing between RVs. Lots of amenities. No complaints
Aug 20, 2020
well kept grounds friendly and helpful staff. on our list of great KOAs
Aug 20, 2020
Nice place to stay!!
Aug 19, 2020
Everything was great. Staff was very friendly and helpful. Would definitely stay again.
Aug 19, 2020
Jody has wonderful staff and keeps the sites in welcoming condition... always a good stay!
Aug 18, 2020
What a wonderful KOA, I've never stayed at a better ran Campground. The management must be the very best in your whole organization.
Aug 18, 2020
The staff was courteous, and practicing proper COVID-19 protocol. The campground was well kept, and the bathrooms clean. All in all, a very enjoyable stay.
Aug 18, 2020
Campground was very well kept. Bathrooms very clean.
Aug 18, 2020
Nice area, close to town. Level sites, loved that garbage (trail scraps) bins were close to campsite!
Aug 18, 2020
great service, they waited until after hours for us to make sure we got into our campsite and settled. We needed a few items to block up our trailer and they were provided with a smile. No matter what our request it was greeted with a smile and a "no problem, glad to help". not crowded on top of each other like so many KOA's.
Aug 17, 2020
Employees were very friendly and helpful. Our campsite and the campground was very clean.
Aug 17, 2020
Very relaxing
Aug 17, 2020
Very nice campground,friendly staff,would recommend and definitely stay there when passing through again!!
Aug 17, 2020
They were able to accommodate us and friends for two nights at short notice. They were very nice and friendly.
Aug 16, 2020
These guys always come through for us! This is one KOA park that we love to rave about. Neat, clean, and an exceptional staff. Jodi--your crew shines!!
Aug 16, 2020
Very helpful! Many different people ready to help. Everything you need in the store. Pool, golf, dog run... s'more hut... irrigated grass square at every space. Great spot!
Aug 16, 2020
Very helpful people and friendly. We would highly recommend this park.
Aug 16, 2020
Jodi & her crew were very friendly & accommodating. The campground is clean & well maintained. They go out of their way to make sure you are comfortable.
Aug 16, 2020
Helpful friendly staff as they tried to get us on their internet 3 times. Their system is not user friendly, have several paragraphs on the arrival brochure on how to trouble shoot the problems. It does not allow any streaming. We have PC windows 10 plus an Android & iPhone. Very disappointed with this system. We used a Lincoln, NE KOA and Rock Springs, WY KOA with no login issues!!!
Aug 15, 2020
Very crowded and no masks
Aug 14, 2020
Nice clean place, though a little cramped and Wi-Fi was pretty weak.
Aug 14, 2020
We had problems with our trailer. They lent us ladders, and where so helpful. Nicest people you could ever meet. There is a lot to see and do in that area.
Aug 14, 2020
Great folks & park
Aug 13, 2020
Nice campground and we would stay there again
Aug 13, 2020
no trees and really hot. but did have a pool and that helped. Nice staff and very clean and quiet at night.
Aug 13, 2020
We have stayed here multiple times. It is a nice facility and easy to get into.
Aug 12, 2020
Very nice people who make you feel welcome.
Aug 11, 2020
Very very happy with the campground, the people at checking were A#1. Our campsite was the best on this trip
Aug 11, 2020
Nothing to do or see in Douglas. The campground is mostly gravel. Literally ok for just an overnight stay.
Aug 11, 2020
Very relaxing and enjoyable. Staff went above and beyond to make sure the camp was clean and very well kept. The staff was very welcoming, friendly and helpful.
Aug 11, 2020
Very nice campground. The girls were very helpful with all our needs. Would stay again.
Aug 10, 2020
Just some close R&R!!!!!!!!!
Feb 02, 2021
Such a nice campground & very friendly staff!
- stefan on Google
Nov 19, 2020
Clean and well kept were here during the beginning of the cold so we keep to ourselves the washer and dryers are clean and your able to get mail which is awesome would stay again
- tracie stickland on Google
Oct 31, 2020
We used this a one night stopover on way to Black Hills. We had a pull through site that was perfect. The view from out window was overlooking a pasture with horses. Quick on and off from interstate. Clean, neat and lots of walks for our pups. We will visit again!
- Paul W on Google