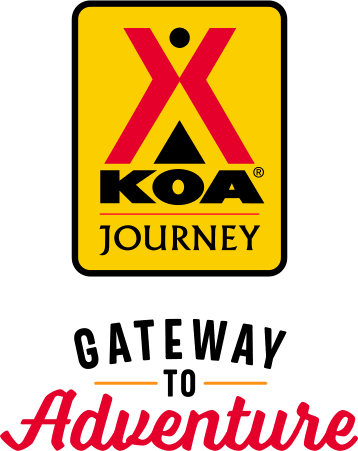 KOA Journey Campgrounds
KOA Journey campgrounds are the perfect oases after a day on the road. Whether it's along the way or a quick getaway, they've got you covered. Located near the highways and byways of North America with long Pull-thru RV Sites, they deliver convenience to the traveling camper. Pull in, ease back and take a load off.
KOA Journeys Feature:
Pull-through RV Sites with 50-amp service
Premium Tent Sites
Well lit after hours check-in service
Directions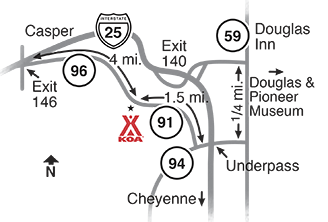 I-25 Exit 140: Turn right at light, in a 1/2 mile turn right on Esterbrook Rd and go under I-25. Then take first right on Hwy 91, and go 1.5 miles on left. Or from Hwy 59: Go 1/4 mile south of the Shell station, stay in right-hand lane, turn right, then first right on Hwy 91. Or from west on I-25: Take Exit 146 and Hwy 96 for 3 miles, at Jct 91 go straight 1 mile, KOA on right.
Get Google Directions
Sep 21, 2020
Nice people in Jackalope land. Cute bunnies on property. Great for dogs.
Sep 21, 2020
Easy to get in an out. Most of the sites were gravel and it became dusty with strong winds
Sep 20, 2020
A return trip for me the the Douglas KOA so that says a lot. Friendly, helpful staff and a clean quiet campground. I tow a travel trailer so I have no need for shower or bathroom facilities - I cannot vouch for those things. I will be coming back through and I am sure I will be staying here again!
Sep 20, 2020
Nice, clean Campground and friendly staff. We have stayed here before and will again!
Sep 20, 2020
Very friendly and helpful staff! Only drawback is the location of the campground, not the campground itself.
Sep 19, 2020
Had a problem with cable but a staff member fixed the problem in two minutes, great service very clean good place to bring the family.
Sep 18, 2020
Nice clean park. Well located. Pleasant helpful staff
Sep 18, 2020
The only problem we had was the wifi didn't work for us even after following your instructions. (I have Safari and my husband MSN) Our cell service (Verizon) was also very bad. My husband had to go into town to find service so he could get a conference call for business!
Sep 18, 2020
Staff was very helpful, arranging for our late arrival and providing a place for us to park our extra vehicle. Campground was clean and well set up. We've stayed here several times because they are consistent. Tent area is especially nice.
Sep 17, 2020
Campground is not pretty as such but the site for our 40 ft class A, was great. The staff was extremely nice & very helpful.
Sep 17, 2020
Staff very helpful!
Sep 17, 2020
100 percent good
Sep 16, 2020
It was only for 1 night, but we were very impressed with the setup of the campground and the facilities. Also, friendly staff.
Sep 16, 2020
Incredible service! Spotless amenities! I felt like I was taking a shower and a spa in one of the finest locations in the city. Thank you for making my stay memorable in Douglas.
Sep 16, 2020
Really nice staff. They even escorted me to my site. The place is tidy, has a dog run area and has all the amenities you would want. Close to town, too!
Sep 15, 2020
This is one of our favorites. We have been here several times and will be back. The restrooms/showers are some of the best that we have been to. Staff is very friendly and competent. We'll be back next Spring, see ya then.
Sep 14, 2020
Very friendly staff. Check-in was a breeze. They were thorough in giving us information about the park. We were escorted to our site and the staff ensured that we were settled in. The campground was very clean and was off the highway and the directions were right on. We would definitely stay here again.
Sep 14, 2020
Douglas KOA was great and the gave us a pull thru that was easy to get into with our 42' MH towing. We would stay here again next time we pass through the area.
Sep 14, 2020
One night��
Sep 13, 2020
Great hospitality. We really appreciate being guided to our site.
Sep 13, 2020
We only got to spend one night but we enjoyed our stay. We would return if we are in the area again.
Sep 13, 2020
The campground is impeccable. In a very quiet and lovely place. The office personnel were very kind.
Sep 13, 2020
Management was wonderful. Campground very nice and clean.
Sep 12, 2020
Pleasant friendly staff.
Sep 11, 2020
My stay in Douglas was fantastic! The whole staff is friendly and goes out of there way to make you feel welcome. The entire camp and is kept very clean. I will definitely visit again!
Sep 10, 2020
Very friendly and helpful... Got snowed in there and were very supported by the staff. The site is exceptionally maintained we've stayed there before and will drive the extra hour to stay again
Sep 09, 2020
Wonderful people run this campground. From the time we checked in the staff was super friendly and helpful. Dana was extra nice. The campground was well kept with sites long enough for our rig. The side to side was a tad tight but being a holiday weekend, they were booked.
Sep 09, 2020
During our stay for surgery at the Douglas Hospital, the staff at the Douglas KOA shared their concern and were very supportive with any needs. We found the campground surroundings clean and quiet. Thank you so much for your hospitality and friendliness.
Sep 09, 2020
Nice people, good spot on I90, easy in and out, secure.
Sep 09, 2020
People who worked there were super friendly and helpful. They have full hookups. We had 8 inches of snow in early September which was unusual, otherwise we would have used more amenities.
Sep 08, 2020
Very friendly and helpful will stay there again ��
Sep 08, 2020
Facility nice but response to covid was over the top in our view.
Sep 08, 2020
just one night passing through. the young lady in the office was a doll easy in and out.
Sep 08, 2020
The staff and facilities were excellent.
Sep 07, 2020
Very little shade anywhere in the park - it was 100° when we arrived at 5pm. Told there was a 30 min. time allotment for pool use but wasnt told there was a sign up sheet. When I found this out and went to sign up was told all time slots were gone. Couldnt use the pool. Not happy was an under statement.
Sep 07, 2020
I enjoyed my stay. Everywhere you went on the property was nice and clean. The staff was nice and friendly. I would stay again in the future.
Sep 07, 2020
All areas of the campground including the bathrooms were very cleaned and maintained. The staff was very friendly and helpful. We'd be glad to stay there again if we're in the area.
Sep 07, 2020
The staff is very caring and accommodating. They remember me from year to year and what campsite I like to reserve.
Sep 06, 2020
Sorry the staff was nice, facility clean but your spaces are just to short....i cannot recommend this KOA to anyone
Sep 06, 2020
We were very satified with the Douglas KOA. The staff is wonderful .. friendly and helpful.We weren't at all familiar with the Douglas area so we just relaxed there. We were basically just passing thru on our way west. This was a good place to water the horses and grease the wagon wheels. Thank you Douglas KOA.
Feb 02, 2021
Such a nice campground & very friendly staff!
- stefan on Google
Nov 19, 2020
Clean and well kept were here during the beginning of the cold so we keep to ourselves the washer and dryers are clean and your able to get mail which is awesome would stay again
- tracie stickland on Google
Oct 31, 2020
We used this a one night stopover on way to Black Hills. We had a pull through site that was perfect. The view from out window was overlooking a pasture with horses. Quick on and off from interstate. Clean, neat and lots of walks for our pups. We will visit again!
- Paul W on Google