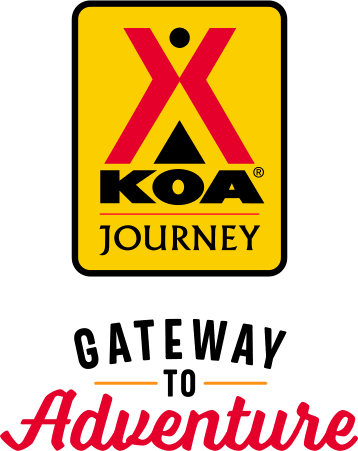 KOA Journey Campgrounds
KOA Journey campgrounds are the perfect oases after a day on the road. Whether it's along the way or a quick getaway, they've got you covered. Located near the highways and byways of North America with long Pull-thru RV Sites, they deliver convenience to the traveling camper. Pull in, ease back and take a load off.
KOA Journeys Feature:
Pull-through RV Sites with 50-amp service
Premium Tent Sites
Well lit after hours check-in service
Directions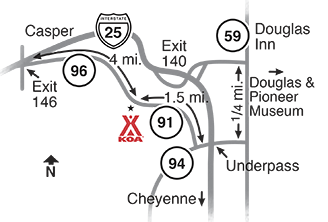 I-25 Exit 140: Turn right at light, in a 1/2 mile turn right on Esterbrook Rd and go under I-25. Then take first right on Hwy 91, and go 1.5 miles on left. Or from Hwy 59: Go 1/4 mile south of the Shell station, stay in right-hand lane, turn right, then first right on Hwy 91. Or from west on I-25: Take Exit 146 and Hwy 96 for 3 miles, at Jct 91 go straight 1 mile, KOA on right.
Get Google Directions
Oct 06, 2020
Nice place, great people
Oct 06, 2020
Maybe the friendliest, most helpful, staff we have encountered during our 7-weeks vacation. Gave us a site with a large grassy area for our 2 dogs. Very nice dog play area. Quiet.
Oct 06, 2020
Staff was friendly and all went very smoothly
Oct 06, 2020
This facility is about the same as it was four years ago, well-maintained. Staff member was helpful with local info. Up on the hill was a poor location for such windy days.
Oct 06, 2020
Very clean with great sites. People at desk were so friendly. Cable tv and wi-fi were excellent.
Oct 05, 2020
Campground was Clean, bathrooms Clean. Ofc Clean. Employees super nice and helpful. We stayed for a week and loved it.
Oct 04, 2020
A nice facility with a very pleasant staff. The individual spaces are a bit small.
Oct 04, 2020
Easy in, easy out, only stayed one night but it was just exactly what we needed. I really like being let to our site. We were able to rest without worrying about safety. Thank you.
Oct 04, 2020
Very friendly staff. A lot of late night traffic in and out.
Oct 04, 2020
Nice and quiet and the host was very pleasant and efficient.
Oct 03, 2020
Very nice person who checked us in (Hana) I believe great personality. Beautiful setting wife and I stayed here twice now. We will stop here again on our journey back home. Also very quite with well stocked gift store and other needs.
Oct 01, 2020
Space was not long enough. I was unable to connect to internet for most of the stay. Campground blamed our devices' security system. Stayed at 6 other campgrounds on this trip and didn't have problems with these other campgrounds.
Oct 01, 2020
Nothing scenic about this park, but it is a serviceable place to stay overnight on our journey. The staff are efficient and friendly. All utilities worked. It's nice that this park is not right on the highway, but is easy to get to and leave from. This is our third time staying here.
Oct 01, 2020
All gravel but each site has a small patch of nice grass. Good quiet place for an overnighter.
Oct 01, 2020
Great location off of the highway. Wide open spaces, easy to get in and out of., FHU with cable with lots of channels.
Sep 30, 2020
Nice clean quiet campground. Friendly people. Highly recommend it!!
Sep 30, 2020
Staff is super friendly and helpful. Off the highway and quiet. Had a great time and should have stayed longer.
Sep 29, 2020
The two ladies that checked us in were very helpful and friendly. Made us feel right at home. Well maintained campground and clean.
Sep 29, 2020
Stayed for 1 night passing through. Staff was great when I arrived. Very friendly and informative. The site was well kept and nice. My site was slightly in-even but not so much that I couldn't adjust my RV. Overall I enjoyed my short stay and would stay again when passing through.
Sep 28, 2020
Stayed there the last seven years every year love the place . Already made reservations for next year.
Sep 28, 2020
great as usual
Sep 28, 2020
well it is Douglas Wyoming. People were great and the place is clean. Not a fancy KOA by any stretch but I would stay there again in needed. I was trouble that the security certificate was not current with wifi so I would not use it at all.
Sep 28, 2020
This was our 2nd time staying at this site. I has very convenient hookups and are easy to get into. The staff is great very helpful.
Sep 27, 2020
Everything was excellent. Great staff. Top notch facility. Thanks!!
Sep 27, 2020
The staff is the best. They continually go out of their way to make your stay comfortable. Great amenities and great location. We come every year to this area, and we only stay at KOA Douglas.
Sep 27, 2020
Sweet friendly and helpful staff..wonderful clean campground and exceptionally clean facilities!! Well be back every year !! Thank you!! Blessings!!
Sep 26, 2020
We had to push our dates out three times and they were very accommodating! Place is clean, sites are level and staff is wonderful. Will always stay here when traveling through WY.
Sep 26, 2020
Very accommodating and extremely helpful and friendly staff. We're new to RV camping, and have to say the amenities are all you need ! Thank you so much for an easy problem-free stay!
Sep 24, 2020
Pleasant Campgrounds, nice spacious sites. Clean and very well laid out. The staff was wonderful pleasant and courteous. We will be back again, and will always suggest to family and friends to stay at the Douglas WY KOA.
Sep 24, 2020
Great over night stay. You will see us again in a couple of weeks.
Sep 24, 2020
Quiet and clean.
Sep 23, 2020
Just an overnight stay but this place was great!!! We LOVED Dana who was the hostess and so accommodating and helpful. She gave us some history on the place that was so cool. The bathrooms were spotless and clean. We loved the trashcan being right outside our camper. Horses nearby to pet and the scenery was great. We will stay here again on our travels west!!
Sep 23, 2020
We only stayed for 1 night but the campground was very clean, lots were pretty level and the ladies we very nice and friendly. We will definitely stay there again next time we are out west.
Sep 22, 2020
Great staff! Easy in easy out for big rigs.
Sep 22, 2020
This was a great campground. We were just passing through and stayed for one night. The staff were super friendly and helpful!
Sep 22, 2020
Very friendly and helpful staff. Very well maintained .
Sep 21, 2020
Very friendly staff, and great job enabling people to use the pool on a reservation system during the pandemic. We only stayed one night during a road-trip, but would definitely recommend this campground. Our daughter enjoyed petting the horses!
Feb 02, 2021
Such a nice campground & very friendly staff!
- stefan on Google
Nov 19, 2020
Clean and well kept were here during the beginning of the cold so we keep to ourselves the washer and dryers are clean and your able to get mail which is awesome would stay again
- tracie stickland on Google
Oct 31, 2020
We used this a one night stopover on way to Black Hills. We had a pull through site that was perfect. The view from out window was overlooking a pasture with horses. Quick on and off from interstate. Clean, neat and lots of walks for our pups. We will visit again!
- Paul W on Google