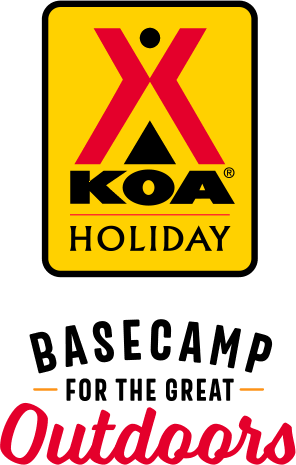 KOA Holiday Campgrounds
Whether you're exploring the local area or hanging out at the campground, KOA Holidays are an ideal place to relax and play. There's plenty to do, with amenities and services to make your stay memorable. Plus, you'll enjoy the outdoor experience with upgraded RV Sites with KOA Patio® and Deluxe Cabins with full baths for camping in comfort. Bring your family, bring your friends, or bring the whole group – there's plenty of ways to stay and explore.
KOA Holidays Feature:
RV Sites with a KOA Patio®
Deluxe Cabins with full baths
Premium Tent Sites
Group meeting facilities
Directions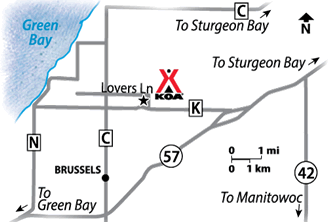 From Green Bay, Wisconsin Head southeast on E Walnut St toward N Madison St 0.2 mi. Turn left at the 2nd cross street onto N Monroe Ave 0.4 miles.  Continue onto WI-57 N/University Ave. Continue to follow WI-57 N Pass by Subway (on the left in 2.2 mi) 27.7 miles. Turn left onto Co Rd D/County C (signs for County Road C). Continue to follow County C 3.7 miles. Turn right onto Co Rd K/County Trunk K 1.5 miles. Turn left onto Lovers Lane 0.4 miles. Turn left onto Quietwoods Circle.
Get Google Directions
Aug 10, 2021
Sites were large but no sewer hook ups. Much to do on grounds especially for kids. They make great effort for activities. WIFI is horrible. We would stay there again esp. improve WIFI.
Aug 10, 2021
Very peaceful and quiet campground.
Aug 10, 2021
Stayed in site 158. Lots of trees for shade, but also tons of mosquitoes. We could barely stand to be outside, even with big spray on which was a big bummer. Staying in a pull through site with a nice grassy area would have been better for us. We enjoyed the pools and water slide and would stay here again, just not in the wooded part.
Aug 10, 2021
Staff was very friendly and helpful! Great campground!
Aug 09, 2021
Only concern is the dump tanks overflowing. Stay was great, band was great on Saturday.
Aug 09, 2021
We enjoyed our stay at this campground. We stayed in the meadow. The site was very large but had no sewer connections, which was ok since we only stayed 2 nights. Band was good and the wine and cheese party was fun!
Aug 09, 2021
The campground is not good at getting back to us when we were trying to plan a get together. The campground used to be very accommodating… not anymore! Probably camped there our last time after years of enjoying the campground befor the change on ownership!
Aug 09, 2021
Definitely not the same as when it was Quietwoods. The above ground firepits are probably the biggest let down this year as you cant even see the fire when sitting around it cuz its so low inside. I heard the reasons behind it but unsure why they have to be as high as they are. Also, charging extra per kid per day vs including it in the high rate to begin with, is excessive.
Aug 09, 2021
I really enjoyed our campsite. I dislike the fact that prices keep going up. I have heard there are numerous "unhappy campers". Little bit disappointing.
Aug 09, 2021
I was disappointed with the advertisement of wine fest weekend which led me to believe this was a two day event where multiple local wineries would be present not just the campground buying 2 cases of wine and selling it during the live music. This is the only reason we chose this campground so since this event was not as expected we likely would not come back since we really are not campers.
Aug 09, 2021
We loved the stay , it is an extremely clean , extremely friendly campground with excellent service . It might be our favorite place we've stayed the past few years . Thank you to those running it , we thoroughly enjoyed the personal friendly service in this day and age.
Aug 09, 2021
Rented a cabin and the cabin was really dirty on the inside and outside, the screen window was ripped. And the water was horrible, smelled like rotten eggs so couldn't take a shower, because of the smell. The pool was really nice, drinks and food were a little pricey for the size you got.
CAMPGROUND RESPONSE / COMMENTS:
Thank you for your feedback. Please inform the front desk the next time you notice these things when you notice them. This is the first I have heard about a torn screen, which indicates to me that it's a new problem.
Aug 08, 2021
Dog Park in the back was awesome! The kids loved the water slide and mini golf! The grounds were very clean and staff was friendly and helpful. Free movie rental at the front desk was a life saver.
Aug 08, 2021
Nice facilities as advertised. Only downside was the permanent tenants that arrive for the weekend across from us that had friends over and partied loudly til after 1am. Against the rules for us short term renters�
Aug 07, 2021
The grounds were beautiful! The people were really nice. The only thing I didn't like was the bathroom floors were dirty. Could have been cleaner.
Aug 07, 2021
Campground was clean and well maintained. Since we try to camp during the week as opposed to weekends, since we don't have children (retired!) the area around our site was quiet. We understand that more full-hook-ups are coming in the future. When we stay more than 3 days, a full hook-up is nice. Thank you!!
Aug 07, 2021
Used the KOA campground as a base camp .. grandkids loved the splash pad, also the pool was fun for them too.
Aug 07, 2021
My family and I enjoyed every minute of our stay. We will definitely be back again to camp at KOA. The staff was very helpful and professional in all our interactions. KOA was the most relaxing camping stay I have ever had. The nights were absolutely peacefully quiet for camping and had plenty to do for our children. All around it was a great stay. Thank you !
Aug 06, 2021
We had a great time - 20 relatives together for 5 days - 3 fifth wheels and 1 cabin. We stayed in the cabin which was fully supplied with the exception of a small coffee pot (4 cups). The mattress in the bedroom needs replacing. Otherwise, the cabin was great - clean and comfortable.
Aug 06, 2021
Great location, wonderful amenities and very nice staff.
Aug 06, 2021
I have noticed a decline in maintenance and cleanliness since KOA took over this campground. Some of the people at the front counter were not very friendly. Many of the seasonals are leaving and that speaks volumes. That said, this is still one of our favorite places to camp with the family. Will have to see how things go down the road.
Aug 06, 2021
Much needed are WiFi repeaters, allot of people work remote and need to be able to connect to work at a moments notice. In these times decisions to travel are dependent on internet access. We did enjoy the campgrounds, the staff was excellent friendly and helpful.
Aug 05, 2021
Great pool area and slide, clean campground and friendly staff
Aug 05, 2021
The campgrounds were we kept. The facilities were also great. Loved all the trees. The staff were efficient and very friendly. Would definitely stay there again .
Aug 05, 2021
Check in was good, store was well stocked and location was rural. The park was well maintained and in good order. But the park had somewhat of a split personality. One part felt and looked like a RV park, and the other part where we stayed, seemed more like a trailer park. There were a lot of permanent trailers which gave it a not so pleasant look and feel.
Aug 04, 2021
Very friendly staff and good amenities. Our child loved the pools, the slide and the park. Our dog enjoyed the dog park as well. Only complaint would be lack of wifi and mediocre cell coverage.
Aug 04, 2021
We are not coming back didn't like the fire pits could my even cook or see the fire
Aug 04, 2021
Nice grounds. Friendly check-in. Sewer pipes at sites were non-operational. Should have mentioned that when checking in. Sights a little difficult to figure just where to back into but were spacious and shade trees. We were at sights 60, 61, and 62. Water not working at dump station. Could have had a sign so you didn't find it out until you were finished so we could have used the other one.
Aug 04, 2021
The only negative was the mosquitoes.
Aug 04, 2021
The entire staff was very helpful and pleasurable. All events were very organized and fun! Our grandson had a blast and asked when we can go back again.
Aug 04, 2021
Terrible site. No Wi-fi as advertise, chainsaw at nearby permanent resident site until after dusk, pit in area where you need to park to be level, electric is nowhere close to level parking at site, we didn't even plug in, picnic table at about a 45 degree angle so unusable. Had to back in between a stump and a tree - very tight fit. Worst KOA ever, especially for a Holiday where you expect more!
Aug 03, 2021
The bathrooms/showers were very clean. Liked getting text infor for the day. Friendly staff.
Aug 03, 2021
1st site assigned we could not get into with our camper, size is provided when reservation is made so appropriate sites should be assigned. We were then moved to a site with no fire ring, having a campfire is the main evening activity when camping, ridiculous for $60 a night that one was not provided and no solution offered. Campground was very loud. Location not central to door county activities.
Aug 03, 2021
Nice campground with a lot of amenities. Only issue is some of the sites are impossibly close with small dirt windy roads and hidden camp sites in trees. Was very difficult to locate site and back in.
Aug 03, 2021
We had a great experience. Grounds, bathrooms and store were very clean and staff was very friendly. We loved the wooded sites! We'll definitely visit again!
Aug 02, 2021
Had a wonderful time. Been going there 20 plus years! Thanks to Donna for helping the Timber group get organized and to Toni for being such an awesome bartender! Can't wait for next year!
Aug 02, 2021
The new 3ft tall fire rings are ridiculous.We are told its due to KOA being sued because a kid somewhere fell in a fire, But finding this to be false. The new fire rings make enjoying a campfire impossible, and don't even think about cooking over the fire at this campground. This campground used to be one of our favorite places when it was Quietwoods. Not anymore. Ditch the lame rings!!
Aug 02, 2021
We had a lovely large site that used to be seasonal. The only concern was the neighbor was seasonal, had a large group visiting with dogs that barked frequently. The bar and grill area was fabulous and Toni was a gem. Friendly, funny, and very efficient. The food was delicious. Pools were clean. The kids here seemed to love the slide. Showers hot and clean
Aug 02, 2021
There was a large tree right in the middle of our site. The fire pit was way to high to enjoy the fire. Also our site was very low so when it rained it was FULL of water. We actually had to ask for a rake to clear a spot if the tent. This was the most disappointing campground this summer. We did enjoy the splash pad abs pool area.
Aug 02, 2021
Fire pits are 23 inchs high ... Impossible to cook on Band was great There was a sewerage smell in the store not sure why Pools were all open that was nice
Aug 02, 2021
Enjoyed the band Saturday night!
Aug 02, 2021
I really like this campground but the new fire pits (more like burn barrels) are not good. You cannot cook pudgy pies or even see the fire. I also was not told the site I reserved was turned into a sewer site and had to pay more at check in. I liked the idea of having a sewer site but dumping was difficult due to the sewer being uphill.
Sep 22, 2021
My wife and I stayed here for 5 days in the beginning of June and what a wonderful time we had. RV sites where large and spaced out like all camp sites should, there is plenty of pool space for children and adults, the staff are so wonderful I just wish all the KOA's could have the same standard.
- thomas zehme on Google
Sep 14, 2021
My family had an absolute blast at this KOA Holiday. There is a camp store, restaurant, 2 pools (1 is heated), waterside, small splash pad, mini golf, horseshoes, 2 playgrounds, large fenced in area for dogs to run & play(bring your own toys) and I know there is more I didn't see. The staff deliver your firewood and even pick up your garbage several time a day. Plenty of scheduled activities throughout the day and they camp will text you when an activity is coming up. My kids enjoyed an afternoon swimming with a DJ and then went to a great magic show after. Our site was spacious and the fire pit was tall which helped ease our fears of a child falling into the fire. There were 2 vacation destination type homes next to our site and several throughout the camp which definitely gave a community/neighborhood type feel. This was our 1st time at a KOA Holiday and we are excited to go back. 😀
- kal L on Google
Sep 10, 2021
Located away from hustle and bustle but within easy drive to local attractions. Being out has allowed us to see local wildlife. That alone makes it good to me. Campsite is large with plenty of room to park towed vehicle. Lot is grass which means there are low spots to compensate for when leveling.
- Deborah Hitt on Google