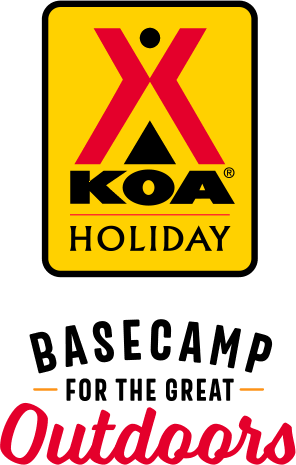 KOA Holiday Campgrounds
Whether you're exploring the local area or hanging out at the campground, KOA Holidays are an ideal place to relax and play. There's plenty to do, with amenities and services to make your stay memorable. Plus, you'll enjoy the outdoor experience with upgraded RV Sites with KOA Patio® and Deluxe Cabins with full baths for camping in comfort. Bring your family, bring your friends, or bring the whole group – there's plenty of ways to stay and explore.
KOA Holidays Feature:
RV Sites with a KOA Patio®
Deluxe Cabins with full baths
Premium Tent Sites
Group meeting facilities
Directions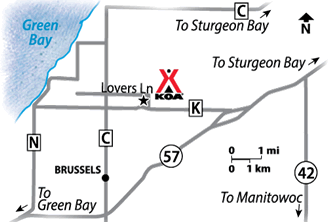 From Green Bay, Wisconsin Head southeast on E Walnut St toward N Madison St 0.2 mi. Turn left at the 2nd cross street onto N Monroe Ave 0.4 miles.  Continue onto WI-57 N/University Ave. Continue to follow WI-57 N Pass by Subway (on the left in 2.2 mi) 27.7 miles. Turn left onto Co Rd D/County C (signs for County Road C). Continue to follow County C 3.7 miles. Turn right onto Co Rd K/County Trunk K 1.5 miles. Turn left onto Lovers Lane 0.4 miles. Turn left onto Quietwoods Circle.
Get Google Directions
Aug 30, 2021
It was very pleasant. It was awesome to see how clean it was and the fact there wasn't spider webs everywhere! The workers and people were very kind and helpful.
Aug 30, 2021
It was not a real quiet weekend somebody was taking down the shed right behind us a lot of noise Friday night all day Saturday
Aug 28, 2021
Nice grassy parking on oversize spaces. Friendly staff. Very nice pools. A little unusual layout, sprawling & deadend roads. Garbage, K9 park & few activities way in the back of the park. Nice that trees are minimal compared to the seasonal sites buried in deep woods. Appears to have a food area in the store but no info provided?Closed or open??? Quiet, close & easy access to drive to peninsula.
Aug 27, 2021
Poor wi-fi. almost non-existent
Aug 27, 2021
Laundry at $3.50/wash and $3.00/dryer is nearly double other KOAs. Wifi was terrible even though I was close to office (clerk even mentioned I should get good connection). Shower curtains flimsy and short, toilet seats in bad shape and sink separating from wall in the Men's room by the office. Should have spent money on repair rather than a second pool or all the buildings.
Aug 26, 2021
Love this place, it is our go to. Pools are great!
Aug 26, 2021
Cabin was outdated and had an Oder primarily from the water. The cabin was clean over all. Warm water lasted 5 minutes.
Aug 25, 2021
We were impressed how neat our yard was. Weber gas grill and new lawn furniture in our yard. Nice linens on bed and in the bathroom. The staff at check in was great. Very friendly . We called for clean towels and they were delivered quickly ! Thank you KOA…. We will be back next year!!!!
Aug 25, 2021
Nice stay - everything was well cared for.
Aug 25, 2021
We were disappointed in the cabin we stayed it in .. it wasn't cleaned ! The toliet was disgusting and shower had hair in it.:( the sliding glass door was filthy! Just wasn't at all what we expected
Aug 25, 2021
The restrooms/showers were very poorly maintained. Never once did we see anyone make any effort to clean them. The toilets had soil debris on several & the same toilet tissue & paper toweling stuck to and on the floors, the one at the office smelled of urine daily. Despite the signs, people were bringing their dogs into the showers, also letting their animals poop, not picking up after them.
Aug 25, 2021
Alot of junky , unkept seasonal sites occupied the campground . Looked like Tennant's hadn't been there for a year or more . Eyesore landscaping running rampant ! Our campsite still had last fall & this spring's debris scattered all over ! Poor management practices . Golf carts running around everywhere kicking up dust day & night both like they owned the whole place . Pool water was like ice
Aug 24, 2021
Bathrooms need to be cleaned more often.
Aug 23, 2021
Once again the bath rooms need work, they could have both swimming pools warm and work on making the bar / restaurant more sound absorbing it is to loud in it with only 6 in it people having a conversation.
Aug 23, 2021
I went back and forth on how to rate this but unfortunately landed on low scores. We've been coming to this campground for almost 10 years. We were open to see the changes made by KOA and understood it would happen. But were shocked at the increase in prices to the store and wood. The pool was cold. The staff seemed very confused,I had to go back to the store b/c they lost my purchase of wood
Aug 23, 2021
Park was very nice. Staff was friendly. Park was clean & lots were spacious. We enjoyed our stay
Aug 23, 2021
The pools were FREEZING & staff was inappropriate. We camped near the playground, & both nights there were KOA staff shining golf cart lights directly into our campsite, swearing up a storm & using inappropriate language for a kids area & driving their carts to knock down the volleyball net & did Cheerios in the court. Roadways were narrow & windy. Will never return/recommend based on first stay.
Aug 23, 2021
over all liked the campground, staff was friendly but definitely short of help slide for kids only opened sporadically, store under staffed This KOA needs another and updated bath house needs to update showers especially have a handicapped shower stall We booked our site on line would have liked the option to pick our site numbers pool area very nice, food in bar good
Aug 23, 2021
The cabin by the fishing pond (first one) needs some attention. It has at least five burnt out light bulbs, there is no shower head, half the pillows were missing pillow cases and the queen bed has seen better days. You should also update your website to match the amenities in the cabin. Keurig for one. I also saw three different check out times. Website for rentals, check in sheet and by text.
Aug 23, 2021
It was good. We switched sites right away since our tent wasn't going to fit in the place that we were put. The bugs were horrible but we survived. The facilities were clean. The quiet hours weren't really obeyed though. A group was up until at least 2am. Not cool with little kids.
Aug 23, 2021
We liked it so much we are on the list for seasonal stay
Aug 23, 2021
Frustrating to be charged extra for children. If rates need to be higher, then do that. Don't charge extra for kids. Camping should be family friendly.
Aug 23, 2021
Narrow drives and lots of mosquitoes. Grounds should be cleared to reduce mosquitoes. Other wise great for family's. A lot of activities and clean public places.
Aug 23, 2021
Wonderful amenities and great staff. Keep up the great work!!!
Aug 23, 2021
Nice, roomy site. Very busy KOA. Laundry machine prices are double the rates of other KOAs.
Aug 23, 2021
very crowded, stayed in wooded area, way too many trees, roads up in wooded areas not maintained, too narrow to get a camper through and into sites. Our door opened to the back of a house, no privacy, very uneven ground, camper stayed uneven. WiFi did not work. Usually very happy and love KOA's, will not be back to this location again. please clean up wooded sites!!! Very unhappy stay.
Aug 23, 2021
We enjoyed our stay. Very friendly and helpful staff. Our 10 year old son really enjoyed the pools and waterslide, and was happy the pool was open til dusk. Plenty of time to wear himself out. We also enjoyed movie night, and even managed to win some stuffed animals in the game room. We all made friends and plan on coming back next year. Tell the staff "fantastic job"
Aug 22, 2021
It was good, other the bathroom was not clean, both toilets plugged up
Aug 22, 2021
Music was played overly loud at the pool and continued well after dark. After asking about it the 2nd night, the music was briefly turned off, then blaring again at 9pm. Bathrooms were very old, floors were always wet with water and sometimes mud, and not frequently maintained. Investing in renovating the bath houses would go a long way.
Aug 22, 2021
They let us switch our campsite Which we very much appreciated. Very friendlyWe'll come back again soon
Aug 21, 2021
Many things for the kids to do and the swimming pools were a big advantage.
Aug 21, 2021
Had a wonderful week (Sunday-Friday)camping with my grandchildren.Staff were very helpful.Our cabin was clean but did have a slight odor from sinks.Spent a lot of time at the pools, slide and playground.
Aug 21, 2021
Very helpful friendly staff. Wonderful campsite. Great in every respect. (Paved roads would be a bonus though.)
Aug 20, 2021
Wonderful Stay this past 4 days. So many wonderful Amenities and met so many great people. Everything was so well maintained. Every one that works at your camp ground is so helpful and friendly. Met Danny and his wife Toni who are working there this summer and they were so helpful and hard working. Thank you for the wonderful time. Rick and Cheryl Martin Waukesha, Wisconsin
Aug 20, 2021
Music was left on over night (one night after quiet hours) and continuously bass beat music on all day for sites near the pool. Overall a nice place.
Aug 19, 2021
The staff and facilities on your campground are second to none. You made our stay comfortable and fun. This place has everything you might need on a stay. Thank you very much
Aug 19, 2021
Stayed 1 night. July 2021. Rough getting parked, rough area in trees. Showers had no private area to get undressed. Only curtain on shower and no hooks for hanging to keep clothes clean and dry.
Aug 19, 2021
We went into the bar for a cocktail and sandwich and the bartender was so unorganized and she never even acknowledged us we sat at a table and waited for about 15 minutes, she was very upset and frustrated it made us very uncomfortable so we eventually just left! This sucks cause the first time we camped there in June it was bad pools not working slide not working and now this!
CAMPGROUND RESPONSE / COMMENTS:
Thank you for your feedback. She is a new bartender. I think she's finally filled her shoes. We have since fixed the issues with the slide and the pool. I do hope you will give us another chance as we just took over the park and are looking to do many upgrades.
Sep 14, 2021
My family had an absolute blast at this KOA Holiday. There is a camp store, restaurant, 2 pools (1 is heated), waterside, small splash pad, mini golf, horseshoes, 2 playgrounds, large fenced in area for dogs to run & play(bring your own toys) and I know there is more I didn't see. The staff deliver your firewood and even pick up your garbage several time a day. Plenty of scheduled activities throughout the day and they camp will text you when an activity is coming up. My kids enjoyed an afternoon swimming with a DJ and then went to a great magic show after. Our site was spacious and the fire pit was tall which helped ease our fears of a child falling into the fire. There were 2 vacation destination type homes next to our site and several throughout the camp which definitely gave a community/neighborhood type feel. This was our 1st time at a KOA Holiday and we are excited to go back. 😀
- kal L on Google
Sep 11, 2021
Nice area, people friendly, dogs welcome, very large dog park, big pools, showers clean!!
- Klean Toof on Google
Sep 10, 2021
Located away from hustle and bustle but within easy drive to local attractions. Being out has allowed us to see local wildlife. That alone makes it good to me. Campsite is large with plenty of room to park towed vehicle. Lot is grass which means there are low spots to compensate for when leveling.
- Deborah Hitt on Google