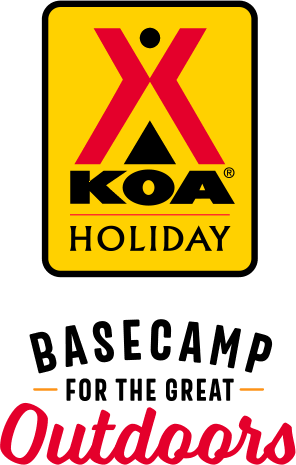 KOA Holiday Campgrounds
Whether you're exploring the local area or hanging out at the campground, KOA Holidays are an ideal place to relax and play. There's plenty to do, with amenities and services to make your stay memorable. Plus, you'll enjoy the outdoor experience with upgraded RV Sites with KOA Patio® and Deluxe Cabins with full baths for camping in comfort. Bring your family, bring your friends, or bring the whole group – there's plenty of ways to stay and explore.
KOA Holidays Feature:
RV Sites with a KOA Patio®
Deluxe Cabins with full baths
Premium Tent Sites
Group meeting facilities
Directions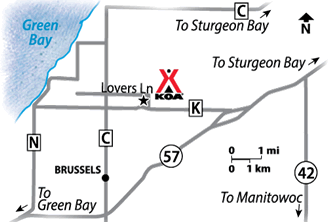 From Green Bay, Wisconsin Head southeast on E Walnut St toward N Madison St 0.2 mi. Turn left at the 2nd cross street onto N Monroe Ave 0.4 miles.  Continue onto WI-57 N/University Ave. Continue to follow WI-57 N Pass by Subway (on the left in 2.2 mi) 27.7 miles. Turn left onto Co Rd D/County C (signs for County Road C). Continue to follow County C 3.7 miles. Turn right onto Co Rd K/County Trunk K 1.5 miles. Turn left onto Lovers Lane 0.4 miles. Turn left onto Quietwoods Circle.
Get Google Directions
Sep 12, 2021
Great location for exploring Door County.
Sep 11, 2021
Our stay here was very quiet, the park was not busy at all during the week. Staff were very friendly. My only complaint was that the cabin we stayed in did not seem very clean. The floor needed to be mopped as previous campers had spilled something, and we could tell the carpet was not vacuumed. Also, food or something was smeared on the walls in several places.
Sep 11, 2021
The staff was very friendly and helpful! The staff works very hard to make sure any issue was resolved. We will definitely be back!
Sep 10, 2021
This KOA has great potential. But needs a lot of work. Main house bathrooms horrible condition, pool one was extremely dirty, other bath buildings very dirty! Play grounds old and outdated! Needs more adult activities, the bar/grille outdated. The potential here would be endless. End of season was close. More work needs to be done to compete with other KOAs the destinations nearby could make it #1
Sep 09, 2021
After asking several times to verify my good Sam's discount was on my bill it is not. We were switched to a pond site that we didn't like and had no other options. The dump station has a smashed hose end so you couldn't black tank flush so had to wait additional time to get in the other lane. Bathroom up front by office is falling apart and could use some serious repair.
Sep 09, 2021
We had a great stay at the Door County KOA. We did remark that it was the first KOA that had grass camper sites. They were just fine however a little grass would come in the camper in the morning due.. All said and done a great location.!
Sep 09, 2021
We had a great time. I love that one of the pools is heated, as our weather wasn't the warmest! We stayed in a "deluxe cabin", which was perfect for us, but I do have a few minor complaints....Wifi would be nice, the a/c didn't work (which happened to not be a problem due to cooler temps), the floor was extra dirty, and the sliding door had no screen. I would expect a bit more at $165 a night.
Sep 09, 2021
Aside from the flat tire I got on site 270 from extruded old cut off metal fence posts, I had a very nice time.
Sep 08, 2021
Very fun and very clean. I did not like the fire pits and there was some spider webs hanging from the bathrooms in on bathroom and the bathroom by the office had a broken urinal and a exhaust fan that didn't work. BUT all in all very enjoyable
Sep 08, 2021
Bathrooms were dirty. Pool by office had a layer of slime on bottom of pool and was so cold. Expensive and not all amenities are included with stay
Sep 07, 2021
Lots of activities but very unorganized. Workers didn't seem quite as friendly or helpful as in the past.
Sep 07, 2021
Very nice campground
Sep 07, 2021
Clean, individual bathrooms. Pools were nice. Laundry machines were broken, but they didn't put a warning sign up. Quiet place.
Sep 07, 2021
Beautiful campground! Very well kept. Would highly recommend!
Sep 07, 2021
The staff was great. Easy now!! I have a roof-mounted Dish TV and couldn't get reception in my first site so they worked for a great while finding me a better site, including calling the person who had the site reserved to make sure it were wouldn't cause any problems . In my line of work i need access to tv and news. Beautiful grounds.
Sep 07, 2021
The campground itself was very clean and organized. We also noticed that there was a lot of employee interaction, and help around the campground, which is better than most campgrounds we've been to. The only thing we did not like is that there were groups walking through our site, as a short-cut to the park. Understandably, that is not the campground's fault, but maybe a reminder to use the roads.
Sep 07, 2021
The firepits are way too close to where your camper is If we had someone next to us, their firepit being lit wouldve melted our camper Or ours would have. Get your firepits right.. huge issue with all the campers i spoke with as well
Sep 07, 2021
First time ever to your facility and first time with our new 27' camper. We were pleased! Will return!
Sep 07, 2021
Dogs off leash every time we walked the park. Twice our dogs were attacked. Its a very loud park. The seasonal people think the rules don't apply to them. We stay at a lot of Koa campgrounds and this one was very disappointing. We left after two days which was as soon as we could find another campground.
CAMPGROUND RESPONSE / COMMENTS:
I am so terribly sorry. For future reference please call the office right away, flag down a staff member in yellow, stop in and let us know that there are dogs off leashes. We take this rule very seriously!
Sep 06, 2021
The staff was nice and friendly. The kids enjoyed all activities and the swimming pool and slide. The bathrooms looked like they were not getting the attention they required. The women's bathrooms at the rear of the grounds were plugged quite often, the ones in the main building were very wet and smelly.
Sep 04, 2021
Very nice campground with many thing to do at the campground and in Door county. This was our second time in 8 years that we came to Door county and we just love all the thing to do. The only thing that I would suggest is to improve your WIFI, we were close enough to the store we could use it with our booster. Since we travel a lot we need to access WIFI for banking and other issues.
Sep 04, 2021
The cabin was filthy inside and out! You couldn't even walk on the floors. Water smell so bad you couldn't use it. We will never go back! If you use the bathrooms on the premises most of the toilets are over flowing and haven't been cleaned
Sep 04, 2021
Took 3 trips to office to get 50 amp site that we had reserved, apparently computer and map don't match for 30/50 amp sites. Very frustrating after driving all day. Young lady working in office couldn't be bothered to take her necklace out of her mouth to speak with me. Grounds are well kept and maintenance guys were very friendly.
Sep 03, 2021
Beautiful park! Can't go wrong.
Sep 03, 2021
The bathrooms were old , did not work well and there was no privacy curtain in the dressing portion of the shower area. Also not cleaned daily. Golf carts driving around all day and night. Permanent resident neighbor had Christmas lights hung up all around their camper and stayed on all night. Campsite was in a wooded area that never dried up and was full of mosquitoes. We stayed away a lot.
Sep 02, 2021
Office folks seems to be very friendly, nice pools and slide. (Might be nice to have adults only hours for one of the pools) Trash pu is nice. For the price I was a little disappointed. Site was not very level, and tree branches were touching my roof. Asked twice to have them trimmed but ended up doing it myself. (had to buy clippers) They did finally trim the road out.
Sep 02, 2021
Site had a large pile of tuna fish and another pile of what appeared to be dog food on it when we arrived. We spent the 1st 15 minutes cleaning up. Showers require you to get dressed in the open bathroom area. Nice shaded sites.
CAMPGROUND RESPONSE / COMMENTS:
Our staff try to make sure all sites are cleaned prior to arrival. If that happens at this or any KOA please let the front office know. We will be happy to get someone out there right away - while you are relaxing. I'm sorry for your trouble.
Sep 02, 2021
Staff members were friendly and very helpful. Sites are large and kept very clean along with shower house and pools. Many campers with large dogs seem to think the leash law does not apply to them Maybe staff should remind them dog can not run loose as they check in. I believe Wisconsin is a leash law state. Other than that best KOA we have stayed at. Thank you to you all for your hard work.
CAMPGROUND RESPONSE / COMMENTS:
We appreciate your feedback. I'm glad you enjoyed your stay. For future reference, please be sure to contact the front office, management, or a team member in yellow to let us know if you see dogs off leashes. We do take this rule very seriously! Thanks again and Happy Camp
Aug 31, 2021
The seasonal people are exceptionally rude. They moved my towels at the the pool. Someone almost hit my friend and her son as they were on a walk, they were driving way too fast. AND people kept walking through our site, when we told them to stop they acted like they'd never heard of that before!!!
Aug 31, 2021
Sites were fantastic, very large and well kept. The seasonal campers were very rude. Speed bumps need to be installed, people were driving through at 25-30 mph. Posted speed limit is 10mph.
Aug 31, 2021
The pool area was very nice. I liked how clean everything was. The staff were friendly and helpful. My only disappointment was I had reserved a wooded site. But when we got to our site it was small with no trees. Fortunately our neighbors were great. I would have been more happy with a few trees and more space.
Aug 31, 2021
all was great except the fire pits
Aug 31, 2021
The bathrooms started out nice and clean but after a couple days they got worse and worse. Plugged up toilets for days, paper all over the floors.
Aug 30, 2021
The staff was super friendly and very kind. We had a wonderful time and the pool area was great lots of room and space the only thing we would say is that the site we stayed in was a little unlevel otherwise we really did enjoy our stay we are planning on coming again for sure!
Aug 30, 2021
When we were in the shop making a purchase there were 4 workers (teenagers) being extremely rude. There were 4 other customers behind us. One girl (strawberry blonde hair) asked the others to help and they said why don't you do it yourself even though they weren't doing anything. I interrupted and said they should help. The two boys said they worked outside and smirked with no respect or h
Aug 30, 2021
Bathrooms were not cleaned all weekend. Pool hours say from 8:00 am to 9:00 pm and was told that they close pool at dusk. Very dissatisfied with the door county KOA.
Aug 30, 2021
Our first time staying at this campsite and there is so much too do! I really appreciate that they have a dog park for our K9 friends. The sites we had were difficult to get into and really should be for 25 foot campers or less. Bathrooms and showers are clean, the pool was clean and well maintained and there was staff everywhere. We will be back.
Aug 30, 2021
Bathrooms were very dirty. Garbage's were overflowing. Almost got hit by a golf cart 2 times with KOA employees
Aug 30, 2021
We had a really nice stay besides the rain and bugs. Staff was amazing. Pools where perfect. The kids loved the slide
Sep 14, 2021
My family had an absolute blast at this KOA Holiday. There is a camp store, restaurant, 2 pools (1 is heated), waterside, small splash pad, mini golf, horseshoes, 2 playgrounds, large fenced in area for dogs to run & play(bring your own toys) and I know there is more I didn't see. The staff deliver your firewood and even pick up your garbage several time a day. Plenty of scheduled activities throughout the day and they camp will text you when an activity is coming up. My kids enjoyed an afternoon swimming with a DJ and then went to a great magic show after. Our site was spacious and the fire pit was tall which helped ease our fears of a child falling into the fire. There were 2 vacation destination type homes next to our site and several throughout the camp which definitely gave a community/neighborhood type feel. This was our 1st time at a KOA Holiday and we are excited to go back. 😀
- kal L on Google
Sep 11, 2021
Nice area, people friendly, dogs welcome, very large dog park, big pools, showers clean!!
- Klean Toof on Google
Sep 10, 2021
Located away from hustle and bustle but within easy drive to local attractions. Being out has allowed us to see local wildlife. That alone makes it good to me. Campsite is large with plenty of room to park towed vehicle. Lot is grass which means there are low spots to compensate for when leveling.
- Deborah Hitt on Google