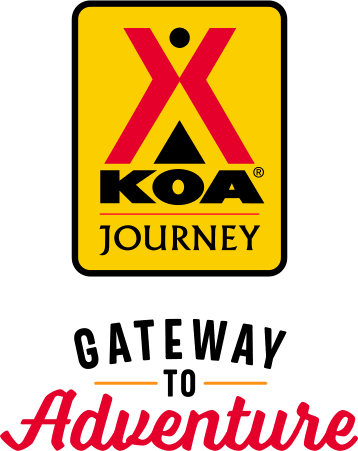 KOA Journey Campgrounds
KOA Journey campgrounds are the perfect oases after a day on the road. Whether it's along the way or a quick getaway, they've got you covered. Located near the highways and byways of North America with long Pull-thru RV Sites, they deliver convenience to the traveling camper. Pull in, ease back and take a load off.
KOA Journeys Feature:
Pull-through RV Sites with 50-amp service
Premium Tent Sites
Well lit after hours check-in service
Directions
Directions from Interstate 4 West/East: Exit Interstate 4 at exit 118A/118B and follow FL-44 until destination.
Directions from Interstate 95 North/South:  Exit I-95 at exit 261/261B and follow US 92 W/W International Speedway Blvd to DeLand.  Turn left onto FL-15 Alt S/N Spring Garden Ave.  Turn right onto FL-44 W/W New York Ave.  Follow FL-44 until destination on right.
GPS: N29.011134, W81.383138
Get Google Directions
Oct 23, 2021
Very pretty but was put in a site not acceptable. We had to buy a cord to make it a 50 amp service and was totally unable to get any tv. Getting into and out of the gate was a pain. Could be so much easier.
Oct 18, 2021
Stayed in cabin very cozy and well cleaned and stocked with items to use out on the grill and utensils plates cup. Best of all it has a coffee pot
Oct 13, 2021
Staff was amazing!!!!!!!!!!!!! Did notice a lot of older ran down rv's. Mostly extended people, there yards where not pleasant looking and very messy. Dogs on chains next to the road. You would think these would be put further toward back not as you pull in
Oct 02, 2021
We enjoyed being parked on the river and watching the boats go by. The location was convenient to all the activities we had planned from Disney World to Daytona Beach.
Sep 29, 2021
Absolutely one of the coolest KOA'S we have stayed at The onsite restaurant is wonderful. The staff was welcoming and competent. The marina made for fabulous views and the sites are spacious.
Sep 27, 2021
It was wonderful. The camp hosts were great, too. We really enjoyed our stay. We will return.
Sep 27, 2021
There was an ant problem. It may not be good to have people leave there trash on the ground waiting for pick up. 2 sites near us had large loose dogs. When I walked my smaller dog I was afraid there would be a possible fight when one of them ran up to us. I called out but no one came from the near RVs to claim him. I later leashed the stray and found his owners at a site nearby.
Sep 27, 2021
Lovely sight. Quiet with a view of the marina.
Sep 22, 2021
Another's great relaxing weekend. We love this campground. The people are awesome, it's peaceful and quiet. Couldn't ask for anything better.
Sep 22, 2021
Had a great stay!
Sep 20, 2021
Easy check in. the park and marina were very clean. large pull thru site for my 40Ft motrohome pulling a 20ft enclosed trailer. We were on a site that face the river, and the afternoon sun was extremly hot. We had a large family birthday party for 30 people at the St. johns river grille that is onsite, The food and staff were great, especially Arialla who took excellent care of us.
Sep 20, 2021
Great staff!! Take the Blue Heron river tour
Sep 17, 2021
Great staff and facilities.
Sep 15, 2021
Campgrounds were clean and quiet at night. Great location with access to the river. The sites were small. Enjoyed our stay!
Sep 15, 2021
From the time we pulled in we where amazed. The staff was super friendly! Bath house was clean. It was awesome location!
Sep 14, 2021
Staff extremely kind and considerate. Site was level gravel with good drainage from the rain.
Sep 13, 2021
Site was great and Hank at the Tiki Bar was awesome, but the food at the Marina was awful. I had a cheeseburger and fries. The hamburger was luke warn and had no taste and the fries were terrible They tasted like they were freezer burn and they were also not hot. I know times are tuff right now, but you got to make sure that the food you are serving tastes good.
Sep 13, 2021
Great restaurant on site
Sep 13, 2021
the sites are nice the staff at the ship store are nice the only problem i had was with a dog patrol from the city came buy and my dogs and i was sitting under my awning at my site the dogs were not on a leach and she said if she came back she would have to take my dogs from me lol
Sep 13, 2021
The spot we were put in was AWFUL!! We have a 31 ft class A and we tow a Mini Cooper behind it. We were out on an end spot, on a curve and not enough room to put our awning out without covering all the grass! Plus someone before us had dumped their charcoal right by the hookups!! And on top of that it was supposed to be one free night if we booked 2 nights!!
Sep 13, 2021
Loved the campground . Restaurant and food and service were wonderful. We camped (F28) and pool and restrooms were not cleaned. Clumps of hair on shower floors, femine disposals never emptied. Hand dryer not working for 2 days. Sinks looked fine but showers very nasty. Nice restrooms and showers and pool but management should inspect periodically. Other maintenance was spot on. Clean bathrooms
Sep 13, 2021
I love the Park. Staff very friendly, and helpful. I just found it odd they only had 1 Bathhouse for the size of the park. Had to walk a distance if you are not by bath house. Know to request site closer
Sep 13, 2021
Was a nice reset, staff was very friendly and helpful. Had a small problem with the site and was moved without a problem. Was exceptionally quiet and the restaurant was very conveniently located on site and reasonably priced. Will definitely be a returning camper.
Sep 08, 2021
Not a family campground! Boaters are passing by fast with music blasting until midnight. Sounds like camping right on the highway. Dog area is tiny, no fire pits… Sorry, we were not happy at all.
Sep 07, 2021
Absolutely awesome place we celebrated our 50th wedding anniversary and it was great.
Sep 07, 2021
We had a great time, everyone was really nice. We stayed in the spots next to the water. We didn't visit the restaurant or bar but did spend some time at the pool. Even though there's speed bumps, people just flew through on the road to the registration, bar, restaurant and boat ramps. There were lots of kids and dogs around so I wish there was more support to slow those drivers down.
Sep 07, 2021
Good Amenities Pool was Very dirty, mold should be brushed off pool sides Sites were decent, staff friendly, great location
Sep 07, 2021
Staff is great and grounds are clean and in good condition.
Sep 07, 2021
We had a great time however our Spicket where are you hooked up to the water for the motorhome was leaking if we turned it on all the way I notified the office a gentleman came by the second day and just said oh we only had water at half of the pressure that we should have. Also the swimming pool was disgusting it hadn't been cleaned in so long there was algae growing on the sides and by the
Sep 05, 2021
no nighttime security for loud music after ten. gate became broken and not fixed for the whole month. no big control
Sep 01, 2021
This was our third visit to Deland/St Johns River KOA. It has always been a fun visit. Everyone is always very cordial and helpful.
Aug 31, 2021
Very nice campground on the river. Only complaint was the yard crew that came in and mowed during our stay. I realize this must be done, but these guys had no regard whatsoever for anyone's property. Our truck and trailer were covered in grass. The restaurant and Tiki bar are great. People were very friendly.
Aug 31, 2021
the wifi was too weak to use with any sort of reliability on the asphalt side. too far to walk to the pool and shower areas.
Aug 28, 2021
Enjoyed the river view while sitting in the MH. Saturday was busy with boaters and motorcycles. Sunday was quieter and gave us the opportunity to explore. This is primarily a marina and boat launching area. New bridge construction right outside the marina/RV park. Monday/Tuesday the pile drivers began at 8am and stopped about 3pm. Grass around RV needed mowing. Overall it was clean. Just okay.
Aug 28, 2021
I loved our site and the view of the St. John's and having our boat in a slip that was close to our camper was a real plus! The only negative (which the KOA had no control over), was the construction on the bridge on Hwy 44 and the constant pile driving going on. Thank goodness they didn't work over the weekend! We will be back after the bridge is complete. �
Aug 27, 2021
Only issue was the wifi. Was unable to connect
Aug 26, 2021
La pasamos super bien.Lugar tranquilo y personal muy amables y serviciales.A+
Aug 24, 2021
It was ok, not the best not the worst. The pool was dirty and incredibly hot (although that isn't something they can control) but the sites are a bit weird , for example F22 has the sewer hook up close to the front of a camper instead of the back. There wasn't much for our kids to do aside from the pool
Aug 24, 2021
great location clean pool nice staff
Sep 14, 2021
Very nice place to rv and visit.
- pablo gomez on Google
Sep 13, 2021
McKenzie was very helpful with your reservations and the campground was clean and quiet.
- Brent Adamson on Google
Oct 15, 2021
Costumer service was exceptional. The place is clean and well maintained. Down side, There is no cable for entertainment and some of the pull through have a little hill where you park that make it challenging to level the RV, plus the price is a little higher than most. Other than that it was an excellent experience all together. It is best to rent for a week to enjoy all the amenities.
- javier garces on Google