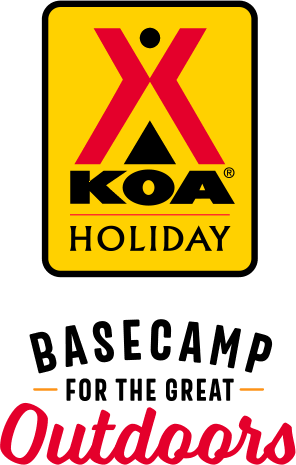 KOA Holiday Campgrounds
Whether you're exploring the local area or hanging out at the campground, KOA Holidays are an ideal place to relax and play. There's plenty to do, with amenities and services to make your stay memorable. Plus, you'll enjoy the outdoor experience with upgraded RV Sites with KOA Patio® and Deluxe Cabins with full baths for camping in comfort. Bring your family, bring your friends, or bring the whole group – there's plenty of ways to stay and explore.
KOA Holidays Feature:
RV Sites with a KOA Patio®
Deluxe Cabins with full baths
Premium Tent Sites
Group meeting facilities
Directions
From I-65: Take Exit 340, travel west on ALT 72/Hwy 20. After crossing Tennessee River, keep right for ALT 72 and Hwy 20. Go approximately 17 miles. Watch for sign: TVA Mallard Creek Recreation Area 4 miles. Turn right, this is CR 400/Mallard Creek Road. Go 4 miles, turn right at KOA sign.
From Florence: Go east approximately 30 miles on ALT 72/Hwy 20. Watch for sign: TVA Mallard Creek Recreation Area 4 miles. Turn left, this is CR 400/Mallard Creek Road. Go 4 miles, turn right at KOA sign.
GPS: N34.699569, W87.158127
Get Google Directions
Sep 21, 2021
As it started the check-in went very well and no issues. When making our way to our assigned spot we realized there was no physical way I could put our 5th wheel into that spot so we went back up to the front desk where they quickly went to work to try and find an alternative spot. I was taken around on a golf cart with a list of options and was able to choose a spot that worked out perfectly.
Sep 20, 2021
The cabin was nice but had only one roll of toilet paper, no paper towels, no counter cleaner and hardly any dish soap. I had to purchase all these supplies from the camp store just to keep their cabin clean. The cabin also had roaches which I reported to the store and they simply stated "thanks for telling us". Nice campground, just a little disappointed.
Sep 20, 2021
Very clean and quiet. Staff very friendly and helpful. We will definitely be back.
Sep 19, 2021
Main Men's showers were broken. Went to the other shower and found that there was no hot water. Disappointing especially since there wasn't full hook ups. Staff didn't seem to be doing much every time I saw them. Only person working was the employee working the register. Bad management? There were a lot of chores that needed to be done.
Sep 19, 2021
It was a very fun place but the bathrooms and laundry especially are way too far for there not being sewer hookups. The laundry wasn't even a possibility which sucked.
Sep 16, 2021
I stayed for 2 weeks and am very pleased with the new management and staff! They were very friendly and the grounds are so well kept! Much better than my previous stay!! Lots more activities and improvements being made!! I am a local and this will not be my last stay!
Sep 15, 2021
A bitwarm for us. Maybe missed out on kayaking started later that day
Sep 15, 2021
Really nice place and staff and owners very courteous, we will go back again
Sep 15, 2021
This is the most beautiful place I've seen. We only stayed for one day, but we will be back for a vacation. Words can't do it justice. There is pretty much every activity you can think of available.
Sep 14, 2021
You need more stars- stay was beyond awesome. Thoughtful, professional, kind and more. Site 22 facing the lake was beyond my expectations! The view of the lake from my site was beautiful. Beach, boating, kayaking or just relaxing walking through the woods around the campground. This is the best KOA I've stayed at going cross country.
Sep 14, 2021
Excellent staff. Great amenities. Nice shady spots.
Sep 14, 2021
campground is a little remote and feels more like a state park than your off highway one night koa - great level sites easy access to lake, the campground has alot of activities like jet ski rental. water pressure is really high so make sure you use your regulator. we had a great stay.
Sep 14, 2021
just stayed 2 nights to get out of the house... very pleasant and quiet. nice park
Sep 13, 2021
Our stay was wonderful the Host was very friendly. The park is nice, sites weren't to close together which was nice. Bath houses were clean. Beach area was clean they raked them every morning They offer rentals like boats and canoes and jet skis we didn't try these but seen others that did. Sunday they had a church service up front under the shelter. Also served pancakes on Sunday free of cha
Sep 13, 2021
We enjoyed our water side site and had a great time on the raptor ropes course!! See you back soon.
Sep 12, 2021
Nice facility. Only complaint is the pricing for renting a jet ski etc. Jet ski is a mandatory two hour rental at $85.00 per hour, better known as $170.00. Definitely stopped us from renting. 2 hours 2 long. Cost for pontoon and rope course were unreasonable too. Owner expanding, construction in process. Nice beach, boat ramp, etc. Well kept. New owner making efforts. Would highly recommend. Nice
Sep 11, 2021
We stayed one night on our way home, but this is a beautiful campground on a lake. Very clean and quiet. Lots of things to do for all. Very nice rv sites with plenty of room. We have a 40 foot 5th wheel and stayed hooked up and still had room. We will be back for a longer stay.
Sep 10, 2021
Great location, great people. Everything was top notch. Will be back in October and November, 2021
Sep 09, 2021
Great weekend with lots of activities. Enjoyed the Sunday service with pancakes!
Sep 09, 2021
We only stayed one night. The view of the lake was great. The scenery was was beautiful. It was hard backing into our site because of a large tree stump.
Sep 09, 2021
Beautiful campsite on the lake. Lots of options for recreation, but the rentals were high priced. We will return when we are in the area.
Sep 08, 2021
You are adding more sites and I cannot wait to have one
Sep 08, 2021
We did not have sewage which I knew. Tried to change but the camp was full. The river water is supposedly contaminated. Rental availability is not to good. The campground itself is pretty. Internet is awful. The staff is willing to help as much as they can. Might consider going back without our grand daughter. It can be a peaceful place to be if all you want to do is relax
Sep 08, 2021
This campground was amazing. The activities were great including a scavenger hunt as well as a kickball games, the staff was pleasant, friendly and nice. The cabin was cozy and clean. We rented the pontoon boat and had a wonderful on the lake.
Sep 07, 2021
My entire family met up here for the weekend and had a blast. (4 campsites- 1 cabin) it's evident the new owners take pride in keeping the campground and bath houses clean. There were activities planned for all weekend to keep all ages entertained. My only suggestion (not complaint) is to turn on the a/c in the cabins the morning you have guests scheduled to arrive. Will visit again!!
Sep 07, 2021
The campground is very nice and the bathrooms were clean. They had many fun events that took place for Labor Day weekend, and there are lots of amenities. The Saturday night movie night is really great. I just wish there were basketball courts.
Sep 07, 2021
Water front site near boat ramp. Clean bathhouse and grounds well kept. Lots of activities for campers. Store was well stocked and laundry was larger than most.
Sep 07, 2021
Great camp. Lots of activities by the staff.
Sep 07, 2021
We we43 only there 1 night but it is the best KOA ever!! Our particular sight was a bit tough to get into, however overall it is a great spot. I've never seen a commercial campground with such large sights and on a lake besides.
Sep 04, 2021
Absolutely loved the location.
Sep 03, 2021
Maintenance man no respect for RV space, Was literally blowing yard waste right outside our RV. Working on equipment after dinner hour. In general too much noise in late afternoon/supper time
Sep 01, 2021
Beautiful campground. Very nice staff. Many opportunities to enjoy the lake and grounds. Highly recommend it.
Sep 01, 2021
While we had to leave a day early to avoid the storms that hurricane Ida brought to the area, we had a very relaxing time while we were there. The campground is wonderfully shaded and all amenities were as promised.
Aug 31, 2021
I was a little disappointed that my site (15) was not really a premier patio site (no concrete patio). Overall, I think there are some good improvements being made there (sewer hook ups, new sites). The park was very peaceful and quiet. Lastly, I think the water hose at the dump station needs to have a regular hose end to attach to the on board clean outs on the trailers.
Aug 30, 2021
Main complaint turn the air on in the cabins when someone is coming to check in. It was so hot in our cabin we couldn't sleep. Small complaint check the playground area often and clean it up I killed several spiders and wasp. Needs more activities my kids where rather bored. Over all it was okay for a weekend stay �
Aug 29, 2021
Great place to rest and relax. Right on the Tennessee River. Most sites are shaded and have water views. Bathrooms and showers are clean. Staff and owner were great. Not all sites have sewer but they are working on that. $10 and you can schedule a tank dump and they will sent someone to pump out your tanks. $15 if you need it the same day. Took about 15 minutes. Very convenient. Rented the jet!
Aug 28, 2021
We had a great time. The staff was professional and EXTREMELY FRIENDLY. My wife and I highly recommend that KOA. We will definitely return in the future.
Aug 28, 2021
What a nice spot to spend some time. The hosts were so nice and provided all the information we needed. Our spot was #26 and it was fabulous.
Aug 26, 2021
The staff was very helpful. We are fairly new at this and they were very patient with my questions. The site had a great view of the water. We will definitely come back.
Sep 18, 2021
We stopped for an overnight stay on way home from beach and we loved it. The staff there was friendly and accommodating. Most camping spots are either on lakeside or within view of the lake. It is kept very neat and clean and you can tell the staff works hard to keep it that way.
- Michael Franks on Google
Sep 08, 2021
Great place! We had 6 adults and 7 young children camping in tent sites and it was awesome. We were directly on the the water and it was beautiful. The owners went above and beyond to make sure there was something for everyone to do. Very well maintained and clean!!!!!!
- Deanna Bloodworth on Google
Sep 06, 2021
My entire family (4 campers, 1 cabin) spent this weekend there and we really loved it. We were well pleased with our sites and found everyone to be very friendly and accommodating. The bath houses were very clean. You can tell the new owners are trying really hard to plan lots of activities to keep everyone entertained. We had waterfront lots and were able to keep our boats in the water at our sites. Will definitely book there again!
- Jennifer Bronson on Google