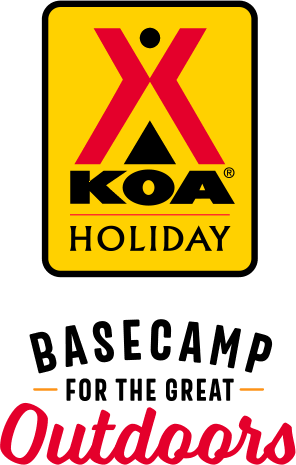 KOA Holiday Campgrounds
Whether you're exploring the local area or hanging out at the campground, KOA Holidays are an ideal place to relax and play. There's plenty to do, with amenities and services to make your stay memorable. Plus, you'll enjoy the outdoor experience with upgraded RV Sites with KOA Patio® and Deluxe Cabins with full baths for camping in comfort. Bring your family, bring your friends, or bring the whole group – there's plenty of ways to stay and explore.
KOA Holidays Feature:
RV Sites with a KOA Patio®
Deluxe Cabins with full baths
Premium Tent Sites
Group meeting facilities
Directions
From I-65: Take Exit 340, travel west on ALT 72/Hwy 20. After crossing Tennessee River, keep right for ALT 72 and Hwy 20. Go approximately 17 miles. Watch for sign: TVA Mallard Creek Recreation Area 4 miles. Turn right, this is CR 400/Mallard Creek Road. Go 4 miles, turn right at KOA sign.
From Florence: Go east approximately 30 miles on ALT 72/Hwy 20. Watch for sign: TVA Mallard Creek Recreation Area 4 miles. Turn left, this is CR 400/Mallard Creek Road. Go 4 miles, turn right at KOA sign.
GPS: N34.699569, W87.158127
Get Google Directions
May 08, 2021
Great view of the lake. The bath house is old and needs to be replaced and the old gate coming into the camping area needs to be torn down. The bath house doesn't meet KOA standards. No sewer hook up. Pros: new electric hookup and new water hookups. Office staff was very helpful, store was stocked with supplies.
May 08, 2021
We enjoyed fishing right from the deck of our cabin! It was the most relaxing and fun getaway we have ever had. And the people of Alabama are wonderful, so friendly and helpful. Things could not have been more perfect!
May 07, 2021
Overnight stay only. Beautiful sites, well maintained campground and friendly staff.
May 06, 2021
What an awesome property. Secluded, woods everywhere. Nice sized lot for our Class A. They were so pleasant after the first site they planned for us was difficult to back into and would have caused us to drive off their road into the mud (had been raining alot). Would go again!
May 05, 2021
Lots of space and very quiet. Staff seemed friendly and courteous but really didn't have much interaction with them. The only thing I didn't like was no sewer hook ups. I purchased a camco portable dump tank just for this trip. It's a pretty long hike to the dump station. Would be nice if there was a better hose hook up to flush the tanks. Otherwise I liked the camp grounds and will stay there ag
May 05, 2021
Great place to camp. Wonderful and friendly staff. Clean and fun environment.
May 05, 2021
There was a lot to like at this KOA. The location on the lake was beautiful, there were a variety of walking trails, and the rv sites were quite large. However, there were no sewer hook-up. To empty the gray and black water you could take your rv to the dump station, or pay $10 to have it emptied by a "honey pot." Since our gray and black water tanks aren't that large, it was an inconvenienc
May 05, 2021
very pleasant stay. weather could have cooperated a little more but the park and the people were great
May 05, 2021
We enjoyed our time and wish we could have stayed longer.
May 04, 2021
Repeat visit to this KOA. Great location on Wheeler Lake. Close to Decatur and Huntsville, to enjoy both towns. Definitely will be back.
May 04, 2021
very nice park, might stay longer the next time we head that way Lake sites are very nice...
May 03, 2021
Had a great visit and will plan to stop by again sometime. Loved our site and all of the wooded area around the camp site. Had my 1st canoe experience and went around to the lagoon area with my "Bride". Thanks again, James
May 03, 2021
Great campground, very clean and large campsites with great views of Joe Wheeler. Already recommended to 2 friends. We will definitely be back!
May 03, 2021
My husband and I stayed in one of the lakeside cabins to celebrate our anniversary. The staff was very friendly and we would definitely recommend this site!
May 03, 2021
2nd time to stay..just a girls trip ..a wonderful location with beautiful views..Staff very helpful and friendly..plenty to keep my 4 yr old granddaughter happy.roads are paved not to much incline for easy bike rides and tricycles. Stayed 4 nights just myself n her felt very safe..campsite was clean and spacious..will make it a yearly Girls trip if not more often
May 02, 2021
Very nice place!
Apr 30, 2021
Beautiful facility
Apr 30, 2021
Great nice an Quiet. Wifi sucks but would come back
Apr 30, 2021
Quiet, peaceful and very helpful and friendly staff
Apr 29, 2021
VERY nice/friendly staff. Clean campground & facilities.
Apr 28, 2021
Great location and scenic quiet campground
Apr 28, 2021
Absolutely beautiful, clean Park!! Would go back anytime!! Great staff!!
Apr 27, 2021
Hubby and I picked up our new camper in Huntsville and stayed a few days for our first Shakedown trip at Decatur/Wheeler KOA. Everyone there was gracious and accommodating, and the campground itself was lovely well kept. We enjoyed it so much that we stayed an extra day. I'd like to say thank you to all the good Folks at Decatur/Wheeler KOA
Apr 26, 2021
Very nice layout and clean.
Apr 26, 2021
Beautiful campground, nice lake views. Site was very disappointing. Way too narrow. Door side was a fence/railing allowing us to only lower our steps at the break in the railing. Once lined up here, the camper slide on the other side was going to hit the water spigot. We had to pull the camper up about a foot to miss the spigot, but now our steps were open to the railing. Railing gotta go.
Apr 26, 2021
The campground is beautiful, and the staff was wonderful. We are looking forward to staying there again!
Apr 26, 2021
Beautiful, clean and well kept campground! Lots to do and the service is very friendly.
Apr 26, 2021
We had a great time. The campground is very nice and clean. The staff was beyond helpful and friendly. Will definitely stay here again.
Apr 25, 2021
Beautiful spacious campground.
Apr 25, 2021
Had a blast. Will be back soon.
Apr 24, 2021
Very nice campsite with great views
Apr 23, 2021
Beautiful camp on Lake Wheeler. The owners and staff were very hospitable and make you feel at home. The grounds are beautiful - maintained daily by the staff. We loved our site and the access to Northern Alabama. We camped 2 nights in a pull thru site in our 45' motorcoach, towing.
Apr 22, 2021
Very Quiet, staff very friendly. Camp was very clean easy entry. Will be much better once the sewer is available. Camp Store very nice. Had several sites that would accept our 40 foot Class A. No cable but we were able to use our portable satellite for service. Beautiful view of water and easy access. Many sites right on water. We will be there again real soon.
Apr 22, 2021
Thoroughly enjoyed our stay in peace n serenity! Can't wait to return.
Apr 21, 2021
We had a great time. The only negative is the the beds were to hard for old people.
Apr 20, 2021
Great camp. Well kept with lots of things available to do to make the most of your stay. Very peaceful and relaxing!
Apr 20, 2021
Our stay was very enjoyable. I campground was very wooded, The bathhouse and laundry facilities were very clean and the park was well-maintained. Easy access to the lake. And the staff was very helpful. I marked this KOA in my favorites will be returning's.
Apr 20, 2021
Your campground is beautiful, love the lake and was a perfect place for us.
Apr 19, 2021
Beautiful property! Very friendly and helpful employees! We will definitely return!
Apr 19, 2021
I thought that we had reserved a site with sewer. Obviously we didn't, we had o pay $15 to have our RV pumped. Also the shower stall was dirty with hair on the floor! The Lake site was serene and we had wonderful neighbors, but I don't think it was worth $45 a night w/NO SEWER. We only paid $30 at our last KOA, in GA and that included sewer. I don't think we'll be back.
Apr 19, 2021
Very clean and the sites were well spread apart. Came there to fish and loved having the boat ramp so close. If sewer was available I would have given 5 stars.
Apr 20, 2021
I was traveling in a fifth wheel. This KOA was a very nice place to stay staff was friendly park was clean and well maintained I will be returning
- Joe Norton on Google
Apr 12, 2021
Great place to unwind
- Ronnie James on Google
Apr 11, 2021
Beautiful location and a very clean deluxe kabin!! Only stayed 1 night ( it was a stopping point on our trip) but if ever back in the area we would definitely stay again and would recommend. Thank you for an enjoyable stay!
- Kellie Jacobs on Google