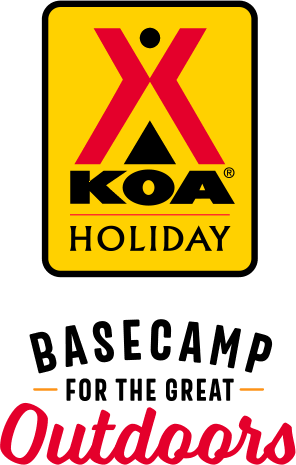 KOA Holiday Campgrounds
Whether you're exploring the local area or hanging out at the campground, KOA Holidays are an ideal place to relax and play. There's plenty to do, with amenities and services to make your stay memorable. Plus, you'll enjoy the outdoor experience with upgraded RV Sites with KOA Patio® and Deluxe Cabins with full baths for camping in comfort. Bring your family, bring your friends, or bring the whole group – there's plenty of ways to stay and explore.
KOA Holidays Feature:
RV Sites with a KOA Patio®
Deluxe Cabins with full baths
Premium Tent Sites
Group meeting facilities
Directions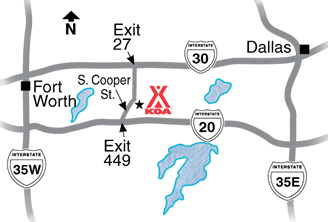 Located midway between Dallas and Forth Worth.
From Dallas: On I-20, take Exit 449 (Cooper St). From Fort Worth: On I-20, take 449B (Cooper St). Go north on S. Cooper for 1.8 miles. The campground will be on the right.
From I-30: DO NOT FOLLOW GPS DIRECTIONS =14.16pxTake Exit 27 (Cooper St), proceed south on Cooper for 3.6 miles; Turn left onto W. Pioneer Pkwy (397'); Take first right onto Matlock Road. proceed 1.2 miles; Turn right onto W. Mayfield for .8 miles; Turn right onto S. Cooper St. 0.6 miles
The KOA entrance is just past the light at California on the right and is across the street from the PepBoys store.
Get Google Directions
Jul 15, 2020
We had a wonderful stay with you. The bathrooms were very well maintained and very clean. We were very impressed. Keep up the great work!!!!! My only concern was our 30 amp kept tripping on us especially during the heating of the day. I'm not sure if anyone else was having this issue. I've never had this occur on my camper. One day I had to turn the power switch off then back on to reset 4 ti
Jul 15, 2020
We had a real nice spot The tree branches weren't too low over the top on motorhome.
Jul 14, 2020
Loved it, really nice place to stay and we will try.
Jul 13, 2020
Clean campground hidden inside the city. Friendly staff, awesome facilities, and several activities for the kids. Highly recommend this camp ground if passing through Dallas/ Arlington area.
Jul 13, 2020
Friendly staff, nice campground and the cleanest, nicest bathroom facility I have seen at a campground.
Jul 13, 2020
Staff was very sweet, neighbor were very nice. deluxe cabin was very nice. Everything was amazing the pool campfire place for s'mores. We will definitely be back. Only thing the website says a giant checkers board but we didn't see one. Other than that I had a nice getaway with my friends thank you KOA!
Jul 13, 2020
We really liked it and we will be back
Jul 12, 2020
Staff is friendly and helpful. Park is clean
Jul 12, 2020
Love it! No words to describe the experience.
Jul 12, 2020
Nice KOA. Friendly staff!
Jul 11, 2020
It was great until I showed a neighbor my Henry .44. Somebody called the cops because they saw a gun. No ticket, no arrest because I did nothing wrong! Still I was ejected. I'd like to come back as well. You just need to get a handle on your rules. This is Texas.
Jul 10, 2020
Staff was all very nice. Great clean pool and nice playground. Dog park was great too.
Jul 09, 2020
This is a nice campground in a city settting. The only negative was soooo many mosquitoes. We backed up to the drainage ditch. In 10 minutes at 6:30 I got 7 bites and even got 2 the next morning hitching up trailer.
Jul 09, 2020
Very nice staff!! Very clean cabin, bed was very comfortable! Would highly recommend this koa
Jul 07, 2020
Extremely nice campground. Will stay here ever time we con to DFW
Jul 07, 2020
A little gem hidden away. Will stay again within the next month. Great place.
Jul 07, 2020
Omggggggg I don't wanna come back to home!! I'm so in love with the place and staff! My cabin was the best!
Jul 07, 2020
The cabin was beautiful and clean. The only negative would be that the loft upstairs was extremely hot and we could not sleep there due to the heat.
Jul 07, 2020
This was a cute little place to stay.
Jul 06, 2020
Very clean and COVID friendly. They did good job keeping bathrooms and other areas clean
Jul 06, 2020
Park is beautiful and provides all the amenities one would expect at a first class campground. Will return in the future.
Jul 05, 2020
My husband and I stayed there while work was being done to our house. The staff was very nice and welcoming. Lee was very understanding when we had to move our arrival date several times due to construction. I believe the campground is under new management and the change was awesome. We had stayed here before and the experience was not as nice. I would definitely recommend this campground.
Jul 05, 2020
SUPER Clean, Friendly staff
Jul 04, 2020
Really fantastic camp! A great koa. Mark and pat
Jul 04, 2020
I have stayed at many KOA's around the country and this by far was the nicest facility with the best staff. I checked in late and everything was ready the cabin was impeccably clean, the gardens and the park like setting was beautiful, would highly recommend this to anyone. I needed to change my reservation to occur a day later than I originally thought and the hosts got back wi/me quickly. Kudo
Jul 03, 2020
Thanks for a great stay we enjoyed the trip and will stay again.
Jul 03, 2020
It is always a pleasant stay at this KOA!!!
Jul 03, 2020
Very nice secluded site with trees and shade, lovely pool and clean restrooms.
Jul 02, 2020
Nice clean campground.
Jun 30, 2020
We love this place! All the staff are very friendly and helpful. We are from East Tennessee and come here for time with our grandson who lives in the area. He's always excited to stay in the cabin at this KOA! Thanks for a great time!
Jun 30, 2020
Everything was fine.... we didn't get to enjoy the pool as planned because something was broken..... but for our first camping trip ever it was enjoyable
Jun 30, 2020
Very clean and professional
Jun 30, 2020
Very nice campground. Extremely clean bathrooms, nice pool, and a great friendly staff. Highly recommend you stay here if wanting to spend some time in the Dallas-Fort Worth area.
CAMPGROUND RESPONSE / COMMENTS:
We appreciate your choosing the Dallas Arlington KOA for your camping destination. We are pleased that you enjoyed your stay! We look forward to seeing you next time you are in the area!
Jun 29, 2020
Absolutely wonderful place to stay. The staff are always friendly and willing to help you when you need it.
Jun 29, 2020
Friendly staff, nice clean and well maintained park. Spots are tight and close but it's what I expected being in the city. The turn in from the road is tight but nothing that caused a problem. I have 43ft 5vr and I made it without problems. Just take your time and swing a little wide for the turn.
Jun 29, 2020
Nice place but the restroom is far from camping site. And its near the RV parking area. :)
Jun 29, 2020
Asked for the shadiest lot and got one with little shade, the dog 2 RVs over barked literally all day and night and no one in my camper got hardly any sleep. Nice bathrooms and showers, Internet wouldn't allow my TV to connect and was useless and that's the main reason we stayed because of autistic son needing his screen time.
CAMPGROUND RESPONSE / COMMENTS:
We are sorry that your site did not meet your expectations. The site was one of our most shaded sites, but it is hot here in Texas! We appreciate your kind words about our bathhouse! Sometimes our camping neighbors are not as considerate as others and we addressed that issue as we were made aware of it. We thank you for bringing that to our attention. Safe travels and stop by and see us again
Jun 28, 2020
The location was perfect. We had so much fun site seeing and swimming in the pool.
Dec 02, 2020
We had a great five night stay. The whole campground was well maintained. You would never know you were one block away from a major road in a large city - Inside you feel like you are in the country. The bathrooms are modern and super clean. The camp store has everything you need and the managers and staff were all super nice. You can't go wrong with a booking here! We are certain we will be back.
- Lyle Woodrum on Google
Nov 28, 2020
Very clean campground. Staff was very accommodating and responsive.
- Steven Henry on Google
Nov 27, 2020
Nice and quiet...
- Terry Ann Allison on Google