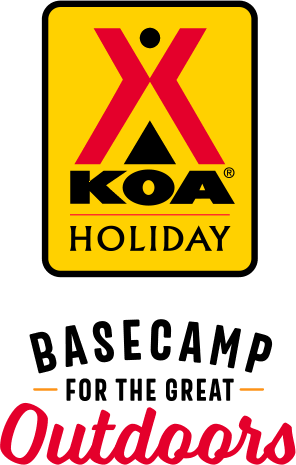 KOA Holiday Campgrounds
Whether you're exploring the local area or hanging out at the campground, KOA Holidays are an ideal place to relax and play. There's plenty to do, with amenities and services to make your stay memorable. Plus, you'll enjoy the outdoor experience with upgraded RV Sites with KOA Patio® and Deluxe Cabins with full baths for camping in comfort. Bring your family, bring your friends, or bring the whole group – there's plenty of ways to stay and explore.
KOA Holidays Feature:
RV Sites with a KOA Patio®
Deluxe Cabins with full baths
Premium Tent Sites
Group meeting facilities
Directions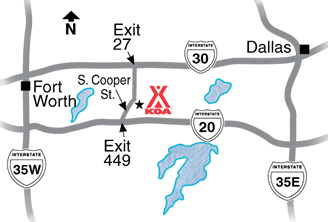 Located midway between Dallas and Forth Worth.
From Dallas: On I-20, take Exit 449 (Cooper St). From Fort Worth: On I-20, take 449B (Cooper St). Go north on S. Cooper for 1.8 miles. The campground will be on the right.
From I-30: DO NOT FOLLOW GPS DIRECTIONS =14.16pxTake Exit 27 (Cooper St), proceed south on Cooper for 3.6 miles; Turn left onto W. Pioneer Pkwy (397'); Take first right onto Matlock Road. proceed 1.2 miles; Turn right onto W. Mayfield for .8 miles; Turn right onto S. Cooper St. 0.6 miles
The KOA entrance is just past the light at California on the right and is across the street from the PepBoys store.
Get Google Directions
Aug 11, 2020
Everyone was a great Place. The staff was awesome
Aug 11, 2020
Very nice ! Good staff possibly the cleanest parks I've stayed at. Great amenities, good location.I would definitely recommend this place to anyone traveling in the DFW area.
Aug 11, 2020
Stayed for a wedding in the area - wow - Love this KOA - its quiet and has a lot of amenities. I thought being on cooper it would be noisy but it was so peaceful and well kept. Wifi was great too. I look forward to coming back again soon - hopefully for a Cowboys game!
Aug 10, 2020
The KOA is in the middle of Arlington, but surprisingly quiet! Very minimal city noise. The campground is clean and staff is very friendly. The kids were excited about the pool and the playground - which was intentionally right across from our site. If you need access to grocery stores, WalMart, etc. - there's multiple stores very close by. We were very pleased & impressed!
Aug 08, 2020
Incredible stay Beautiful night with chuck and the kids for s'mores at the camp fire. Wow!
Aug 08, 2020
Extremely friendly and helpful staff. Really, really nice. We will definitlely stay here again.
Aug 07, 2020
All staff was terrific; specifically Scott & TJ! We have stayed at KOA traveling cross country and were exceptionally happy with Dallas/Arlington.
Aug 06, 2020
Extremely cute little tent site we got to stay at. It had nice cover over head even with a light and bench where our power was located. Bathrooms/Showers were clean, location was easy to find. Will definitely stay again if I travel through the area.
Aug 06, 2020
First time here and let me tell you something I have never felt so welcomed and valued as a guest as I did here. Between fancy hotels and pricy B&B, this company and location alone was so worth booking with them. Wifi is amazing all around the area and it feels like being out in wilderness and the best part it's literally in Arlington. Staff is superb and delightful esp. the sweet lady working!!!
Aug 05, 2020
Great park in the middle of everything!!! Clean, clean, clean park. Pool was sparkling clear, everything manicured to perfection!! Staff was great!!
Aug 04, 2020
Best KOA ever. Thanks for your hospitality!
Aug 04, 2020
Came to visit relatives in Arlington. This KOA was very convenient to restaurants, shopping, dog parks, relatives' homes. We also enjoyed the KOA amenities.
Aug 04, 2020
Everything was great! Very nice little tent area which included exactly what we needed. I really appreciated how someone escorted us to our spot and gave a quick rundown of how things worked. Clean, quiet and well equipped. This was a test run for me. I WILL BE BACK!
Aug 03, 2020
I loved our stay here! Very clean, very friendly staff!!
Aug 03, 2020
Campground was fantastic. Very clean! Pool was really nice and also clean. On the other hand, Wi-Fi was horrible!! The few times I was able to connect, it only lasted about 2 minutes before it would kick me off. Very frustrating.
Aug 03, 2020
It's was great easy to find and my family enjoyed the camp ground. Thanks Richard
Aug 02, 2020
Our favorite KOA! The staff is friendly and very helpful. The grounds are beautifully kept. Best showers anywhere! Plenty of activities to entertain and a crystal clear pool. A tree covered oasis in the middle of an urban area. Can't wait to come back!
Aug 02, 2020
First thanks for such a wonderful stay in Arlington Texas. Well kept and very clean park. Located perfectly close to everything such as food stores, restaurants, gas, malls, and scenic areas. extremely friendly and professional staff. I will be back soon.
Aug 02, 2020
Host went above and beyond assistance is in and out . Campground is clean, up to date and friendly
Aug 02, 2020
Very clean quiet campground - the polywood furniture at some of the sites is amazing. We will stay here when we return To DFW area.
Aug 01, 2020
Beautiful park, very family friendly, the kids loved the pool !
Aug 01, 2020
Very nice, clean & quiet. Highly recommend!
Jul 31, 2020
Good stopover.
Jul 28, 2020
Awesome place very nice
Jul 28, 2020
Had a very enjoyable stay. The pancakes for breakfast were awesome as were the canine exercise areas. Store is well organized and well stocked. Campground personnel were friendly and very helpful. Thank you
Jul 28, 2020
Nice campground. Spacious dog park was a huge plus. Other KOAs have smaller dog areas and this was awesome for our two labs. Staff was extremely friendly. The biggest downside was the limited WiFi. I work while on vacation and need the ability to get on web meetings. I was unable to connect. In the age of mobile working, this was a negative. Cheaper campgrounds have this ability.
Jul 27, 2020
Had some electrical problems on your end! Dewain did a very good job in diagnosing and repairing the problem in a very timely manner! He is an excellent member of your team! However on July 19th we reserved a specific spot in person to begin the 22nd! When we arrived there the desk person said there wasn't a reservation on file! We were not happy about that!
Jul 27, 2020
Awesome park!!! We only stayed one night while passing thru Texas but I easily could have stayed much longer. We had a beautiful site with big trees. Park was very clean & had the best dog park. If you're a tent camper, that area was awesome,too!!!
Jul 27, 2020
Great atmosphere, friendly staff, awesome accommodations!
Jul 27, 2020
We love this KOA. Always clean, well taken care of and it has plenty of fun things to do for families or all kinds.
Jul 27, 2020
Clean friendly well maintained. A pleasant stop.
Jul 26, 2020
Very nice and clean cabins and the site was beautiful! What a wonderful campsite!! Loved my time there!!
Jul 26, 2020
All was good except for WIFI which was weak and frequently dropped. Poor service provider on WIFI.
Jul 25, 2020
Always friendly, helpful staff. Very clean facilities and they take extra measures during Covid. We stayed here 8 months and would highly recommend this Wonderful Dallas KOA.
Jul 25, 2020
Thank you for having clean bathrooms, nice pool and late check in!!
Jul 24, 2020
Scott was very helpful.
Jul 24, 2020
The place is well mantain. It is quiet. It has all the necessary services. Very Clean. Good location.
Jul 23, 2020
Very nice KOA! Just make sure you bring quarters if you need to do laundry as there isn't a change machine. Would definitely recommend!
Jul 22, 2020
Excellent facilities. Staff had a wonderful attitude
Jul 21, 2020
My kids and I really enjoyed our stay. Planning a trip back soon!!
Jul 20, 2020
Great place to stay! Enjoyed the pool and quiet setting.
Jul 19, 2020
Needed mowing on Wednesday when we arrived but was taken care of right away. Our main complaint was the pool. It needs to be cleaned. The extreme heat gives a cloudy effect, we realize, but the greasy buildup on the white tiles in the deep end are nauseating. Looks look it needs a good scrubbing. We always enjoy our stay with you and really appreciate the feeling of safety within your gates.
Jul 16, 2020
Friendly, easy, safe!
Dec 02, 2020
We had a great five night stay. The whole campground was well maintained. You would never know you were one block away from a major road in a large city - Inside you feel like you are in the country. The bathrooms are modern and super clean. The camp store has everything you need and the managers and staff were all super nice. You can't go wrong with a booking here! We are certain we will be back.
- Lyle Woodrum on Google
Nov 28, 2020
Very clean campground. Staff was very accommodating and responsive.
- Steven Henry on Google
Nov 27, 2020
Nice and quiet...
- Terry Ann Allison on Google