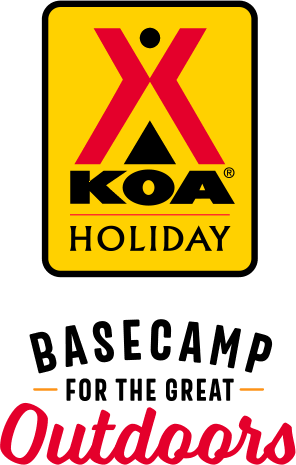 KOA Holiday Campgrounds
Whether you're exploring the local area or hanging out at the campground, KOA Holidays are an ideal place to relax and play. There's plenty to do, with amenities and services to make your stay memorable. Plus, you'll enjoy the outdoor experience with upgraded RV Sites with KOA Patio® and Deluxe Cabins with full baths for camping in comfort. Bring your family, bring your friends, or bring the whole group – there's plenty of ways to stay and explore.
KOA Holidays Feature:
RV Sites with a KOA Patio®
Deluxe Cabins with full baths
Premium Tent Sites
Group meeting facilities
Directions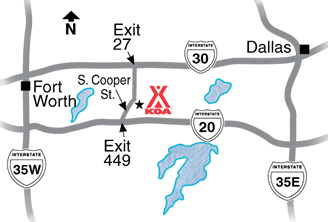 Located midway between Dallas and Forth Worth.
From Dallas: On I-20, take Exit 449 (Cooper St). From Fort Worth: On I-20, take 449B (Cooper St). Go north on S. Cooper for 1.8 miles. The campground will be on the right.
From I-30: DO NOT FOLLOW GPS DIRECTIONS =14.16pxTake Exit 27 (Cooper St), proceed south on Cooper for 3.6 miles; Turn left onto W. Pioneer Pkwy (397'); Take first right onto Matlock Road. proceed 1.2 miles; Turn right onto W. Mayfield for .8 miles; Turn right onto S. Cooper St. 0.6 miles
The KOA entrance is just past the light at California on the right and is across the street from the PepBoys store.
Get Google Directions
Nov 02, 2020
clean and beautiful area with plenty of trees. The only complaint was our particular site for a 41ft RV only had one dump tank and not close to access with several hoses. We had to back up RV to access prior to departure, not a big deal but could be if staying for extended amount of time. Noticed most other sites had two dumps.
Nov 02, 2020
We stay here every time we come to Arlington to see our children, grandchildren and great grandchildren. Great staff and grounds.
Nov 02, 2020
Friendly staff, clean facilities. Recommended.
Nov 01, 2020
Very nice KOA, staff was friendly.
Oct 31, 2020
The staff is very friendly and keep the common areas clean. Nice facilities and the park is close to shopping areas and restaurants. The only downside is that, when it rains, the sites might accumulate water and turn areas muddy. At least, that is what happened in my site.
Oct 31, 2020
Very nice park. I like that there is adequate space between neighbors. Park is clean. I would add more gravel to make it easier to walk around our RV & not be in mud. I would stay here again.
Oct 30, 2020
Very quite and relaxing! Bathroom and Showers were clean. Close to gas and stores
Oct 30, 2020
Nice clean Park and friendlyStaff
Oct 29, 2020
Lovely site hidden from the city. Well run, very nice staff. A+
Oct 28, 2020
We have stayed here many times and love it. This time seemed different. The employees seemed happier and the grounds seemed more trimmed and cleaner. It's always been clean but this trip it shined. Great stay
Oct 28, 2020
Great place near lots of interesting attractions and restaurants. Only negative is the tight Entry/Exit. Its very difficult for a long Class A to Enter
Oct 28, 2020
The facilities were clean, bathrooms were nice, campsite was set up well, and the staff were friendly, but I would not recommend this location for tent camping. The sites are too close together and it's in the middle of a busy road with a parking lot right next door. At night we heard traffic noise instead of nature, no trails or view, and there was trash in the pretty creek that ran through.
Oct 27, 2020
We will be back. Loved it
Oct 27, 2020
I was surprised at how nice the cabin was. Not sure what I was expecting but it surpassed it. Would definitely recommend and stay again. It was a little pricey but overall great place to stay.
Oct 27, 2020
Ted was so very accommodating. Loved the setup uf the grounds. So well kept and clean. Sites are roomy....not packed like sardines. I highly recommend this KOA!
Oct 27, 2020
Absolutely a great getaway for a weekend stay
Oct 27, 2020
Very nice campsite, and sparkling clean bathrooms!
Oct 27, 2020
Very friendly staff!
Oct 26, 2020
The staff was amazing and even called me immediately to tell me I accidentally left an item behind. The campground was busy but so clean and everyone was friendly. The laundry room had some machines out of use but I was able to get my wash done. We would definitely stay here again, we loved our cabin.
Oct 26, 2020
We liked the park but we did not like our camp site. We were on the main road entering the park and had a lot of traffic all day and night. We could not let our daughter ride her bike due the excessive traffic. Too many long time rentals at the park. I wish the web site showed the monthly rentals.
Oct 26, 2020
We were only there for 2 nights and not at the campground much however the staff we did see were very friendly, the campground was very clean and the bathrooms were super clean!
Oct 26, 2020
We enjoyed our time there. The staff was friendly and helpful. The park is nice. My only complaint is that I was never able to connect to any of their WiFi servers at any time during my stay there.
Oct 26, 2020
The staff was very friendly from start to finish. I enjoyed the fact that it was family friendly. Activities for you to do as well as having Smores around the fire pit on sat. and pancakes on sun.as a community. I also appreciate the trash being picked up from my site in the mornings.
Oct 25, 2020
First time rv'er. This site squashed all fears EXCEPT the gate code was changed and we were not told. We were locked out at 10:30pm. Lucky for us another car came.
Oct 25, 2020
Excellent people working. Bathroom and showers were clean, laundry room clean. Would definitely stay here again.
Oct 25, 2020
Very hospitable. I was a few minutes late, but he stayed open for me.
Oct 23, 2020
Very relaxing, quiet. Park is well maintained and clean. Staff is very friendly and helpful.
Oct 22, 2020
One of the nicest KOA's I've ever stayed. First class staff and facility.
Oct 22, 2020
Very clean, great location, and wonderful owners.
Oct 21, 2020
Great staff and wonderful place!
Oct 20, 2020
our stay at KOA was great, quiet, clean and felt safe. Thank you so much.
Oct 20, 2020
Very friendly staff, very clean and well laid out park.
Oct 19, 2020
Two dog parks, great pool, very friendly campers and staff. Lots of trees and shade
Oct 19, 2020
Quiet. Clean facilities. Nice pool. Convenient Arlington location, not so much for downtown Dallas.
Oct 19, 2020
This place was great.. Tammy, Tj and all the staff were awesome. First class to all!!!!! Looking forward to visit again!
Oct 19, 2020
Nice, clean and quiet KOA that is close to Dallas, Fort Worth and conveniently located in Arlington so you have easy access to anything you want to do. We plan on staying again when in the area.
Oct 19, 2020
What a wonderful KOA! Everything is sparkling clean. Some of the cleanest RV bathrooms we've encountered. It really doesn't feel like you are in the middle of the bustling city! Sites are easy to get into and well kept. My only issue is that the entrance is really hard to get into and is off a semi busy street. Even with that, it still gets 5 stars!!!
Oct 19, 2020
Friendly helpful staff. Nice facility
Jan 08, 2021
We JUST returned from a 5 day vacation there! We rented a Kamping Cabin. Let me tell you, it was one of our BEST vacations ever! Ted, Diana, Shelly, Troy? Tonette And everybody I've forgotten, made our stay unbelievable! I cannot believe that this exists near Arlington! It's like going to an oasis of calm, and rest! They catered to our every need, even bringing our firewood TO US! We needed this break from living in downtown Dallas, and they delivered. We arrived a day early, and stayed a day late! If you need a break, please rent a cabin!
- Ken Reckard on Google
Dec 27, 2020
Amazing campground! Beautifully maintained grounds, AWESOME bathrooms and wonderful activities. Great spot when passing thru Dallas!
- Alicia McGinnis on Google
Dec 22, 2020
Great location to everything in the city. We were 10 minutes from the AT&T stadium and Texas Live. We were one block from Enterprise rental car. We got a premium campsite with the patio. Unfortunately these sites were right in the very front where everyone is going in and out. It is a gated KOA that is closed at night. Staff was very friendly and helpful. Wifi worked great with no issues. We even streamed our TV at night. Restrooms and shower facilities are nice. There is only one bathroom and shower facility on site. It has several showers and bathrooms inside but this is a big campground and a hike to the bathroom depending on where your campsite is located. There was a nice pool but we didn't use it while we were there. I definitely would stay here again.
- blondie21dj on Trip Advisor