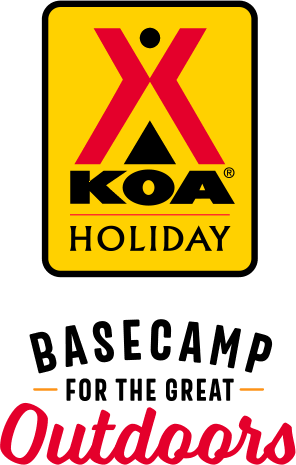 KOA Holiday Campgrounds
Whether you're exploring the local area or hanging out at the campground, KOA Holidays are an ideal place to relax and play. There's plenty to do, with amenities and services to make your stay memorable. Plus, you'll enjoy the outdoor experience with upgraded RV Sites with KOA Patio® and Deluxe Cabins with full baths for camping in comfort. Bring your family, bring your friends, or bring the whole group – there's plenty of ways to stay and explore.
KOA Holidays Feature:
RV Sites with a KOA Patio®
Deluxe Cabins with full baths
Premium Tent Sites
Group meeting facilities
Directions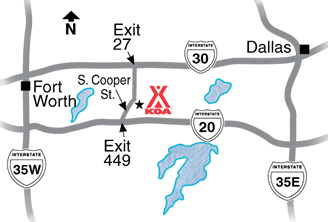 Located midway between Dallas and Forth Worth.
From Dallas: On I-20, take Exit 449 (Cooper St). From Fort Worth: On I-20, take 449B (Cooper St). Go north on S. Cooper for 1.8 miles. The campground will be on the right.
From I-30: DO NOT FOLLOW GPS DIRECTIONS =14.16pxTake Exit 27 (Cooper St), proceed south on Cooper for 3.6 miles; Turn left onto W. Pioneer Pkwy (397'); Take first right onto Matlock Road. proceed 1.2 miles; Turn right onto W. Mayfield for .8 miles; Turn right onto S. Cooper St. 0.6 miles
The KOA entrance is just past the light at California on the right and is across the street from the PepBoys store.
Get Google Directions
Nov 26, 2020
Park was clean and quiet considering how much traffic was so close. They picked up trash regularly. The spots were well spaced apart. I just didn't like how many stickers and ants were in the dog run.
Nov 25, 2020
Water pressure could be better. You need a lighted keypad at gate. Was a good 5 week stay. Thanks.
Nov 24, 2020
Very clean restrooms and very nice surroundings. After hours check-in was great. Would definitely stay here again.
Nov 23, 2020
One of the cleanest facilies I have stayed, great place
Nov 23, 2020
The site was just a bit too small for our trailer. We had a low hanging branch, and we had to pull right up on the patio so that we could put out our slide. We were grateful for the spot though after a long days drive, and we understood we got there late and that no one was around so that we could switch.
Nov 22, 2020
Beautiful place- friendly people-, what more do you need?
Nov 22, 2020
Spent a week at this KOA and it was fantastic. The staff is very nice and helpful. Definitely will stay here again when in the Dallas area. Thank you.
Nov 18, 2020
Very nice park! Attentive staff. Only complaint is the driveway entrance off Cooper. VERY tight turn to enter (impossible not to hit curb unless you turn from the center lane of Cooper) and the dip when leaving is significant.
Nov 18, 2020
Beautiful and clean facility. The staff was super friendly and let us stay longer than planned. I was very happy with everything!!
Nov 17, 2020
Only there 1 night but would definitely be back for a longer stay. Clean and safe.
Nov 17, 2020
The park was fabulous. Very clean and very well kept. We were in site 331 it was no trees so the sun was horrible even with our awing out. The only other grip was the sewer dump was backed up and wouldn't drain so we didn't get to drain all the way. We didn't contact anyone as we needed to get on the road. We will for sure stay there again though.
Nov 17, 2020
people in the cabins across from us had no regard for quiet time. At midnight I tried calling the office. they were playing loud music and at least three family's were sitting around talking so loud the boys scouts in the tent camping area could hear them also. At midnight I had to go over myself and ask them to calm down. they finally shut the music off. I think three cabins were involved.
Nov 16, 2020
Nice park. Well maintained. Good location. Our only problem was the site didn't really fit us - we're 45' plus a tow, and because of the slope, our step was about 1 1/2 feet above the ground.
Nov 16, 2020
Great place! It was quiet and the staff was very helpful.
Nov 16, 2020
Fire ants at electrical and water site, dog park covered in stickers that attached to my shoes so can't imagine a dogs feet. We noticed there were several dogs in the park but none in dog park. Very narrow entrance from road and gate. Not a big rig friendly park.
Nov 15, 2020
Very nice facility. The bathrooms have to be about the nicest I've ever experienced at a campground. Thanks for a fantastic stay!
Nov 14, 2020
Ok except the wifi/internet works only some of the time.
Nov 13, 2020
Wonderful place. Stayed for 5 days, friendly people (staff & neighbors); absolutely clean bathrooms (seemed like they cleaned it 5 times a day it was so clean). Peaceful, safe, quite, grounds well kept. Laundry room was well kept too. Lots of things games & activities.great experience.
Nov 13, 2020
One of my favorite KOA's in the state! Very nice. Great people running the place also!
Nov 11, 2020
The campground site was very nice and relaxing, I really enjoyed it.
Nov 10, 2020
We came in for work and was unsure of length of stay, also at end of stay had company trailer that we had no where to keep until departure. They allowed us to leave it near the office. Park ia clean and quiet.
Nov 10, 2020
We came to town to meet with family that live in the area. We rented a patio site so they could come visit. Everything was perfect! Our check in process was seamless, the attendant was so helpful to us and our guests. The site was large with landscaping, comfortable, sturdy, well maintained patio furniture, a fire pit with seating, a grill....! We will definitely be returning in the future!!
Nov 10, 2020
Super clean. All employees tip top professional. I wish state parks facilities were as good as theirs were.
Nov 10, 2020
Like always we had a very good stay, 5 stars to KOA Arlington TX we had a good time with my daughter and dogs
Nov 09, 2020
Great people nice sites.
Nov 09, 2020
Well managed and maintained park very close to shopping and restaurants. Secured campground is set back from a busy street. Entrance and Exit is a little challenging to navigate for larger rigs. Overall a nice place and we will stay again sometime.
Nov 09, 2020
Wife loved being able to just pull in and relax, and we are inside a city. She loved being able to have a fire, remember Happy Wife - Happy Life. Steve
Nov 09, 2020
We were having probs with our RV & needed to find a place fast. Called here and made reservation at 4:50 Pm, thought it was 11 miles ahead. Realized it was 11 miles behind and called back to cancel. Office closed, left message we wouldn't be there & please call back in am to talk about credit, explained the situation. Never called and charged card the next AM. Most KOAs would give credit.
Nov 07, 2020
Great place, friendly people, EXTREMELY accommodating and very close to everything you want to see or need in Arlington �ϋ�
Nov 05, 2020
Very friendly staff, nice clean campground with good size sites.
Nov 04, 2020
Nice place. Getting in/out the park is a little dicey with a big unit, but the park is well kept and surprisingly quiet for being in the middle of town!
Nov 04, 2020
We have been here several times and we absolutely LOVE it!!! The grounds are kept very clean and it is beautiful. They offer a big variety of spaces to fit your needs. It is designed well, so it is easy to get in and out of. The staff is always extremely friendly and engaging, and they always have fun activities going for the kids. One of our favorite places to stay!!!
Nov 04, 2020
The staff was great! the facilities were well maintained and clean.
Nov 03, 2020
Very clean & friendly staff. Stayed there both coming & going from Kentucky.
Nov 03, 2020
Had an amazing time. The staff was awesome and incredibly friendly. The cabin was super clean. It was a really pleasant surprise to see that it had been cleaned as if their own family was going to be using it. You can really feel that everyone there really cares about the job that they're doing and the experience they're providing. We can't wait to come back!
Nov 03, 2020
Only stayed one night as we were traveling west - very nice campgrounds - great service - great facilities - despite the location of the KOA being surrounded by retail and commercial businesses the campground itself was peaceful and quite
Nov 03, 2020
Very friendly staff members�
Nov 02, 2020
Great staff! Will return when back in the area.
Nov 02, 2020
Front desk/ housekeeping lady super nice and helpful!
Jan 08, 2021
We JUST returned from a 5 day vacation there! We rented a Kamping Cabin. Let me tell you, it was one of our BEST vacations ever! Ted, Diana, Shelly, Troy? Tonette And everybody I've forgotten, made our stay unbelievable! I cannot believe that this exists near Arlington! It's like going to an oasis of calm, and rest! They catered to our every need, even bringing our firewood TO US! We needed this break from living in downtown Dallas, and they delivered. We arrived a day early, and stayed a day late! If you need a break, please rent a cabin!
- Ken Reckard on Google
Dec 27, 2020
Amazing campground! Beautifully maintained grounds, AWESOME bathrooms and wonderful activities. Great spot when passing thru Dallas!
- Alicia McGinnis on Google
Dec 22, 2020
Great location to everything in the city. We were 10 minutes from the AT&T stadium and Texas Live. We were one block from Enterprise rental car. We got a premium campsite with the patio. Unfortunately these sites were right in the very front where everyone is going in and out. It is a gated KOA that is closed at night. Staff was very friendly and helpful. Wifi worked great with no issues. We even streamed our TV at night. Restrooms and shower facilities are nice. There is only one bathroom and shower facility on site. It has several showers and bathrooms inside but this is a big campground and a hike to the bathroom depending on where your campsite is located. There was a nice pool but we didn't use it while we were there. I definitely would stay here again.
- blondie21dj on Trip Advisor