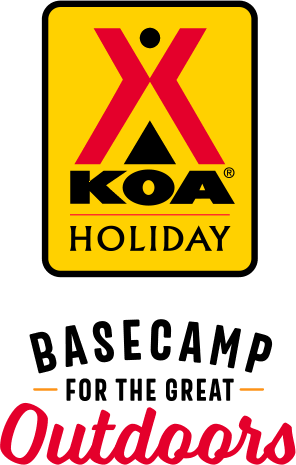 KOA Holiday Campgrounds
Whether you're exploring the local area or hanging out at the campground, KOA Holidays are an ideal place to relax and play. There's plenty to do, with amenities and services to make your stay memorable. Plus, you'll enjoy the outdoor experience with upgraded RV Sites with KOA Patio® and Deluxe Cabins with full baths for camping in comfort. Bring your family, bring your friends, or bring the whole group – there's plenty of ways to stay and explore.
KOA Holidays Feature:
RV Sites with a KOA Patio®
Deluxe Cabins with full baths
Premium Tent Sites
Group meeting facilities
Directions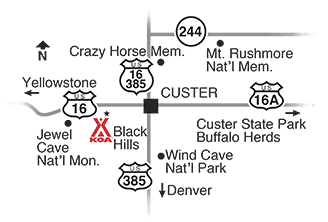 3 miles west of Custer on Hwy 16 on the way to Jewel Cave and Newcastle, WY.
GPS reliability is inconsistent across brands and types and some campers have been misdirected when entering only our address.
GPS Coordinates:
Latitude: N 43.74143
Longitude: W 103.65418
Call us when you get close and we'll bring you home!
Get Google Directions
Sep 22, 2021
Bathrooms were well maintained and clean, Kampground Staff were very friendly and helpful when we wanted to make some changes in our reservation and add a couple of days to our stay.
Sep 21, 2021
Excellent facility - very welcoming Thanks for the excellent restaurant recommendations!!!
Sep 21, 2021
Great campground near many attractions!
Sep 20, 2021
Everything was clean and nice. Only recommendation would be to add a change machine in the laundry
Sep 20, 2021
All good. Staff was great, site was level gravel. Bathrooms nice, laundry room convenient.
Sep 19, 2021
Awesome campground!!! Exactly what we were looking for clean, not overly developed and quiet. Great staff who went out of there way to make us feel welcome. We really enjoyed our stay and will be back.
Sep 19, 2021
Very friendly staff will stay again.
Sep 18, 2021
Enjoyed our stay. Clean and close to many sites when wanted to visit.
Sep 18, 2021
Very clean, very friendly and helpful staff
Sep 17, 2021
Easy check in. Well kept KOA. Staff are very friendly.
Sep 17, 2021
Quiet KOA. Great location. Very friendly and helpful staff. Enjoyed our four day stay!
Sep 17, 2021
Very friendly staff and the grounds were nice and quiet. Facilities were very clean. Would stay again!
Sep 16, 2021
Campground was beautiful! Management was friendly and helpful. Site was a concrete pad with table and chairs, propane grill and chiminea available for our use. New wooden fence dividing sites. Clean bathrooms and showers. Close to all parks
Sep 16, 2021
Sub par in comparison
Sep 15, 2021
The staff was extremely helpful, accommodating and friendly from answering initial questions on the phone through checkout. Pool was at a nice heated temperature. Facilities and grounds were well kept. Nothing but good to say and that is a lot coming from me!
Sep 15, 2021
Internet was weak but overall very nice
Sep 15, 2021
Everyone was very nice and friendly. The park was clean and the sites level. I would definitely stay there again.
Sep 14, 2021
Great stay! Staff was great and took care of us any way they could. It's super close to the best pie shop around, just head toward Custer. Our back-in site was spacious. It was super quiet at night (very respectful campers.). Restrooms were clean and showers were wonderful. Would stay again!
Sep 14, 2021
showers should be cleaner
Sep 13, 2021
Convenient to places we wanted to see. Friendly helpful staff
Sep 13, 2021
Great KOA location, very clean and quiet. We will definitely be back here!
Sep 13, 2021
Everyone was awesome. I accidentally ran over a water spicket and the guys didn't get upset, they came and fixed it, laughing and joking the whole time. Hiring seniors is probably the best thing the KOA's have ever done
Sep 13, 2021
Helpful and accommodating staff Perfect location
Sep 12, 2021
Great park and great staff we enjoyed our stay
Sep 11, 2021
Great camping. Good people, great service and would love to come back.
Sep 11, 2021
Everything we would expect from KOA family!!!
Sep 10, 2021
This was my first stay at this Custer KOA. I actually thought I was booking the other KOA in the area (the one at Palmer's Gulch) that I have visited in the past- also very nice) but when I arrived I was pleasantly surprised that this one was significantly smaller and very quiet. If you want a more laid back, less crowded, easy in and out option in the Black Hills- this is the KOA choice for you.
Sep 10, 2021
The pull through site was so narrow, there wasn't even enough room for a real picnic table. Had to sit around the fire pit behind the camper on the gravel driveway because of no room. It was the equivalent of camping only on the driveway gravel and being charged a full campsite price for half a campsite.
Sep 09, 2021
This was our second visit to this KOA. We enjoy the convenient and peaceful location. We like to reserve a patio site, which cost more of course, but these sites are in the location we prefer. We would probably not stay here if the only thing available were the back in sites along the perimeter. The staff is very friendly and helpful. The bathrooms are clean and the laundry is fine.
Sep 09, 2021
Staff was very friendly. Have a great time.
Sep 08, 2021
Very nice staff, clean restrooms, very loud road noise
Sep 08, 2021
We developed COVID while there requiring us to extend our stay beyond our reservation. Even though the space we had was rented this KOA went out of their way to find us a spot (with only water & power) to provide us "Safe Haven" while we recuperated. Greatly appreciated & shows the commitment this staff provides. THANK YOU! We cannot stress enough our appreciation for your efforts.
Sep 07, 2021
Quiet and clean. Staff very friendly. Location was near everything we wanted to see/do.
Sep 07, 2021
The site was great for our family. Very well maintained.
Sep 07, 2021
Surprisingly quiet, even with lots of kids running around. I think the topography helps with that. Friendly service, quaint pool and our boys loved the jump pad. Super close to all Custer, Mount Rushmore and Jewel Cave have to offer.
Sep 07, 2021
Nice enough park but our small 18' rv was assigned one of the (I think) 4 small spots....no grass, minimal space to side of spot, on a incline (the rv was level but the space was on a terraced hill). Just not a pleasant place and we moved to another park for a second night. Just not worth the cost of a KOA.
Sep 06, 2021
I have stayed at this campground several times and always enjoy it each time I return.
Sep 05, 2021
We really enjoyed our stay here. Our site was perfect for our camper configuration. We were greeted and escorted to our site with friendliness and lots of helpful information. We highly recommend this place and would stay here again.
Sep 04, 2021
Campground was nice and well maintained. Only complaint is the internet was spotty and would often disconnect or run extremely slowly.
Sep 28, 2021
Amazing experience here. When we arrived we realized our travel trailer tire was nearly flat and the folks working at the campground went way out of their way to help us block up our trailer extra while we waited for a tire change. They had all the amenities anyone would need, sites were large, campground was quiet, nice amount of tree coverage. Will definitely return!
- Jennifer Johnson-Blanchard on Google
Sep 25, 2021
Friendly staff,convenient location, peaceful. Stayed 12 nights .Would stay again.
- Philip Jens on Google
Sep 22, 2021
We were so lucky to have found this place. After seeing a ton of other campgrounds while we were here this is the place. You don't feel like your in a parking lot. This places gives you plenty of space and your surrounded by tall trees. The bathrooms and showers are very clean. Staff is also amazing.
- Lindsays A Happy Camper on Google