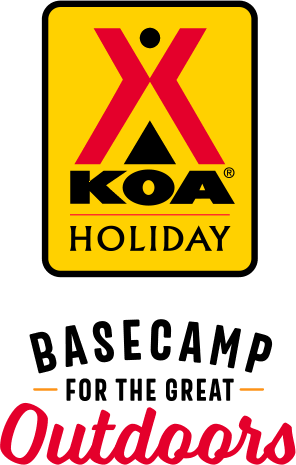 KOA Holiday Campgrounds
Whether you're exploring the local area or hanging out at the campground, KOA Holidays are an ideal place to relax and play. There's plenty to do, with amenities and services to make your stay memorable. Plus, you'll enjoy the outdoor experience with upgraded RV Sites with KOA Patio® and Deluxe Cabins with full baths for camping in comfort. Bring your family, bring your friends, or bring the whole group – there's plenty of ways to stay and explore.
KOA Holidays Feature:
RV Sites with a KOA Patio®
Deluxe Cabins with full baths
Premium Tent Sites
Group meeting facilities
Directions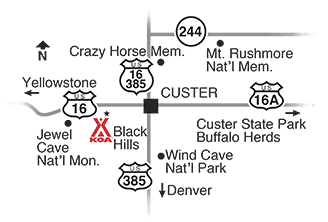 3 miles west of Custer on Hwy 16 on the way to Jewel Cave and Newcastle, WY.
GPS reliability is inconsistent across brands and types and some campers have been misdirected when entering only our address.
GPS Coordinates:
Latitude: N 43.74143
Longitude: W 103.65418
Call us when you get close and we'll bring you home!
Get Google Directions
Aug 08, 2020
Everyone very friendly and helpful. Great location.
Aug 05, 2020
Campground was nice and quiet. Bathhouse was very clean. Staff were helpful and friendly.
Aug 05, 2020
Great.location, friendly helpful staff! Suggestion: in this day and age you must improve the WiFi. As much as we want to limit it when we're on vacation, we still should have it. My phone carrier Verizon doesn't work well! Thank you!
Aug 05, 2020
Staff was very nice and it's the perfect location to town!
Aug 03, 2020
One of the most beautiful KOA settings that we visited in 2020 (the Black Hills)!!!
Aug 01, 2020
Loved the place, will camp there again!
Jul 31, 2020
Awesome deluxe cabin and KOA! Highly recommend!
Jul 29, 2020
Was a suitable place, kids loved the jumping mat! It was a little loud as our cabin was close to the road - at night we could hear some of the road noise. The staff were very friendly and accommodating
Jul 26, 2020
We had the best stay as a family! The campground was clean and beautiful. The staff was so friendly and helpful. Our kids loved the pool and jumping pillow. Thank you!
Jul 22, 2020
Clean cabin, restrooms/showers, and close to town. Store was not well stocked, but would stay there again if in area.
Jul 21, 2020
We stayed in the delux cabin. It was so clean! Fridge was good sized, AC worked, and paper towels/TP were there as well as hand and dish soaps and trash cans/sacks which was a nice surprise. Would stay again.
Jul 20, 2020
It was a great experience. Clean, relaxing, top notch. We will definitely be back. All staff members went above and beyond.
Jul 19, 2020
Our campsite was perfect! We had the woods behind us which gave us plenty of privacy, and enjoyed having deer strolling through the woods and rabbits hopping around. Our brother-in-law and his family stayed at the other end of the campground in the cabins, but it was not too far to walk back and forth. Being from Minnesota, we especially enjoyed not being bothered by mosquitos!
Jul 14, 2020
Staff was friendly and more than willing to give us ideas for things to do. Campground was clean and relatively quite, nothing the hosts couldn't handle. Cabin we stayed in was clean and comfortable. Wish we could've stayed longer.
Jul 14, 2020
The cabin was very clean and the staff was very friendly.
Jul 13, 2020
Very clean, well kept.
Jul 13, 2020
Exceptionally clean and quiet. Tent lot size was too small. No room to set tents up but beautiful campground and we'll kept
Jul 12, 2020
The staff were very courteous. I was unable to get hot water for a shower. I was staying in a cabin with a bathroom but could never get hot water for shower
Jul 10, 2020
Folks at front office were awesome..super nice and understanding!!
Jul 08, 2020
Very clean & comfortable. Kids loved the pool & it was quiet.
Jul 08, 2020
There was a super bad storm the night we were arriving and we had reserved a tent site but recurved a call from the KOA clerk and she asked if we wanted to upgrade to a cabin.... Thank you we accepted
Jul 08, 2020
no a/c in the cabin, otherwise 5 stars. lady at check in was very friendly and patient.
Jul 07, 2020
This review has been removed by KOA due to profanity.
Jul 06, 2020
very clean. Excellent pool.
Jul 06, 2020
Very clean, friendly, granddaughter had alot of fun.
Jul 04, 2020
Always very clean and top notch staff!
Jul 02, 2020
Absolutely a pleasure to be a guest here. Facilities were clean, staff was super. Wish we didn't have to leave!
Jul 01, 2020
Extremely clean and spacious cabin. Close to Custer
Jun 30, 2020
Deluxe cabin was great. There were some pretty deep troughs in the gravel near the cabin that weren't great to drive a sedan over. Would be great if they could be filled / fixed.
Jun 30, 2020
Campground was clean and lots to do for the kids. �
Jun 29, 2020
Bathrooms were very clean and well kept. Cabin was very nice Employees were very helpful and courteous Would recommend to anyone going to the area
Jun 28, 2020
The cabin with the bathroom was totally worth the price. I almost stayed at a hotel but this was better with 4 kids. It was a blessing to get out of the house mid husbands deployment. Thank you!!!
Jun 27, 2020
Very friendly staff and very clean!!!
Jun 27, 2020
Our second time here and love it! Staff are friendly, facilities are clean and comfortable!!
Jun 26, 2020
Great location and the staff was wonderful. Plenty of things for kids to do, gotta try the jumping pillow.
Jun 25, 2020
I loved it nice staff clean camp ground and bathrooms. The only thing that would make it better would be a breakfast tent or pavilion. That's why I didn't rate it a 5.
Jun 23, 2020
Nice cabins,
Jun 22, 2020
The staff at the Custer/Mt Rushmore KOA was beyond amazing! I know my 2 year old would give rave reviews at the ladies who gave him free suckers! The cabins were clean, and cozy! The heater/fan in the room came in very handy with the ever changing weather of the hills. Wood delivered right to your cabin, heated pool, overall a very clean and pleasant camping experience!
Jun 19, 2020
Cabin was smelly, dirty and had moths flying covering everything. When we complained they just said we're sorry! They did not often to let us change Cabins even though there were cabins available. We cancelled our second night and paid for the 1st night although we did not sleep for fear of moths invading our items. Sorry, but we usually never complain about places we've stayed.
Jun 19, 2020
We had a FABULOUS time here! Jim and Debi were GREAT hosts. WONDERFUL bathroom's and the campground was very clean. FANTASTIC staff! We'll be back, indeed!!
Jun 17, 2020
We had a wonderful time. The place is clean and comfortable.The staff is friendly and very helpful.
Jun 15, 2020
Great Girls trip stay! Rented a cabin for four nights which was clean as a whistle. Bathroom, very clean And well maintained. Staff were very pleasant and available for bring wood to the site or answered questions. Definitely would stay at Custer KOA again.
Sep 28, 2021
Amazing experience here. When we arrived we realized our travel trailer tire was nearly flat and the folks working at the campground went way out of their way to help us block up our trailer extra while we waited for a tire change. They had all the amenities anyone would need, sites were large, campground was quiet, nice amount of tree coverage. Will definitely return!
- Jennifer Johnson-Blanchard on Google
Sep 25, 2021
Friendly staff,convenient location, peaceful. Stayed 12 nights .Would stay again.
- Philip Jens on Google
Sep 22, 2021
We were so lucky to have found this place. After seeing a ton of other campgrounds while we were here this is the place. You don't feel like your in a parking lot. This places gives you plenty of space and your surrounded by tall trees. The bathrooms and showers are very clean. Staff is also amazing.
- Lindsays A Happy Camper on Google