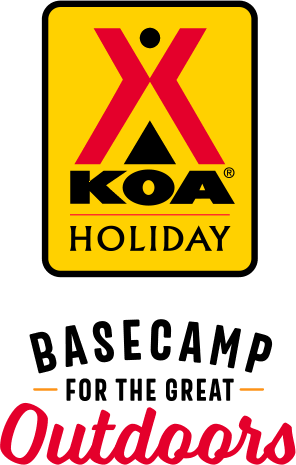 KOA Holiday Campgrounds
Whether you're exploring the local area or hanging out at the campground, KOA Holidays are an ideal place to relax and play. There's plenty to do, with amenities and services to make your stay memorable. Plus, you'll enjoy the outdoor experience with upgraded RV Sites with KOA Patio® and Deluxe Cabins with full baths for camping in comfort. Bring your family, bring your friends, or bring the whole group – there's plenty of ways to stay and explore.
KOA Holidays Feature:
RV Sites with a KOA Patio®
Deluxe Cabins with full baths
Premium Tent Sites
Group meeting facilities
Directions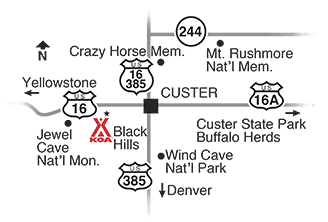 3 miles west of Custer on Hwy 16 on the way to Jewel Cave and Newcastle, WY.
GPS reliability is inconsistent across brands and types and some campers have been misdirected when entering only our address.
GPS Coordinates:
Latitude: N 43.74143
Longitude: W 103.65418
Call us when you get close and we'll bring you home!
Get Google Directions
Jun 01, 2021
Loved it..highly recommend it for the family get away...just wasnt able to go on pool was closed
Jun 01, 2021
The staff was friendly. This place had everything you need to enjoy your stay. We arrived after closing and they had everything ready for us when we got there. When we ordered firewood, they delivered right to our cabin door. Each cabin had a relaxing porch swing. This place was also close to all of the tourist attractions.
Jun 01, 2021
Very friendly staff, kids loved the jumping pillow, clean!
May 31, 2021
It was very nice. We had wonderful customer service. Just wish it was a little more handicap accessible.
May 25, 2021
Very clean quiet and private
May 19, 2021
We have always tent camped but had two small grandchildren on this trip so we chose a cabin. It was perfectly functional, which is all we want. It was a very clean, organized KOA with great hosts. Just a little pricey for us (about $82/night for the cabin which slept four), which is not the host's fault.
May 18, 2021
The cabin was great. But the heater made a awful load noise every time it cycled. It was in the bedroom, so many sleepless hours.
May 09, 2021
The cabin was nice, but over priced! I could have stayed at another campground cabin near by for about $25 less a night.
May 06, 2021
We rented a lodge cabin, it had a refrigerator, microwave, bathroom and TV but no coffee pot. The workers at the office were unable to help. We went to town to buy our own coffee maker. The cabin was so out of level that the front door would not latch. We could barely get the deadbolt to latch. Pocket door for bathroom would not stay closed but rolled open. OK for a couple but what about a family?
Sep 29, 2020
Loved your deluxe cabin. Very lovely KOA! Thanks too for all the info that was given prior to our stay.
Sep 27, 2020
The camp area was clean, quite, the rest rooms very nice and clean. Personal very help and kind. Great location easy to get in and out. Everything was great.
Sep 27, 2020
Very clean and bathroom and showers were very clean too.
Sep 24, 2020
We loved our stay. Nice and quiet, bathrooms were clean, the staff was friendly and helpful. Definitely would stay here again!
Sep 21, 2020
Excellent stay it always is. we have been going there for over 45 years Jim & Deb are such good people.
Sep 20, 2020
Wish we could have stayed longer. Beautiful location and awesome cabin!!
Sep 20, 2020
Cabin was awesome. It was clean and quiet. The staff was always friendly and helpful. Would defiantly stay there again.
Sep 14, 2020
THE GREATEST STAY EVER FOR THE TIMES OF SOCIAL DISTANTANCING.We had a tent site reserved,but when arriving ask if their were cabin avail.There was so we upgraded for a few dollars more.Our cabin did not have a shower,but just a stone throw away are the superbly keep restroom with shower.Check in super eazy.Have your own parking area outside cabin.I recommend giving a shot to stay at a kOA.
Sep 14, 2020
Staff were friendly & helpful; we had a wonderful, peaceful stay!!!
Sep 12, 2020
Space heater was noisy but worked well in keeping the cabin warm during the night. Had trouble with the internet. Could not hook up to the WiFi. Shouldn't advertise it if there is a known problem with it. I was told the provider wasn't very reliable.
Sep 11, 2020
The cabin was suitable for our needs. The campgrounds were well kept. The showerhouse was clean and well maintained. We even had a little chipmunk friend that hung around the cabin with us.
Sep 08, 2020
Great place, excellent location, nice facilities. It's quiet and away from all the hustle and bustle. it's close enough to Custer to get into town for things you might need. It's convenient to all the sights! Love it!
Sep 08, 2020
Had a great time loved the cabin. Showers not crowded and clean
Aug 26, 2020
Very clean bathrooms and cabins!
Aug 25, 2020
I stayed in a cabin at this location and everything was clean including the grounds and restrooms. Although the kampground is off a highway, there is little to no traffic at night and very quiet. Slept great! Thank you to the kampground staff who worked hard to serve their campers, kept everything looking great and were very friendly.
Aug 24, 2020
We stayed in a deluxe cabin, which was perfect for our stay. Very comfy and room for all. Enjoyed the big deck with grill -perfect for making meals. The queen bed mattress was very nice, I would want to buy that exact mattress for home, if I could. Thanks to the awesome staff that was very friendly and also bringing us firewood when requested. Nicely kept campgrounds and clean.
Aug 24, 2020
Such a nice, clean place and the staff is awesome. We are from the area and just enjoy getting away to swim, jump on the pillow, cook over an open fire and have a peaceful weekend away with the kids. Just an all around great facility!! I would recommend it over any other camp site in the area!
Aug 19, 2020
Great place to stay and very polite Host
Aug 18, 2020
We cabin camped for two nights. Wonderful setting! Great restrooms/showers. Son loved the pool!
Aug 17, 2020
Facility and staff was great in many ways My only one negative comment would be the guests dogs
Aug 17, 2020
stayed during bike week at sturgis, was very clean and quiet.
Aug 13, 2020
We will definitely be back! Perfect vacation spot
Aug 12, 2020
The campground was clean and the staff was very pleasant.
Aug 11, 2020
The cabin was adorable! Would be nice to have the hours that the office was open listed on the website.
Aug 10, 2020
The stay was very nice but the credit card machine did have issues during our stay but other than that it was great! Will return and has been recommended many times already!
Aug 10, 2020
Very nice people at this KOA. My only concern was it was packed and there were no Covid guidelines being followed by anyone.
Aug 09, 2020
Awesome time, employees are extremely friendly.
Aug 09, 2020
Love staying here every time!
Aug 09, 2020
Great sites with lots of room. Wonderful camp store with everything you need. Helpful staff. Beautiful and great location. This is a great place to sit back and relax and great, central location to all that the area has to offer.
Sep 28, 2021
Amazing experience here. When we arrived we realized our travel trailer tire was nearly flat and the folks working at the campground went way out of their way to help us block up our trailer extra while we waited for a tire change. They had all the amenities anyone would need, sites were large, campground was quiet, nice amount of tree coverage. Will definitely return!
- Jennifer Johnson-Blanchard on Google
Sep 25, 2021
Friendly staff,convenient location, peaceful. Stayed 12 nights .Would stay again.
- Philip Jens on Google
Sep 22, 2021
We were so lucky to have found this place. After seeing a ton of other campgrounds while we were here this is the place. You don't feel like your in a parking lot. This places gives you plenty of space and your surrounded by tall trees. The bathrooms and showers are very clean. Staff is also amazing.
- Lindsays A Happy Camper on Google