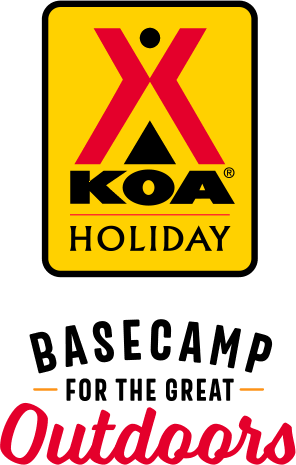 KOA Holiday Campgrounds
Whether you're exploring the local area or hanging out at the campground, KOA Holidays are an ideal place to relax and play. There's plenty to do, with amenities and services to make your stay memorable. Plus, you'll enjoy the outdoor experience with upgraded RV Sites with KOA Patio® and Deluxe Cabins with full baths for camping in comfort. Bring your family, bring your friends, or bring the whole group – there's plenty of ways to stay and explore.
KOA Holidays Feature:
RV Sites with a KOA Patio®
Deluxe Cabins with full baths
Premium Tent Sites
Group meeting facilities
Directions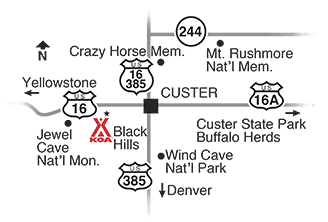 3 miles west of Custer on Hwy 16 on the way to Jewel Cave and Newcastle, WY.
GPS reliability is inconsistent across brands and types and some campers have been misdirected when entering only our address.
GPS Coordinates:
Latitude: N 43.74143
Longitude: W 103.65418
Call us when you get close and we'll bring you home!
Get Google Directions
Jul 11, 2021
We had a wonderful time at this KOA and plan to visit again. The host and hostess are very kind and accommodating. Great place to stay and play while visiting the Black Hills!!
Jul 11, 2021
This was our first time staying at a KOA. We have camped in the past at state campgrounds. This was an awesome place to stay, great location for making day trips to a variety of places throughout SODAK. Had excellent service and staff was always helpful and friendly.
Jul 10, 2021
Si beautiful.! Clean and pleasant.
Jul 09, 2021
Very pleasant! Only suggestion. Is to have grates in fire pits for cooking and allowing for extra space to park my car so it's not right next to fire pit or grill at cabin
Jul 09, 2021
Wonderful, friendly staff. Exceptionally clean showers and restrooms.
Jul 08, 2021
Campgrounds are extremely close to Jewel, Wind Cave and Crazy Horse. Very clean and extremely friendly staff.
Jul 07, 2021
The staff was great. We enjoyed the 2 cabin room for our family of six.
Jul 06, 2021
Love love love this KOA. The cleaning crew is amazing!!! From cabins, to bathrooms, to laundry, it's SPOTLESS. Already planning our return.
Jul 04, 2021
Great stay! Kind staff. Kids loved the jumping pillow! Great, centrally located for driving to see the sites!
Jun 28, 2021
The staff was so friendly. The restrooms and showers were clean and updated. The prices were great in their mini store. Cabin was clean upon arrival and beds were actually comfortable!
Jun 28, 2021
The staff was wonderful - so welcoming and kind. We were just a bit disappointed with the gravel lots and placement of sites. It might have been more enjoyable had there been more of a "woodsy" feel, closer to the trees.
Jun 27, 2021
We had cabin number 4 which had the pool behind it. When you are in your late 60's you are really not interested in listening to little kids yelling all day. PLUS everyone walked right though our campsite and even touched our picnic table. THERE WAS NO PRIVACY! We asked to be moved, they said we couldnt, that was the only cabins that take dogs which infact was not true dogs were all over in. C
Jun 26, 2021
The Cabin we rented (CL1) was very nice. The campground was full, yet very quiet which was nice. Only draw back, the wifi was not good- probably due to the campground being full. We would definitely stay here again. Staff was amazing- very helpful and professional.
Jun 25, 2021
Excellent cabins !
Jun 24, 2021
Good location for Black Hills sights. The curtains in our cabin (8) were too narrow, and a curtain over the glass door would be nice. The staff was very nice and helpful.
Jun 24, 2021
It was a nice place, but the pool was not open at all on Tuesday. I can understand if they need a full day to clean, but they should inform guests beforehand. I am a local and one of the main reasons for staying was to hang out all day and swim. I would have changed my days if I had known.
Jun 23, 2021
Great customer service and clean facilities. Thank you! We will definitely be back.
Jun 21, 2021
Last minute reservations. All KOAs out this way was full. They were very accommodating and facilities was clean. Staff were friendly and polite. Great stay 5 stars *****
Jun 20, 2021
Everything was great! It is a very quiet place to stay. It is my favorite KOA so far.
Jun 19, 2021
The stay and people were great,except Tuesday the pool was closed for cleaning all day with no notice.
Jun 19, 2021
Lovely campground. Quiet, scenic and very clean. We enjoyed our cabin and were impressed with the staff's friendly atmosphere.
Jun 18, 2021
This KOA was our favorite for several reasons. First, our hosts greeted us with smiles and welcomed us like family. We were guided to our cabin and then asked if we needed anything, we had our own fire pit, which not every KOA has. There was a pool, so refreshing after a long day in the sun. This KOA was a short distance to everything we wanted to see in Custer and the Black Hills. Loved it!
Jun 18, 2021
We loved the pillow jump! The staff were very friendly. Everything was clean and just as we had hoped. Thanks!
Jun 17, 2021
Clean sleeping cabin and the jumping pillow was a fun surprise!
Jun 16, 2021
For a first time camping with young kids (7,4,1) it went great staying in a cabin. They really enjoyed it! Made our experience enjoyable and we'll stay at another KOA again! Thank you!! Staff was very friendly and willing to help! Bathroom was very clean and campsites were clean and quiet. The whole place was booked up but everyone was very respectful.
Jun 15, 2021
Sparkling clean bathrooms. Very well taken care of facilities. Lots of thoughtful extras (ie. Free coffee, extra hooks in shower, screen door in cabin, coat hooks and coat rack, desk and chair). Well-managed and it looks like they are improving the grounds.
Jun 15, 2021
We stayed 3 nights in a cabin and had a great time. The location was great for all the sights. The staff was super friendly and helpful. And the facility was very clean.
Jun 14, 2021
Super friendly check in! Cabins were very clean and bathrooms were too! Pool is small, but they also have a jump pillow!
Jun 14, 2021
We live in the Black Hills area and its always nice to come up and camp at Custer KOA! Always very clean, from the bathrooms to the cabins to the pool. Everyone that works there is so nice and helpful.
Jun 14, 2021
cabin was clean, bathrooms were clean! enjoy our stay
Jun 14, 2021
Y'all were absolutely incredible. Everything was so clean and perfect. The staff made sure to go above and beyond. I was beyond pleased with my stay. Thank you all!!
Jun 13, 2021
We enjoyed the friendly staff, incredibly clean environment, and the amenities.
Jun 12, 2021
Very clean, friendly and helpfull.
Jun 11, 2021
Enjoyed our stay- nice staff- well kept cabins- clean bathrooms
Jun 08, 2021
Very nice cabin and facilities!! Super friendly staff too!
Jun 08, 2021
The cabin we stayed in was very clean, mattresses were comfortable. It came with a nice fire pit, porch swing, and picnic table. Bathrooms were also very clean, probably the best we've seen this trip. There were not a lot of kid activities, but the jumping pillow, playground & tetherball were more than sufficient. It has a small pool we didn't use. The only downside was the price.
Jun 07, 2021
The staff were SO friendly and helpful! They made us feel welcomed and valued.
Jun 07, 2021
The staff is very friendly and ready to help with any requests. The bathroom facilities were kept neat and clean.
Jun 06, 2021
Very nice trip. Staff was pleasant and helpful
Jun 03, 2021
Had an amazing trip! Customer service was great and very helpful. Kids loved the inflatable jump and the playground. We will definitely stay there again.
Sep 28, 2021
Amazing experience here. When we arrived we realized our travel trailer tire was nearly flat and the folks working at the campground went way out of their way to help us block up our trailer extra while we waited for a tire change. They had all the amenities anyone would need, sites were large, campground was quiet, nice amount of tree coverage. Will definitely return!
- Jennifer Johnson-Blanchard on Google
Sep 25, 2021
Friendly staff,convenient location, peaceful. Stayed 12 nights .Would stay again.
- Philip Jens on Google
Sep 22, 2021
We were so lucky to have found this place. After seeing a ton of other campgrounds while we were here this is the place. You don't feel like your in a parking lot. This places gives you plenty of space and your surrounded by tall trees. The bathrooms and showers are very clean. Staff is also amazing.
- Lindsays A Happy Camper on Google